Hey, Vegan Travellers!
No, I am not going to propose to you all. I just think it's time we had a little talk. Specifically, I think it's time we had a little talk about what happens to you, your health, and your stuff when you've been travelling non-stop for several months. Let's back it up a little and I'll explain why this is coming up today.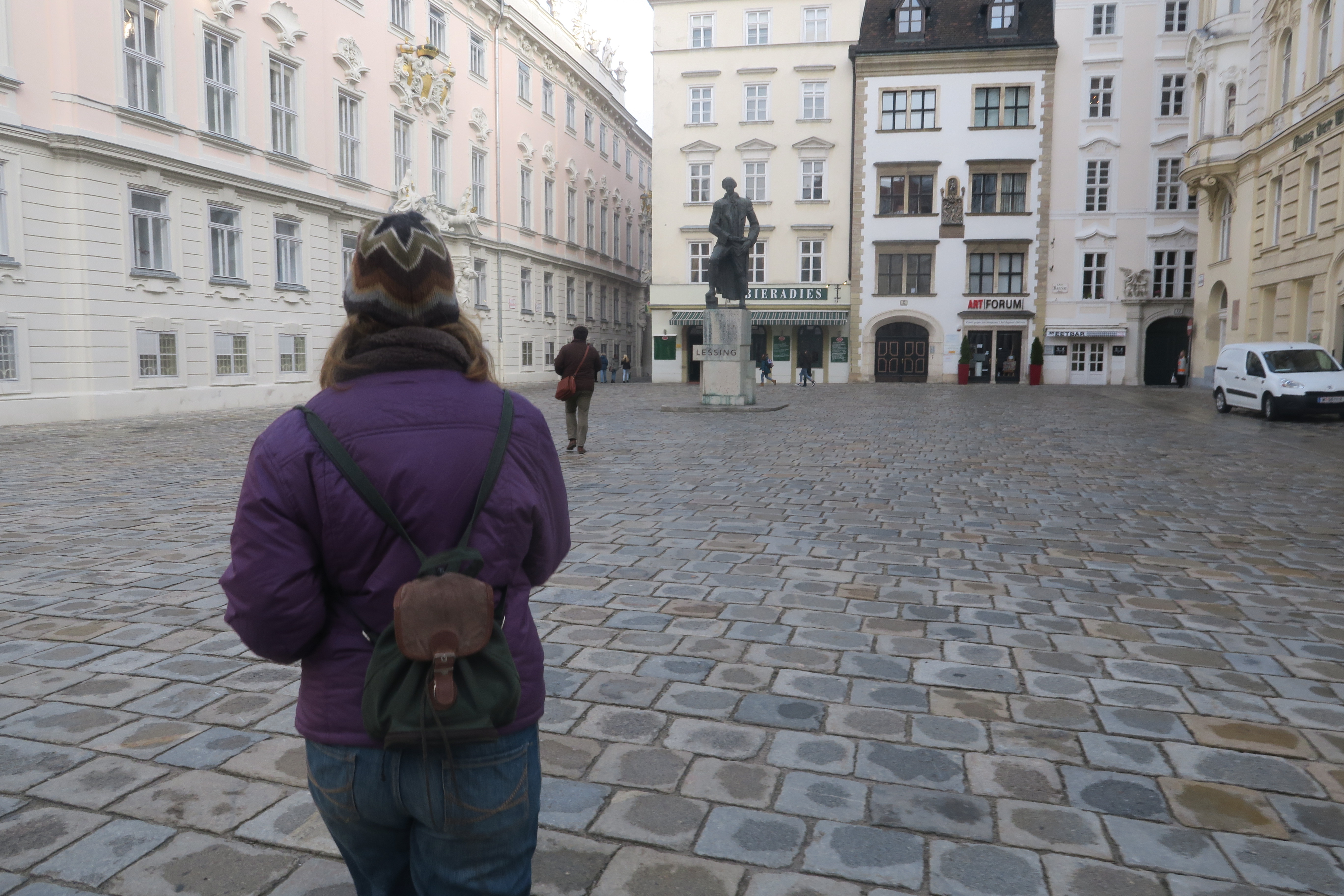 We have once again made a very abrupt change in weather. Sunday afternoon, I was applying a second layer of sunscreen a little too late on my rosy cheeks. I was walking through the city, really feeling the heat under my big heavy backpack. Then, before I knew it, I was walking through Vienna, Austria, the cold rain stinging my face and soaking my socks through the holes that I have worn in my shoes. The t-shirt and thin pants that I picked out for the hot Thai weather were suddenly feeling like they were a really bad choice. The cough that I've been carrying around with me for a few weeks intensified immediately. Trying to pack for all types of weather and wellness and be really very difficult. I think I did alright for the most part at the start of our trip, but after almost five months of travelling, everything is falling apart. Materially, my shoes are completely destroyed, my jeans are ridiculously threadbare, and three fourths of my socks have massive holes in them. Physically, my shoulders ache and I've been varying degrees of ill for several weeks now. Mentally and emotionally, I am incredibly exhausted. With a drowsy head, cold wet feet, five weeks of travel left, and so many countries to go, what's a traveller to do to survive? Well, I am so glad that you asked.
The first thing that this traveller did was call home to ask for Easter to come a little bit early this year. The next thing I did was scour the city of Vienna for really cheap shoes. I'm sure that I am going to miss my old shoes, all covered in elephant poop and memories. However, I will not miss the holes, the way they stay wet and cold for days, and the lack of arch support. The new shoes should be much, much healthier for me and probably also help me to stop worrying about getting frostbite.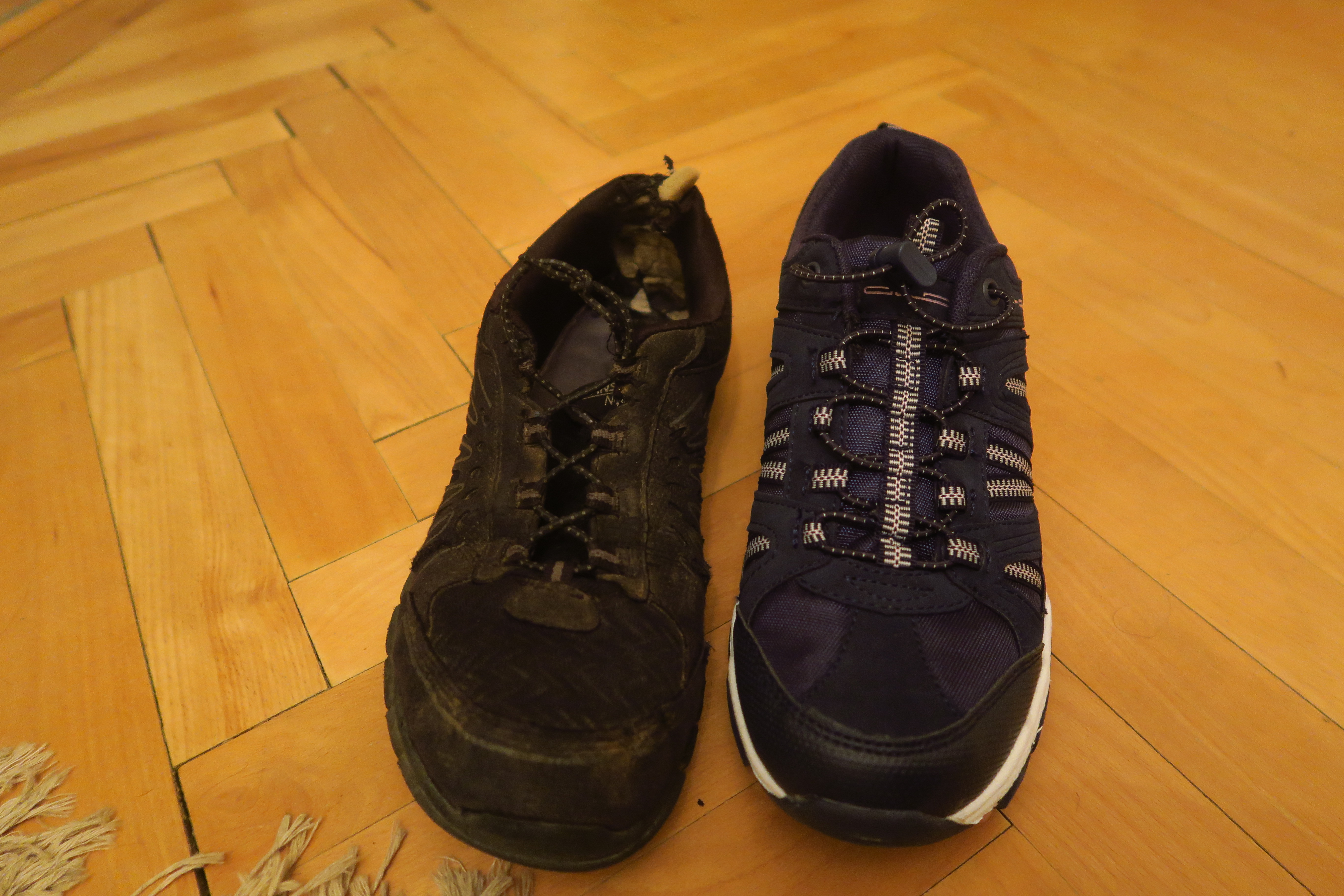 Yesterday was my first day casting off the old shoes and beginning the process of breaking the new ones, and I already feel so much better. The small change that I made here, with the interest of my well-being at heart, will likely make a huge difference in these last few weeks of our trip. There are other small changes that I have made for the sake of my health and other changes that have just occurred naturally which have also made huge differences. Some of you may have heard about Ross and I getting food poisoning a wee while ago. I had never had it before. I do not recommend it. It seemed to last forever and was a serious source of complaint, fatigue, and worry for the both of us. During that dreadful week and a half, I was almost exclusively eating rice, toast, and potatoes. While this was a great choice for my stomach, it was unfortunately not very good at all for my nutrition or hydration. For the best few days that I've been feeling better, I've been making a big effort to drink lots more water and eat more vegetables and fruits. In addition to this, my time spent in the Elephant Nature Park had me waking up quite early in the morning, working for much of the day, and staying up a little too late each night. Now I'm back on a more comfortable sleep schedule and I'm not feeling nearly so fatigued. Both of these changes have caused an instant rise in my overall mood and energy levels. If you're feeling quite tired all the time, check that you're getting enough sleep, water, and food that is high in nutrition. A multi-vitamin could also be a good option if you don't think that you'll be able to get enough nutrition in your diet while you're travelling. Though, chowing down on more vegetables doesn't mean you have to miss out on beautiful brownies, too. Everything in moderation and balance! Vegetables are good for the body. Brownies… Well, brownies are good for the soul.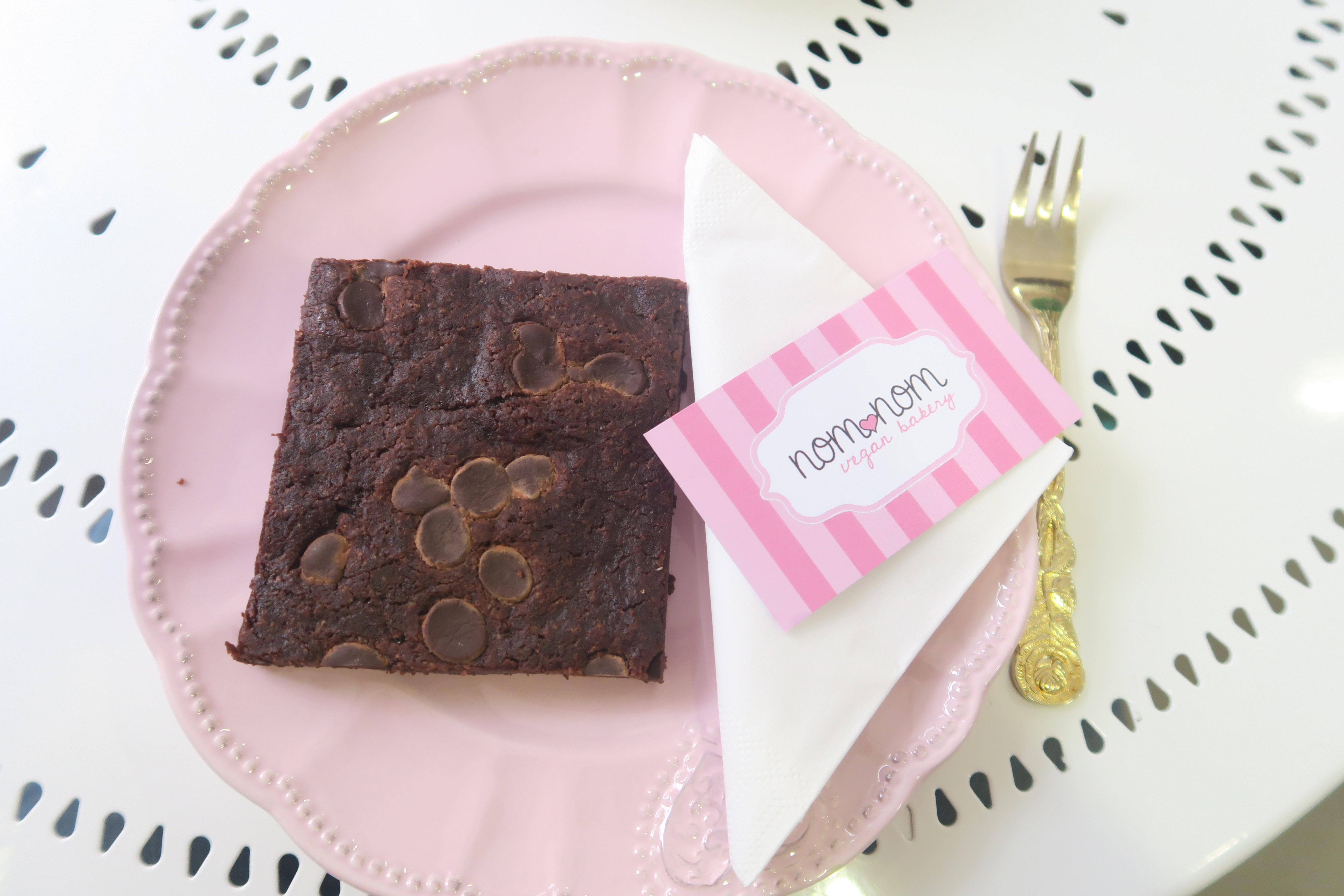 I'm certainly not claiming to be any kind of health professional or nutritionist here. I'm not even entirely sure why our bodies start to self-destruct after travelling for long periods of time. The changes that have been doing wonders for me may not help you in the same way at all. I just know that there is some kind of wear and tear on the mind and body when you travel and that it is very important to be mindful of it. I guess the message that I really want to get across in this blog post is that you should remember in your long-term travels to take the time for self-care. You don't want to feel like you're dragging your feet through the last portion of your trip- I know I certainly want to feel more ready to hop from country to country in these next few weeks, and I know that I need to focus on self-care in little ways before that can happen.
Other types of self-care have to do with taking care of yourself emotionally and mentally. For some travellers, this could mean taking a break from hanging out with people in hostels and taking a break from being out and about so that they can have some time to themselves to recuperate. For others it could mean quite the opposite. Sometimes travel can be isolating and travellers who need quite a lot of social interaction to feel well should allow themselves the opportunities to go out and socialise to de-stress and recharge emotionally. If it's possible for you to meet up with people that you know while you're travelling, I highly recommend doing that. It's super fun and super nice to see a familiar face. Whatever it is that you need to do to keep yourself healthy in your day-to-day life, please don't forget to pay special attention to it while you're travelling.
Again, I don't know a whole lot. What I do know, however, is that travel is emotionally, mentally, physically, and financially exhausting. It's also beautiful, wonderful, and life-changing and you're going to want to be well, excited, and ready for all the adventures.
Safe and well travels to you all!
Ellie Lebo
Additional Vegan Travel Blogs from Ross & Ellie:
Ross & Ellie's Vegan Travel Videos:
Ross & Ellie are ethical vegans who met in Glasgow, Scot...

Vegan Travel in Oslo, Norway! Ross and Ellie (@narwhalross a...

Vegan in Bruges Ross and Ellie find themselves in Bruges, Be...

Animaux En Peril Animal Sanctuary in Belgium Ross and Ellie ...

Vegan in Florence, Italy! Ross and Ellie (@narwhalross and @...

Vegan in Vienna, Austria Join Ross and Ellie (@narwhalross a...

Accommodation Travel Tips Around the World Vegan Traveler El...

Vegan in Chiang Mai, Thailand! Ross & Ellie (@narwhalros...

Vegan Food in Bangkok, Thailand! Ross & Ellie (@narwhalr...

Vegan South Korea - Heart and Seoul! Ross & Ellie (@nar...

Vegan in Tokyo, Japan! Ross and Ellie (@narwhalross and @uku...
VeganTravel.com is a place where vegans from around the world can share their passion for travel and adventure, help promote and grow interest in going vegan, shed light on the issues animals are facing around the globe, and help build a more sustainable and compassionate world. By sharing our collective experiences, we believe we can show the world how easy it is not only to travel as a vegan, but also spread a message of compassion with those we meet along the way.