Hey Vegan Travellers! It's time once again for a great big round up! This time, it's South Korea and it's not as postivite as all the ones previous to it! I must have jinxed it when I said in the last one that there wouldn't be a place I would warn against… Well, I'll get to that. When Ross and I first arrived in South Korea we were very hopeful about how it would be for vegans. We had read that Seoul in particular was meant to be super super vegan friendly. But after learning how large Seoul is, how expensive it was to go out to eat, and how impossible it was to find grocery stores, I'm calling bull. The following sections will be include more information about what to watch out for this time, rather than your usual round up of all the things that were good for vegans. I will still include good things, though! Let's dive in!
Markets
Good places to buy vegetables and fruits are very very hard to find. Maybe this was because it was extremely cold and the dead of winter when we were there. The markets that do exist are some of the main reasons that I would advise against a vegan visit to South Korea. Without actually getting graphic I just want to mention that all of the markets, and in fact most of the streets, in South Korea are strewn with very unpleasant things for vegans to see. I found it really difficult emotionally to walk through and see some of the ways that non-human animals were being disrespected, disregarded, and otherwise mistreated, killed, or exploited. There were points where I felt that I could not escape the death and sadness in some areas of the city. But we had to go to those areas because of how ridiculously difficult it was to find vegetables and how vital vegetables are to any diet- particularly a plant based one!
I will include no picture of the markets this time because there was no point where I could find an angle that did not include something upsetting in shot.
Dining Out
Dining out was all at once really very easy and quite difficult. There are plenty of vegan and vegetarian restaurants in Seoul. But all of them are spread really far apart. Additionally, all of them are quite expensive. We had no choice but to splurge and revisit a particularly vegan friendly Indian and Nepalese restaurant a few times because we were beginning to feel weak from living off of instant noodles, rice, and toast. We did not attempt to go out to eat at a non-vegan Korean food restaurant because almost everything is made with fish sauce. This was something that we were already familiar with because of Japan. However, in Japan the chefs and stall owners were willing to read our vegan passport and try to come up with something for us to it. It was not the same in South Korea. We were either brushed off because the person didn't feel like reading the passport or they'd read it and brush us off because they didn't want to go out of their way for us. When we did find vegan and vegetarian restaurants, they were basically heaven. Two places stick out in my mind for very different reasons. The first one was a place in Itaewon called Plant. Plant was a wonderful find; small and cozy, and full of really lovely vegan food. They sell mostly Western food, with a few special items. They have a menu that changes quite frequently and loads of baked goods- some of which are gluten free! I was a little bit disappointed at first that our first vegan dining experience in South Korea wasn't going to be Korean food, but then my chilli and corn bread came and I completely melted.
It was really nice to get a little taste of something that reminded me of home. Plus, the vegetables and beans in the chilli certainly filled me up a lot better than instant noodles! The cake in Plant is also a good reason to make it to Itaewon. They have some really really lovely cakes. They're delicious and light and fluffy. Just really really good cake. I love cake.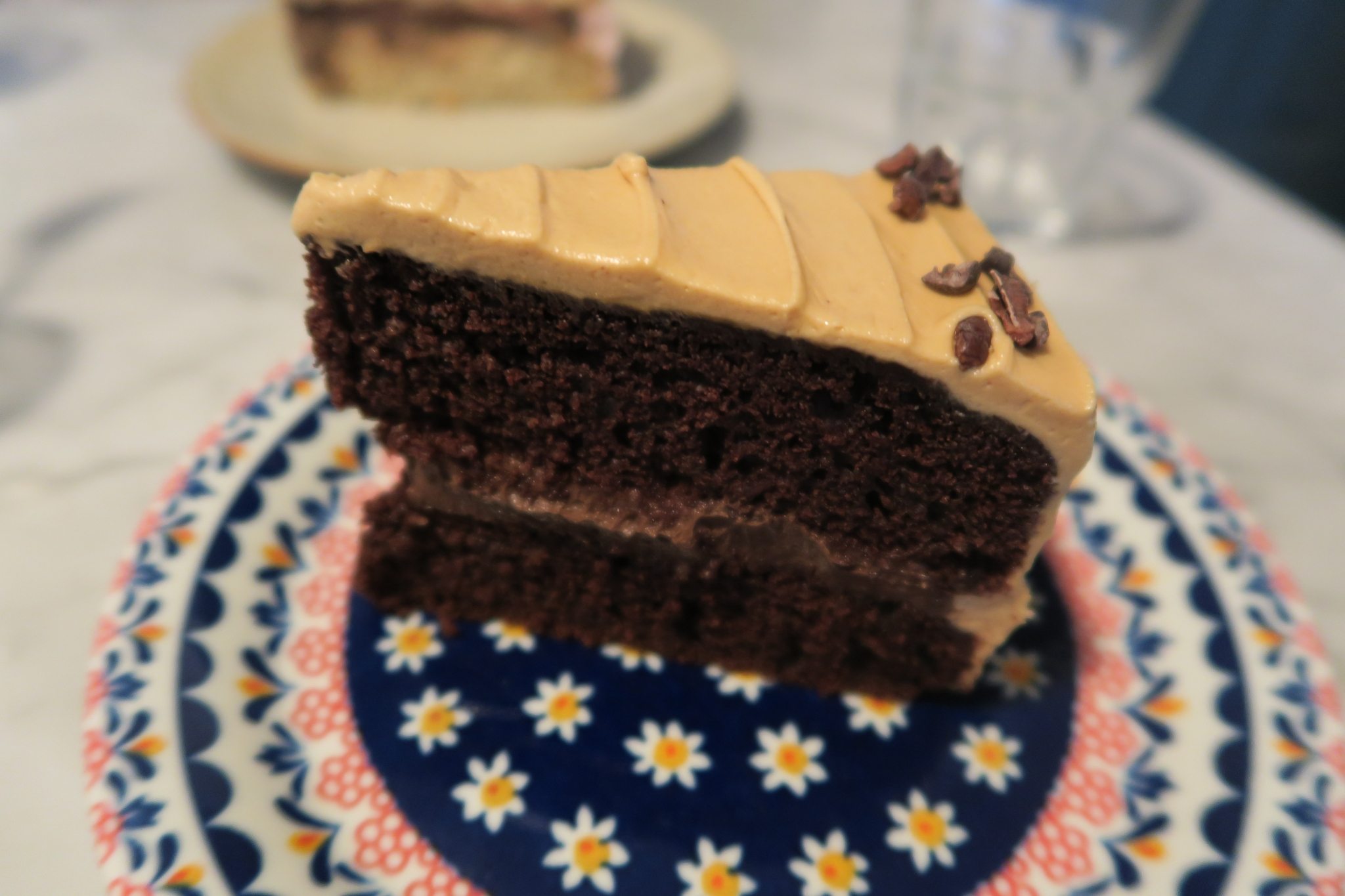 The other place that I think is worth mentioning is Dajeon in Busan. I was really excited by this place because here they serve traditional Korean food. Except, it's all vegan! Ross and I got their extremely popular set meal for two, which came with FIFTEEN plates of food. FIFTEEN. That is ridiculous! But, it was ridiculously good. It meant that I got to try lots of different things that I never would have tried. Some of those things I would not care to ever try again. Some of them were really very lovely. Dajeon was quite a comfortable place to eat as well, with heated floors where you sit to eat and free tea with your meal. It was a really nice place to come into out of the rain, which is exactly what we did.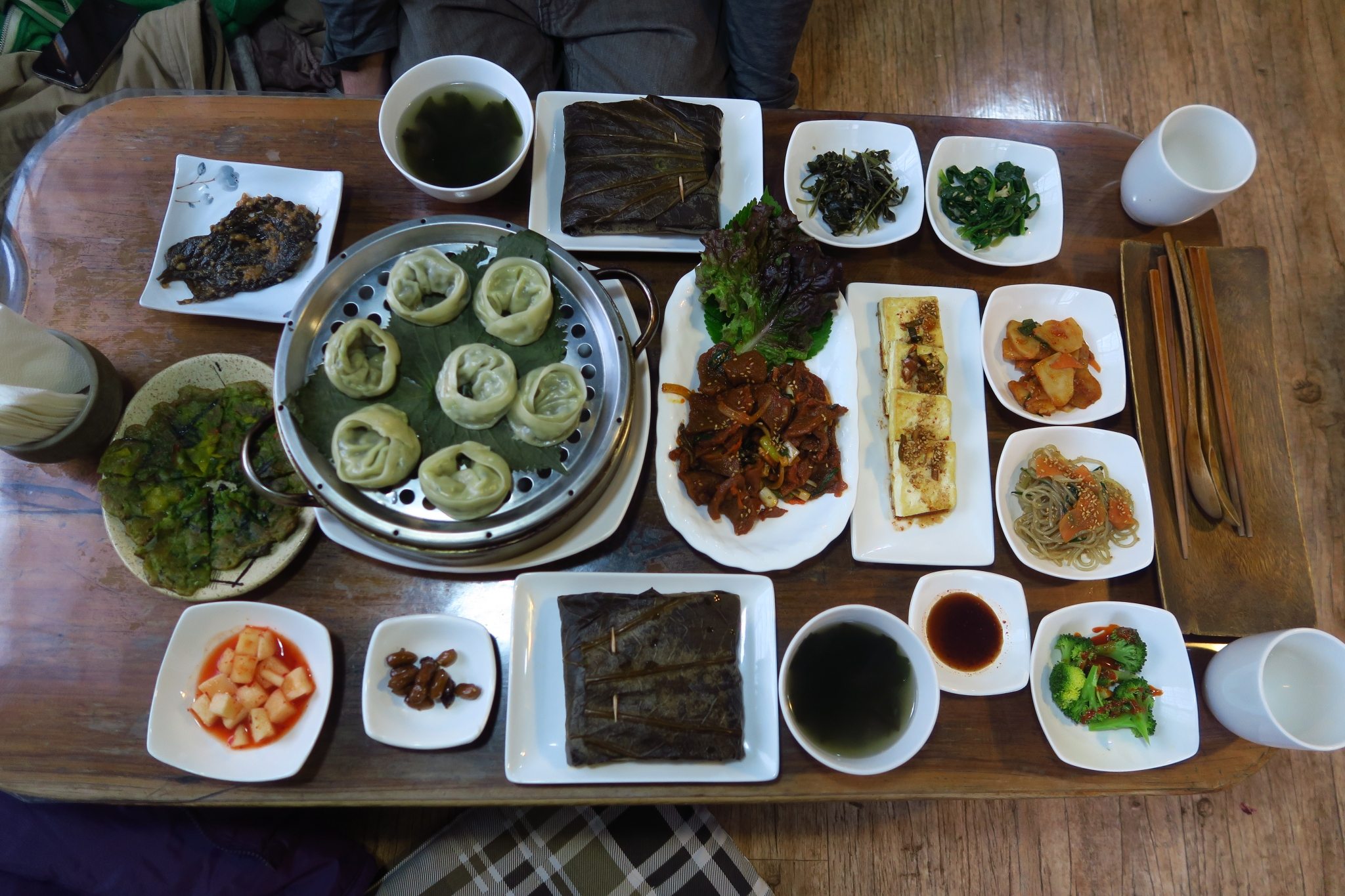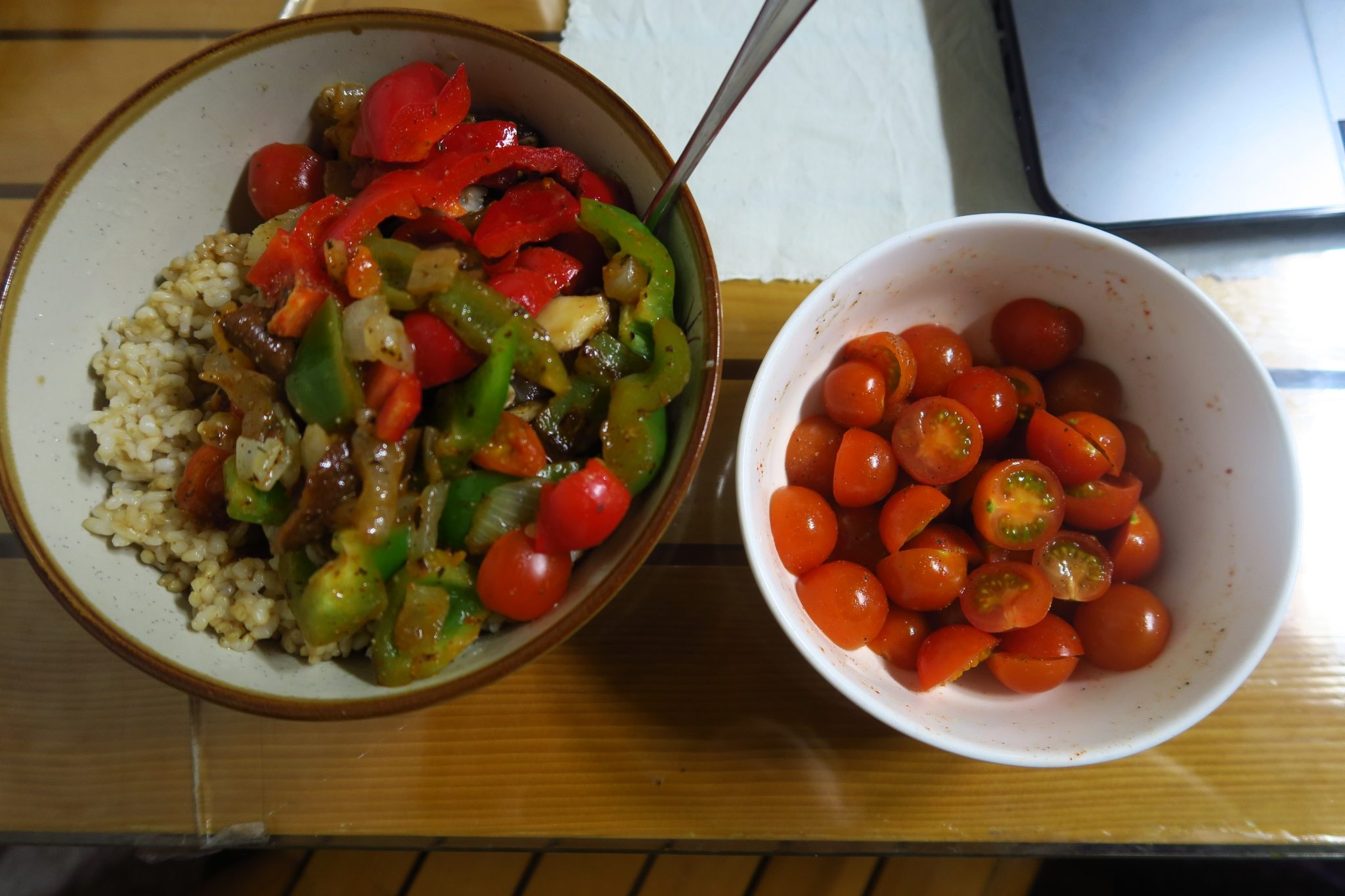 Cooking at Home
While we were in Seoul, cooking at home was virtually impossible. We wandered around for hours on several different days searching desperately for grocery stores with more than just fish and rice and just couldn't find anything in Seoul. It wasn't until the end of our trip that we learned of "HomePlus", a huge grocery store several stops down the subway. We could have stocked up there if we had known. Still, unless you were buying in bulk, there weren't very many vegetables to be had. When we went to Busan we had slightly better luck, though not by much. We were lucky enough to have purchased some spices back in New Zealand and still had them with us. So when we found a small store in Busan that sold vegetables, we were able to piece together a meal with the things that we had. Incheon was even easier to do this in. We found fairly cheap pasta and tomato sauce there. While that's not necessarily what you want to be eating in South Korea… You gotta eat. All in all, cooking at home is doable, but ask the locals about grocery stores because there may not be one for miles and miles and google probably won't know about the ones that do exist.
Summary
Clearly, South Korea was not the easiest place to be vegan. We did survive and we learned a lot. I think we would do much, much better on the second time around. However, due to the sheer inescapable nature of the scent of omni-food and the sight of sadness in the streets, I don't think I will be going for a second time around. So can you be vegan in South Korea? Absolutely! Do you want to be? That's up to you! I have heard of other people having much more luck. And maybe it's better in the Summer!
That's all I have for this Round Up!
Until next time,
Ellie Lebo