We were only in Norway for a day and a half, but I miss it already.
We got off to a rocky but fun start. After a surprisingly small amount of first flight anxiety we landed in Oslo at five minutes to midnight. We got through customs without a hitch, and we were immediately onto finding our way to the motel. We went outside to the last run of the hotel shuttles, and managed to board the wrong one. We arrived at a very similarly named hotel to ours and went to check in. The bemused receptionist was extremely helpful, and once they helped us figure out where we were supposed to be they gave us a map with our destination circled. So our adventure was inaugurated with a confused walk along a dark Norwegian highway in below freezing temperatures. This was surprisingly fun. By the time we got to our motel, reception had closed. They left our key in an envelope with our room and building number on it. We then wandered around for roughly twenty minutes in the dark, trying to figure out which building it was and beginning to question the existence of the fabled Building 9. Again, this was surprisingly fun.
The following day was our big day in Oslo, and it would not go as bumpy as our arrival! Our best way to get into the city was to go back to the airport, and take a bus or train from there. I put in a vote for the train, and accidentally bought our tickets on the express train. An expensive but classy mistake. We could just see a portion of the Norwegian scenery from the train, and already I was enamoured. Before long we started to see the beautiful architecture of the city, and in ten minutes we were there. Immediately after stepping out of the central station, I was overwhelmed by how beautiful it was. The architecture was incredible; the terrain was beautiful; we were just across from the water, with an amazing view. Ellie asked me if I'd ever seen such completely blue skies – even the sky was astounding. Skies like that are incredibly uncommon in wee Scotland.
All we had planned for the day was where we were going to go for lunch, and that we were attending a meetup with other vegans living in Oslo later in the evening, where we would also have dinner. So we thought we would just devote the rest of the day to wandering around and exploring. One of the first buildings we noticed was the Opera House. We saw people walking up the slanted roof, and it seemed that it was the done thing. So, when in Oslo… We made the journey to the top and marvelled at the view of the city we were about to venture into.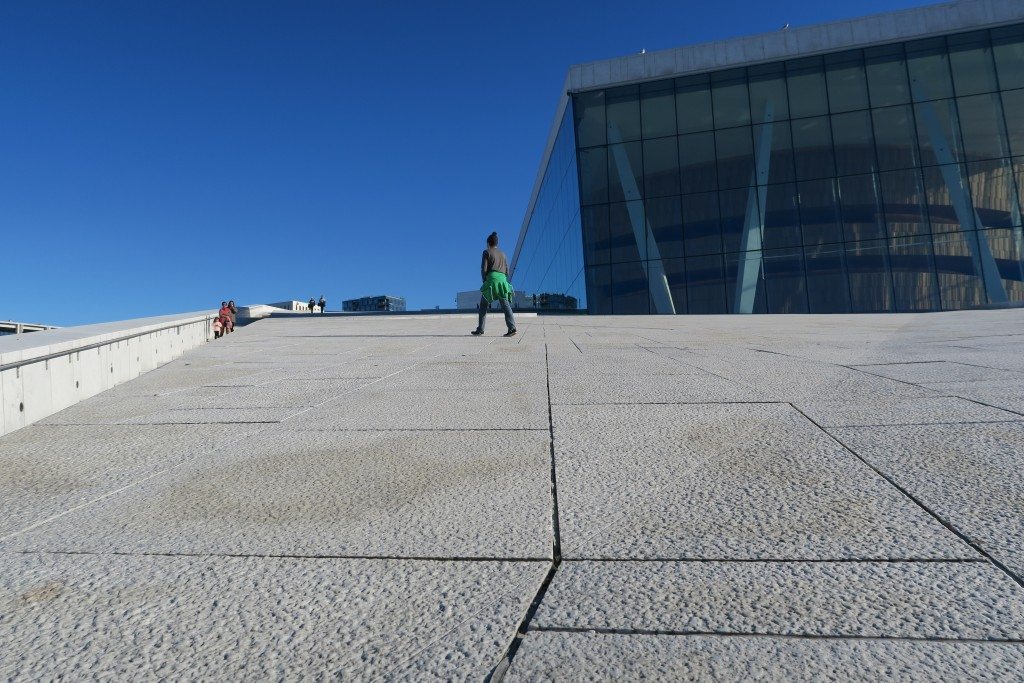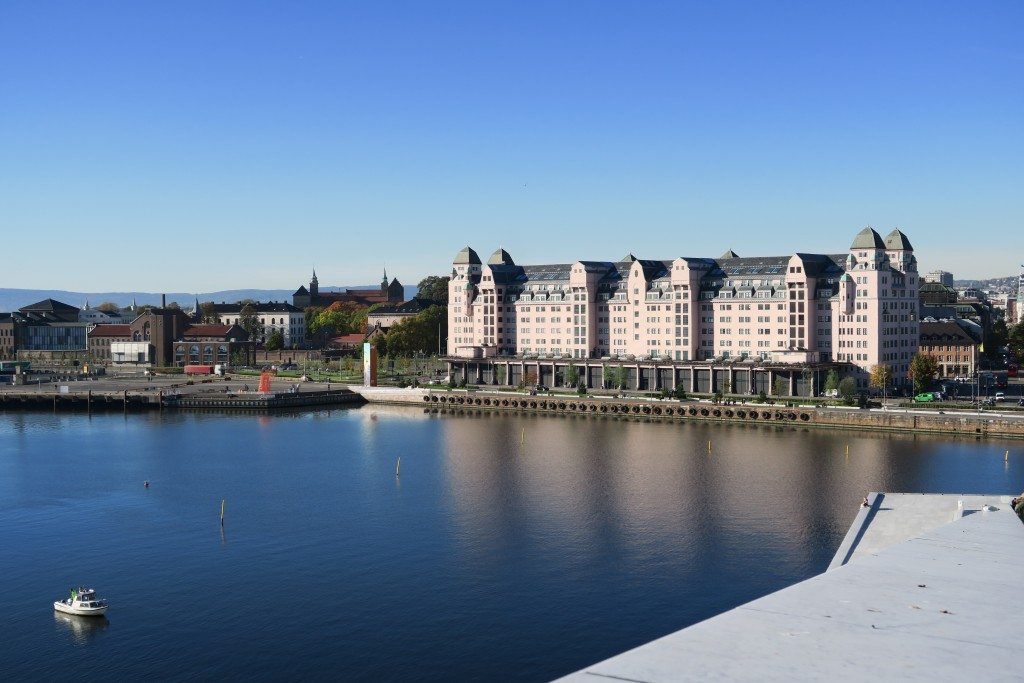 We cautiously made our way back down on the slippery floor, only to be shown up by some kind of graceful elf/mountain goat child who was basically dancing down the slope. Safety first, though.
We decided we would then go for lunch and take in the sights along the way. The directions I had noted down on my phone brought us past Youngstorget and we noticed a market in the square. We decided to stop for blueberries and sit by the fountain for a bit. On the way to the fountain we noticed 4Gringos, a Mexican street food truck.
"Oh, what are the chances of us finding some vegan options over there?"
"Not very likely, but we should give it a look."
Well, not only did they advertise vegan options available on their menu, but they also served the best tacos I've ever eaten. I say that without the slightest hint of exaggeration. We covered them in the beautiful habanero sauce, sat by the fountain, and made our tongues and tummies incredibly happy! Seriously, if you ever find yourself in Oslo, you should absolutely check this place out! Oh, and the blueberries were great too.
Now that our lunch plans had changed, we had hours to explore. And we completely took advantage of this. We chose a direction and started to walk in it, under the security of if we get lost, pick a tram line and follow it until we're back at the train station. We ventured out of the centre of the city, oohing and aahing, broken up with spontaneous interjections of 'Hmm, could I move to Norway?' and 'Mate, those tacos, though!' We saw so much, yet we didn't see nearly enough.
Before long it was time to head back for our meetup. So we put my, now tried and tested, theory to the test and followed the tram lines all the way back to the station. We had to figure out which way the station was, lest we follow the tram line away from the station. Fortunately, however, every single person we spoke to in Oslo was super friendly, and seemed more than happy to help. We looked at a bus stop map, we asked for directions, and we were off!
As soon as we were centred, we made our way to the meetup. We met at Loving Hut with two other people who were living in Oslo. By this point it was really nice just to be able to sit down and talk for a bit. We sat for a couple of hours in the welcoming little restaurant, talking about veganism and sharing our stories with one another. The owner of the restaurant is very passionate about veganism and spoke to me about why they opened where they are. They were really excited by the idea of VeganTravel and suggested we put a sticker on their cash register. Again, if you ever find yourself in Oslo, I strongly suggest you come here. I had an overwhelmingly positive experience. I know there are two Loving Huts in Oslo. I can't speak for the other one, but this'n gets a huge thumbs up from me!
Eventually it was home time. One of the people from the meetup kindly walked us back to the station and then we parted ways. And so, with weary heads and happy hearts, our intrepid adventurers journeyed home, snuggled contently inside the fancy train on which they had already paid for a return journey.
I really, really liked Oslo. I know we are going to spend a bit more time there in a six months time. And I wait with bated breath.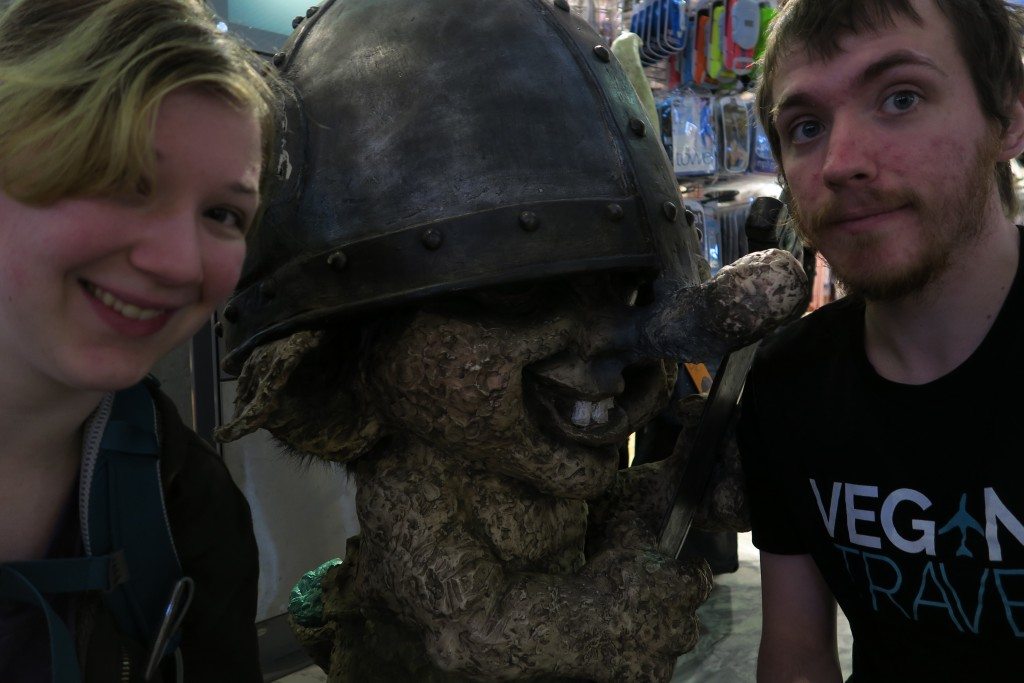 Takk, Norge. Tusen Takk.