Happiness is Vegan Pizza in LA
Are you craving pizza? Of course you are. You're human.
But where do you go for the best vegan pizza in Los Angeles? I mean the kind of pizza you can't put down. The kind of pizza you have to order two of because there's no way you're sharing.
In fact, better order three because these pies are so good you're going to want an extra for breakfast.
Mmmm… cold pizza for breakfast.
Sorry, sorry. I drifted there for a moment. Anyway, back to the topic at hand.
Yes, pizza is pizza and it's going to be great no matter what. But when you're traveling, you want something special. You want the best vegan pizza in Los Angeles.
We've got you covered with seven restaurants ready to stuff your face full of gooey goodness.
Oh, and did I mention there's also a bonus at the end of this article? You're welcome.
But wait!
Don't rush down there just yet! You're going to want to take your time with this list. To make it last. Actually, better just order a vegan pizza now so you have something to eat while reading.
Yup. Genius.
Ready? Okay, let's make like a Ninja Turtle and dive into some vegan pizza pies!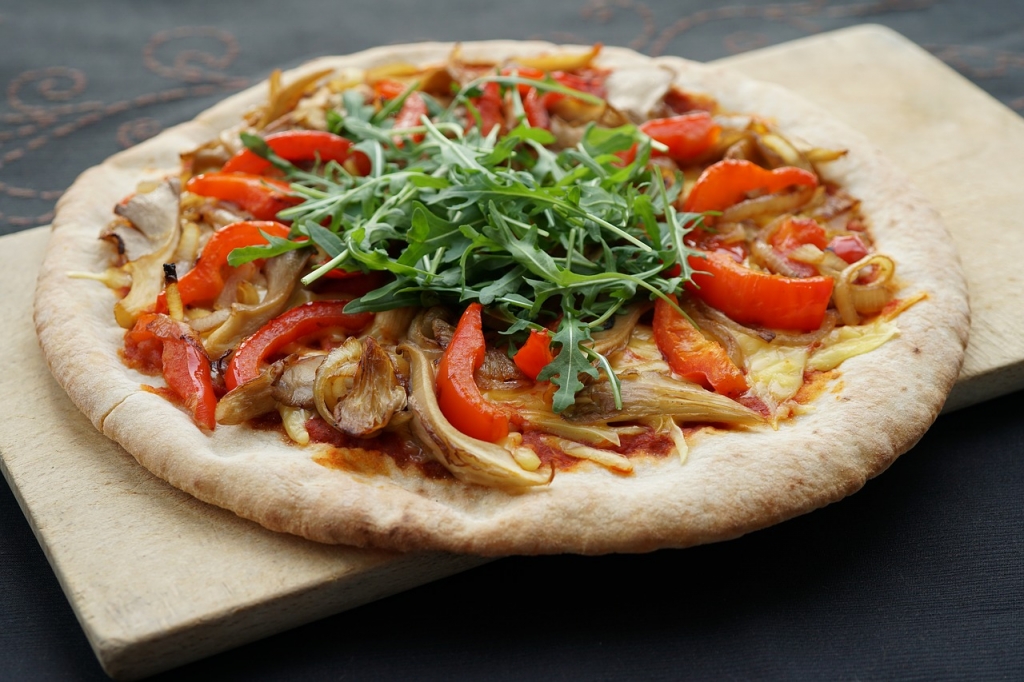 Get spicy with Lucifer's Pizza
We're starting out hot with a pizza joint that prides itself on spice.
See, at Lucifer's, you order your vegan pizza and then pick one, two or three peppers. Each pepper represents a spice-level. One pepper is a good kick of flavor. Three peppers will leave you breathing fire for the rest of the day.
I'm a two-pepper kind of guy. I like to live on the edge but I also don't want to cry in public.
While Lucifer's doesn't have any dedicated vegan pizzas, you are welcome to ask for vegan cheese on any of their regular pies or create your own. Just add an extra $1 for a 10″ and $2.50 for a 16″ to their menu prices.
Sure, Lucifer's is a little short on vegan pizza options. But they have the best vegan pizza in LA if spice is your thing.
Make sure to comment below if you go three-peppers and live to tell the tale!
Locations
1958 Hillhurst Ave, Los Angeles | 323-906-8603
7123 Melrose Ave, Los Angeles | 323-906-8603
6104 W Sunset Blvd, Hollywood | 323-319-3132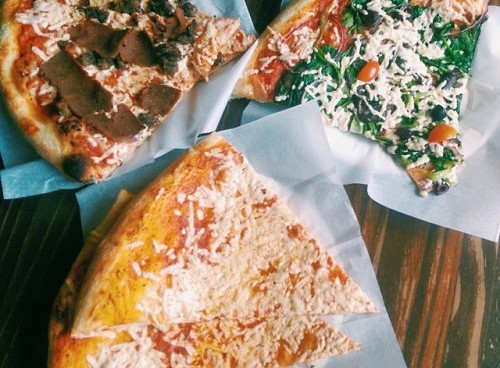 Photo Credit: Quarry Girl 
Let's just get this out of the way at the top: Pizzanista! has vegan macaroni & cheese pizza.
Yes, you read that right.
But hold up, because it's only available on Sundays. Meaning you'll have to plan your trip correctly to snag that creamy goodness.
What if I can't get to Pizzanista! on a Sunday?!
Don't worry, you can still enjoy some of the best vegan pizza in Los Angeles Tuesday – Saturday. In fact, the hipster-filled restaurant's Seitan Meets Jesus pie is my personal favorite. And it's available six days per week.
That's vegan pepperoni, vegan sausage and vegan bacon. All topped with delicious Daiya cheese.
Pizzanista! can get a little pricey at nearly $30 for an 18-inch 'za. But if you're craving innovative toppings on a New York-style slice, it's hard to beat.
Locations
2019 E 7th Street, Los Angeles | 213-627-1430
1837 E. 7th Street, Long Beach | 562-591-6929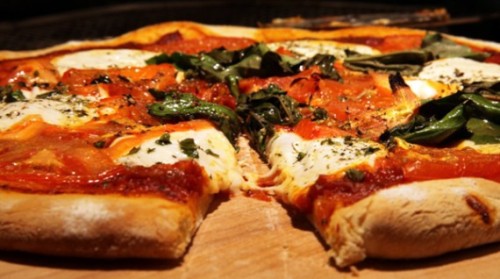 Photo Credit: Quarry Girl 
First Lucifer's, now Purgatory? Yes. Because vegan pizza is a religion in LA.
This vibrant pizza joint solidifies its spot on our list with a killer selection of vegan pies. From Thor's BBQ to Brief Nudity, you can't go wrong with Purgatory's scrumptiously themed dishes.
But do they do spicy?
Um, obviously. Whether you go Beet Junkie with its El Diablo sauce or Buffalo Bill with its red pepper flakes, Purgatory won't let you down when you're looking for a kick.
And when they're not using their homemade ricotta, the vibrant restaurant relies on Follow Your Heart cheese. Which is great for those who think Daiya is a bit sticky in texture.
Don't be alarmed by Purgatory's seemingly random location. Those in the know will tell you that it's not only one of the best vegan pizza places in LA, but one of the best vegan pizza places anywhere.
Location
1326 E 1st Street, Los Angeles | 323-262-5310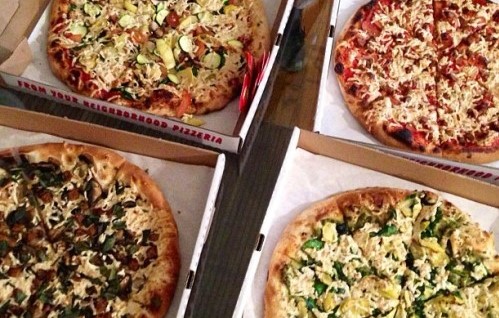 Photo Credit: Quarry Girl 
Cruzer Pizza is the only 100% vegan pizza restaurant on this list. Located in the heart of the effortlessly trendy Los Feliz neighborhood, this carryout joint looks divey but packs a lot of vegan pizza goodness into every pie.
Famous for their Quarrygirl.com pizza, Cruzer fills out their menu with gourmet offerings such as the Indian Kima pizza and Pesto pizza.
Cruzer also supplies vegan calzones and some of the best vegan cheesy breadsticks in LA.
If you want some amazing vegan pizza but don't want to worry about dealing with non-vegan items on the menu, Cruzer is the place for you.
Location
4449 Prospect Ave, Los Angeles | 323-666-0600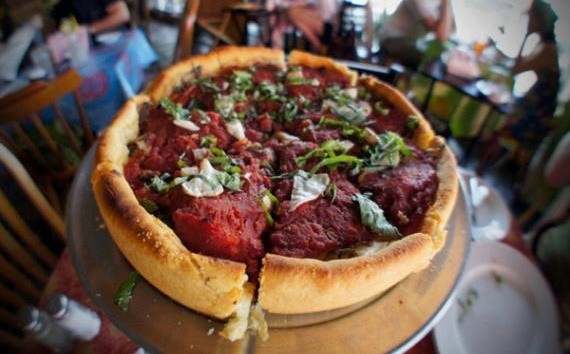 Photo credit: Quarry Girl
Masa of Echo Park is Chicago pizza at its finest. That means it's deep. Real deep. Not that pan-style pizza that some places call deep. I mean true deep-dish pizza that will fill you up with one slice.
Okay, I eat three.
But considering I normally take out an entire pizza by myself, filling me in three is impressive.
Masa has a vegan menu so long, so overflowing with Italian goodness, that you'll wonder how they're able to fit in any non-vegan items.
Customers can drop by the open-spaced restaurant and build their own deep-dish pie from 20+ toppings. It will come walled-in by a golden, buttery crust and stuffed to the max with yumminess.
Masa uses Teese cheese to get that perfect Chicago consistency. A brand you can't buy in stores. And yes, it's melt-in-your-mouth amazing.
Head over to Masa if you've got a healthy appetite and want a break from all the New York-style pizzas out there. Fair warning, don't wear pants that are tight in the waist. Trust me.
Location
1800 W Sunset Blvd, Echo Park | 213-989-1558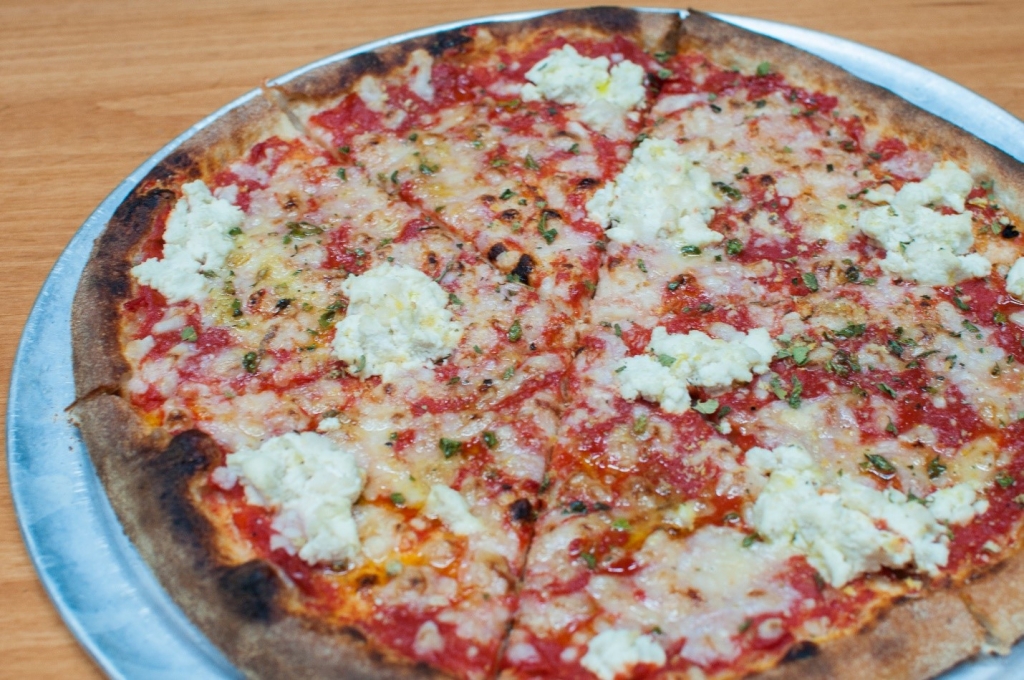 Photo by Mohawk Bend
Mohawk Bend is not only one of the best vegan pizza places in LA, it's also the most romantic restaurant on this list. Truth be told, it's my go-to for first dates. And it never lets me down.
See, Mohawk Bend isn't your average vegan pizza joint. It's actually a gorgeous craft-beer pub set in an old theatre just outside of Hollywood. There's a chic patio, a beautifully laid out communal bar area and a stunning atrium in the back.
Pro tip: If you're taking someone on a date, get a reservation for the atrium. The towering ceiling and oversized fireplace create the perfect atmosphere.
Mohawk Bend uses a combo of Kite Hill ricotta and Follow Your Heart mozzarella on pies like the White Mushroom pizza, Baked Potato pizza, and the Angry Vegan.
Prices are reasonable and servers are knowledgeable if you're looking to pair your vegan pizza with a vegan beer.
Mohawk Bend does deliver, but I'd recommend dining in at this trendy and fun LA hotspot.
Location
2141 W Sunset Blvd, Los Angeles| 213-483-2337
Photo credit: Fresh Brothers
The coveted number one spot on our list goes to Fresh Brothers. A California-based chain that rules the coast.
But does a chain really have the best vegan pizza in LA?
Yes.
Fresh Brothers earns its place on our list, not for gimmicks or atmosphere, but because it's simply great vegan pizza. Whether you go thin crust, cauliflower crust, or deep dish, you're going to get a pie that you can rely on to satisfy your pizza cravings.
And really, isn't that what we're all after?
You want to feel satiated when you're done eating. You want a vegan pizza that is going to comfort you. To make you feel safe and remind you of your childhood.
Fresh Brothers is all that and more.
They're the perfect pizza for a night in with Netflix, a relaxing dinner after exploring the city, or a quick bite to catch up with friends.
Honestly, there's no bad time to enjoy Fresh Brothers vegan pizza.
Locations
1923 N. Bronson Ave, Hollywood | 323-962-6262
1447 Lincoln Blvd, Santa Monica | 310-656-6888
250 S Beverly Dr, Beverly Hills | 310-860-9400
*more locations available on their website!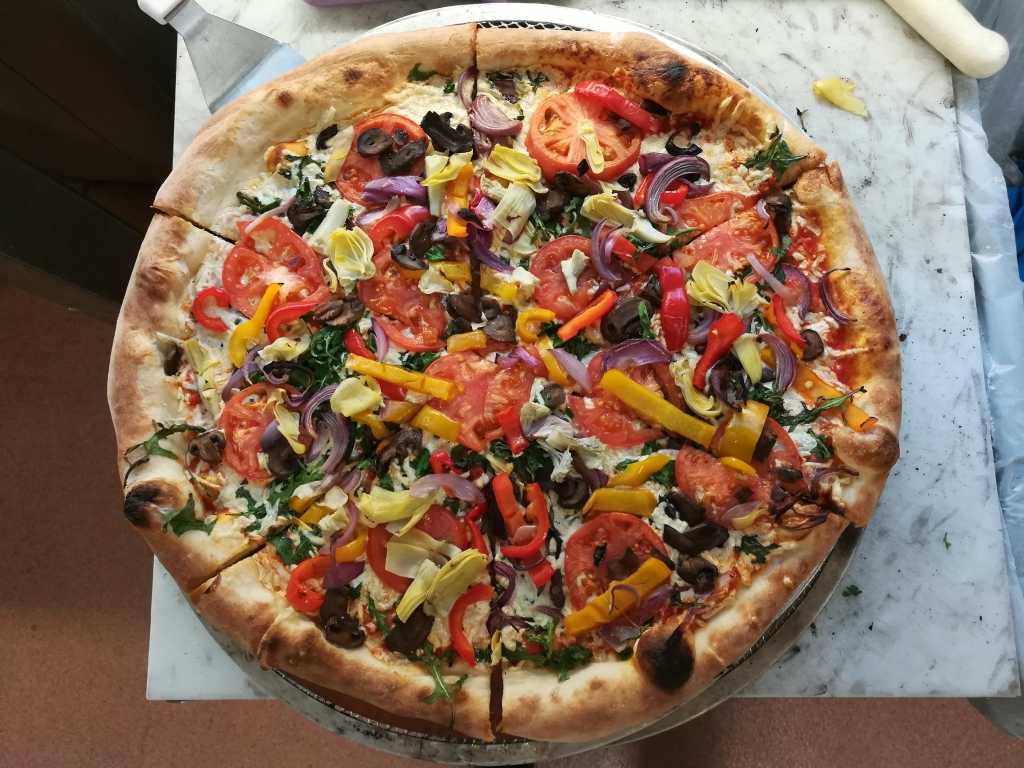 Photo credit: Whole Foods Market
What?! Whole Foods?! On a list of the best vegan pizza places in Los Angeles?!
Oh yes.
Whole Foods' prepared-food section offers fresh, hot, perfectly crafted vegan pizzas to go.
And you can snag two 18″ pies for only $24.
That's right. $24 for two massive pizzas.
Worried about options? Don't be. The artisan chefs behind the counter will turn any of their non-vegan pizzas plant-based just for you. My personal favorite is the PB&J; that's pineapple, bacon, and jalapeños.
I don't even like pineapple!
All of their crusts are vegan (the multigrain is sugar-free too) and they use Daiya cheese except where noted. Each pizza usually takes around 15-minutes to bake, but you can call ahead to avoid the wait.
Now go order some vegan pizza and give your taste buds something to be excited about!