Chiang Mai may very well be the happiest place on earth. Sorry not sorry, Disney. From the moment Ross and I arrived here, it has been a vegan dream. The cheapest place in town that had more positive reviews than negative just so happened to be an eco conscious place, which does yoga retreats, juice cleanses, and things like that which the health-conscious and Eco-conscious vegan can get all excited about. The place itself was really really nice. For dorm prices (if you are two or more people) you can stay in a small bungalow in this little paradise. Outside, in the common areas, you will find hammocks, mats, lots of places to sit and socialise as well as a kitchenette and all of the bathrooms and showers. The place is one of the most calm and relaxing places I have ever stayed. There are banana trees, swing sets, and wind chimes in the garden, all contributing to the super peaceful atmosphere. The person who runs the place is all smiles all the time and just super lovely to be around. On top of all of this, the place has an amazing location.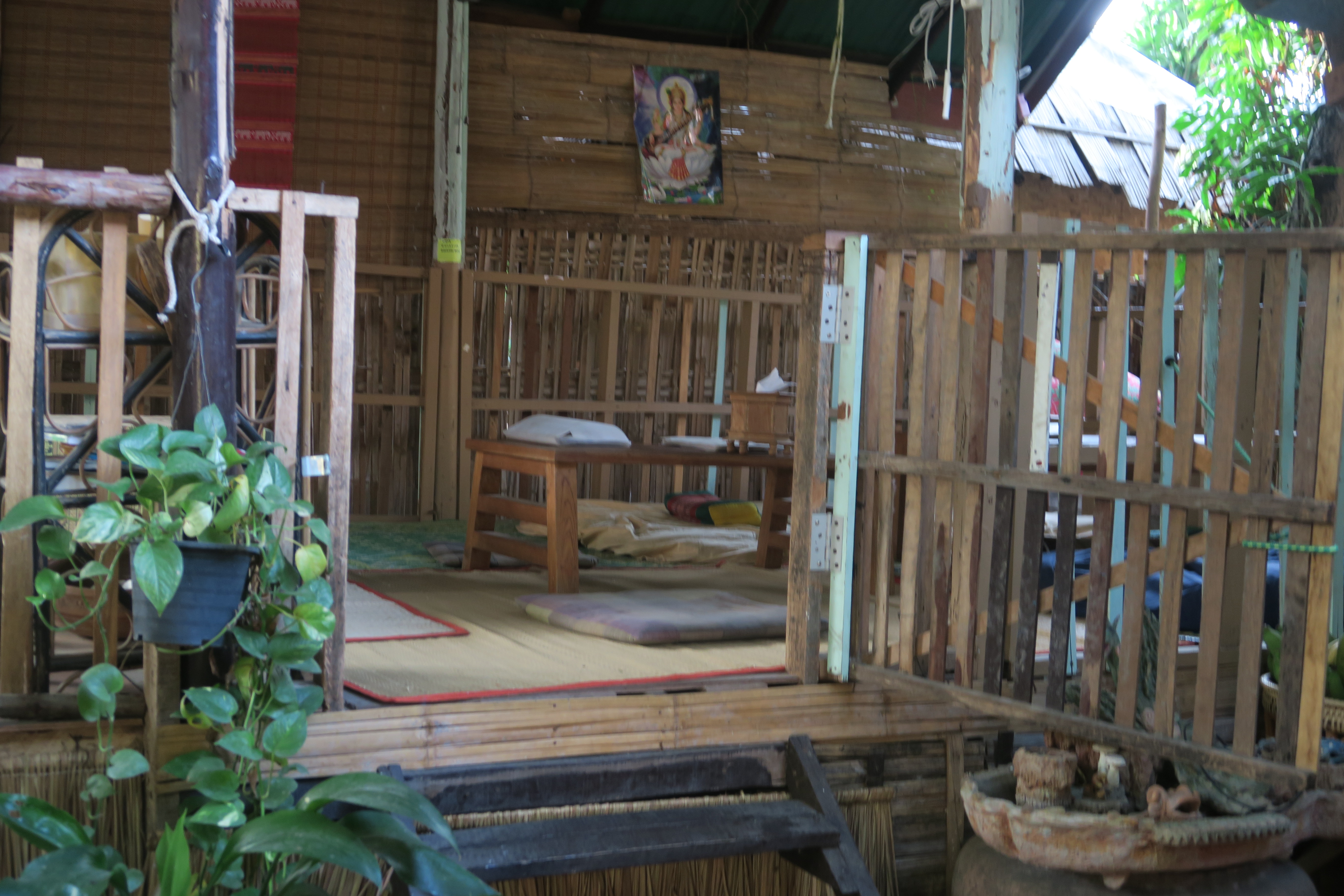 The Bluebird Eco Village is located in old city Chiang Mai, about a fifteen second walk away from the Bodhi Tree Cafe, a place we frequented quite a bit during our time there. It's also just a few feet away from a beautiful temple with a courtyard full of soothing, lovely plants, and really really good vibes. You can go here to get a Thai massage or a smoothie or just to chat with the monks on Saturday and Sunday nights. The temple grounds are so wonderfully serene. There are lots and lots and LOTS of temples in Chiang Mai. When you look up online what there is to do in the area, you'll find a few pages of special temples and shrines before you will find anything else. For me, this is a huge part of why Chiang Mai is so incredibly beautiful. Being able to walk around aimlessly, without a map, and stumble into some of the most beautiful things I've ever seen and witness the types of things that I have never seen before, well it's just absolutely incredible.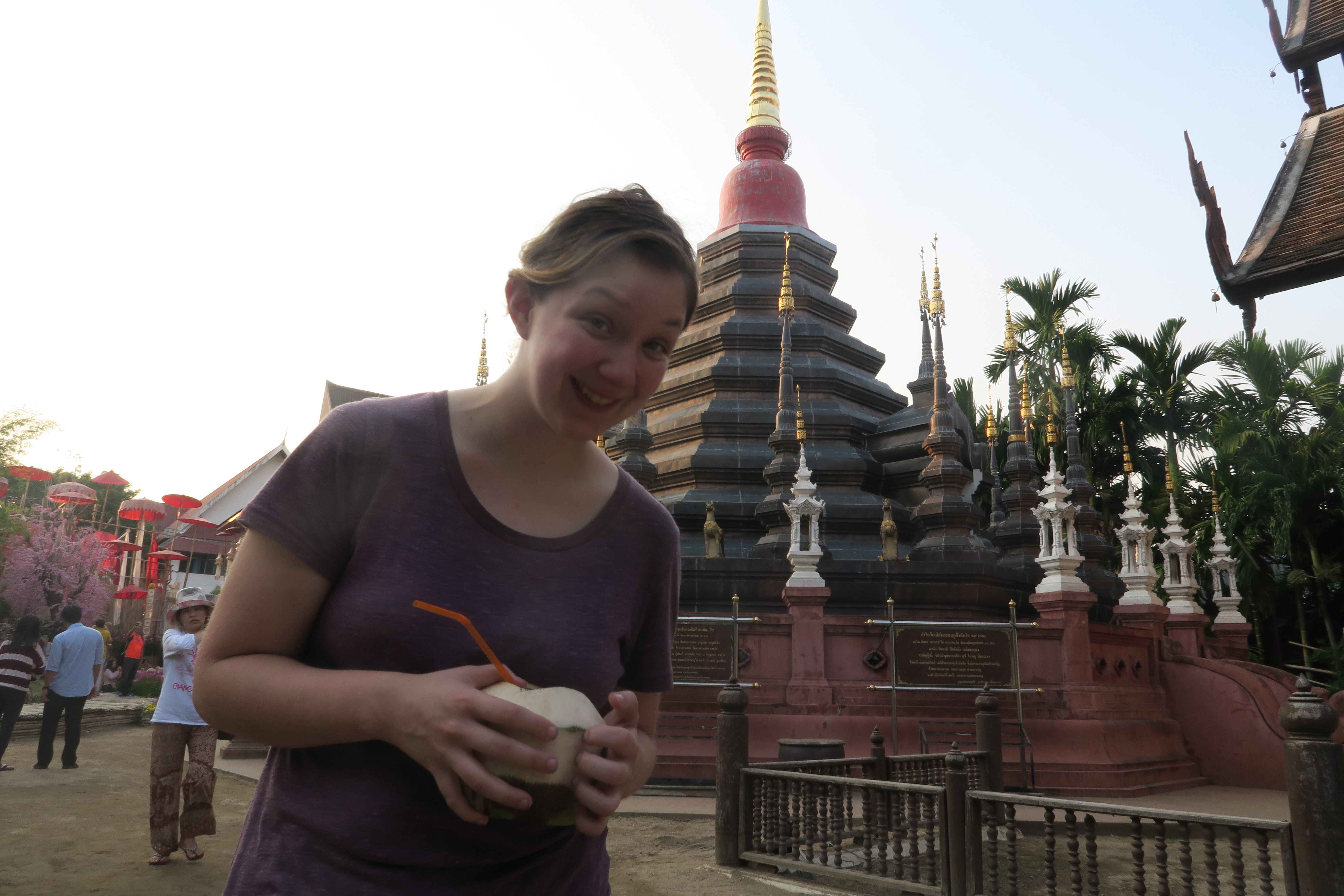 There are a few things that you should know if you plan on visiting some Buddhist temples yourself:
Your shoulders should be covered
You should not wear short shorts/skirts, tank tops, low cut anything, or belly shirts.
You should not wear any depictions of the Buddha's head on your person, whether in clothing or in tattoo (this one is a good rule for all of Thailand, not just for temples!)
You should not touch, kiss, or hug in the temple (again, a good general rule in Thailand is not to show any PDA as it's not acceptable or polite here.)
You should consider wearing slip on shoes because you will be taking your shoes off every time you go into a temple
You should not step on the threshold of the temple, but rather over it.
You should never point your feet towards Buddha (or towards other people as a general rule)
You should NEVER EVER EVER sit in the chairs/on the cushions which are reserved for the monks,
You should be generally mindful of where you are and be quiet and respectful.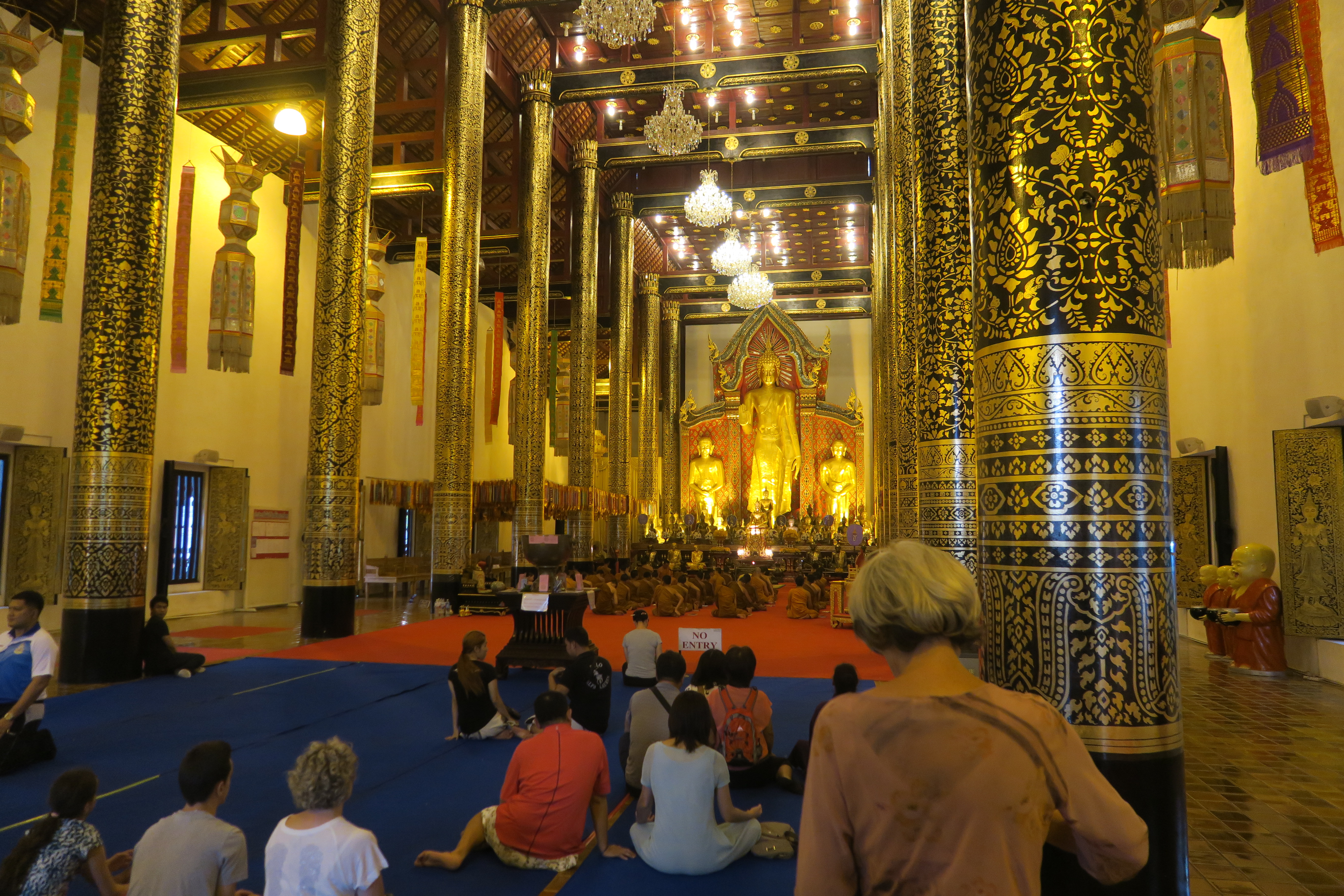 Some of these rules will often be on big signs outside of temples to remind tourists. Unfortunately, many people completely ignore the rules and visit the temples anyway. Even though the rules about modesty in Thailand seem unreasonably strict to you doesn't mean you don't have to follow them. It's not about making a statement when you're in someone else's country. It's about being respectful. If you do happen to forget and find yourself standing outside of a temple in your short-shorts, feeling dismayed because of how far you walked to get to this beautiful place… All hope may not be lost after all. Some of the temples that we've visited have had rows of robes, for guests to wear, just outside.
Chiang Mai also has a lot more to offer than the beautiful and serene temples. It also had food! So much food! A simple Google search for vegan food near you brings up loads of options. Most of them organic, many of them vegan, and even a handful of raw places. There's also a couple of street food options, most of them fruit and rice.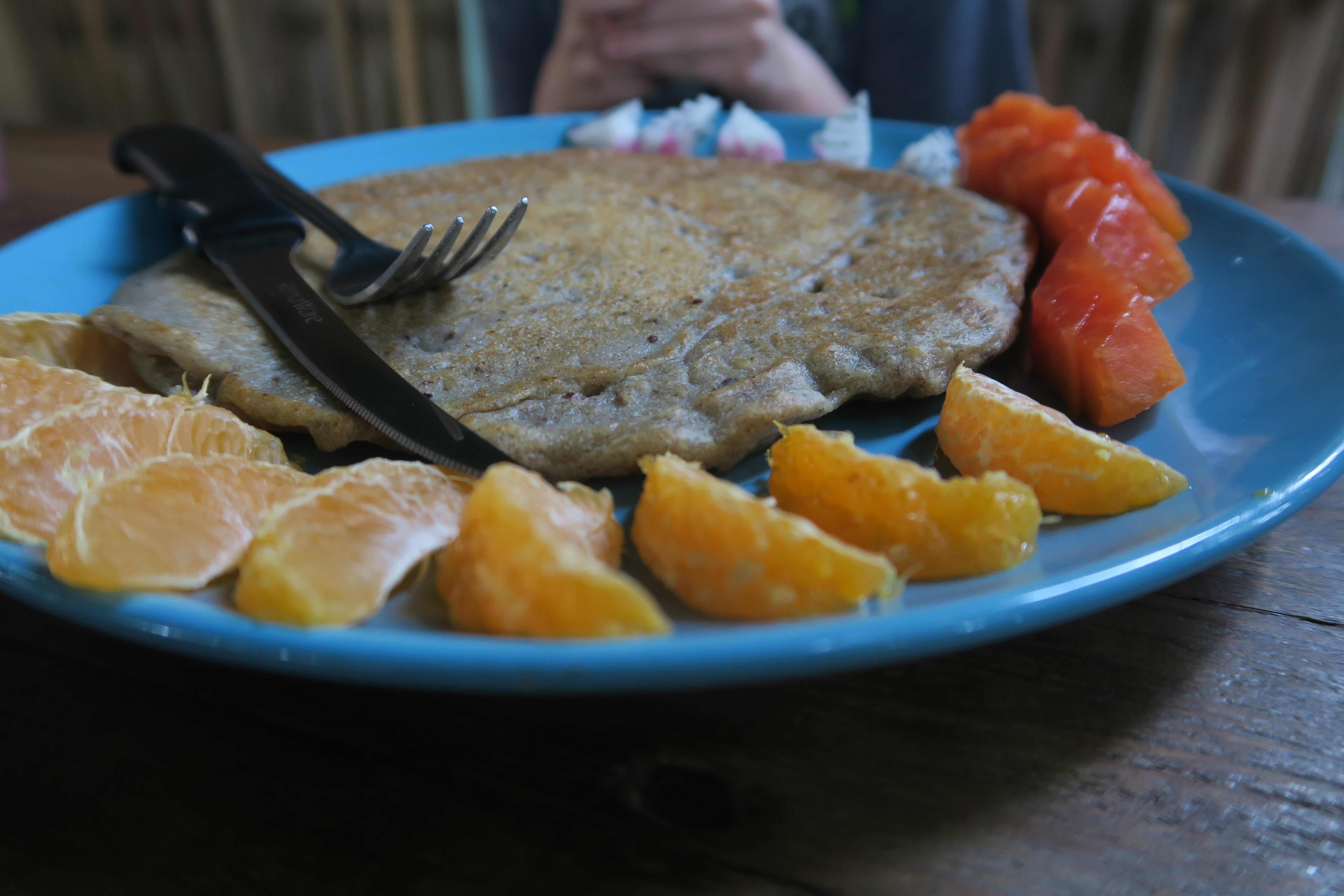 On Sunday nights, there are more street food options at the hottest place to be in Chiang Mai- the walking street, also known as the Sunday Night Market. The market is located in old city, just on the other side of the canal. It's a great place to go and socialise, as well as the best destination for affordable souvenir shopping. The same things that you'll see in the store or being sold in the daytime will be sold at the night market for much, much less. This is probably because of the ridiculous number of people walking through the narrow street. The stall operators can afford to sell their crafts super cheap when there are thousands of people buying. I'm not exaggerating when I say thousands, either. Ross and I didn't last long in the market, in fact, because I don't do super well in crowds. I basically felt like I was in a pickle jar. Be aware of this if you decide to take a trip to the market. It is very very packed. That could be good for some people, it just didn't gel with me having a cough and feeling under the weather. Aside from feeling a bit pressed by the crowds, I had a good time at the night market. There's loads of food, juices, coconuts, beautiful things to look at and beautiful music to listen to, much like Chiang Mai as a whole.
It's time for us to leave the city and head out to another part of Chiang Mai, where we will be volunteering at the Elephant Nature Park. I don't know how I'll sleep from being so excited!
Until next time,
Ellie Lebo