Hey, Vegan Travellers!
I know it's been a while since you've read these beautiful words, but guess what? It is once again time for a famous Ellie Round-Up! "But Ellie!" you say, interrupting my blog quite rudely, "You've been in like a gazillion places since your last round up. What gives? Also, what country? Also, what what!" All in good time. All in good time.
Because Ross and I knew we were going to be using our rail passes to bounce from one place to the next far too rapidly for either one of us to actually make an assessment on how a European country on the whole does veganism… I thought it would be a good idea to wait. You wouldn't really want a round up that just said, "Vienna has vegan food. Dunno about the rest of Austria. Bye." Or maybe you would, maybe you quite like a concise report. Too bad for you, because I offer a compilation! So here's your second-to-last round-up, Vegan Travellers! (Hint, hint.) It's a big list, so buckle up!
Vienna
Vienna was pretty much exactly what I was expecting. I had heard that it was quite easy to be vegan here and I suspected that this was more about mock meats, cheeses, chocolates, and other sweets than it was about accessibility to produce. Anywhere you can go grocery shopping for veg, fruit, and pastas is going to be easy for vegans. However, anywhere you can go grocery shopping for eight different flavours of vegan cheese, myriads of vegan sausages, lasagne, nuggets, ice creams, butters, milks, and biscuits is going to be beautiful for vegans. I had a lot of fun sampling a small portion of what Vienna has to offer us replacement-lovin' vegans. Walking around the city, you seem to almost always be within eyesight of at least two places with marked vegan options. I talk about it in much more detail in this blog right here. But have a picture and a summary anyway. Cook at home for a budget, dining out isn't that much more expensive, and visit Swing Kitchen if you know what's good for you.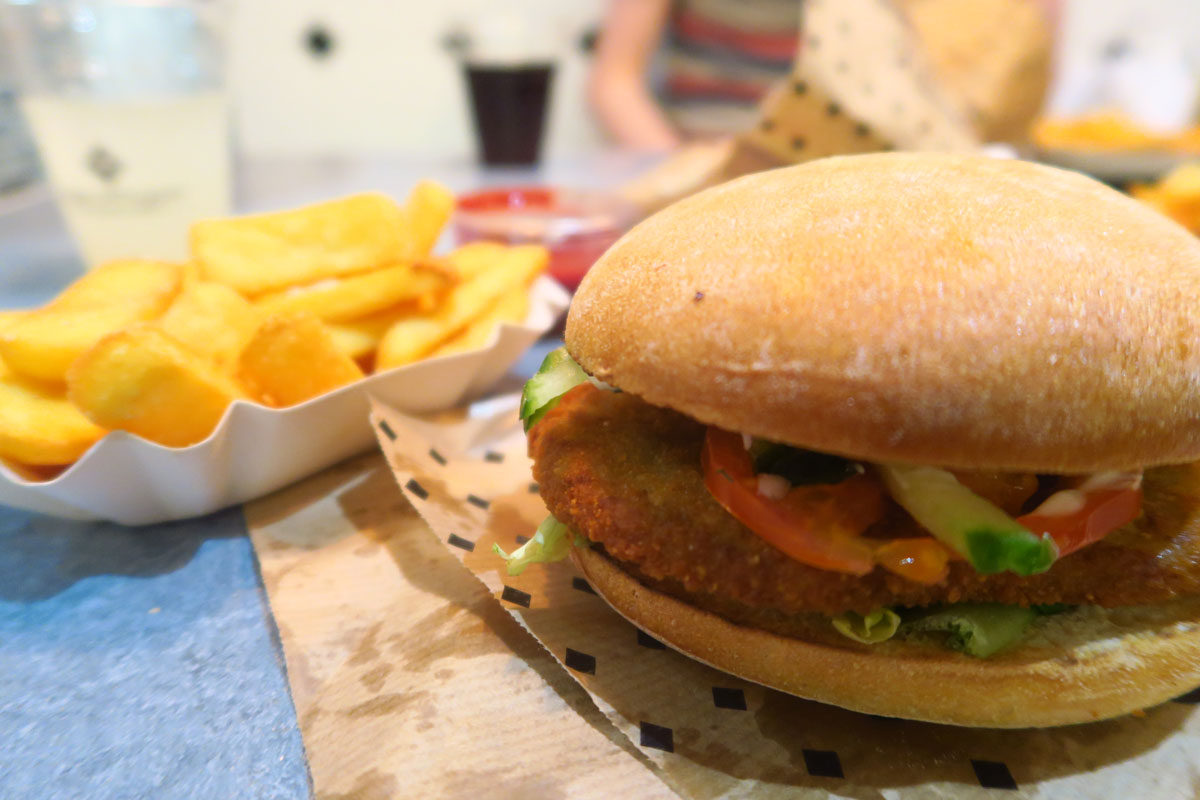 Prague
Prague was also pretty much exactly what I was expecting. This was mostly due to my pal Roisin's months of Snapchats and messages about all the wonderful vegan things that she was finding near her flat, in grocery stores, and in the mall. When we finally visited, it did not disappoint. Perhaps not quite as vegan-conscious as Vienna in the grocery store department, (I imagine that has a lot more to do with the number of SPARs in Vienna than it does vegans) Prague still held its own. Because the Czech Republic is generally cheaper than Austria as a county, we were also able to try out some fancier vegan dining while there, for the same price as cheap fast food elsewhere. There were candles on the tables, the waiter looked like Nick Cave, and raw burritos were a thing. It was certainly an experience. Prague was really good for variety in the way of vegan places and seemed to have a lot of raw restaurants, bakeries, and cafes. It could be an exciting place for a raw foodie.
Venice
I was surprised by how easy it was to find lots of really delicious things here. My experience with Italian food in the US has always been "let's go somewhere else," since becoming vegan. Basically, everything has meat, egg, fish, or butter in it at an Italian restaurant. However, at an ITALIAN restaurant, much of the pasta is made in-house, pizza marinara is very much a thing, and oil is usually used instead of butter. That meant that Ross and I were just a question away from a delicious herby, garlicy, tomato-y feast every time we walked into a place in Venice. Because the pizza was so cheap, so delicious, and so easily accessed, that's what we ate most often. I never really found a proper grocery store, apart from the small shop down the street from where we were staying which was almost literally always closed. That's one thing to definitely note about food in Italy. Everything shuts at weird and inconsistent hours. You can't really go out in the middle of the day and expect to find food. It just doesn't work like that. Anyway, I thought I would get sick of just having rather plain pizzas and pastas for the whole time we were in Venice, but I didn't. Every restaurant does it differently and it's actually kind of exciting becoming a pizza connoisseur for a week. If you want more specifically vegan things, vegan restaurants, vegan options in grocery stores, etc. Venice may not be for you. If you want to eat really lovely pizza by a canal, well, that's different.
Florence
Florence had everything a vegan in Italy could ever hope for. I already talked a little bit about all the things I loved about Florence and its abundance of vegan food here. All you really need to know right now is that gnocchi is basically the food of the gods, Gelato is the dessert of the gods, and everything should always be chocolate-hazelnut flavoured for as long as I'm alive. (This may not be very long as the more hazelnutty things I eat, the more allergic I feel myself becoming. What a way to go, though.)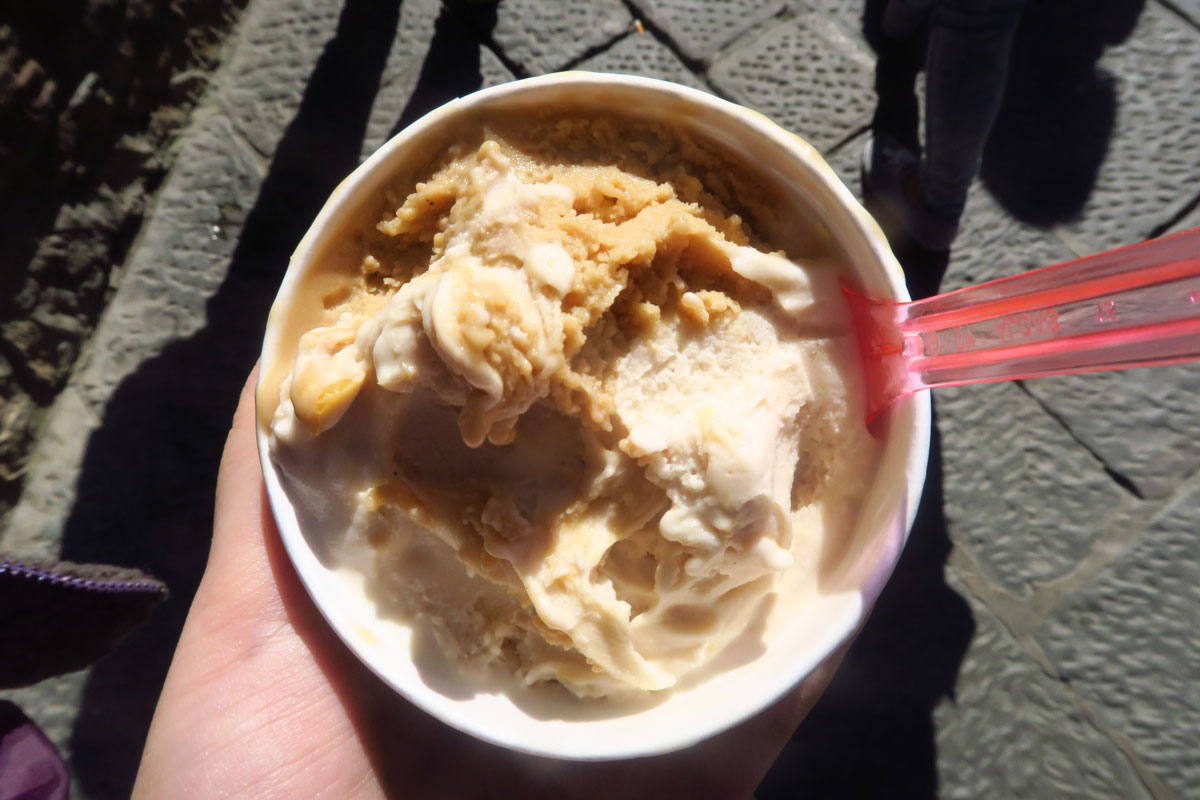 Munich
Munich seems like such a blur. I knew that Germany was meant to be really good for veganism. Specifically, I had heard that Berlin would be really good, but we weren't able to make it quite that far. With how amazing Munich was for vegan options, though, I cannot imagine how incredible Berlin must be. When we got off the train from Venice (yeah, extremely long travel day), the very first thing we saw was a little food stand which advertised vegan Thai curries. Between the train station and the place in which we were staying, we passed no less than seven places which had marked vegan options. It was incredible. Because there was such an abundance of vegan things, there was a lot of choice once again. That choice led us to a Mediterranean restaurant. Mediterranean is definitely in my top three favourite types of food. I cannot get enough. I talk more about it here. I can't tell you very much about the regular grocery stores in Munich, because we weren't there for very long. I can tell you that there is a Lidl in the city centre, and Lidl have loads of fruits, veggies, pastas, cake mixes, etc. that are vegan. Though, if you want things which are specifically vegan, you're in luck there, too. Just outside the city centre is a Veganz super market. I was really surprised at how much cheaper some of the products I have come to know and love in Glasgow were in Germany. I imagine a lot of them must be imported from there or from somewhere nearby. Either way, there's hazelnut chocolate here, too. Europe is killing me.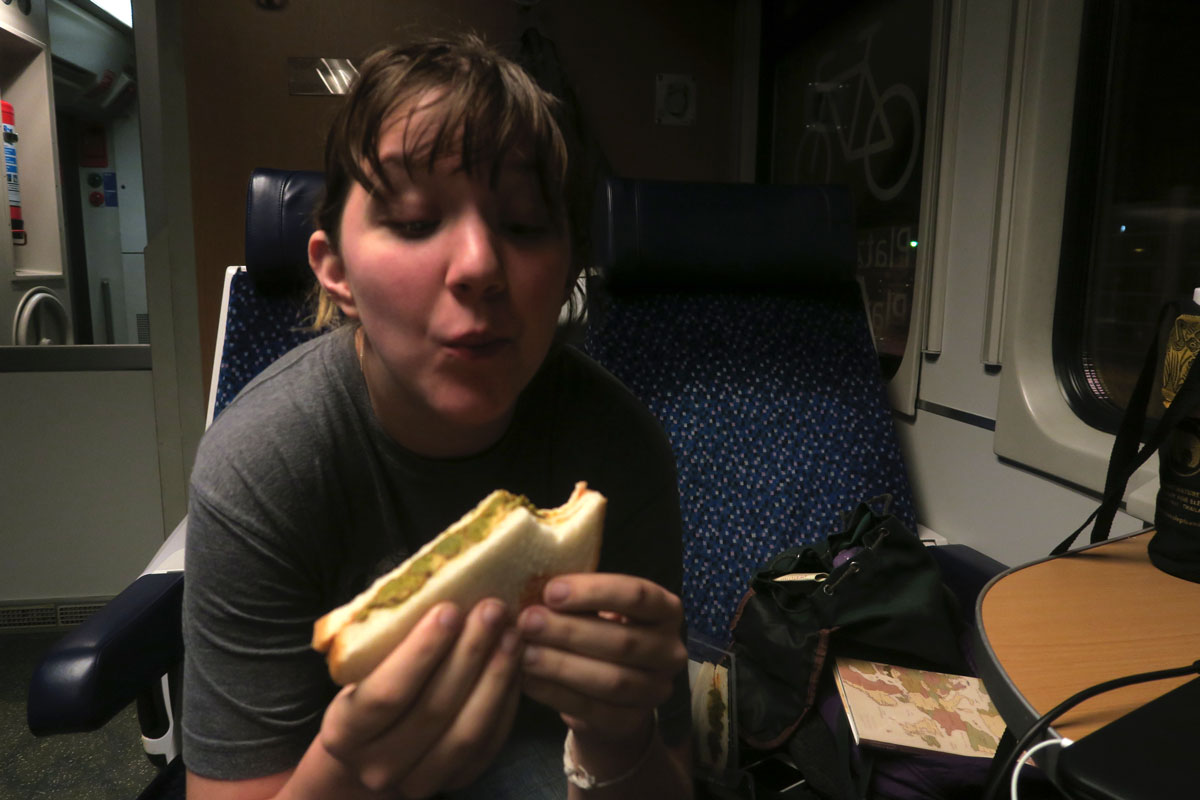 Brugge
Brugge also seems like such a blur. We didn't really know much about what they had to offer in the way of vegan things, but Brugge sounded lovely, was near Munich, and was a much cheaper place to spend the Easter weekend (we were meant to be in Amsterdam, but hostel prices had us like, "AmsterDAMN" I'm so sorry). Even though we didn't encounter any entirely vegan places here, couldn't find any in our research, and didn't hear tell of any… We still had plenty of options. There's a big grocery store in town with all the produce and staples you would need if you had a kitchen. We, however, did not have a kitchen. We did find a place just a block away from our hostel which did super,super cheap and quite tasty veggie burgers and chips. There's also an Indian restaurant in town. Keep in mind that it's a pretty high-end, reservation-having, cloth napkins kind of place and probably can't be your go-to spot if you're on a budget. On Easter Sunday, Ross and I both participated in a fast, which is why I only have two days worth of food info to give you! Sorry! Just know this in your heart and you will be okay when in Brugge: the vegan chocolate is out there. It is at the Chocoladehuise. Go to it. (The blueberry one is the best.)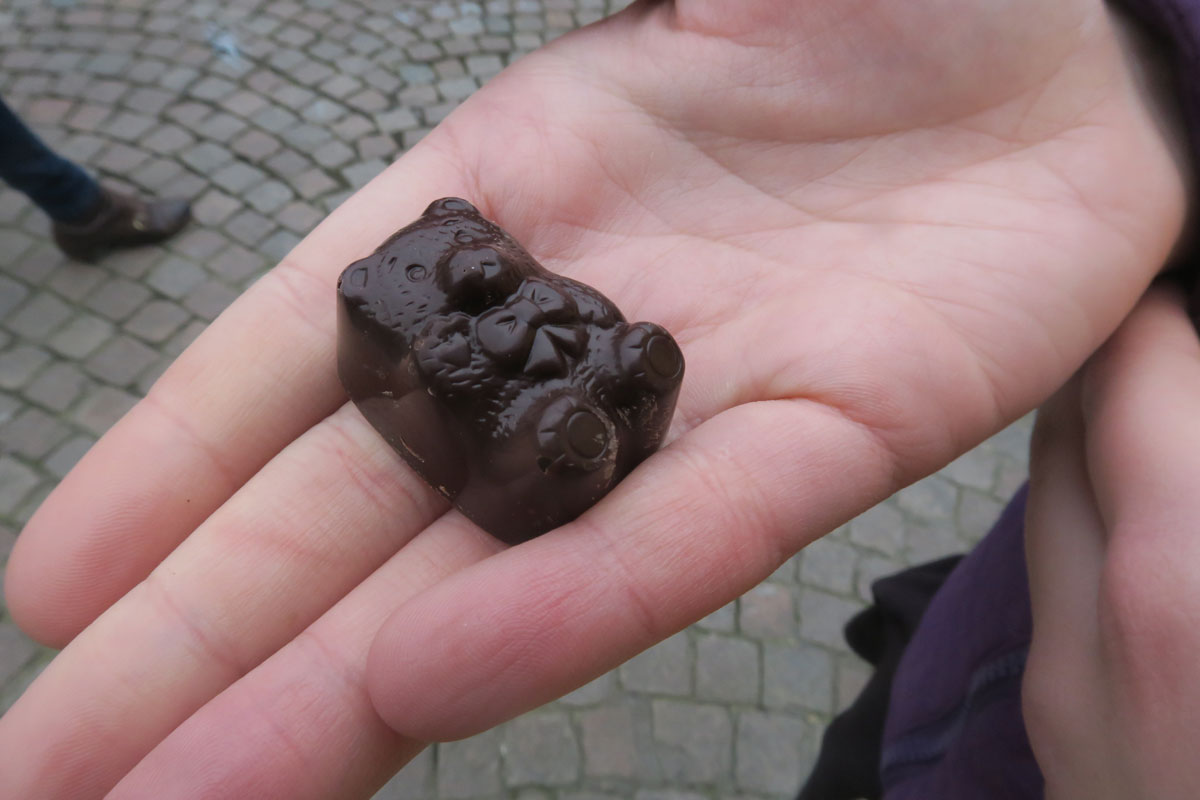 My, my, there's Europe done and over with. That all went by a bit too quickly for my taste. If you have any questions about any of the cities that we visited, please feel free to let me know in the comments and I will answer as soon as I can! Also, stay tuned for the final round-up, where I rank the countries we've visited based on totally objective criteria like, "enough salt on chips," "odd number of sesame seeds on bun," and "ease of chocolate location."
Until next time,
Ellie Lebo