The past few days being back in Maryland have been almost just like any other time at home. I've been to a big Fall festival with my family (video coming soon!), had a campfire in my backyard, and have been called upon by my nieces to sing songs from Frozen while I pushed them on the swing. Amidst all of these comfortable traditions, is a little bit of work. I'm taking pictures and videos of everything. I'm documenting all of our dinners and all of the activities in which we participate. The amazing thing about this kind of work is that it doesn't really feel like work. I love recording the events of the day. I love taking pictures and remembering how delicious a curry was. Really, I made a beautiful curry last night.

Blogging for VeganTravel while at home has been comfortable, fun, and surprisingly natural for me. Because of VeganTravel, I had an excuse to take my omni family to an all-vegan restaurant and they liked it. To be fair, we did go to a pretty amazing place called Sprout. Everyone was happy with their food and happy to have their food photographed for the website. The people running the place were kind and very good about keeping vegan and veg things separate. They made sure to inform us what was and wasn't suitable for vegans when we ordered and washed off the knives in between cutting veggie and vegan sandwiches. All in all, it was a really great place and a great dinner. The night ended with my dad saying that he would gladly go back to the restaurant. Amazing! Exciting! Wonderful! All of the positive things that have come from being able to start my travels back at home are countless. One of these positive things is something that I will only begrudgingly admit is positive.
I visited the dentist the other day. I had been experiencing quite a bit of pain with hot/cold food and water on my teeth. I figured that I was really fortunate to be passing through my hometown soon and I waited until I got home to be seen. The dentist informed me that I need to have my wisdom teeth removed before I head off on the rest of my adventures. I'm not yet sure when this surgery is going to happen, as I am going to Boston on Monday, but you can expect a less-than-lucid blog post about the joys of oral surgery and whether or not I was able to find vegan Jell-O for my recovery meals. I am a big baby about things like this but I am very very happy to be home for it. I will have lots of family to pay loads of attention to me and make sure that I'm well taken care of.
Enough about the fortunate timing of this unfortunate dental thing. Now I want to talk about how much I love being in Maryland in the Fall. Everything indoors is cinnamon and pumpkin scented and everything outside is green, orange, brown, and yellow hued. These are the woods behind my brother's house where my extended family all met up today.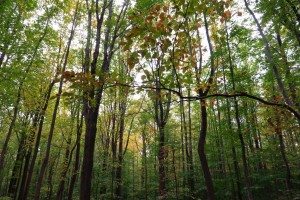 Fall seems to be a more social time than even Summer to Marylanders. We all spend loads of time outside, catching the last few rays of light before the winter comes and traps us all inside with mountains of snow. I don't think I could ever wax poetic enough about how much I love about Fall in Maryland. When I think of home, I don't think of my house or my bedroom. I think of sunlight filtering through green and yellow leaves. I think of the smell of burning oak and of the coolness of pumpkin under my fingers when I scoop out the seeds to roast in the oven. I think I'm a little bit in love with Fall.
And so I will continue to go out for delicious meals and take in the beautiful scenery until I have to have my procedure and you all just continue to look out for the updates and keep being awesome!
Later days,
Ellie