HI VEGAN TRAVELERS!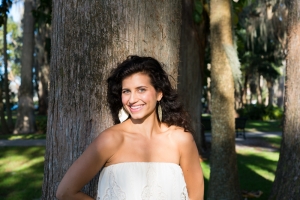 My name is Maria Rose and this is my first official blog contribution to this community. I am so excited to have this platform so I can share with you all what I'll be learning on my upcoming world-wide backpacking adventure. I'll be posting about all things relating to veganism, as well as wellness (I'm a health coach, after all!), yoga, and pretty much anything and everything that I find may be of interest to you all.
So since this is my first blog here, I want to loop you in on who I am, what I'm working on, and where I'm going:
WHO AM I?
While I was born in Toledo, OH, I moved to New York City after graduating from college with a Bachelors in Musical Arts (I'll share more on that later). After living in NYC for a few years, I left to work as a singer on a cruise ship – talk about getting a massive taste of travel! After my time on the cruise ships, I moved to Florida. I realized I needed a change so I decided to get my yoga teacher certification (one of the best decisions of my life).
My yoga training inspired me to live a life on nonviolence so I became vegan in March 2015. Stemming from that, I decided to become a holistic health and wellness coach (more than that later, too!). I'm currently working on my certification from the Institute of Integrative Nutrition, and I'm set to graduate this October (Woo!).
WHERE AM I?
As I sit here and write this post, I've officially moved out of Orlando, FL where I'd been teaching yoga as well as performing in shows at Universal Studios.
WHAT'S MY PLAN?
My plan is to explore and learn about all the various cultures from the countries I'll be visiting. I plan to stay put in some destinations for longer periods of time so as to really immerse myself. I'll be posting pictures, travel stories, tips, recipes, restaurant reviews, and yoga and meditation photos/videos from all over the world. I also plan to take on virtual health coaching clients while I travel, so if you're interested in learning more about that you can visit my website: www.WorldTravelWellness.com.
TENTATIVE ITINERARY
My boyfriend and I are gearing up to take a backpacking trip all over the world!
Orlando (check!)
Ohio & Michigan (to visit family)
San Fransisco, CA
Tokyo, Japan
Hong Kong, China
Philippines
Indonesia
Malaysia
Thailand
Vietnam
Cambodia
Australia
New Zealand
India
Sri Lanka
Nepal
….. anything more than that is TBD… 🙂
SKIPPED TO THE END?
Alright, I know this post is long. However, I just want to say THANKS for spending time getting to know me! Now that I've taken the time to introduce myself, I can just dive right in to sharing my trip and "vegan-isms" with you! Sound good?
OK, NOW WHAT?
Finally, if we aren't already connected, please feel free to follow me because I'd love to hear from you too! Either comment below and say hi, or find me on social media. Whatever you like, I'd be happy to connect with you!
Facebook – Word Travel Wellness
Instagram @World_Travel_Wellness
Twitter @WorldTravelWell
Snapchat @WorldTravelWell
SEE YA SOON!
To close this post, I want to wish you wellness, happiness, and safe travels!
**Stay tuned for my next post about the best vegan spots in Orlando, FL!!**
Namaste,
Maria Rose 🙂