After becoming so disillusioned about the lack of vegan meal variety on airplanes, I decided I was no longer willing to sacrifice my health for convenience. Just because it's not the norm to bring your own food on flights, it doesn't mean you can't do that. 
Although travel can be exciting and life-changing, the process itself may not be a breeze for many. There are plenty of things that are outside of our control, like canceled flights, tiring long routes, getting sick, or losing luggage. But there is one thing that we can control while being in transit, the food we eat and how we take care of ourselves.
Let me share some tips I've gathered after many years of traveling long routes for work. I usually go on assignments to countries in Africa. My transit time can sometimes add up to 23 hours before I reach my final destination, yikes! Here's how I take care of myself while being in transit.
1. Pre-Order a Vegan Meal: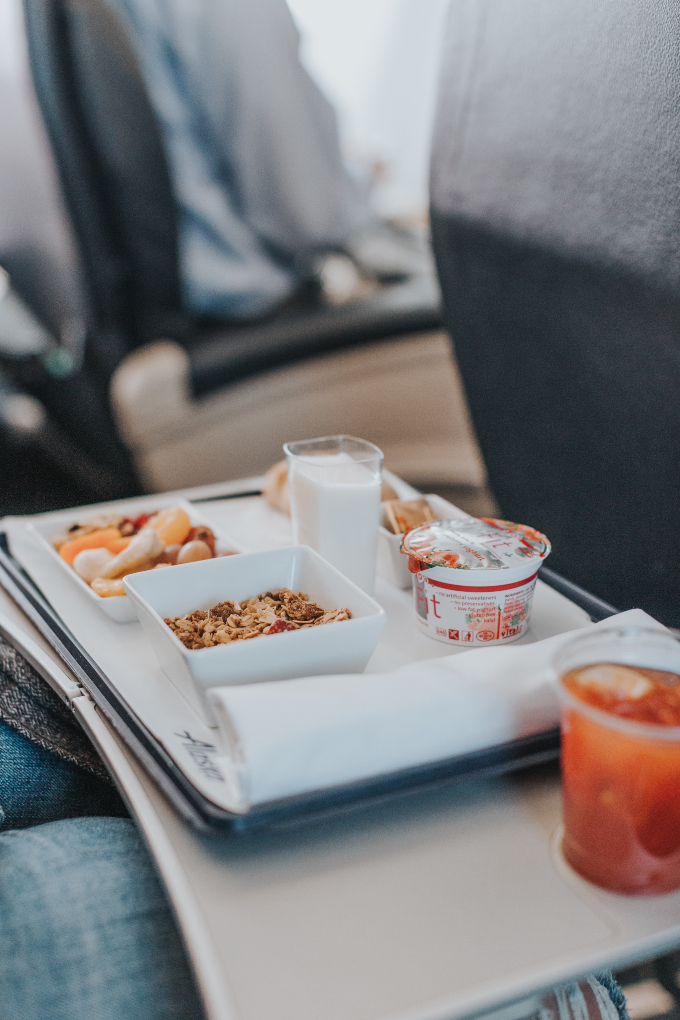 To pre-order, you need to call the airline, provide your flight information, and request a vegan meal. If you use a travel agent, you can set your dietary needs with your agent or directly on your profile. Now, here's the thing with vegan meals on airplanes, they're not great. I don't know why airlines think curry is the only vegan option. Don't get me wrong, I love curry, but it's not the healthiest option when you're traveling. With the cabin pressure creating dehydration and bloating, the last thing we need is heavily salted foods with gas-producing compounds. Also, keep in mind that some vegan trays could include non-vegan sides or desserts. That's why I only eat them unless there's a label with a list of ingredients, or I can clearly identify it's vegan, like a side salad. 
2. Hydrate:
The cabin pressure and dry air on airplanes can take a toll on your hydration and skin. Keep hydrated as much as possible while in transit. I bring my own water bottle and ask the flight attendants to refill it from bottled water.
3. Bring your Own Food:

Because of all the TSA regulations, including the 3.4 oz restrictions for liquids, some people may think that there are also restrictions on food. The good news is, there's lots of food that you can bring in your carry-on and personal item through security! It requires a little planning, but if you want to avoid paying the high price of a salad or sandwich at the airport, then this is the way to go!
I know that packing an extra set of things may sound a bit exhausting, but I promise you that if you get the hang of it, you'll never go back to eating airplane food. Unless you travel first class, I guess!
Here are some TSA approved meal ideas that you can pack and bring into the airplane: 
Lunch: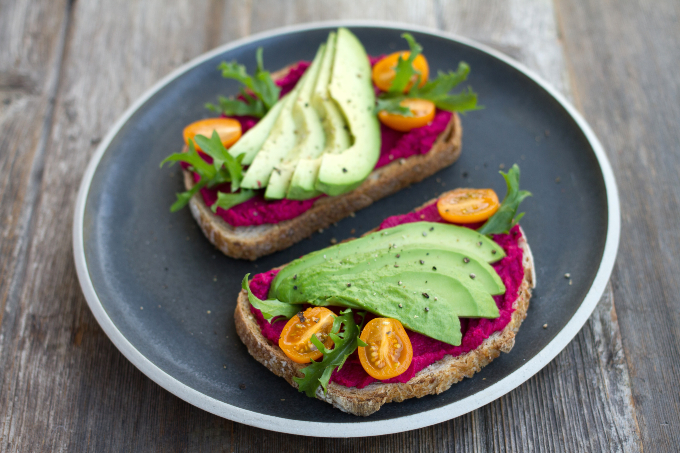 1. Sandwich: A simple avocado sandwich with spinach and tomato slices would do. Pack the ingredients separately and assemble when you're ready to eat. This prevents the bread from becoming soggy! 
2. Quinoa salad: Cook some quinoa with vegetables, olives, and tofu. The best part? No need to pre-heat, and it's packed with nutrients and protein! You can even pack salsa or dressing in a small container. 3.4 oz maximum.
Breakfast: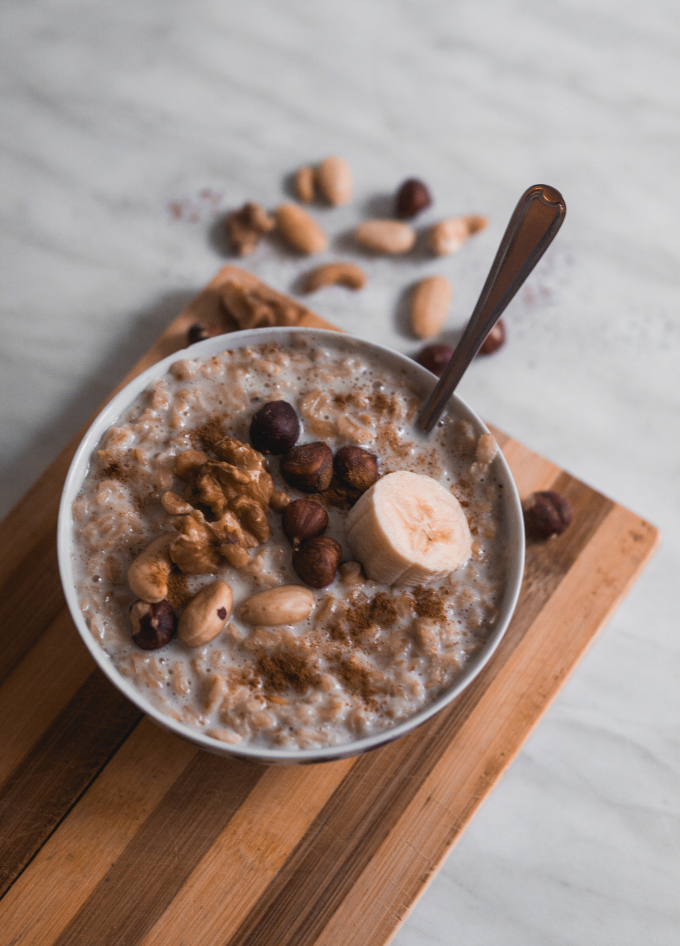 1. Oatmeal: Oats, dried fruit, and nuts. You can easily turn these ingredients into a warm oatmeal bowl by simply adding hot water. Ask the flight attendant for a cup of hot water and an empty cup to mix it, if needed.
2. Fruit salad: Pick your favorite fruits!
Snacks: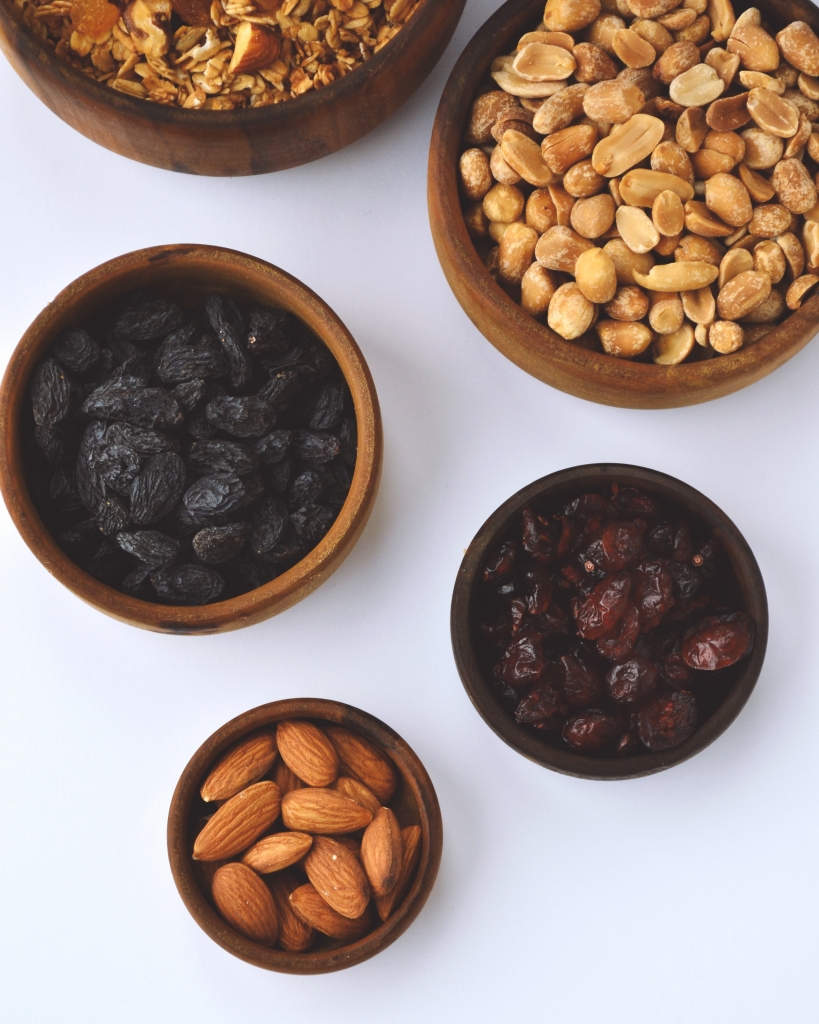 1. Fruits: Bananas, apples, clementines (great for keeping those vitamin C levels in check while traveling!)
2. Nuts, seeds, and dried fruit: The possibilities are endless here. My favorites are pumpkin seeds, peanuts, raisins, and almonds. 
3. Protein-packed snacks: I like to make energy balls, pumpkin granola, or popcorn trail mix for a protein-packed snack! They're so filling and delicious, the perfect snack for movie time!
4. Crackers or granola bars: If you'd like to bring peanut butter, jam, or hummus, pack them in 3 oz baby food jars or 1 oz dressing containers.
Dinner: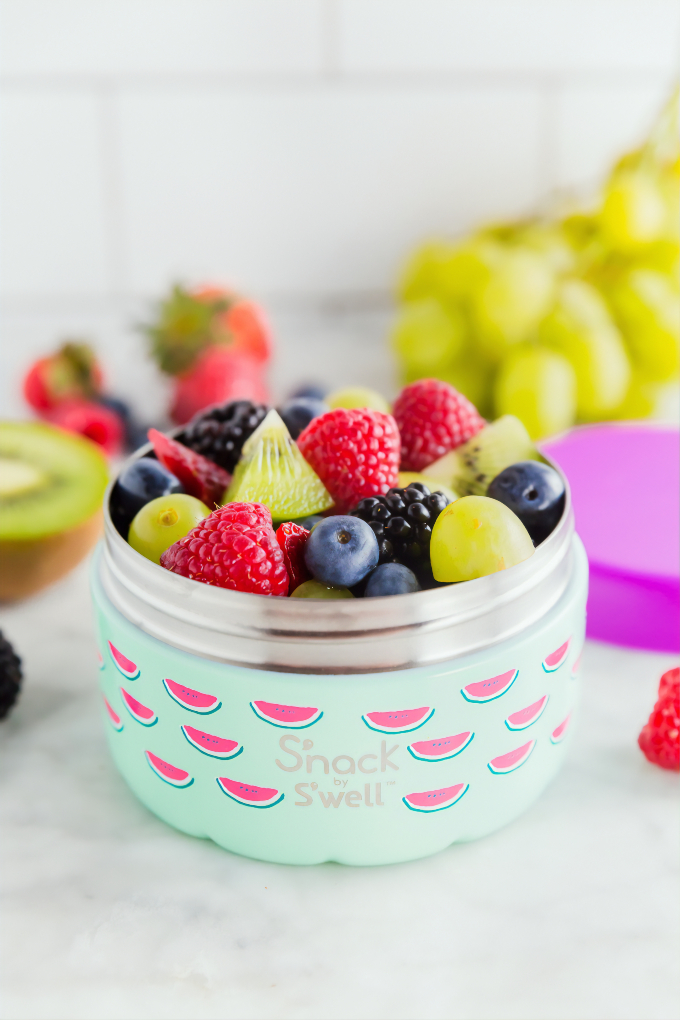 For the last meal before going to sleep (lucky you if you're able to!), I like to keep it light. Pack a few teabags, like chamomile or green tea, and enjoy it with fruit and crackers.
Remember that you can do this for your outbound and inbound flights. If you're staying at an Airbnb and have access to a kitchen, it would be easier to put together meals before your return flight. If not, it's still doable to get the ingredients for most of the ideas from the list above. Planning is key! Make sure that you plan only for the food that you'll need to avoid having any leftover fruits or vegetables. They may not be allowed to bring into a country. The best way to do this is by counting the hours you'll be in transit, including layovers, and figure out how many meals you'll need during that time.
4. Use Food Containers and a Lunch Bag
: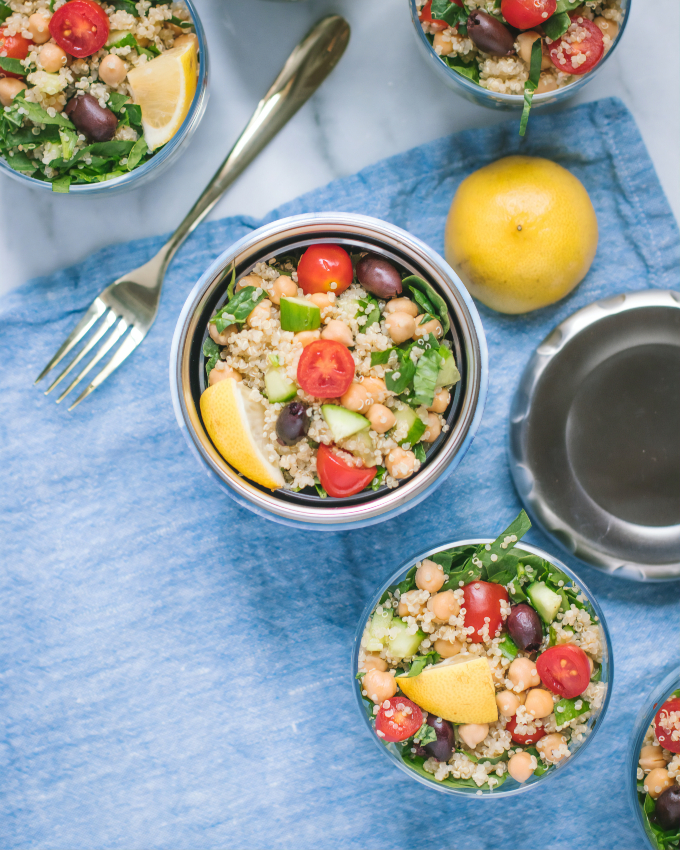 Having an insulated lunch bag keeps your food separate from your carry-on while passing through security, and it keeps your food fresh during the flight. The low temperature in airplanes helps in keeping your food edible! I recommend packing your food in bento boxes or small containers. A quick tip, once headed to the gates, place the lunch bag inside your backpack so that you only have 2 items while boarding.
5. Don't be Afraid to Ask for What You Need:
In some instances, I've needed a bowl or a large cup to make oatmeal, better cutlery, or even having simple things exchanged from the vegan meal tray, like another bread roll or more fruit instead of dessert. Remember that you can complement your snacks and meals with whatever you'd like to keep from the tray. 
Now, food is only one part of the full picture. To stay healthy during your flight, I also recommend stretching regularly, disinfecting your area with disinfecting spray or wipes – Seat belt, food tray, and armrest – and constantly washing and disinfecting your hands. Keep hand sanitizer by your side and a travel-size disinfectant spray, they're so useful! What's more, the meals in your lunch bag are a savior on layovers, particularly if you're connecting in a non-vegan friendly airport or assigned a gate far away from restaurants.
Vegan meals differ from airline to airline, some are undeniably better than others, but even if you're pleased with the food served in your favorite airline, you can complement it with snacks from this list. Personally, I think that there's nothing healthier than bringing your own food and keeping your gut happy. This is even more crucial for vegans with gut-related issues. 
I hope this helps! Happy traveling, stay healthy, and wash your hands!
For easy and affordable vegan recipes, head over to Every Healthy Bite. You'll find plenty of delicious vegan recipes and evidence-based wellness and nutrition blogs!
Carol Lopez is the creator behind Every Healthy Bite a health and wellness website focused on nutrition, wellness, and plant-based recipes. Her vegan recipes are always healthy, quick, easy, and affordable.