Approaching the end of our time in Japan we were headed to Kyoto, the place I was most excited to visit. We were getting there at the tail end of the time before our rail passes expired, believing this to be a good place to be spending time in once we could no longer jump on and off of trains all day long. We got off to a bit of a rocky start when we arrived at our accommodation. We were using AirBnB and we found a very affordable place. It was a little bit out of the way, but even paying for a train in and out of the centre we still had a good deal. Our first realisation was that it was a bit further out of the way than we had anticipated, and that none of the trains that went there were covered by our rail pass – boo, but still more affordable than a hostel in the city. Our second realisation, however, was that we had absolutely nothing with which to prepare food. We had no pots, no pans, no toaster, no microwave, no nothing! We did manage to find a small camping stove in one of the cupboards, but the lack of gas canister and absence of pots and pans rendered this as useful as a fart in a jacuzzi. We had a kettle, a couple of tiny plastic bowls, and a couple of cups. This was going to be a bit challenging. I went out to find the nearest grocery store, and to see what could be thrown together for our dinner. Everything I looked at proved to be unmanageable: there was no microwave to heat rice, no knife to make guacamole, nothing. I came home with rice balls and cup noodles, only to find out the kettle was really grimy inside, crossing cup noodles from our banquette. The few days here were bit difficult. We would have to walk from convenience store to convenience store for ridiculous lengths of time in the evenings, just to find one that still had some rice they could microwave for us.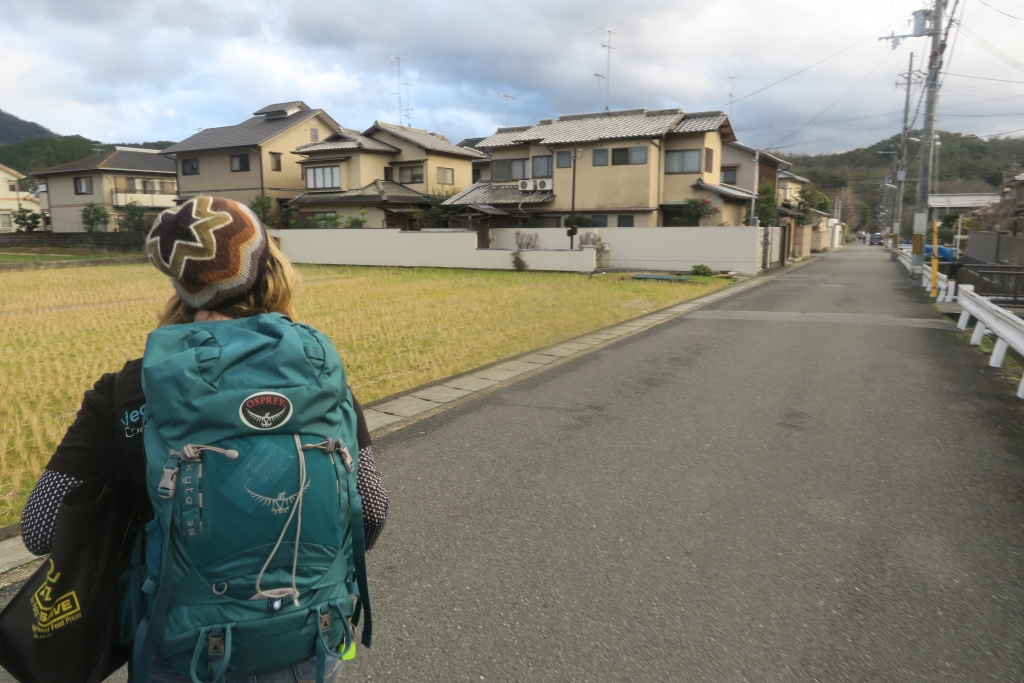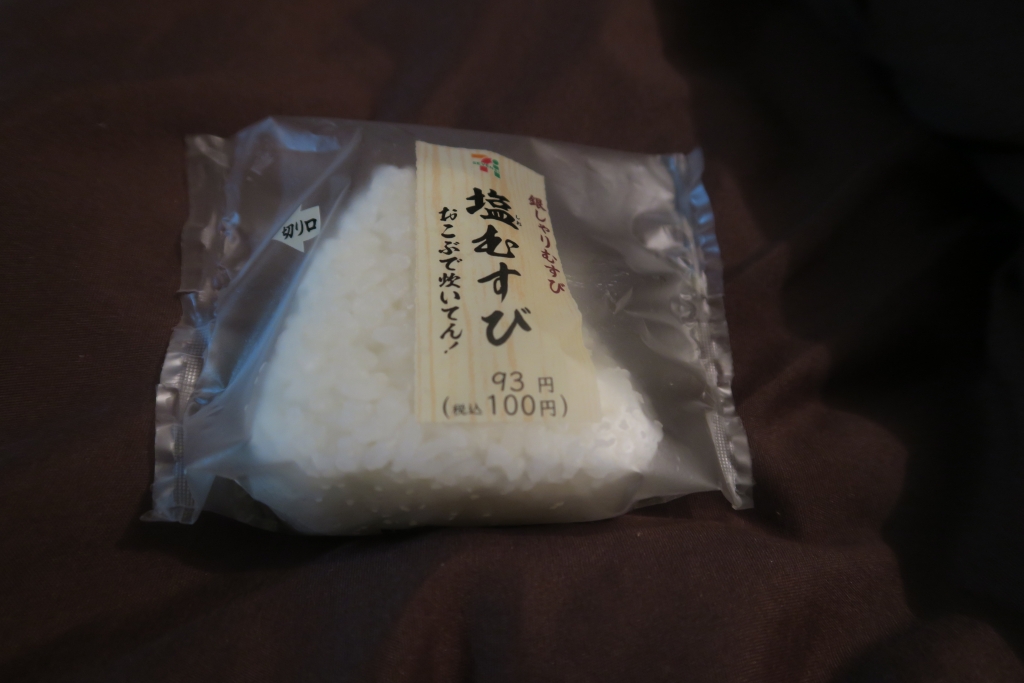 However, not all hope was lost for our time in Kyoto! One of the things I really wanted to do during our time in Japan was visit the Fushimi Inari Shrine. We were planning on going there and then going for food in the evening. We were looking at a few places we could eat, and began leaning very heavily towards Vegan's Cafe. The only downside, we read, is that it is a bit out of the way from the city, which actually meant it was a ten minute walk from the shrine! So, the plan was set and we ventured out! By the time we got to Inari, we decided that we would eat first, and then do the shrine – our feast of rice balls from the previous night had somehow failed to keep us going all through the following day. A couple of hours later we were in love with Vegan's Cafe!
This is one of the most pleasant places I've eaten. It is a place you need to have the time to go to. The relaxed atmosphere doesn't lend itself to a super quick meal. This is the kind of place you spend a couple of hours in, taking in the delicious food and the warm environment. The person who runs the place previously owned a barbecue meat restaurant. He stumbled across information regarding the cruelty of the animal industry and immediately made the realisation that animals are not human property and never should be, propelling him into veganism overnight. Just as his previous business was taking off, he closed it in pursuit of a more compassionate restaurant. The result is that the people who work here are very passionate about veganism. There are pamphlets of information all around the cafe encouraging people to go vegan, along with handmade jewellery celebrating being vegan. This is such a nice place to spend some time.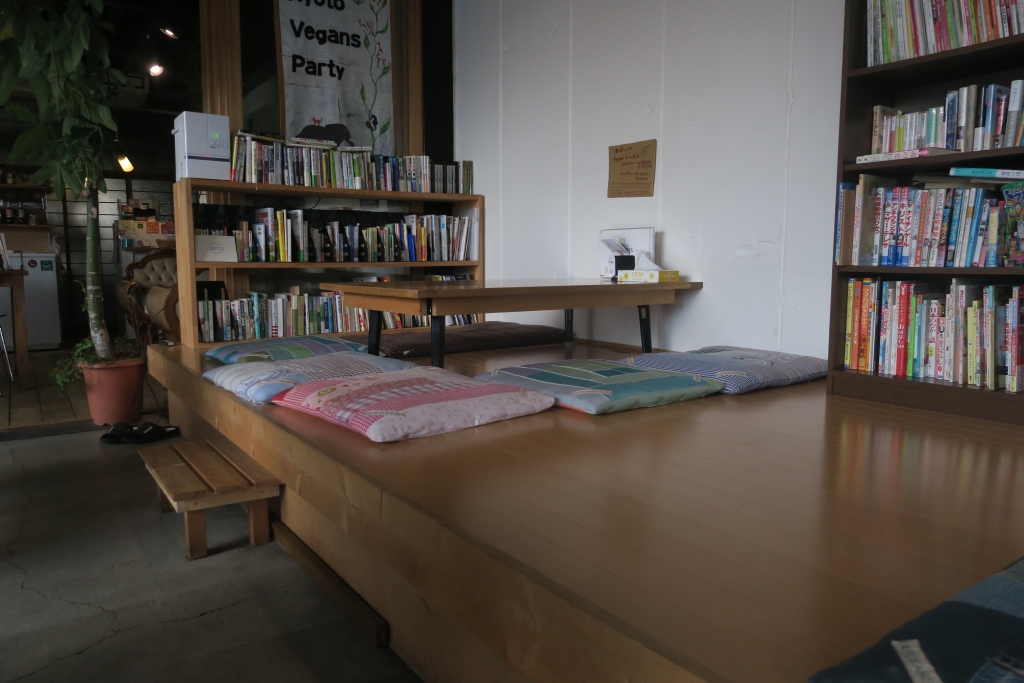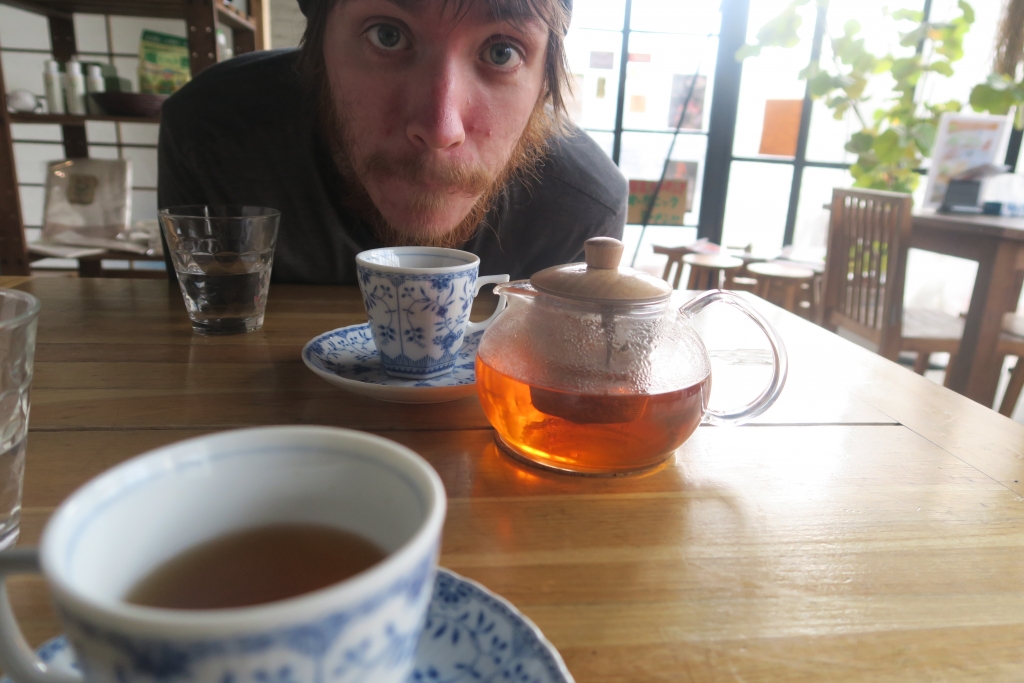 The food from here is absolutely incredible! The kind of place where the presentation and the flavours will be battling it out for what you are going to be talking about for the next couple of hours. I got the soup and salad set, accompanied with a curry-stuffed pitta. There isn't a type of food on the planet I am more enthusiastic about than curry, and I am of the philosophy that anything will benefit from being put into a pitta. This was so tasty! If you are someone who enjoys curry, this is definitely worth checking out! The ice-cream, however, was absolutely the highlight. We couldn't believe this mammoth when it came out to us! A mountain of ice-cream with bananas, apples, and an entire muffin quartered all sticking out the sides. This was a work of art! This may have been the best ice-cream I have had on this trip. A position, I was certain would be comfortably secured by Blythe Ann's in New York for the duration.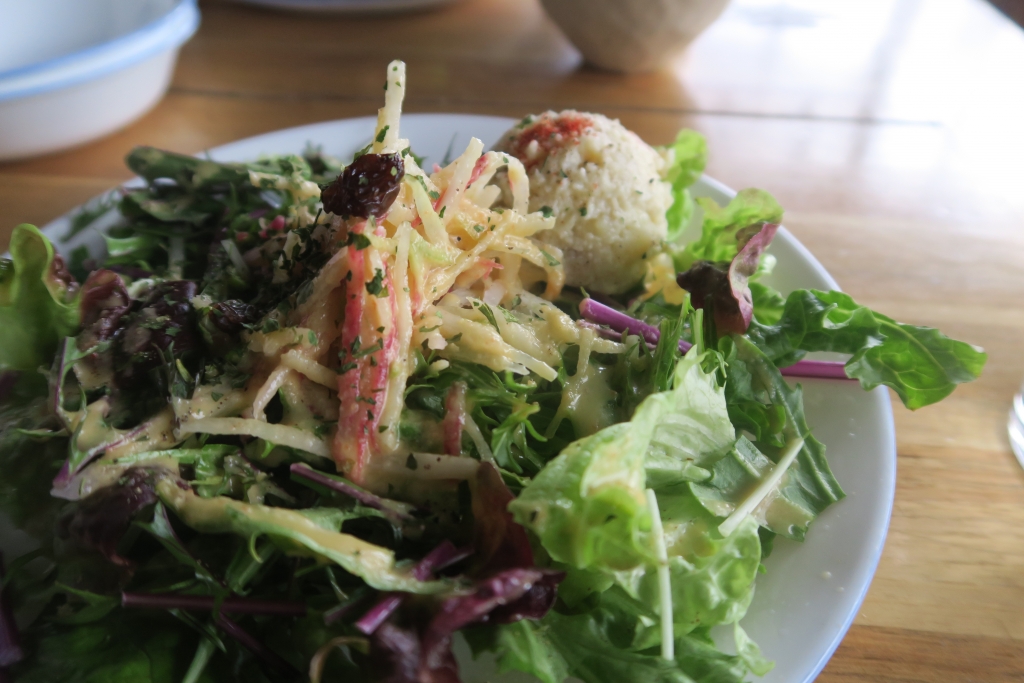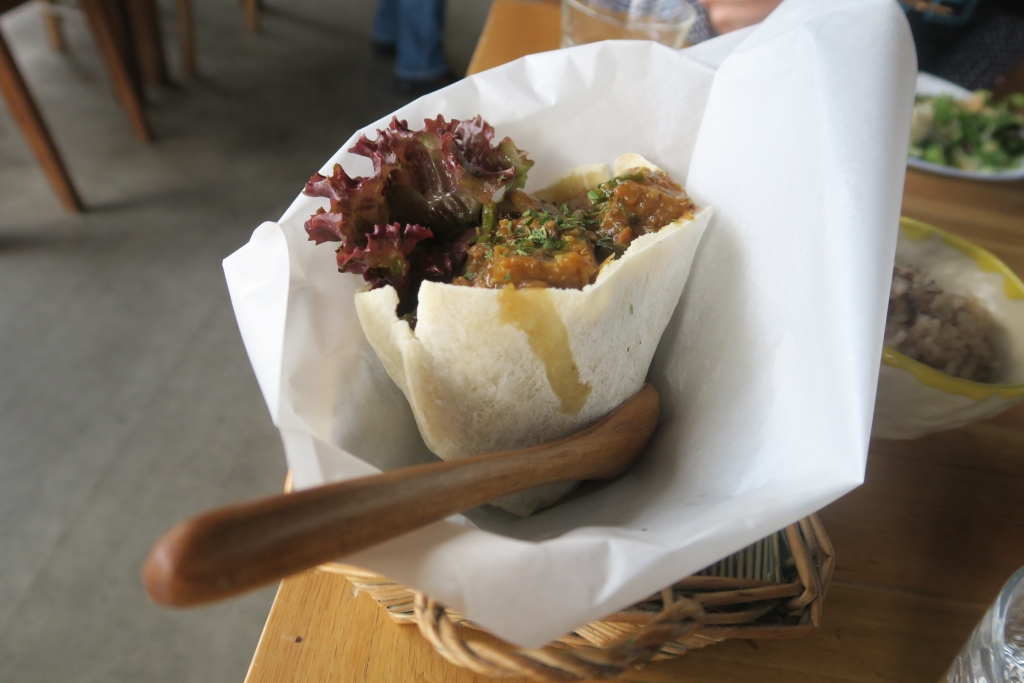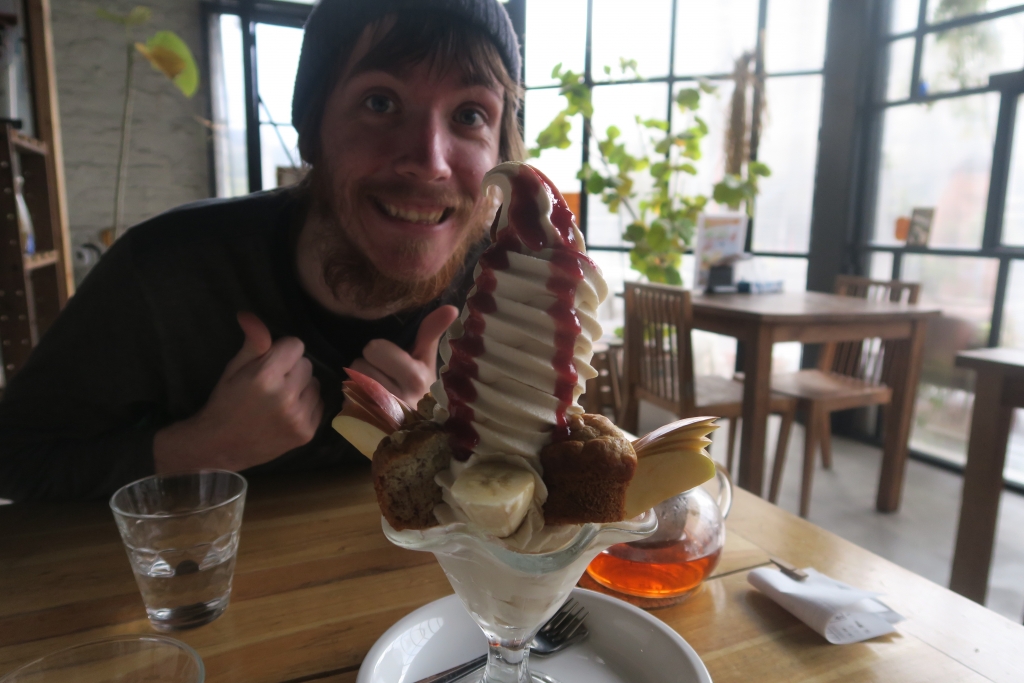 With our bellies full of tasty food and warm tea, we headed back out into the cold. Fushimi Inari Shrine is at the base of Mount Inari. From the entrance you can take the path up the mountain, leading you through thousands of the famous torii, and tens of thousands of mounds. The mountain is absolutely incredible. If you are able to walk long distances on challenging inclines, this is definitely worth doing if you're in Japan. Getting to the top as the sun began going down is probably my personal highlight of my time in the country.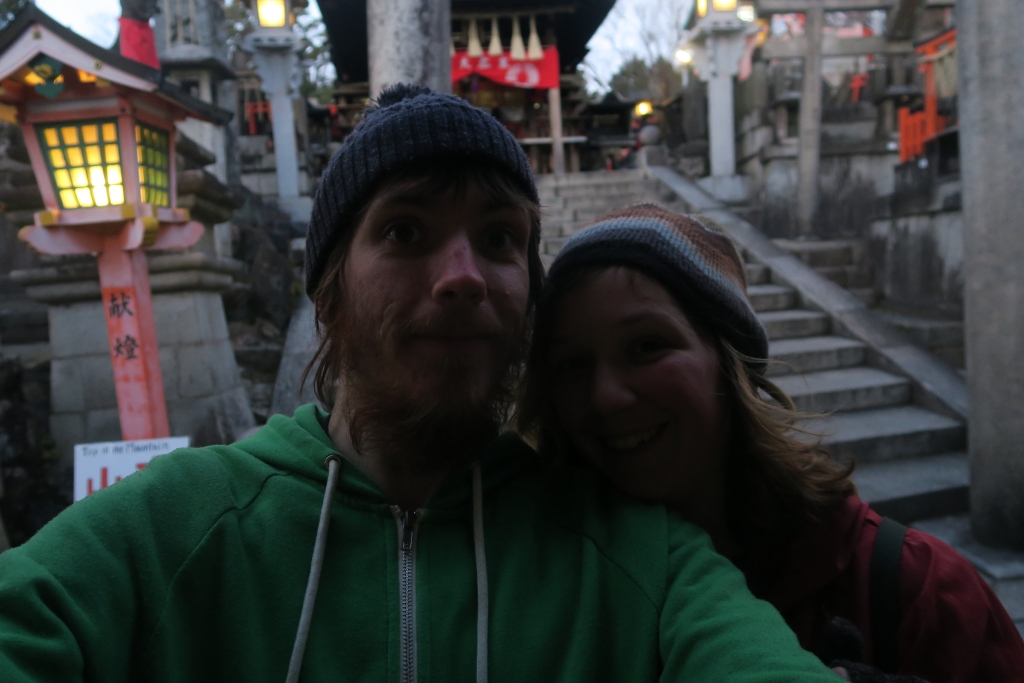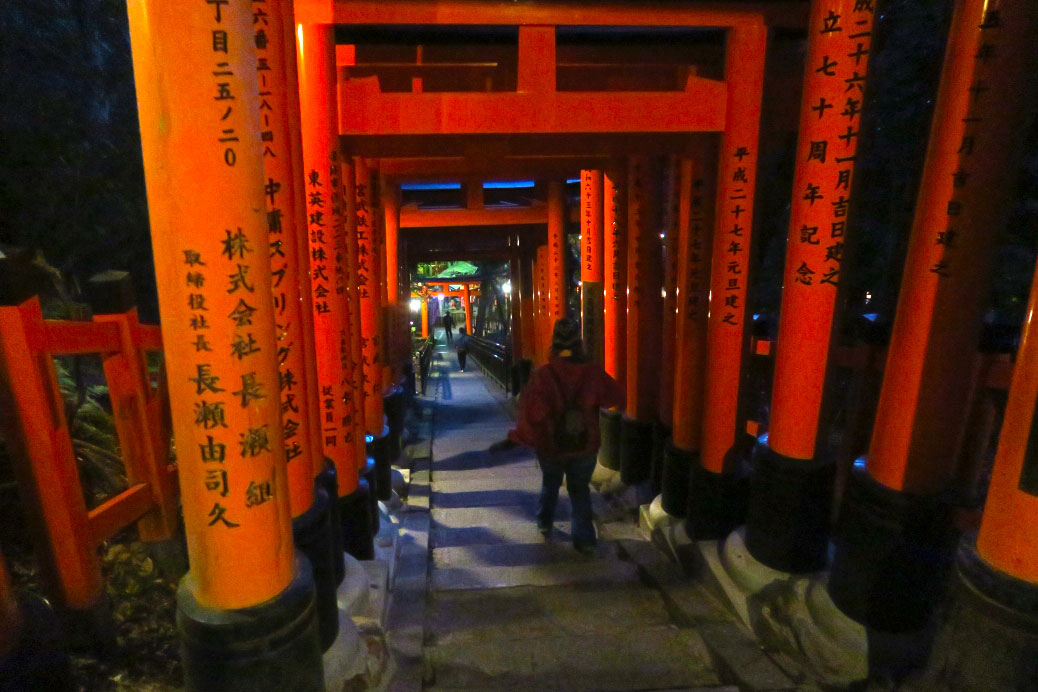 This was an amazing day, and when I think about the time we spent in Kyoto, I know that I will not be thinking of the moments of being stuck in our cold AirBnb, dreading venturing out into the snow just to potentially return with two rice balls and edamame, and call it dinner. I will always think of the warmth and compassion of Vegan's Cafe, the awe of seeing the city at sunset, and the amazing feeling of being somewhere I'd always seen pictures of but never dreamed I'd be able to experience.