We began our departure from Kingston exactly as we spent our time there: realising we had nothing for breakfast and finding an excuse to visit New Leaf. We were getting our food to go, and asked the person who runs the cafe what the fastest way to get to the bus station was. He asked someone to take over at the register, and left the shop to look for a taxi driver that he is friends with, who would take us there for cheap – people in Jamaica are just nice like this.  We alleviated our stress of running late and got to the bus station with enough time for me to sit down and enjoy my delicious doubles, which brought about conversation with a stranger who had to ask where we went for food, because of how good it smelled. That curry goodness!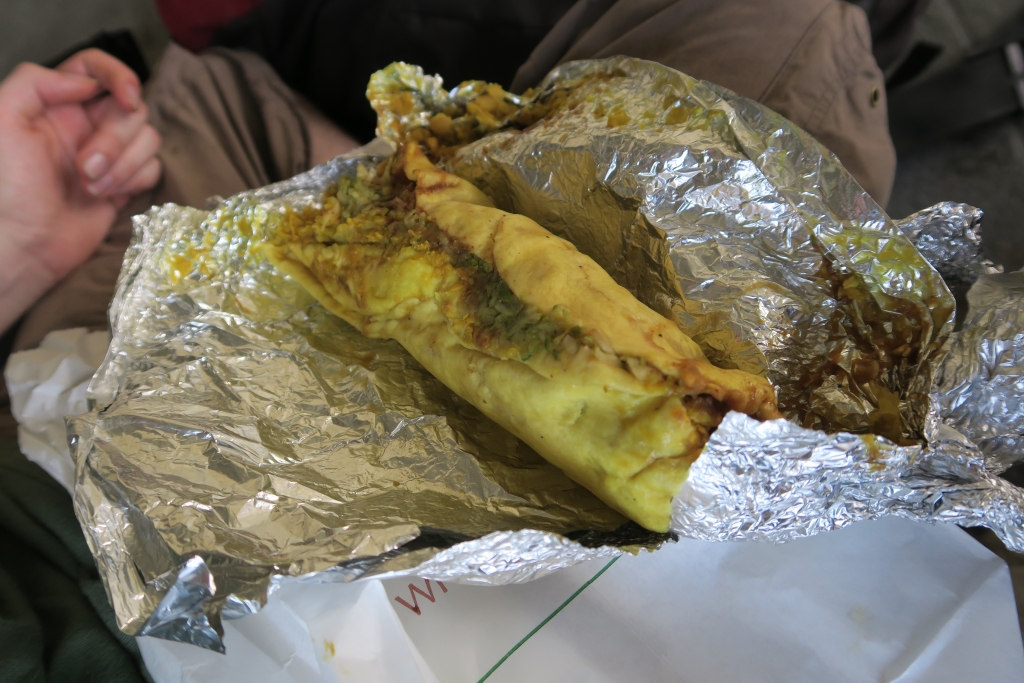 Before long our bus arrived. We were using the Knutsford Express, a very comfortable and convenient way to travel across the island. We paid $20 US to go more or less from one side of the island to the other. It was a four hour ride, which I wasn't excited about, but it went by completely painlessly. Not only does the bus have the most comfortable bus seats I've ever experienced, but the vehicle is well air-conditioned and you are provided free bottled water to make the trip as comfortable as possible. They also show movies and offer radio throughout the ride, but that's pretty difficult to care about when you have the incredible scenery of Jamaica flying by the whole way. The ride can be a little scary at points, when you're going up massive hills with very steep and very large drops beside you. But once you pass that you will have the most amazing view of the island. It'd be difficult not to be overwhelmed by the majesty of this journey.
We arrived in Montego Bay in the evening. We were picked up at the bus station by a driver from our guest house, who excitedly asked how we were enjoying Jamaica thus far and answered all of my questions about which fruits were in season on this side of the island. We just missed mango season in Kingston, but allegedly they're just coming in here! Before long we arrived at Togetherness, our place of residence for the next few days. We were immediately greeted by Blue, the resident puppy. And later met Blondie, the chatty resident kitty.
Togetherness is a really nice place to stay. We were immediately made to feel at home. The wi-fi is pretty spotty, unfortunately. But there's a pool and a dog and a cat, so we can probably get by over the next three days. The view from the poolside is incredible! We were out all day today, and have thus far only been able to hang around in the evening, and just as the sun is going down. A morning swim is on the agenda tomorrow, however. With much planned, our adventures in Montego Bay shall be continued in the next blog!