When Ross and I left Tokyo for Kanazawa, I didn't really know where we were going. I knew that it was going to be fairly easy to get there from where we were, via Shinkensen (famous fast trains in Japan) and I knew that it was a place where Ross really wanted to visit. That was enough to convince me to go. I am so glad that it was, too, because I had an absolutely amazing time during our very short visit and really wished, in the end, that we could have stayed much longer.
The night we arrived, the streets of Kanazawa were flooded and I did not have the shoes for that. We got to our hostel, wet, cold, and hungry, and were greeted with warm smiles, warm slippers, and an overall very warm atmosphere. The hostel was inside of someone's home, so it was quiet and clean. When we checked out the following morning, our host gave us a place to keep our luggage along with a map with a sightseeing route, which they drew for us on it, and loan of an umbrella, as it was still quite rainy.
When we set off on our adventure, we got turned around a few times before finding ourselves in the beautiful Geisha district. We noticed that we were not the only tourists braving the cold and rain to snap a few pictures and see all the district's many tea houses and teaware shops. We were, however, perhaps the only Western tourists out there. It seemed as though Kanazawa was the place to visit for people from other parts of Japan, and from other nearby Asian countries. I can definitely see why- Kanazawa was the most beautiful place that we visited while we were in Japan. And of course, the only place we went where we had issues with a corrupt SD card and had to take all the photos with our phones.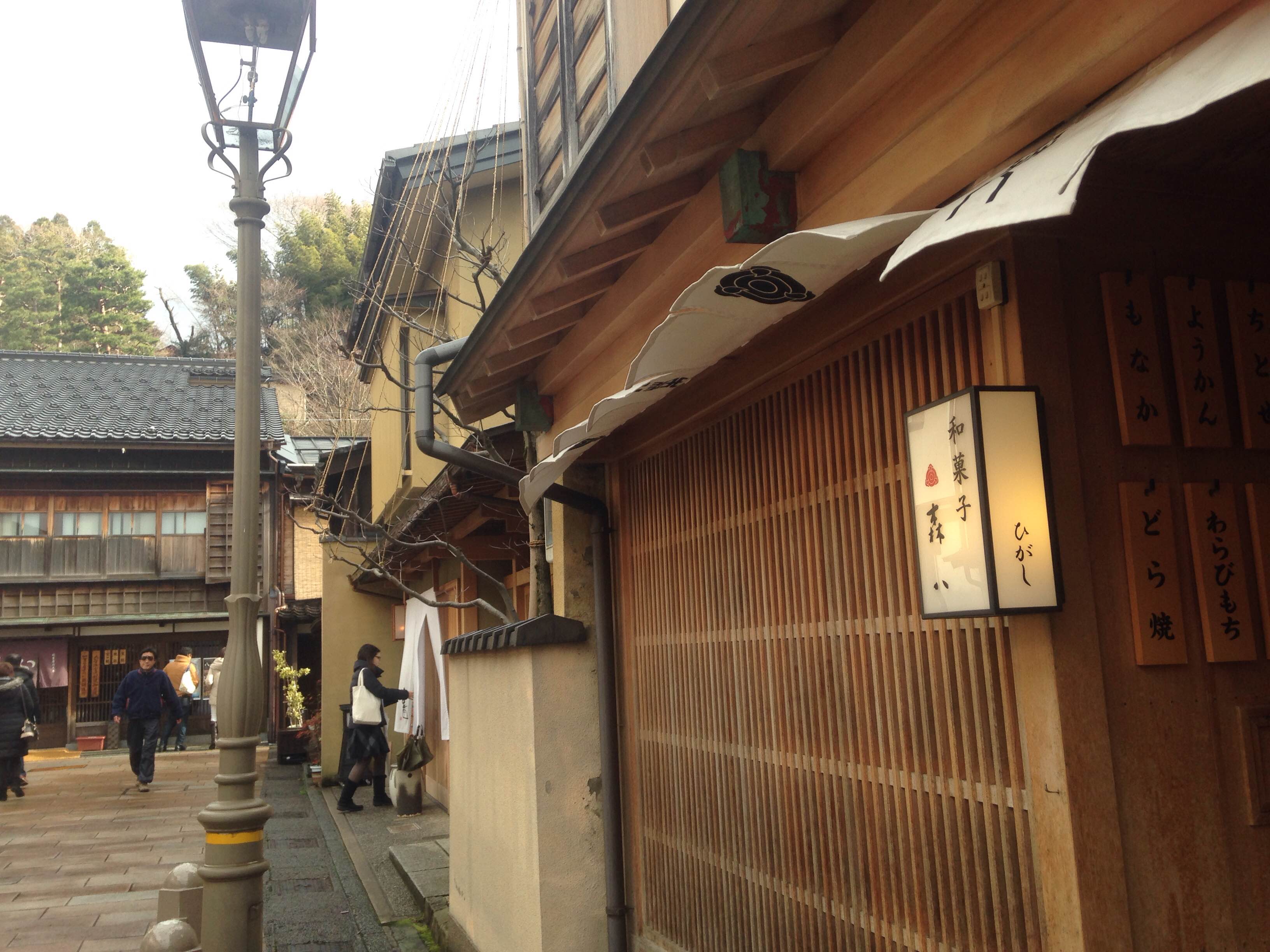 After we left the  Geisha district, it was off to Kanazawa Castle, and the huge, lovely gardens which surround it. In looking at the area map, we discovered that the way there would be full of magnificent shrines and temples. I took a picture of this sign to ensure that you would all know exactly what I meant when I said that the area was FULL of them.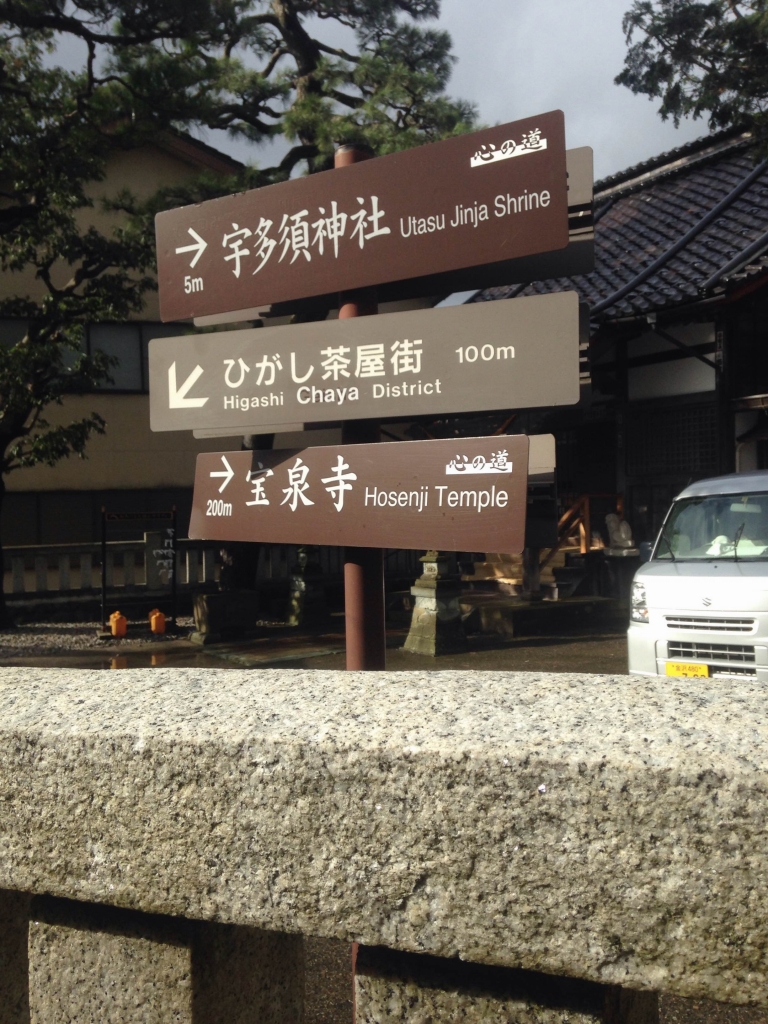 We took our time in getting up to the castle, pausing at loads of shrines to take in their intricate loveliness. We even had a chance to learn how to worship at one of the temples we visited that day. The temple/shrine district was certainly something to behold and something to be completely in awe of for several hours. Alas, we did not have the time, as I'm afraid most travellers do not, because we had only one day in Kanazawa, and so much more to see! I highly recommend giving yourself more time here if you find yourself in Japan. It would definitely be worth every second.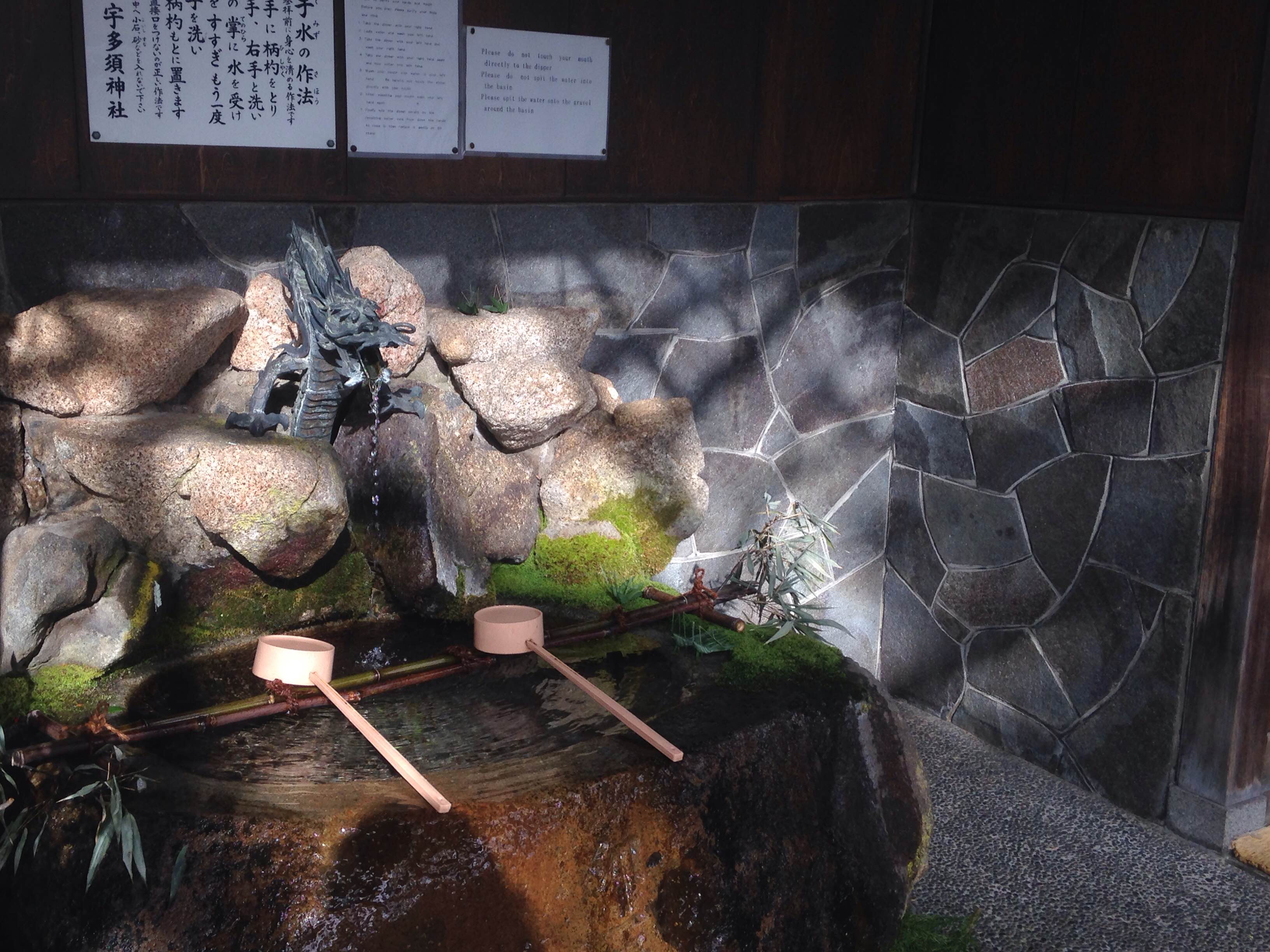 When we finally reached the castle, it was immediately clear to me why this was the crown jewel of Kanazawa and why so many people come out just to see it. It is gorgeous. The old and ornate structure, with a metal roof which makes it look covered in snow, is surrounded by a moat. Beyond the moat, there are huge fields, hills, trees, bridges, and winding paths. All of these things contribute to making the castle and its grounds look as though they were plucked from an old fairytale and placed there for all to enjoy and be completely, utterly, and happily lost in. The artist sitting by one of the gates, painting an incredible landscape of the castle and grounds, only added to this fairytale feeling. Even if you're not big into visiting the more country-side feeling places, do consider coming to Kanazawa, if only to take in the breathtaking scenery and buildings.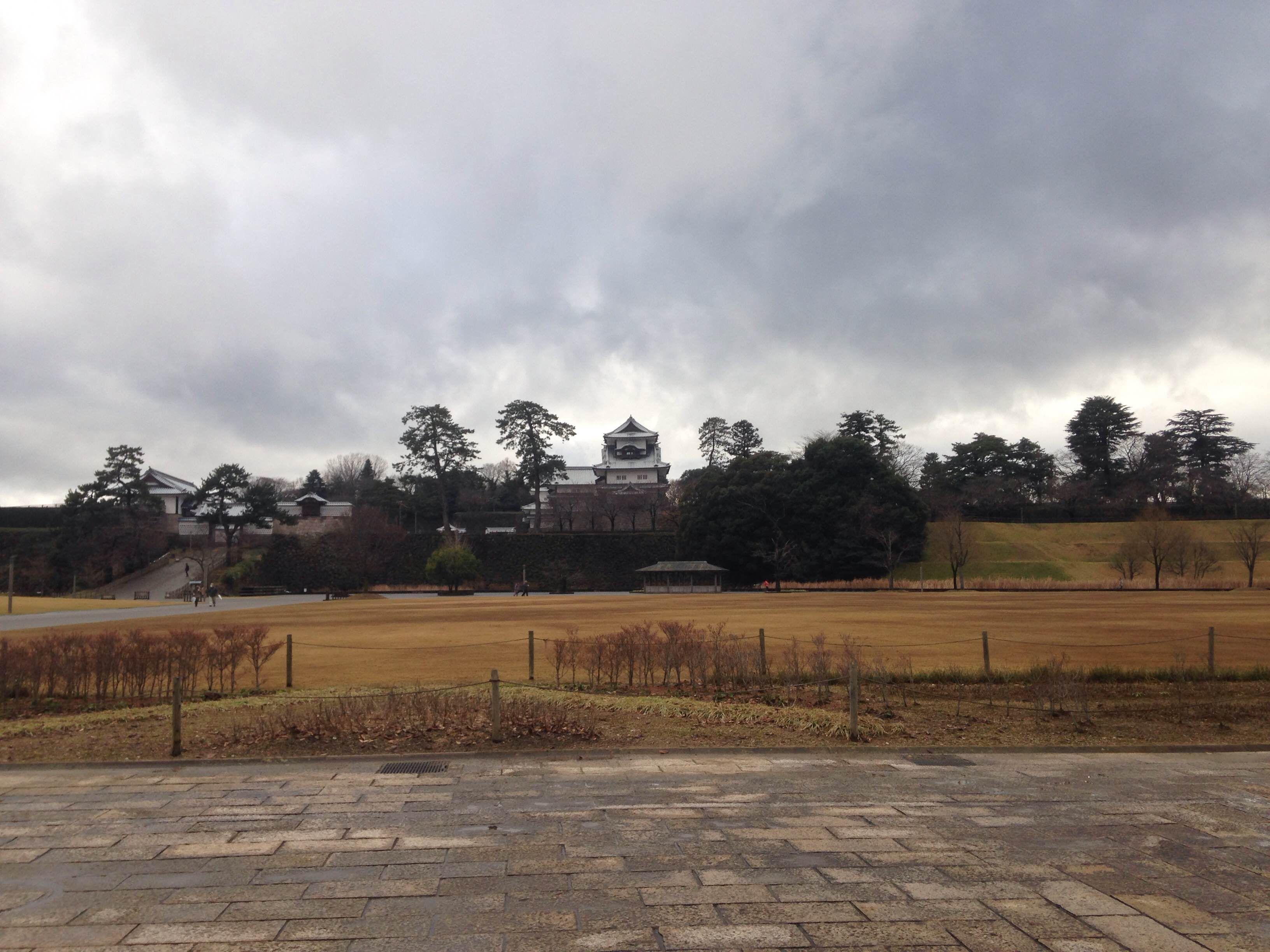 While looking at our tourist map, Ross spotted an ad that said something about a place to eat which served vegan food. We were so excited to see the word "vegan" without having to look for it! The place was an Indian/Nepalese place and it wasn't too far from the castle. We were both, as we so often are, in the mood for curry, so we headed on over. We arrived at about ten minutes past three. Much to our dismay, we found that they had just closed at three o'clock. So we knocked on the door and asked the owner of the place what time they'd be opening again. We were once more very much dismayed when their answer was, "six o'clock." Soaking wet, shivering, tired, and very very hungry, we must have looked exactly as we felt. We were encouraged to come back at six and had to decline, as we had a train to catch around five. We were then told to "wait here." The owner disappeared into the restaurant and came back with good news- the chef had agreed to make some curry just for us! They were informed that we were vegan and made sure that everything was good for us. The owner expressed how happy they were to be doing this for us, because they knew they'd be turning us back out into the cold and that we'd be hard pressed to find vegan options elsewhere, and at this time when everything was shutting until six. The owner stood and spoke to us for a while during our meal, talking about travel and veganism. They were so incredibly friendly and Ross and I were very grateful for what they did to help us out. And on top of all of that- the curry was delicious! It was exactly what I had wanted, perhaps even needed, after wandering around in the cold all day long.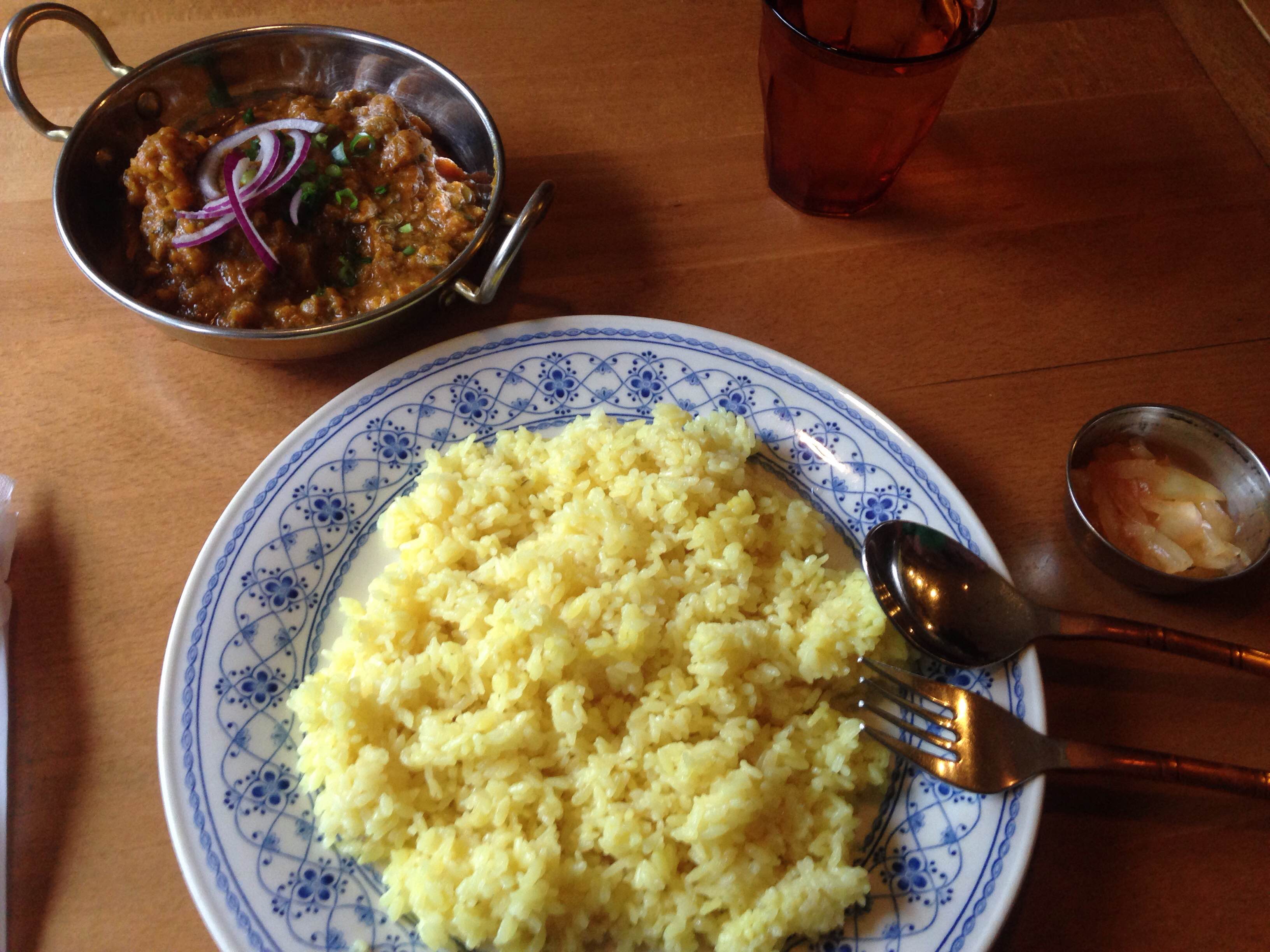 Our time in the cold wasn't over just yet, though. We still had to go to the samurai district to see the gardens, old houses, and more fancy dish shops there. Our time in this district was over way too quickly and we didn't even get to see half of it. As I said, we had a train to catch! We were so sad to be leaving Kanazawa, but nothing could be done for it. We had already booked another place in another city for that night. The owner of the hostel we were checking out of was also leaving for Thailand the next day, so no matter how badly we wanted to (and oh man, we did), we simply could not extend our stay. Japan has been so incredible, one of my favourite places we've visited, and if circumstance and finance allow me to return to Japan, I will be making a much longer stop in Kanazawa. So thanks, Ross, for the wonderful idea and the wonderful day!
Do you have a place that you feel you must spend more time in? What is it? Let me know in the comments!
Until next time!
Ellie Lebo