It's difficult to believe that almost an entire third of our trip was spent in Asia. The two months there went by incredibly quickly. We only had three stops in the continent: Japan, South Korea, and Thailand. But we had such a vastly different experience in each place. This, for me, has probably been the most exciting part of the trip thus far. Experiencing the different cultures there, and tasting the amazing food has been such an amazing highlight. Knowing we were able to get such a wide scope in merely three countries from the entire continent, and witnessing it pass in such a blur has absolutely secured my desire to revisit. Not only the places we went to, but all through the continent. We met some amazing people here, had extraordinary food, and witnessed many communities of vegans and passionate activists speaking up and doing incredible work for non-human animals. I had such high expectations for our time here, all of which were met and exceeded significantly.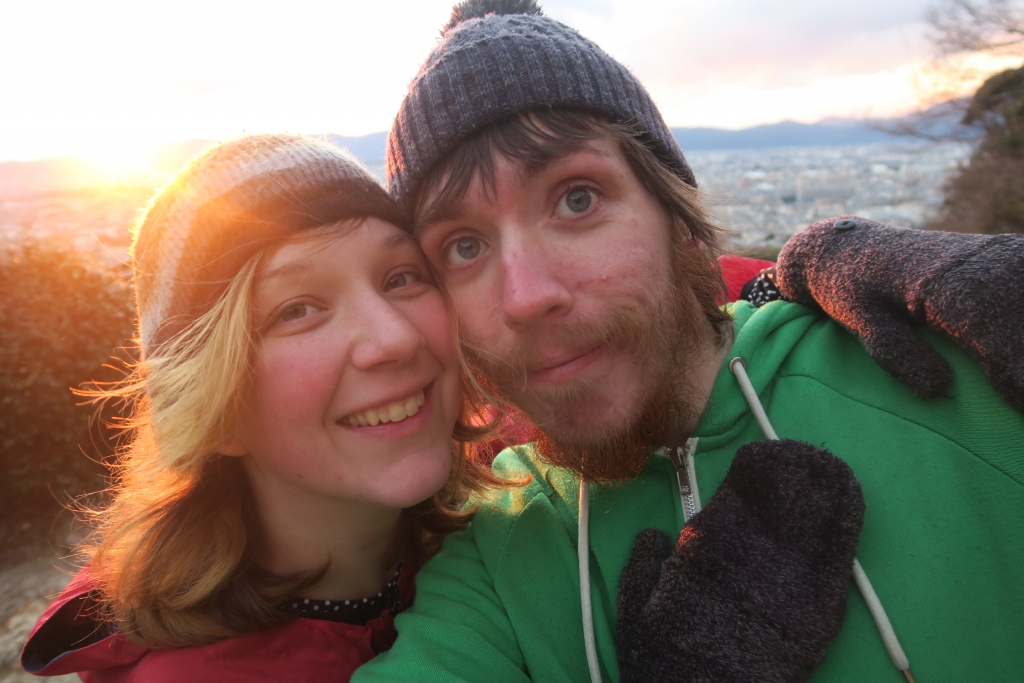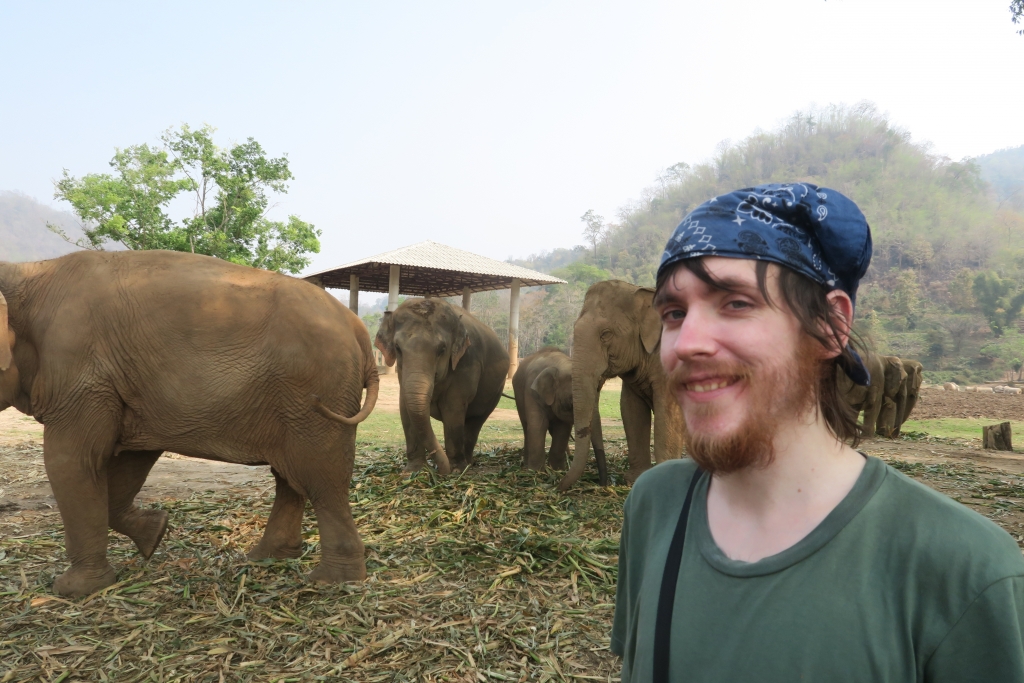 We left Thailand a few days ago, which was an incredibly sad experience. We spent our last week there volunteering at Elephant Nature Park, where we met many new friends, with whom I will definitely stay in touch. Everyone was sad the day we left the park. Nobody wanted to say goodbye to one-another or the elephants. This was particularly difficult to swallow for us, as this was our last day in Thailand. We weren't just saying goodbye to our friends: we were saying goodbye to the Thai weather; we were saying goodbye to people smiling all day; we were saying goodbye to authentic Asian cuisine. We were immediately on the road after Elephant Nature Park, and at the end of a long day, we were on our fight to Vienna.
As sad as we were to leave Thailand, I was incredibly excited to get to Europe. Veganism has taken off in an incredibly big way throughout most of Europe in the past few years, both in food and activism. Almost everyone who we met from mainland Europe up until this point has recommended several vegan restaurants and activities for us to do in their country for when the time would come. This has been made immediately apparent in our short time in Vienna. We went to a supermarket the day we arrived and immediately noticed the abundance of very clearly labelled vegan options on offer. We were back in the domain of vegan cheeses and chocolates and mock meats. On top of this there is a very visible vegan community in the city. Apparent from the leaflets and information available in shops and restaurants, and the vegan graffiti found throughout the streets.
We have been here for less than a week and I already love Vienna. It is an incredible city to walk around in. There is so much history preserved everywhere. You can look almost anywhere and see a historically significant building or street. It is an incredibly exciting city for museums and galleries. There is a wealth of art and culture on display throughout the entire city, celebrating its history and famous residents.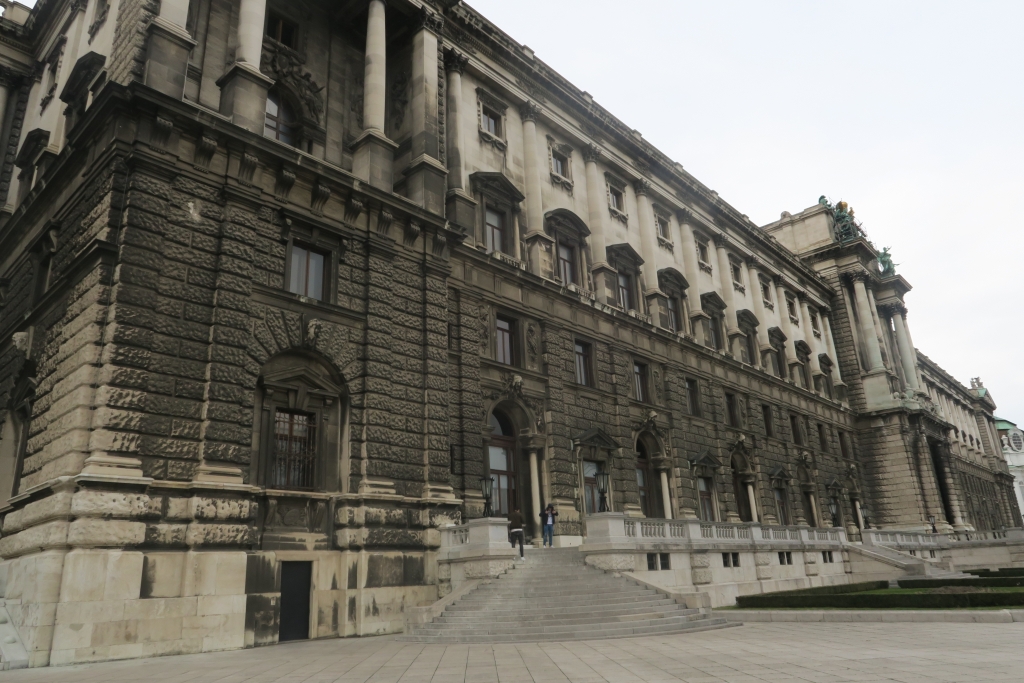 Every store throughout the city looks incredibly inviting. You won't walk very long without encountering a beautiful chocolate shop, or quaint bakery, or inviting ice-cream parlour. So many of which will offer well labelled vegan options. Vienna is a dangerous place for anyone with a sweet tooth.
One of the biggest draws, however, is the section of completely vegan places. There is so much to choose from here, I don't know where to begin. We went out for our first Viennese meal to a place called I Love Veggie Burger, a completely vegan burger restaurant. What we discovered this day is that you will occasionally just wander round a corner in Vienna and see a completely vegan place that you had no idea existed. On our way to I Love Veggie Burger we stumbled upon a raw vegan bakery. Being an enthusiastic raw food lover I had to check this place out, and buy a cupcake before dinner. The person in the bakery asked us where we had been thus far and gave us a few recommendations for where to check in the city. We got to I Love Veggie Burger and had our first burger in months. The food here is very tasty. There is a large menu, made up entirely of fast food style items. I ordered the chili burger and did not realise just how much I had missed jalapenos.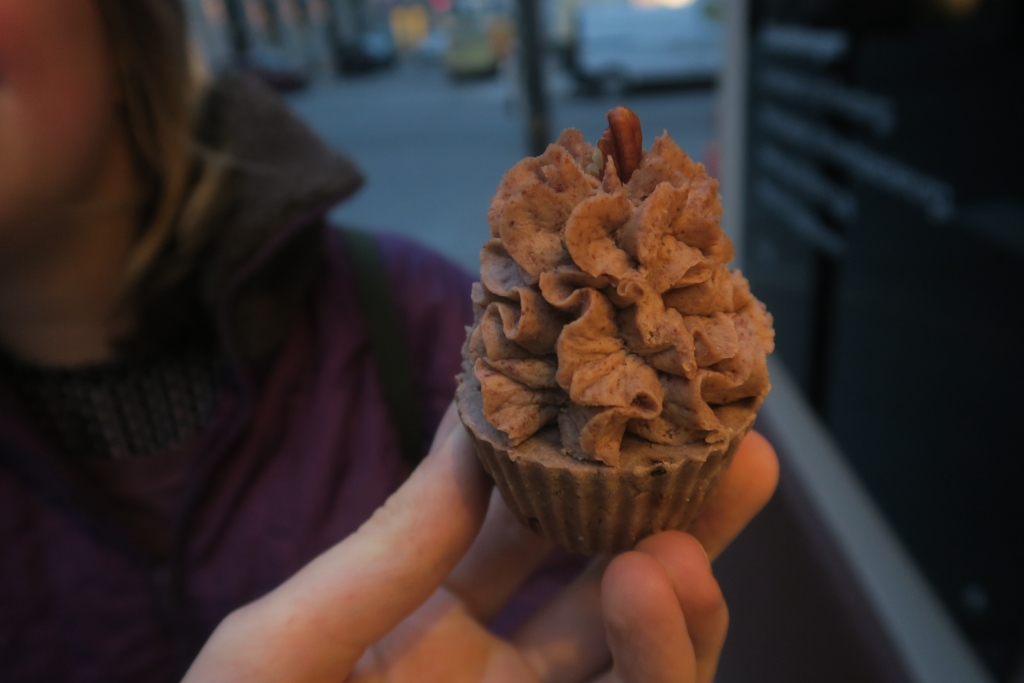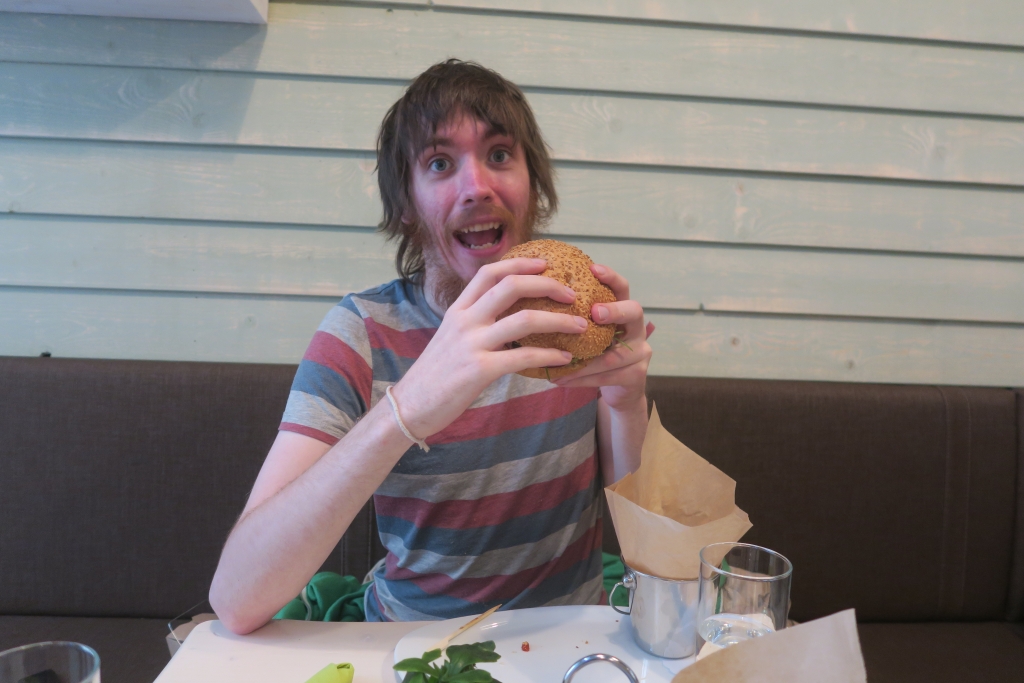 Vienna is absolutely one of those cities in which one can choose to only eat in completely vegan restaurants and not get bored or run out of interesting options. There's even two fully vegan supermarkets in the city! After we spent a few days here, our friend from Scotland came out to see us, and to show us around. We saw a mix of his favourite vegan spots in the city and new places none of us were aware of.
He took us to Swing Kitchen, another completely vegan burger restaurant, where we returned a couple of days later. Swing Kitchen is very much the kind of place I would spend a lot of time hanging out in were I to live in Vienna. It has an incredibly relaxed atmosphere and serves fast and delicious food. I'm seeing it as the Viennese equivalent of Glasgow's Taco Mazama or Flying Duck, the places in which I spent most of my time and money. While here I got the Aloha Burger, the newest item on the menu. This burger topped with pineapple, cheese, and curry sauce is exactly the kind of thing I could make myself sick on overeating. Swing kitchen also offer a number of desserts. We got three rounds of delicious ice-cream.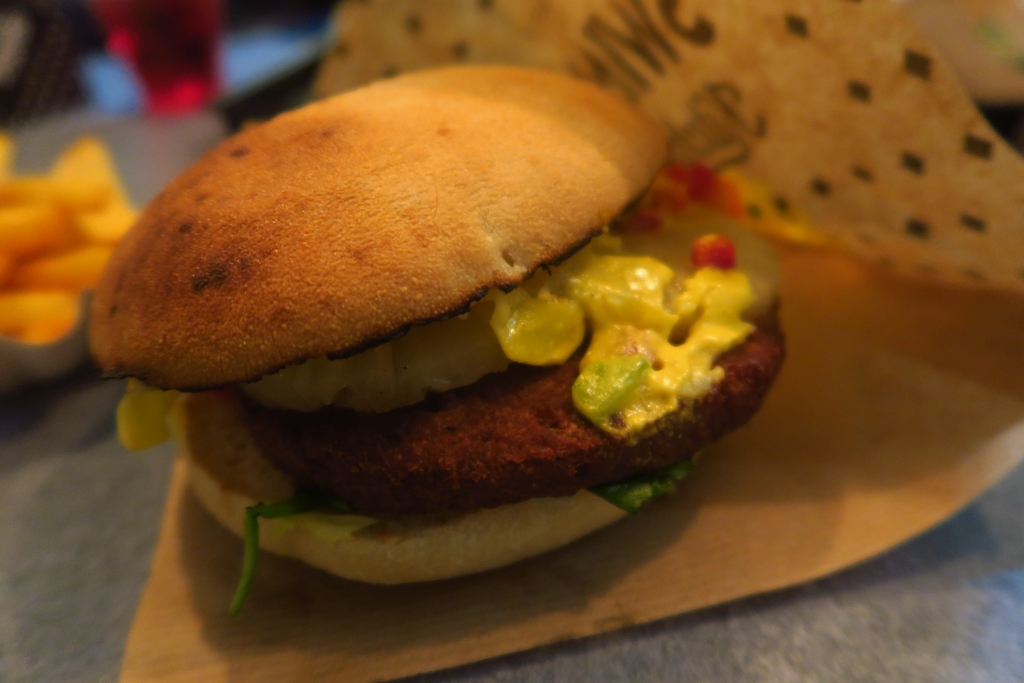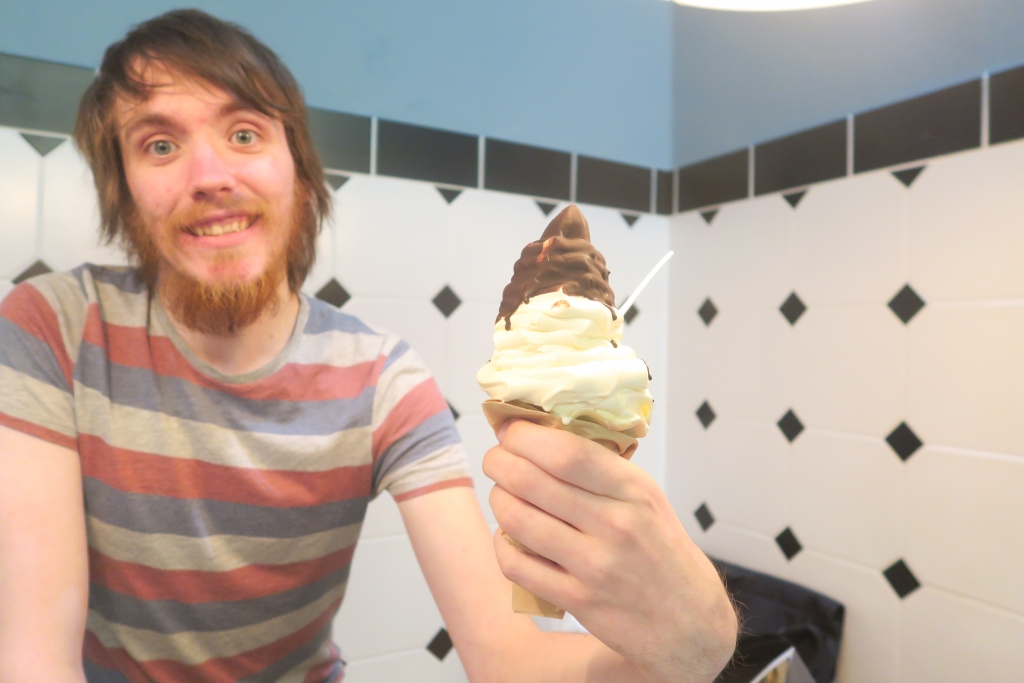 Besides Simon's familiar spot of Swing Kitchen, we went to a number of different places. We stopped by NomNom Bakery, Maran Vegan Supermarket, and Veganista, a completely vegan ice-cream parlour. Each of these places are fully vegan, and fully delicious.
In just one week in Vienna I am overwhelmed by the options for vegans. I am sure this isn't just the case here. From what I understand this is the reality across much of Europe. Europe represents the end of our trip. We have little over one month remaining. As foreboding as this is, it is exciting to know that it will at least be a month filled with tasty treats.