Hey Vegan Travellers!
I just had the most incredible week at the Elephant Nature Park in Chiang Mai, Thailand.
The whole week went by so ridiculously quickly that I almost don't even know how to separate it out to find a place to start with my recap! Let's start off strong, shall we?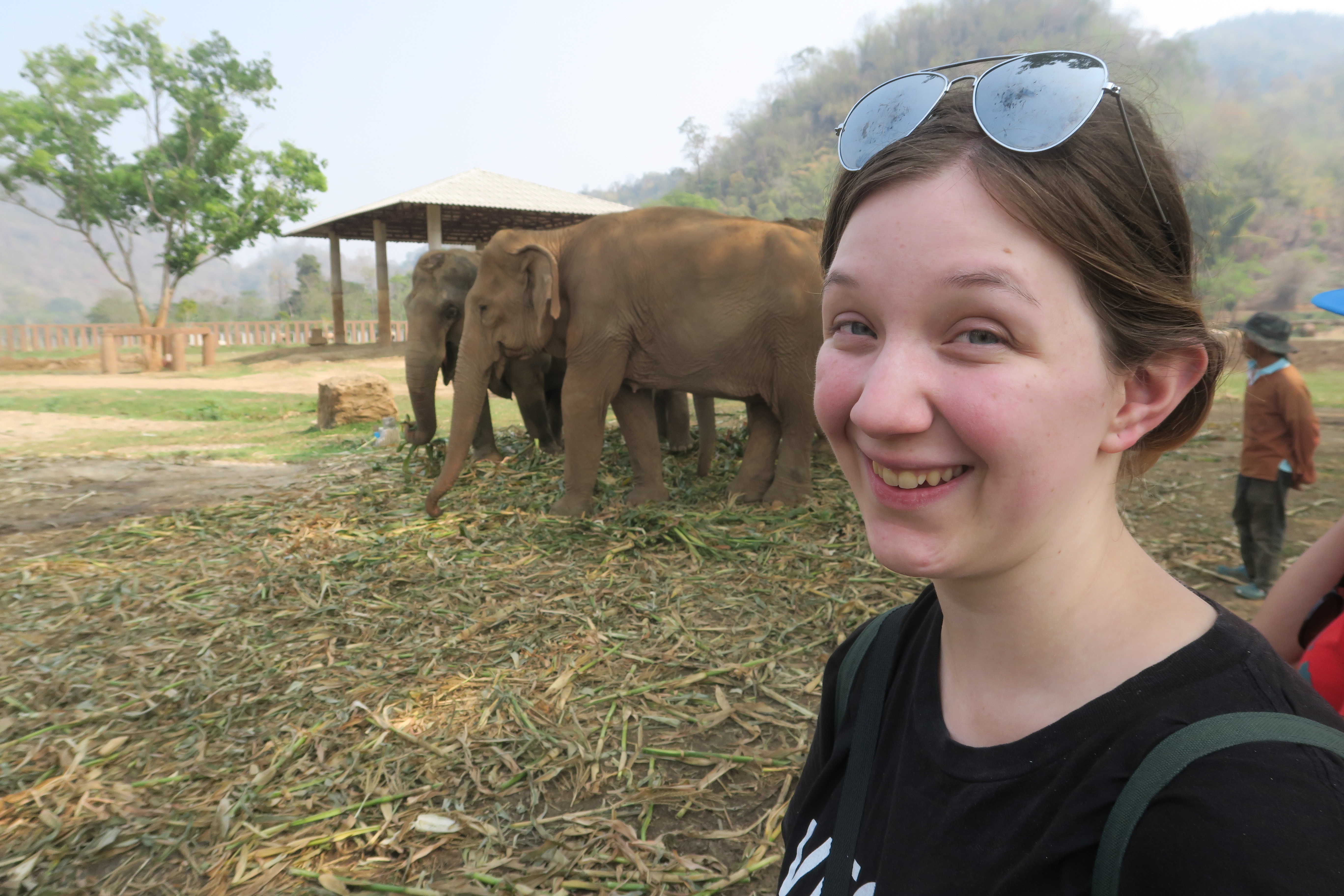 Ross and I first learned of Elephant Nature Park about six months ago when we were planning our Round the World trip. We knew that we wanted to go to an animal sanctuary while we were in Thailand and we knew that we wanted to work with elephants, so we researched our options. There are a few places in Thailand which call themselves "elephant sanctuaries" but which also allow their volunteers and visitors to ride the elephants as a part of the experience. That obviously gave us a lot of pause. We kept researching and eventually Ross found ENP. ENP was very clear about their mission and their program. Their program also happened to be the only one we could find that we aligned with ethically. We decided to book our week-long volunteer trip. We just barely made it in. The positions fill up well in advance- I'm talking, booking in early September and struggling to find a week in February. We managed in the end, cutting it close with the end of the week being the same day as our flight from Bangkok. It worked out for us, but I do highly recommend looking at the availability before you book your flights and booking on the same day. If you're coming to Thailand, a visit to ENP is something you really don't want to miss just because of a scheduliing conflict. After we booked, we moved on to thinking about other places and other things we needed to do to get ready to travel. We were, of course, very much looking forward to our stay at ENP, but it was so far away that it didn't seem real. We also had no idea how wonderful it was going to be or how much we were going to align with the park's overall attitude and the founder's ethics.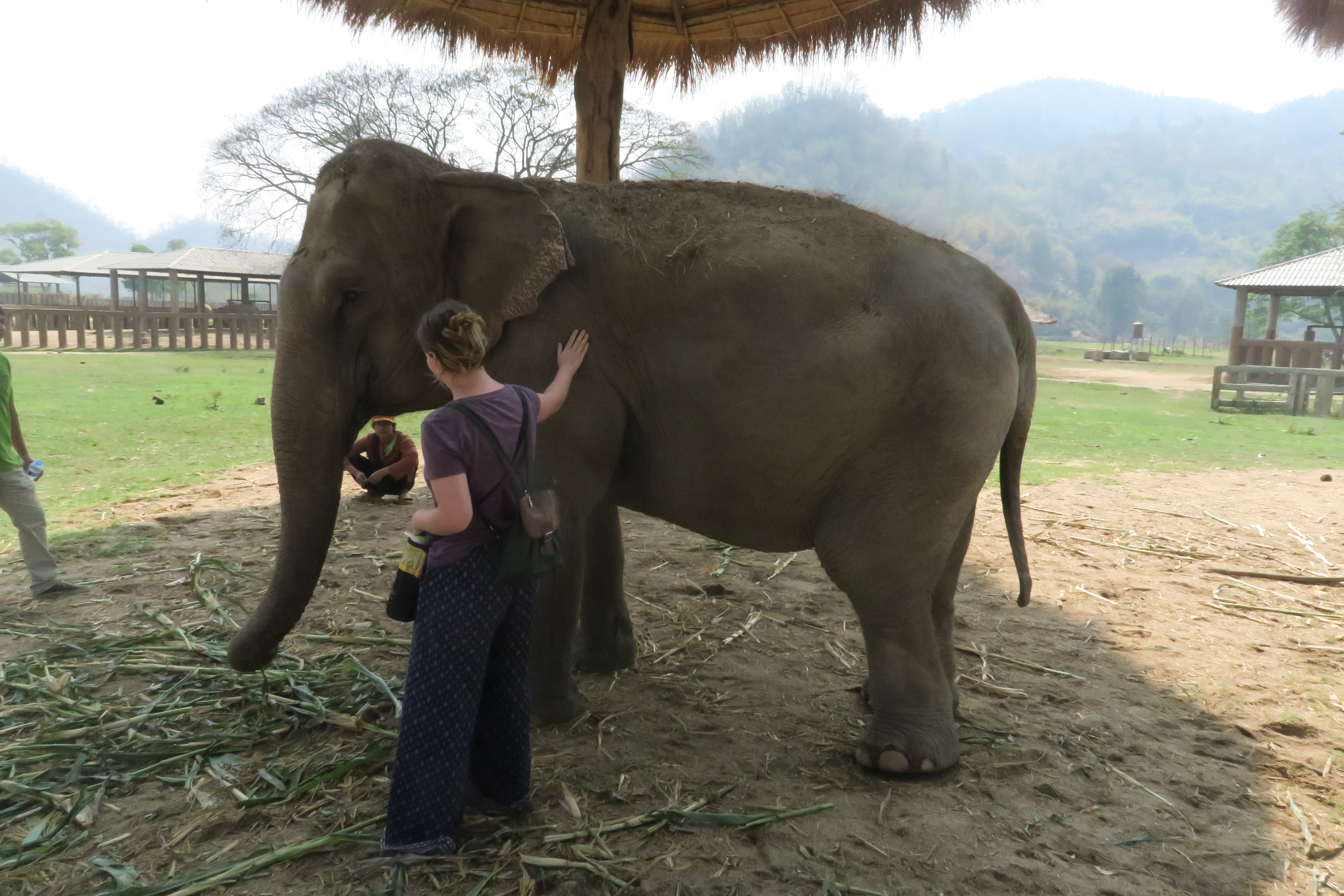 We didn't even make it to the park before this was revealed to us. During the hour or so van ride up and out of the city of Chiang Mai and to the campus, we were shown a couple of videos which quite graphically and honestly illustrated the pain that elephants go through, training for the tourist industry and illegal logging. I had known prior to this that elephants were being badly exploited, but I had not known the full extent of that exploitation or the intense emotional and physical abuse that was involved. Therefore, I arrived at the park with a heart full of fresh and righteous rage, ready to either tenderly love and care for the rehabilitating elephants or to viciously sabotage, expose, and destroy those exploiting them.
I was not immediately thrown into the fray, don't worry. We spent the first day being guided around the park, introduced to the beautiful elephants, and welcomed as special guests. The evening of our first day, a local shaman came and bestowed a welcoming ritual upon the group of c.70 volunteers. A white string, which I still have not taken off, was tied upon my wrist by an elder from the village. As I look at this "white" string now, all filthy with river water and red Thai dust, I can't comprehend how long ago I received it. It was simultaneously always living on my wrist and given to me just this morning. I just can't believe the most amazing week of my life is over. Okay, okay, I think I have officially waxed poetic enough about the weirdness of the passing of time (spoiler: I'mma do it again really soon), and the first day at the park. Moving on.
The second day, we found ourselves on the ground, getting some real work done. That's right, we were given the ever-important, if a bit unglamourous, job of elephant poop scooping. Like most poop scooping, doing this job sometimes required a strong stomach. Unlike most other poop scooping, however, it also required a strong back as well as a strong sense of "incoming elephant."
Sometimes, you'd be focusing on lifting some massive chewed-up corn stalks and be interrupted by sudden shouts of "BEHIND YOU!" The warnings sounded dangerous and urgent, but when you got out of the way, you'd be greeted by this big beautiful gentle giant, waving their trunk at you, trying to determine whether or not you had fresh corn stalks. The elephants were surprisingly sneaky for ones so massive. They really did sneak up on me all the time. They're quiet and move a lot faster than you think they can, especially if they think you might have some treats for them.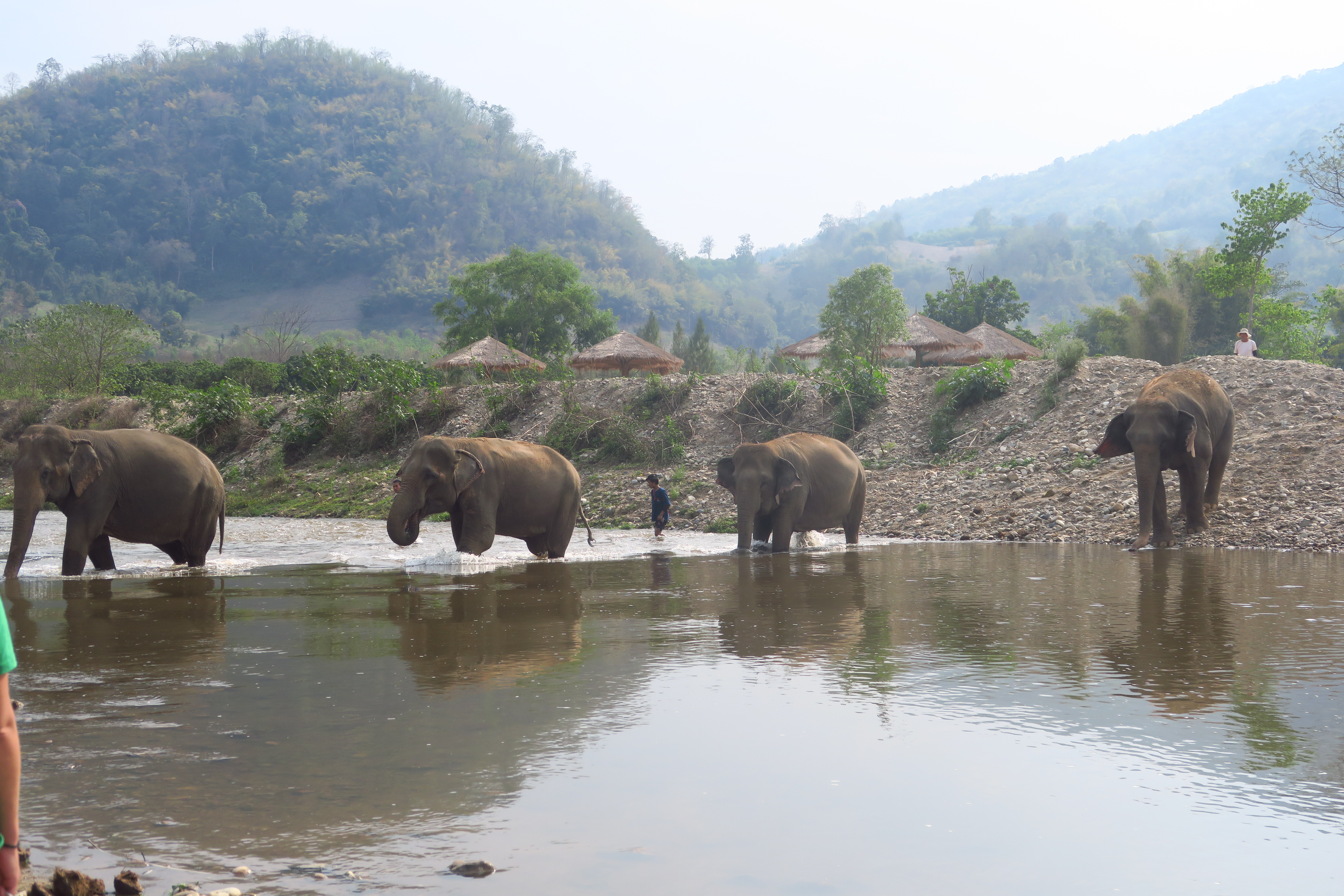 The rest of the days of our week are all blurred together. We were waking up far earlier than we're used to, working until early afternoon, and getting really tired really early. Every day we found ourselves with our big lovely group of volunteers, and our absolutely hilarious and wonderful volunteer coordinators, doing tasks to help out with the elephants. Some days we scooped poop again. Other days, we were working in the Ele-kitchen, unloading big food trucks full of watermelons, washing the watermelons in a solution, making rice balls, and going out to hand-feed two of the oldest elephants. Other activities included cutting corn, cleaning up the park, going out to meet and greet as many elephants as we could, bathing the elephants, and visiting a local school for a field trip. If you have vet experience, your jobs are a little bit different and involve helping out with the treating of the wounds that many of the elephants have. Some of them were injured by land minds and logging- many of them are blind in one or both eyes. Vet help is very much appreciated. In addition to all those jobs, you could also use your free time to walk some of the many dogs in the park (who need adopting, by the way!).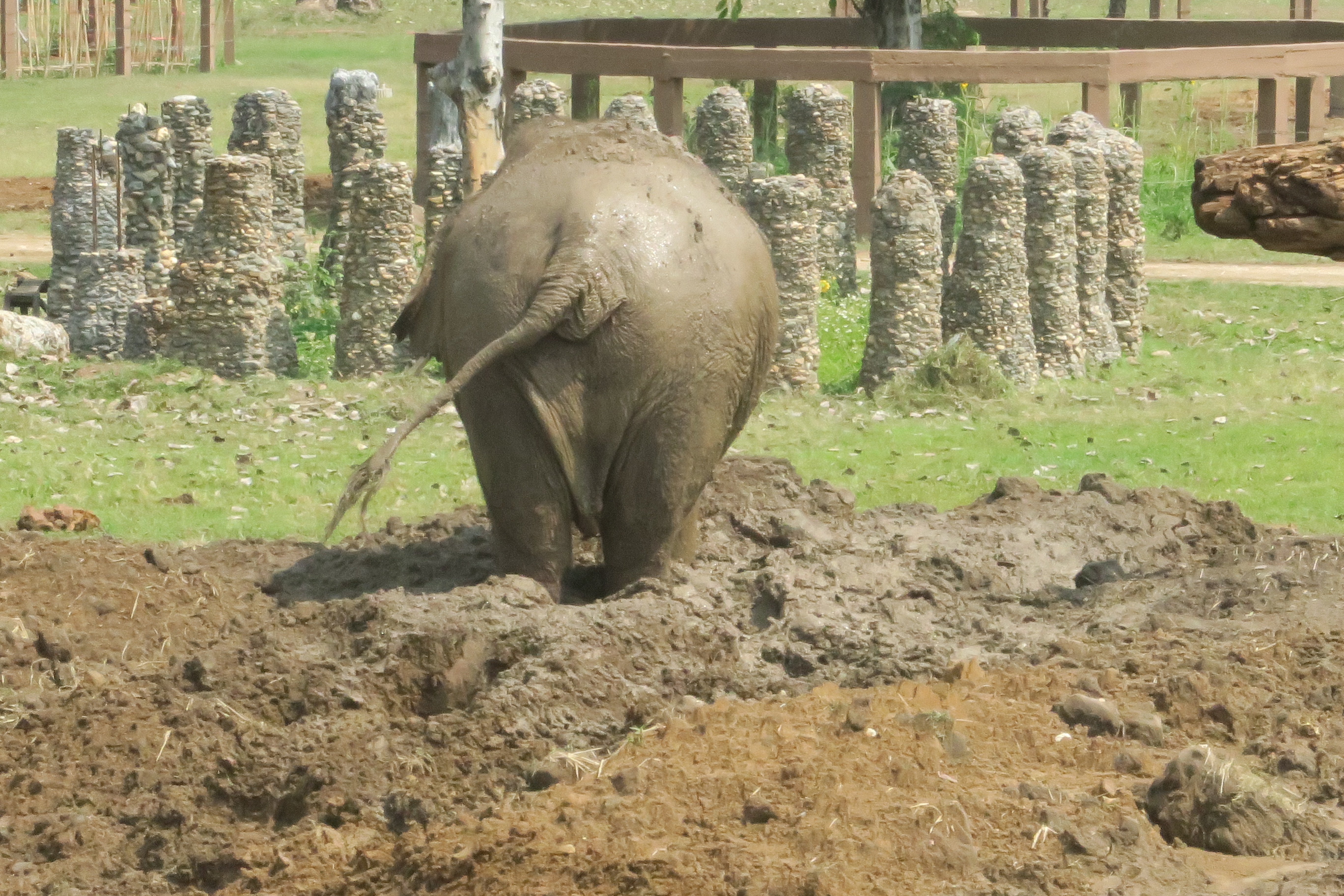 I really can't tell you how much my week here meant to me. Learning how much the elephants in Thailand need our respect, our help, and our voices while working with them in person has to be the most incredible thing I have ever done. So now I'm pitching it to you. If you can, go. Go and volunteer and learn. Go and see how intelligent, beautiful, loving, and sweet these non-human animals are. Go and scoop poop, it's not as bad as it sounds. If you can't go, consider donating to ENP's cause. I have been there personally now and vouch for what your money will go towards and it is very good. Even if you can't donate right now, you can still spread the word about what elephants go through for the entertainment/tourist industry in Thailand and you can speak out against it.
Save the elephant,
Ellie Lebo