We brought in the New Year in a spectacular fashion: huddled together, watching fireworks in the furthest place city from home I can possibly get to. It wasn't our plan to be in Dunedin over New Year, it was just a fortunate circumstance. Dunedin is a strange city. It was designed in Edinburgh and is slightly based on it. There is a massive Scottish influence in the city – from the Scottish souvenir shops to the giant statue of Robert Burns in the centre of the city. It has a history of Scottish settlers. It would seem that the Scottish sailed as far across the world as they could, only to complain about the heat and settle in, from what people seem to say, the coldest, rainiest part of New Zealand. Typical. When we arrived there it was quiet. Walking around the centre would suggest that it was very much a place to settle down. We later found out that it is a giant student city, and if we had arrived a couple of weeks sooner we would have had a much more rowdy experience. I'm glad we arrived when we did.
When the clock struck midnight, and we found ourselves surrounded by New Zealanders and other tourists alike, the monumental scale of our journey really hit me. It was really cool that I was able to spend New Year so perfectly far from home – even if the bagpipes and Irn-Bru would suggest otherwise.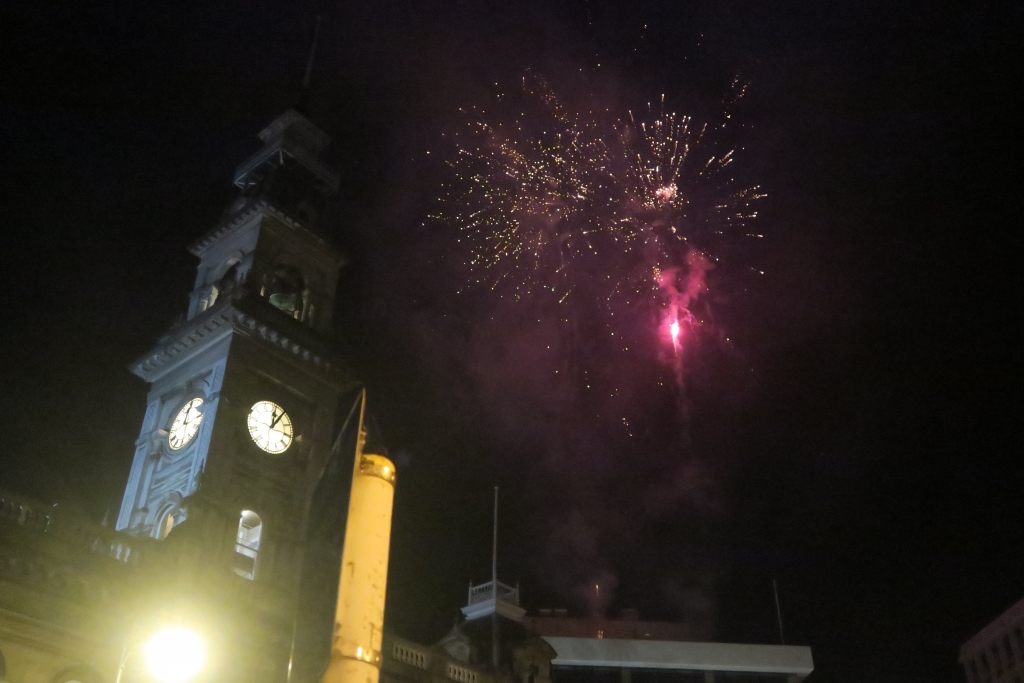 We planned to take it easy in Dunedin, as a welcome break from all the moving we'd been doing. We planned to eat some food and walk around for a bit. This turned into a tasty meal in Modaks Espresso and a much lengthier walk around the city than anticipated. The lengthy walk deceit repeated the following day, except this time there was a lot of walking to places that were closed for New Year. We went back to our hostel, worn out and ready for a night of full sleep, only to be interrupted multiple times by other backpackers' late night and early morning routines. Hostel life.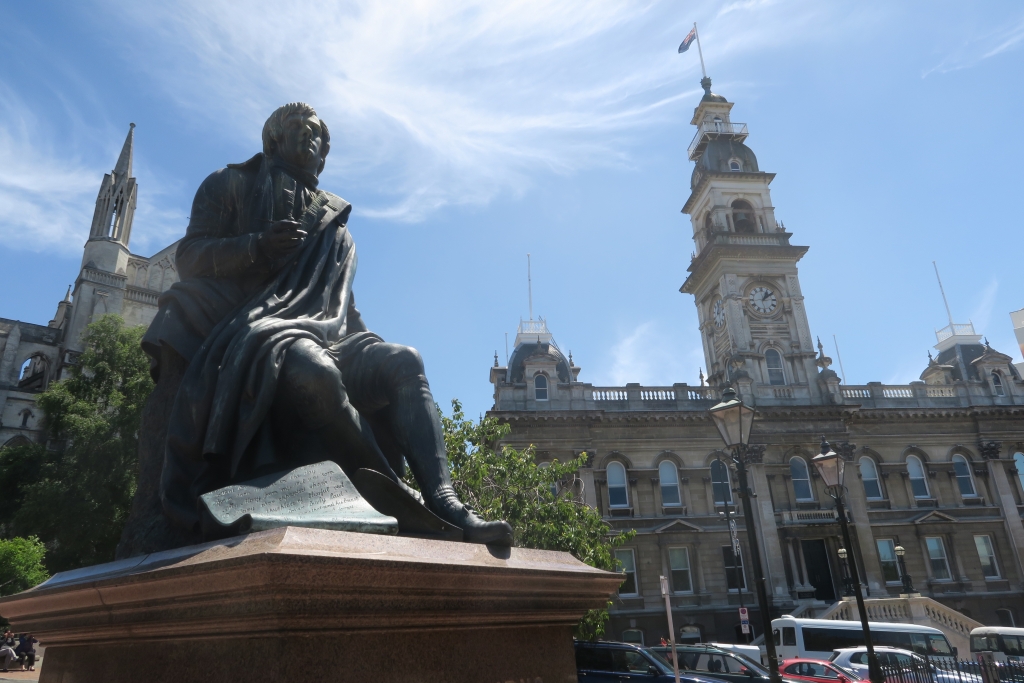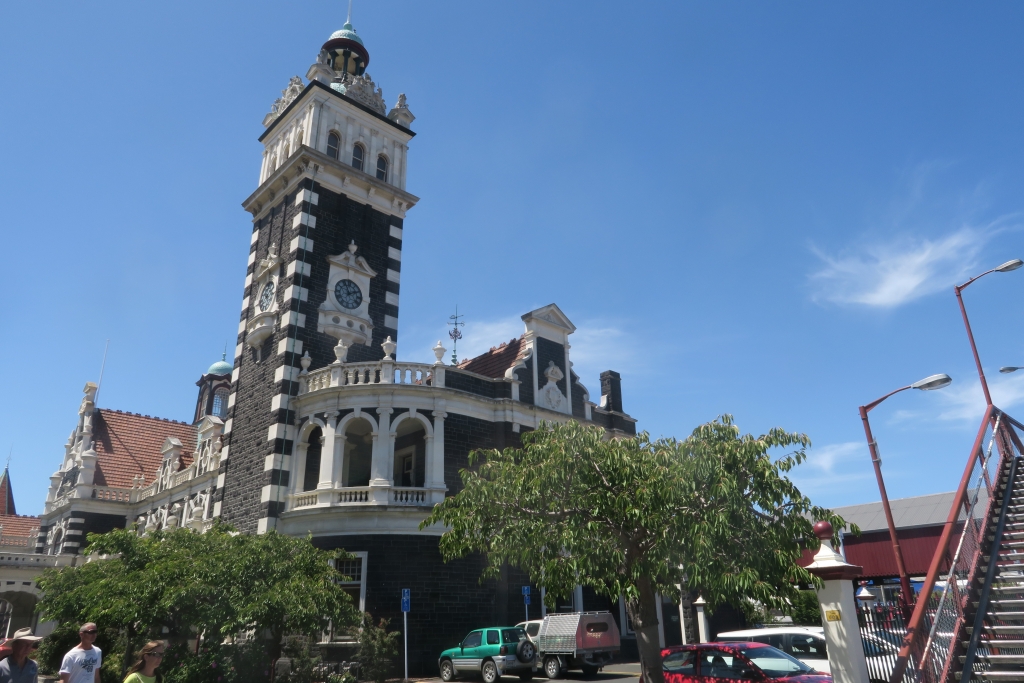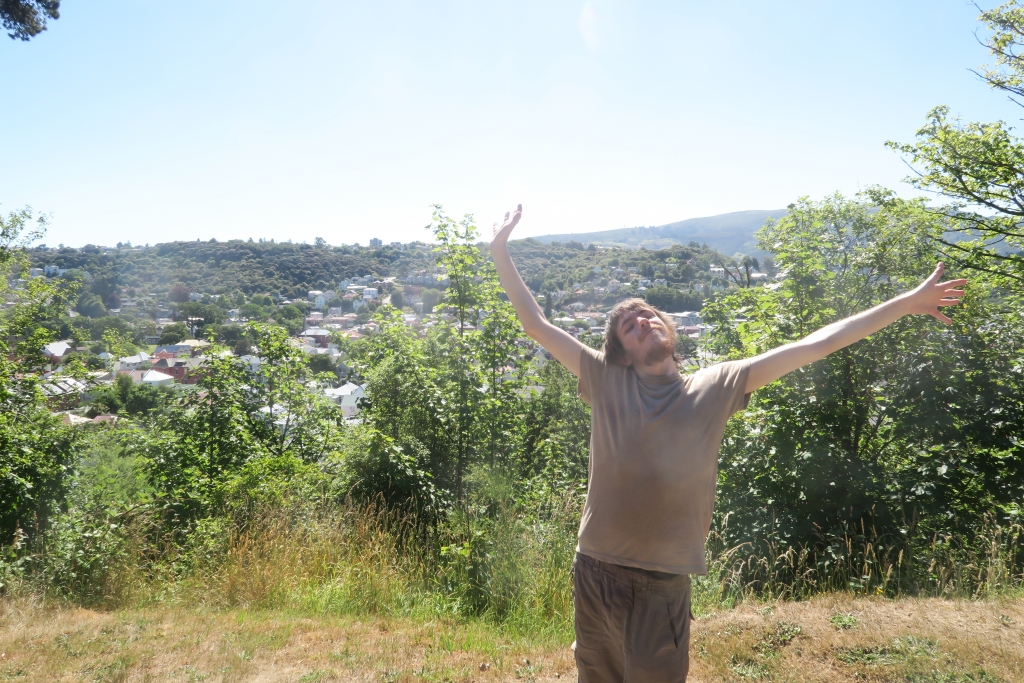 The following day was a dreaded one. We were now as south as we were going to get, and I woke with one thought on my mind: it was time to retire our faithful hitch 'south' sign. This reliable and trusty masterwork of card and ink had managed to get us from Auckland to here with relative ease. I found myself with an odd sentimental attachment to this sign, but it was time to move on! We took some cardboard from the recycle bin in the hostel, grabbed a black marker and set to work on our new 'north' sign, the antithesis of our hardened ally.
We were heading back north fast. Unsure if we would be able to make it to Christchurch because of how late we set off, we set our sights on Oamaru, We'd heard that there were penguins there and this seemed like an unmissable sight. We made it there in the late afternoon and checked into our hostel. In the hostel there was a small room full of art supplies, as well as a room full of musical instruments. The person checking us in explained that guests are welcome to use whatever they like from the art and music room throughout their stay. We walked to the supermarket for vegetables and banana ice-cream (this wasn't the plan, but it was on offer), and we considered the possibility of extending our stay by one night, and taking a day to not be on the move, and make some art. We decided before we got back, and did just that. For the rest of the night we ate our food, played some cards, went to see the penguins, and retired to enjoy some ice-cream before bed. It was a wonderful night. Standing around, watching the water, waiting for the penguins to surface and take shelter for the night was absolutely one of my personal highlights of the tour.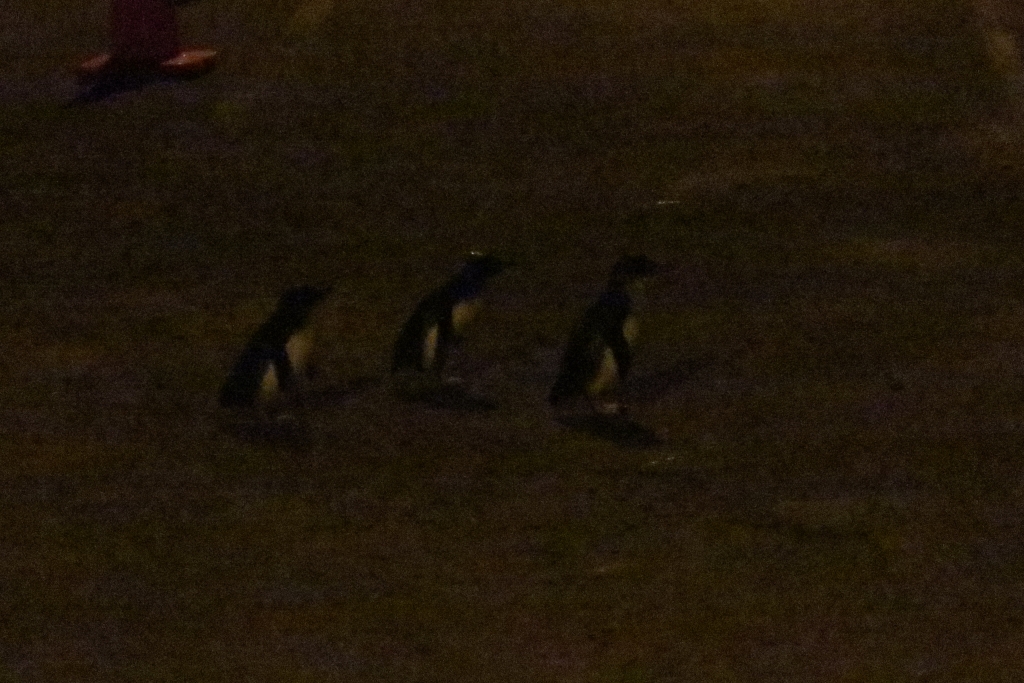 The next day we were set for our easy day. Once again we got a bit excited and ended up walking around for hours. We heard that there was a Steampunk museum in Oamaru, so we went to check it out. We found out that the museum is located in the town's Victorian precinct, leading us on a fun tour of weird shops and cool art galleries. Without planning to, we spent an hour looking around a really cool book/collector store, then explored the unusual clothing stores. There is an old train that runs through the town. We followed it all up by getting to the museum. Like the art gallery before it, the place is full of dark, imaginative designs, serving as a perfect time-capsule for a time that didn't really exist. The place could be pretty scary, but if you're into sinister adventure fiction, it is absolutely worth checking out if you are passing by. There is a lot to see in this area of town, and I found Omaru sneaking its way to being perhaps my favourite place in New Zealand. Getting back to the hostel to play some nice music with the other guests, and to sit down and paint for a couple of hours, certainly cemented that claim.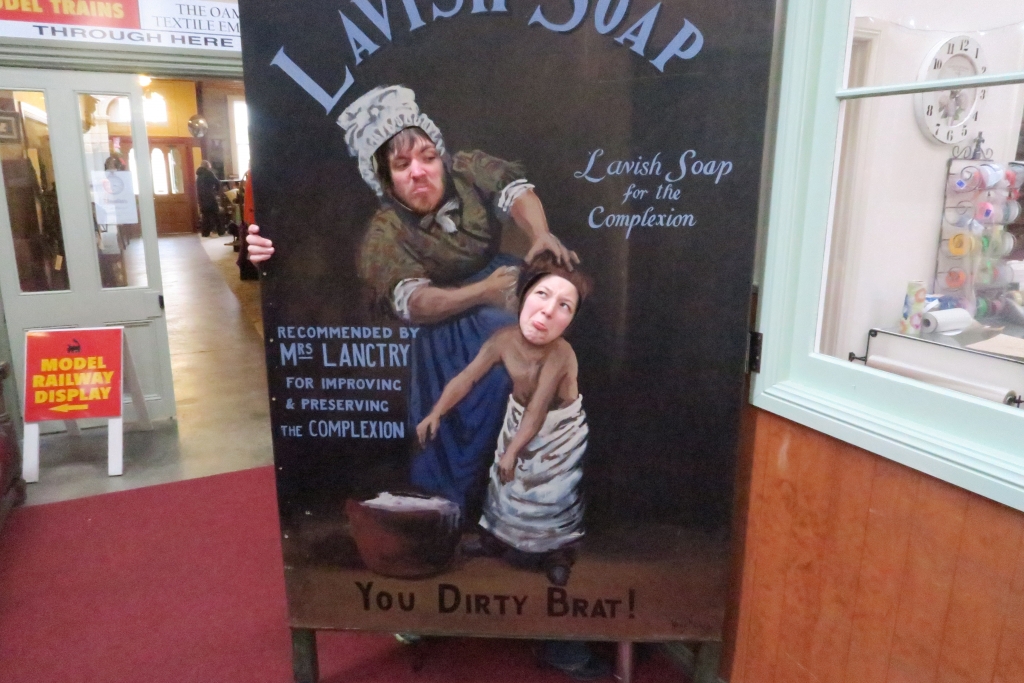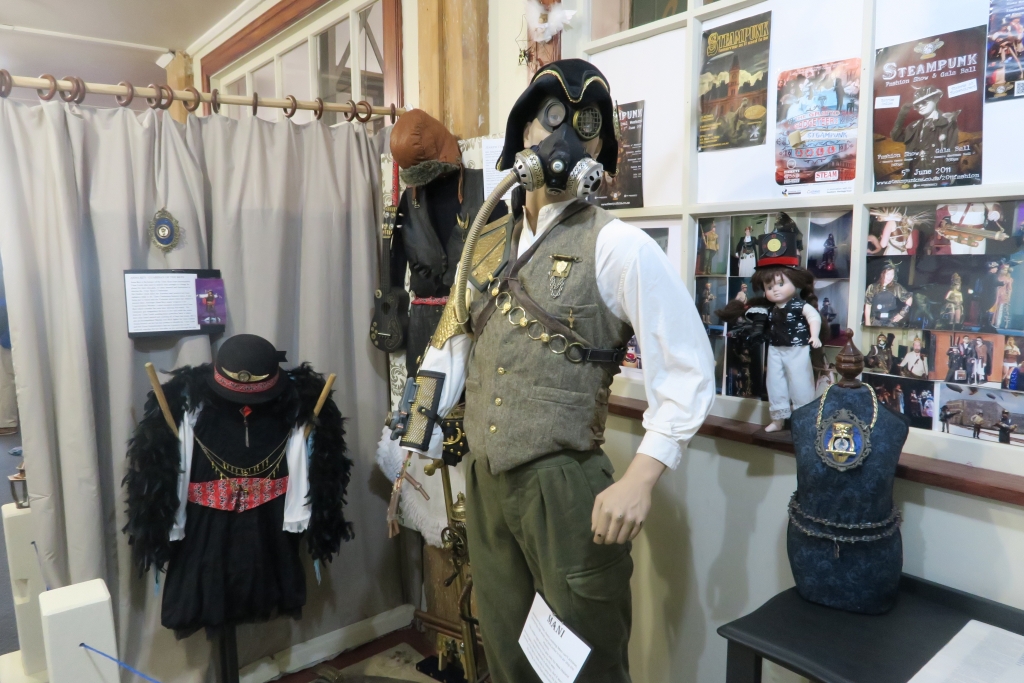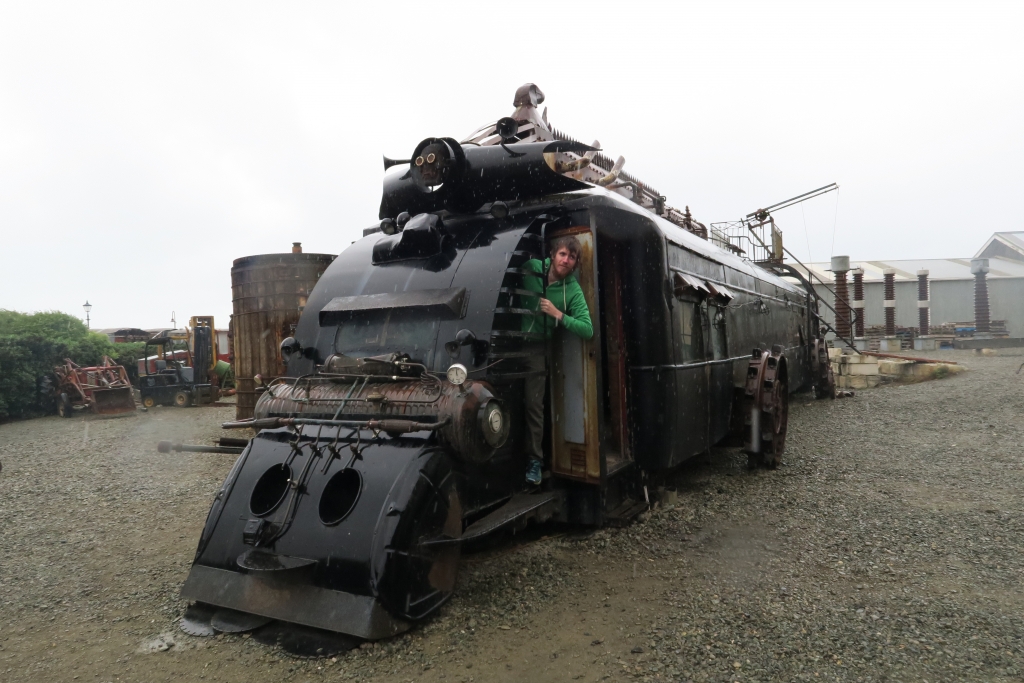 We were now a day behind, and we had to get south as fast as we could. We had to be back in Rotorua in two days, and that's quite a distance. We left bright and early the next day, took our sign, and hitched our way up in just a couple of days. We were meeting a friend of mine who moved to New Zealand when we were both little. We hadn't seen each other in seventeen years or so, but we got in touch, and I told him that I was going to be in New Zealand and that we should meet up. We used this meeting, along with Rotorua's limited vegan options, to opt for another Hell Pizza. We ate pizza and caught up, before going back to his house to stay for a few days. It was great. He and his partner had been reading our blogs and had bought in a bunch of ingredients for vegan dinner. We stayed here for three nights and had many delicious vegan meals. If I could add them as a listing, I would. They took us around Roturua, allowing us to see much more than we had previously. We were taken to the serene point where you can look down and see the green and blue lakes on either side of the hill. It was amazingly beautiful. On top of been shown the beautiful parts of the city, we were told some of the history of it.
I had a wonderful time here. It was amazing to re-connect with someone that I found out I still had a lot in common with. Their incredible hospitality even extended to driving us to Auckland on the day of our flight. They told us of a place in a town on the way called Vegan Buffet, where we stopped for food. They walked around Auckland with us and bought us some delicious ice-cream as a parting gift, before setting off on the long drive home. This was the perfect time to end our time in New Zealand, making us very sad to leave.
I had a really great time in New Zealand. I was initially surprised by the lack of vegan foods, compared to where we had been, and with the lack of strong wi-fi. Of course both of these things were easy enough to work around, and I found myself forgetting about them before long. We covered more distance here than in any other place, and it still feels like we have so much more to explore. New Zealand is just another in an ever-growing list of places I must definitely re-visit.
New Zealand, you are sweet as, bro!