As much as I would love for this blog post to be a massive list of the actual best things in life (y'know, chocolate, bread, vegetable gardens, new socks, haikus etc,) I was really just trying to be clever with the title. What I am going to tell you about now is stuff that is FREE! At this point in this beautiful long trip that I am on, I have seen a lot of really lovely things! Because I am traveling for such a long time, I have to be really careful not to get too excited too quickly and blow all of my money on some interesting sounding touristy thing in every place I visit. If I did that, I wouldn't have made it this far! Of course, that doesn't mean that my experience of a place has to be just the four walls of the hostel and the airport. Ross and I have found a lot of really interesting things to do for free in every single place that we've been so far. Some examples: In the U.S. we walked to the Philadelphia Museum of Art to see the steps from Rocky, in Jamaica, we visited a few public beaches, in Japan we went to Nara, which I would love to tell you about, but you'll have to watch the video!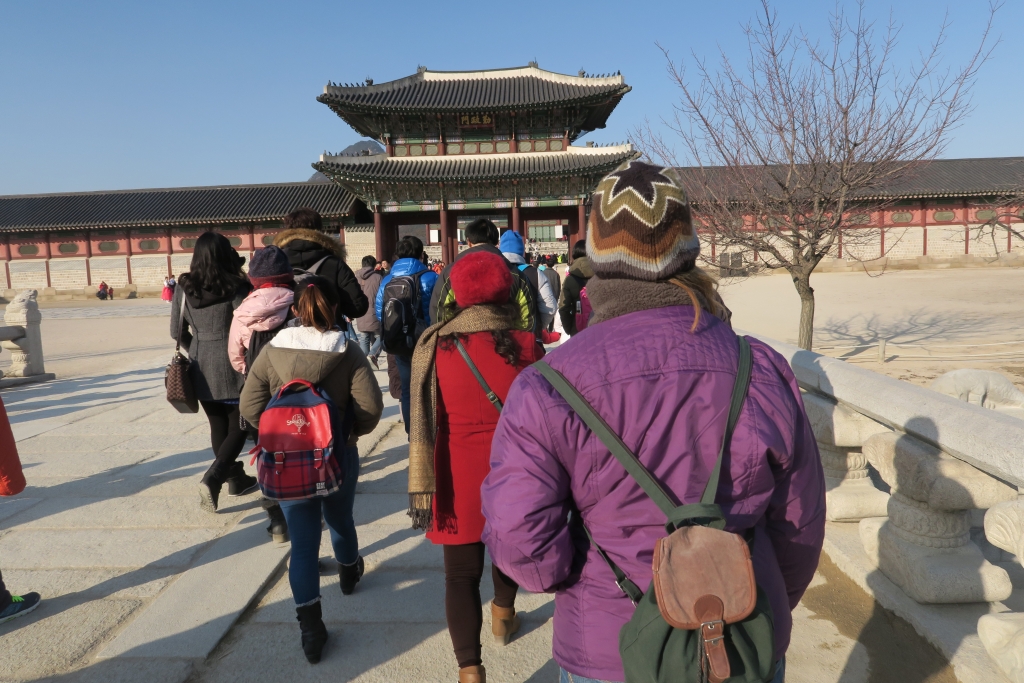 The most recent in this list of free attractions, is one that really puts the idiom, "You get what you pay for," to shame. Ross and I spent our first few days in Seoul inside, hiding from the extreme cold, letting our bodies acclimate, only venturing out into the neighbourhood around us to observe the South Korean culture and try to pick up some of the language. The weather took a dramatic turn, heating up from zero to thirty-six degrees Fahrenheit in a matter of two days. We knew then that it was time to seek some adventure in the other neighbourhoods of Seoul. As we normally do, rather than looking through the tourist books, we asked a local what they'd recommend. We'd become pretty good pals with the manager of our hostel at this point and she was more than happy to give us some tips. She said that there was one thing in the area that we shouldn't miss out on, but we'd better go fast if we were going to make it. She told us to go and see Gyeongbokgung Palace. She was even so kind as to help us figure out what subway route to take there, as navigating in South Korea is proving to be quite difficult. The subway here is fast and cheap and pretty easy to use so long as you know what stations at which to transfer. And so, almost as soon as the decision to go was made, we were there!  Very conveniently, there are signs inside the station which lead you to an exit that puts you right outside of the palace!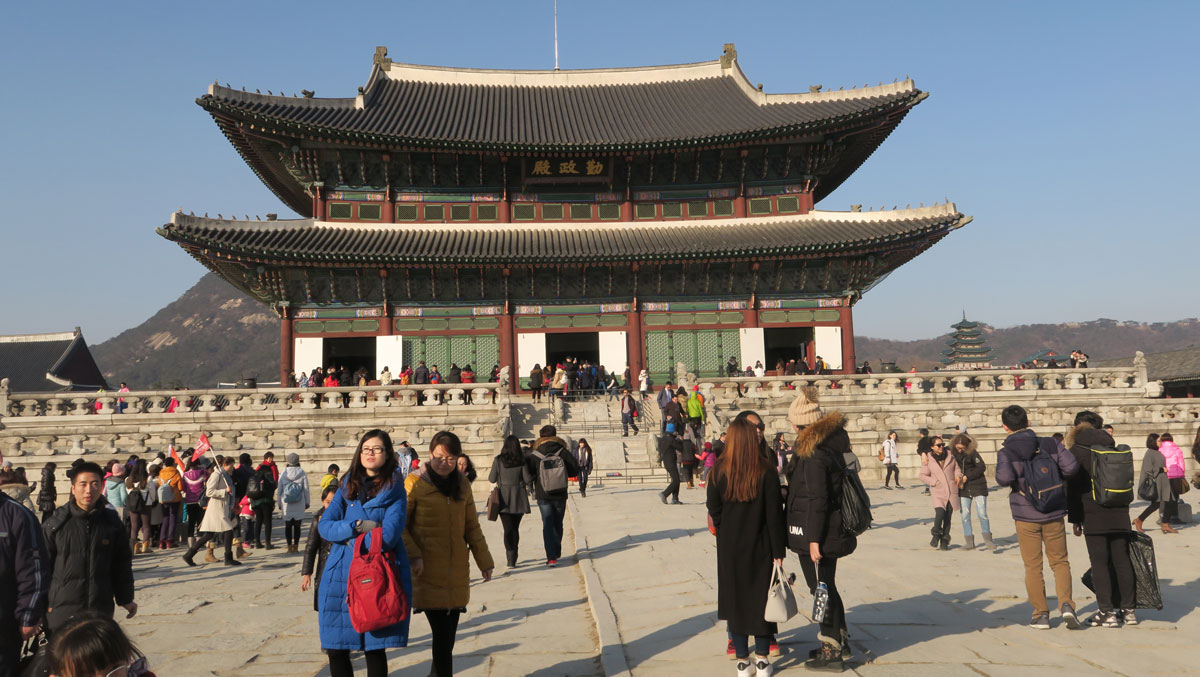 We arrived about ten minutes before the next English-language tour was due to begin. We were lucky enough to be there on a day where the tours were free, though it is certainly not always the case, so check before you go! I thought the free tour would be quick, uninformative, and not very interesting. Why? Well, as I said, you get what you pay for! We actually almost skipped out on the tour and just walked around the palace ourselves! I am really quite glad that we went for it in the end. The tour began with a brief history of the palace. We learned that it was considered the primary palace for many, many years, that it was built in 1395 and has been rebuilt twice. The government declared it a National Treasure and are actually still in the process of rebuilding it and have plans to continue to do so for a long time. The next big milestone they'll hit is in 2045! The dedication for such a long and expensive restoration project just goes to show a visitor how incredibly important this palace really was and continues to be. The tour guide took us through to see the roads laid out in big massive blocks, designating where the king would walk and where military and city officials were allowed to walk. These roads ran through most of the massive palace. However, the place where they are most obvious, and perhaps most impressive, is where they lead up to the downright breathtaking throne room.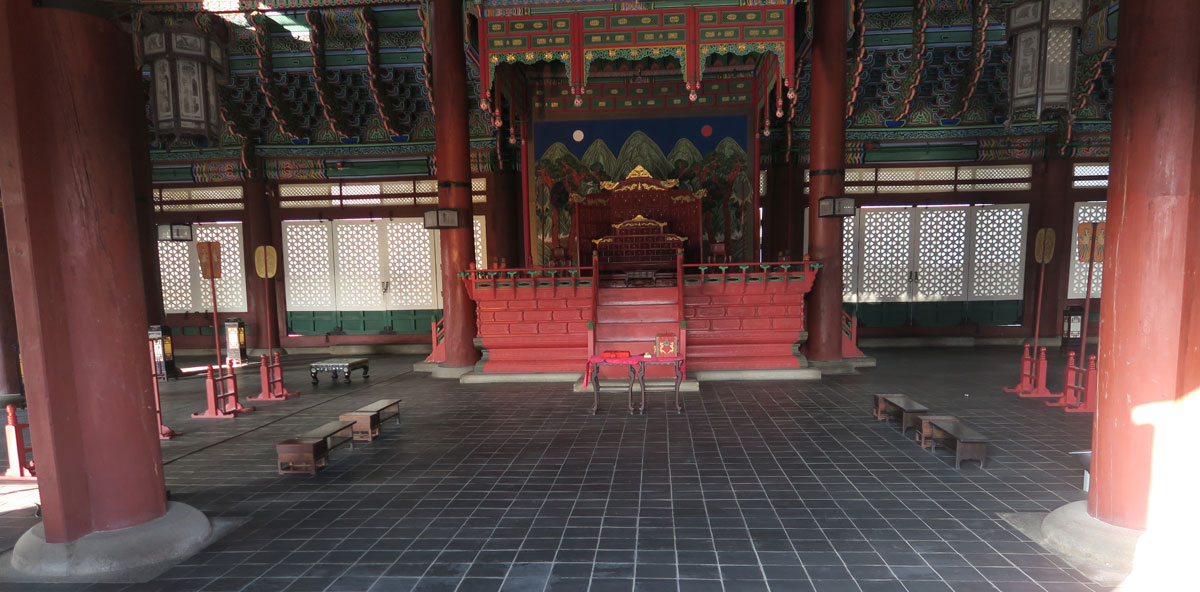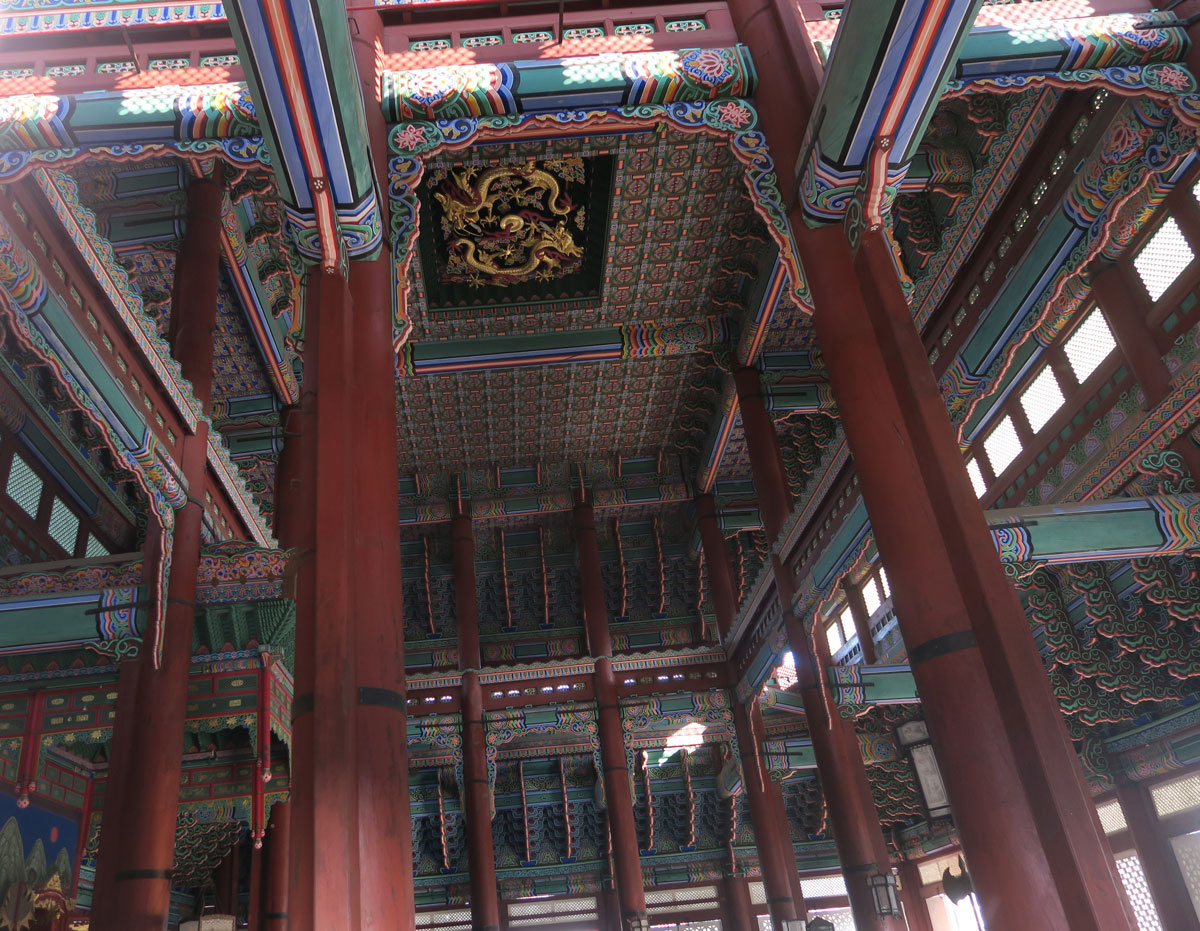 At the time, staring up at the throne room ceiling, admiring the gold-plated dragon, I thought that the throne room would be the most aesthetically pleasing thing that we would see on the tour. I was wrong. Next, they took us through to see where the king lived, where he had his supper and where he slept. Here we learned that the king's ladies of the court would taste-test all of his meals with silver chopsticks, which would turn black if the food was poisoned. This is the reason that you can find flat metal chopsticks in South Korea, which are very different from the wooden ones in Japan- they're even meant to be held differently!
After that, we were led to the queen's chambers and her garden which was still beautiful despite Winter having completely frozen anything green. We saw a few more important buildings here and there, an official banquet hall that the POTUS has been to, and of course, the kitchen where they prepared the royal meals. However, it was the last thing that we were led to which made me stop in my tracks.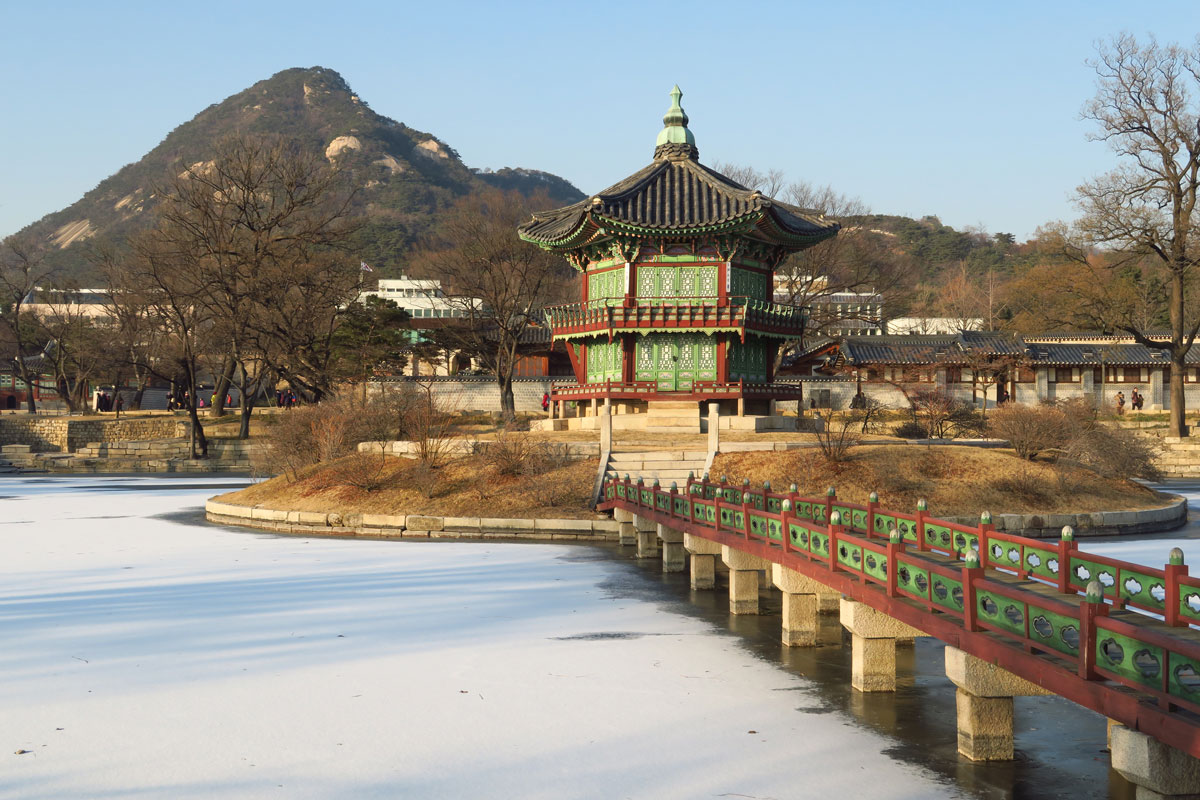 To see the water in this reflective and frozen state suddenly made walking around in the cold for a few hours very much worth it. I was happy to have learned so much about the history of South Korea and the way that the royal families here lived for hundreds of years. I was impressed by all of the buildings, the paths, the stairs, and the King's Road. But I was absolutely blown away by this view. This beautiful view comes with a tragic story, though. I will spare you the somewhat uncomfortable details and simply say that something which occurred here led the last king to ever live in and rule from Gyeongbokgung Palace to leave, set up shop in a new home, and never return. This same king, was one who really really loved coffee and did all sorts of things to bring it to South Korea. I think maybe that's why there are so many cafes in Seoul.
All of that information, all of that history, that walk through a past I have rarely heard of, all of the beautiful scenery… it was completely free. So, vegan travellers. Go forth and visit museums, parks, shrines, beaches, and have a great time on a great budget.
Until next time,
Ellie Lebo