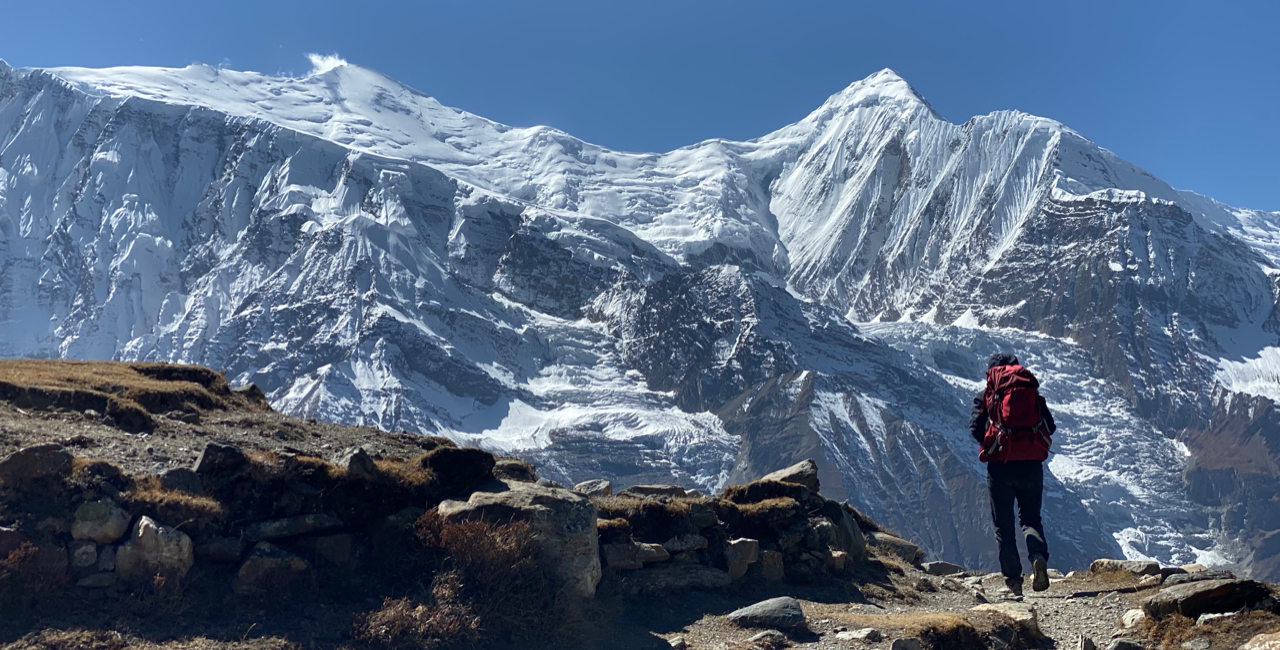 Last year we decided to go on a trek in Nepal. We chose the Annapurna Circuit, which ended up as a 132+ mile, 16-day trek and the adventure of a lifetime. Initially, we were concerned about the difficulty in finding vegan food in such a remote location and how to communicate this to our tea house hosts. We had previously been told vegan food was plentiful by other travelers, but not being vegan themselves, we were a bit skeptical. While we found endless blogs about the circuit itself, we came up with very little regarding vegan food on the journey. Hopefully what follows will help you decide to make the trek yourself if you are concerned about finding vegan options that you can trust.
The Trek
The deal is, you hike all day and show up to a "tea house" in a village along the way. There you pay a nominal fee for a room but you must also eat dinner and breakfast there. Most places offer the same food but with their own flare, cooked by the family that owns it. We mostly stuck to a few safer options but found meals to be delicious and plentiful. The higher you go, the more Western the menus become, which means less vegan options. The good thing is that the staples below are offered almost everywhere.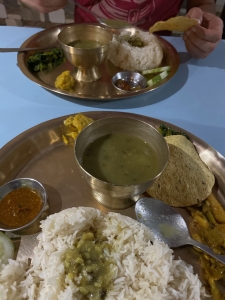 Dal Bhat – the national dish of Nepal. This was offered at every place and was typically the most economical and filling option. It is similar to an Indian Thali where you get rice, lentil soup, vegetable curry and some type of pickled vegetable (that I always found insanely spicy). The best part is the free refills!
Vege Curry – Essentially the curry from the dal bhat served as a main dish with rice.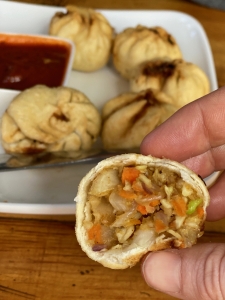 Veg Momos – Maybe my favorite thing to order. Little dumplings steamed or fried. They come with a sauce or sometimes ketchup. They sometimes come with cheese but are made from scratch most everywhere so anything can be easily left out when asked.
Porridge – Breakfast every day can come with apples in most places. Be sure to ask for no milk and no butter as some places add these.
Chapatti Bread – Jelly is offered but VERY sugary. Peanut Butter is sometimes available on request but the bread is great plain, too. This often served as a filling lunch.
Snacks were sometimes available. Chips, biscuits and dried apples can be bought along the way as well as other packaged snacks with ingredients listed in English. Other things like energy bars are nearly impossible to find vegan. We brought a supply of our own to eat in an emergency situation. Although there were no actual emergencies, they did come in handy. We were also able to stop for a lunch break most days as we passed through villages on the route. The notable exception was the day of the pass.
The tea house hosts speak varying degrees of English but even when other communication was difficult, what they know is centered around food. A few times, this translation card we carried came in handy: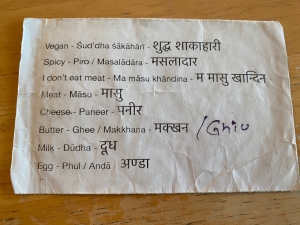 There are other items on the menus that seem like a good option but in our research found that they often have hidden non-vegan ingredients, such as Thukpa and other soups. Also, be sure to order your French fries without mayo!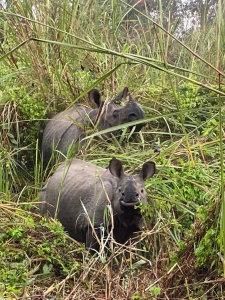 Chitwan
As we finished our trek in less time than expected, we had the opportunity to head down to Chitwan National Park on the border with India. We learned that a great deal of tourism in the park still revolves around captive elephants, including elephant rides, so we were very pleased to discover that one company has decided to reject this cruelty. If you head to Chitwan, check out Nepali Dynamic Eco Tours. They offer all sorts of tours throughout the park and are exceptionally nice people. They can also direct you towards hotels that don't "own" elephants.
Pokhara and Kathmandu each have a plethora of vegan-friendly places. We highly recommend:
Pokhara
Little Windows – western and Nepali

Aniyor – Indian
OR2K – western and Nepali

French Creperie
Kathmandu
Loving Heart – ALL VEGAN! – we stayed at the Avataar Hotel in the same building which proved incredibly convenient

French Bakery – western with desserts and breakfast

OR2K
These tips will help if you go it on your own, as we did, without guides or porters. However, most do this trip with an organized group. Check out veggienepal.com for vegan treks. Also, we were told the owner of Loving Heart can organize treks. You can try contacting Shakti Yonzon on Facebook.
Please don't use this post as the sole resource for your trek. There are endless blogs and books out there with more thorough information than provided here, but hopefully, this helps give you confidence that you will be well fed during your journey.