Hey vegan travellers!
A little bit ago, I filmed a vlog about packing. In that vlog, I discussed the things that I am so glad we brought with us and the things that we probably could have left at home. A few of you seemed pretty interested in it so I thought it might be nice to write a little something here and go into a bit more detail about a what I packed. Now, I'm not going to tell you what YOU should pack for YOUR round-the-world trip. I'm just going to tell you what I have packed for my 6 month trip and tell you what has worked and what has not… So here we go- this is what's in my backpack!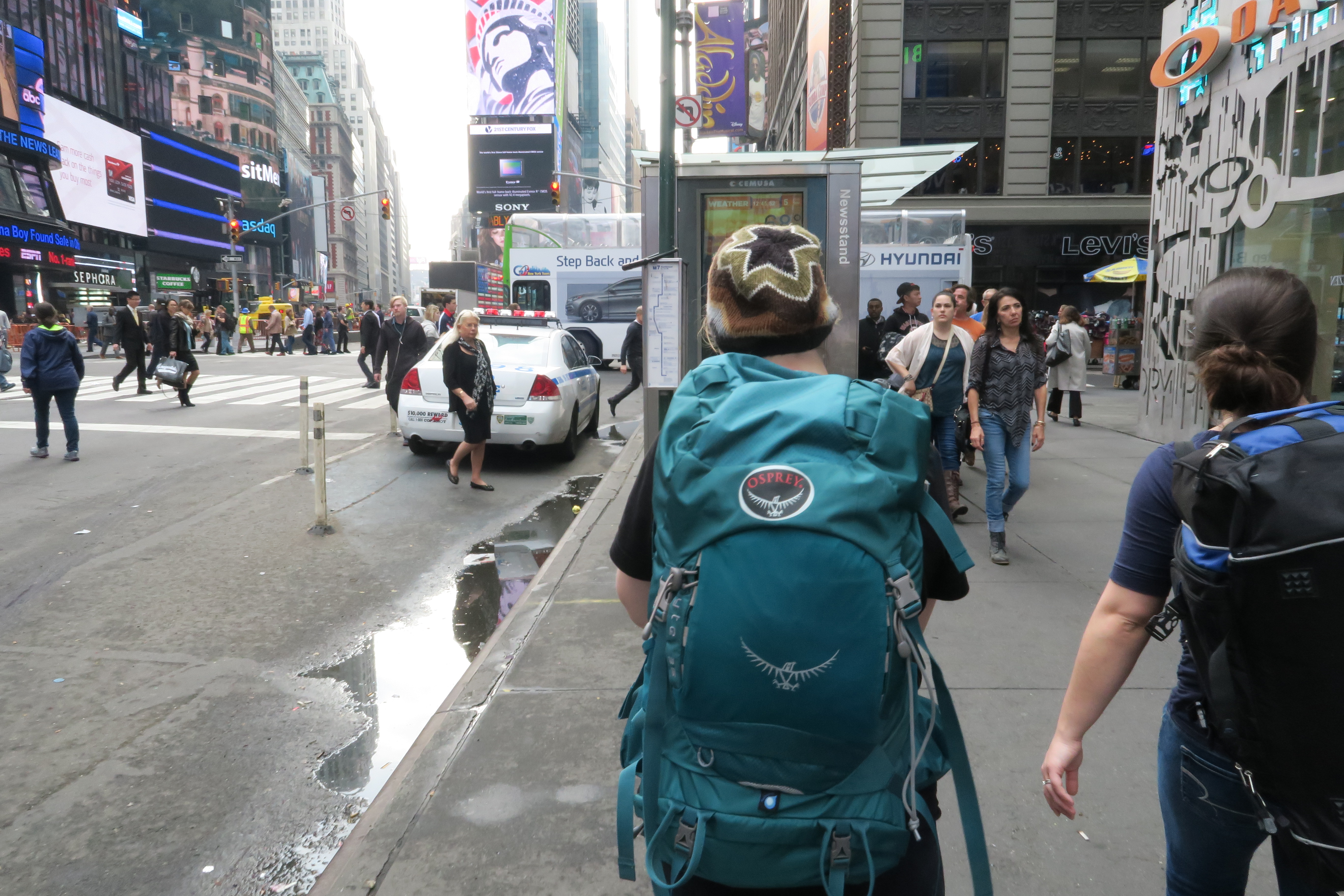 Clothing
I decided pretty early on in my packing that I wasn't going to bring a lot of clothing. This was very, very difficult for me. I like variety. I like dressing up, I like dressing down, and on top of that I knew I'd need to dress warm sometimes and dress for the warmth other times. This meant that I had to pack and unpack my clothes about four times before I settled and didn't have too much in the pack. Here's what I ended up with:
7 pairs of socks
7 pairs of underwear
3 bras, one of them sport
Mittens
Beanie hat
Leggings
Long-sleeved undershirt
1 thick "fur" lined hoodie
3 t-shirts
1 tanktop
1 pair of jeans
1 circle skirt
1 pair of loose fitting long pants
1 pair of shorts
1 swimsuit (not bikini)
1 pair of black tennis shoes/trainers/whatever you want to call them
The only thing on the list that I think may have been a bit too much is the number of bras I brought. Anything else that I brought that might eventually be useless, like the skirt that was useful in Jamaica, but may be too revealing or too cold in all other places, could be thrown away. Bras, however, are quite expensive and hard to find a good fit. So they'll just have to sit in the bottom of my bag for a few months. Aside from that, I really couldn't have done without any of the clothes that I brought. I also probably couldn't have comfortably fit anymore things in my bag, so wearing the same clothes everyday in any given country seemed to always be in store for me. I did have to buy myself a really cheap coat when leaving Japan and going to South Korea, which is why you won't find one on the packing list, but you will find one on my person. At this point in the trip, I'm starting to think about new jeans, as my ones are quite worn down and I've completely walked off the hem! So if you have the space, maybe bring two pairs of jeans!
(But seriously, look how cute this purple coat is! It was only 1,000 yen!)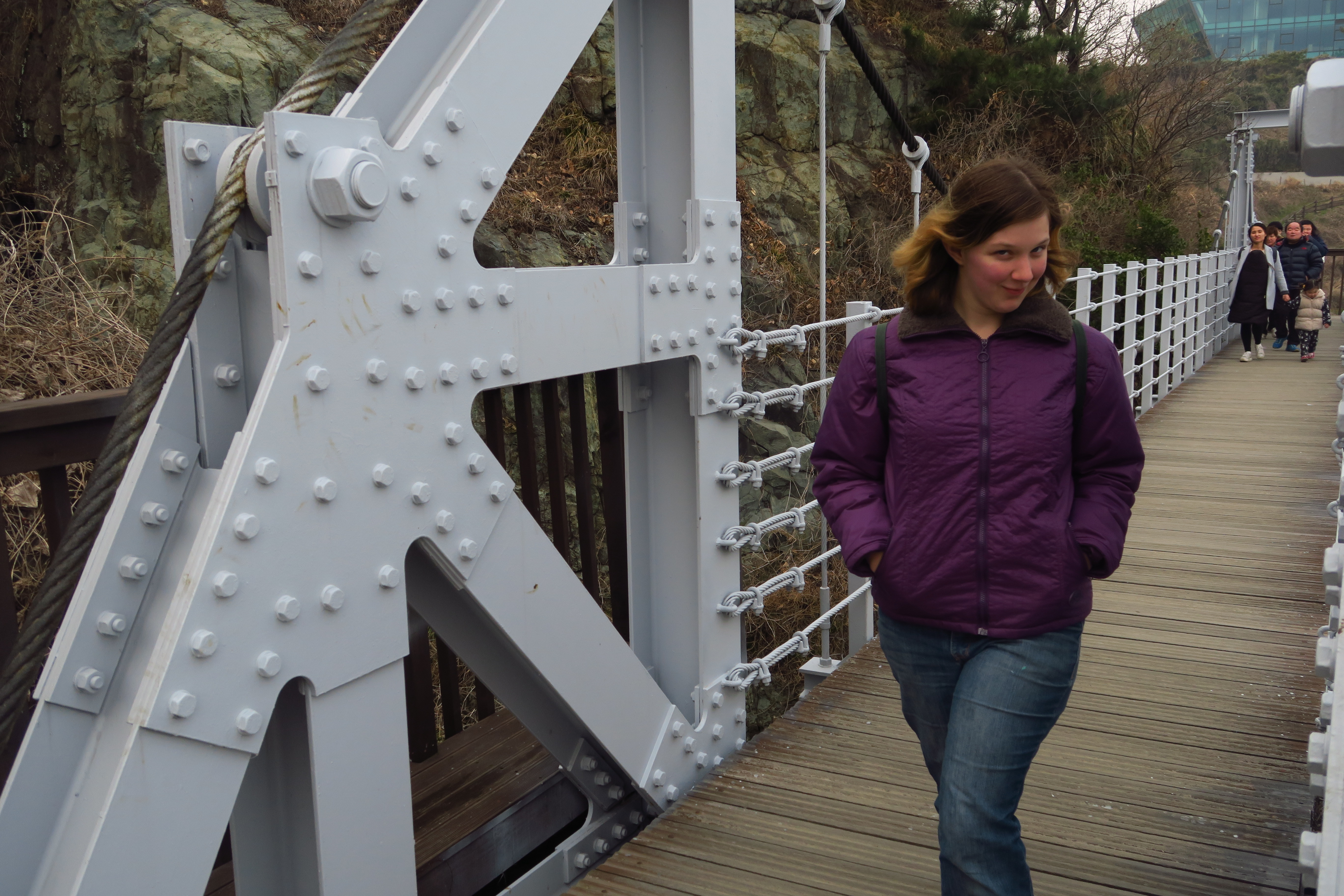 Health Items/Toiletries
The heaviest thing in my backpack is my toiletries bag. A small, red bag that holds a surprising amount. Inside it, you will find:
Anti-histamine cream
Tissues
Tom's of Maine toothpaste
Toothbrush
Salt of the Earth Deodorant
Make-up
Comb
Travel-sized brush
LifeStraw filter
Bobby pins
Hair-ties (Quick tip: put all your hair ties on a chain and link it together so they all stay in one place!)
Standard Travel-sized First-Aid Kit
Medication,
Pocket mirror
Tweezers
Nail clippers
Small bottles of conditioner, bug spray, and sunblock
Bar of Dr. Bronner's Magic Soap
Diva Cup 
I know, that's a lot of stuff. The bag is very heavy. (Quick tip: put the heaviest thing in your bag in the very middle! It keeps you balanced.)
Some of the things, added at the last minute, have been the most useful. After much debating, I grabbed the half-empty bottle of anti-histamine out of my nightstand the night we left for Jamaica. Two weeks later, when the constant exposure to them made me allergic to mosquito bites, I was so incredibly grateful to my past self for that decision. Seriously, that stuff was the only relief I had from the horrible swelling and itching. Other stuff, that I thought over for days, and even wrote down on my  various packing lists, I really could have done without. I've already sung my sad songs about how I wish I had left my makeup at home. (Oh, man, I so do.) But I also wish I hadn't brought quite so many hair care products. I had no idea how many days would go by that I would just be running my fingers through my hair, shoving a hat onto my head, and running out the door.
Possibly the most useful thing in this long list of items is the bar of Dr. Bronner's soap. You can use it for everything! I would list all the ways it can be used here, but it would take ages. I will mention, however, that when diluted with hot water, it can be used as laundry detergent in a pinch! The second most useful thing would be the Divacup. If you menstruate and sometimes forget to buy tampons, hate switching things out on long flights or bus rides, or just want to do the environment a solid, the Divacup is a great alternative. It may seem a little pricey at first, but it saves you on sanitary products in the long run because of how long it lasts. It's also potentially much better for the body, with a much lower risk of toxic shock syndrome. I definitely recommend it.
Here's a miscellaneous photo for the miscellaneous section!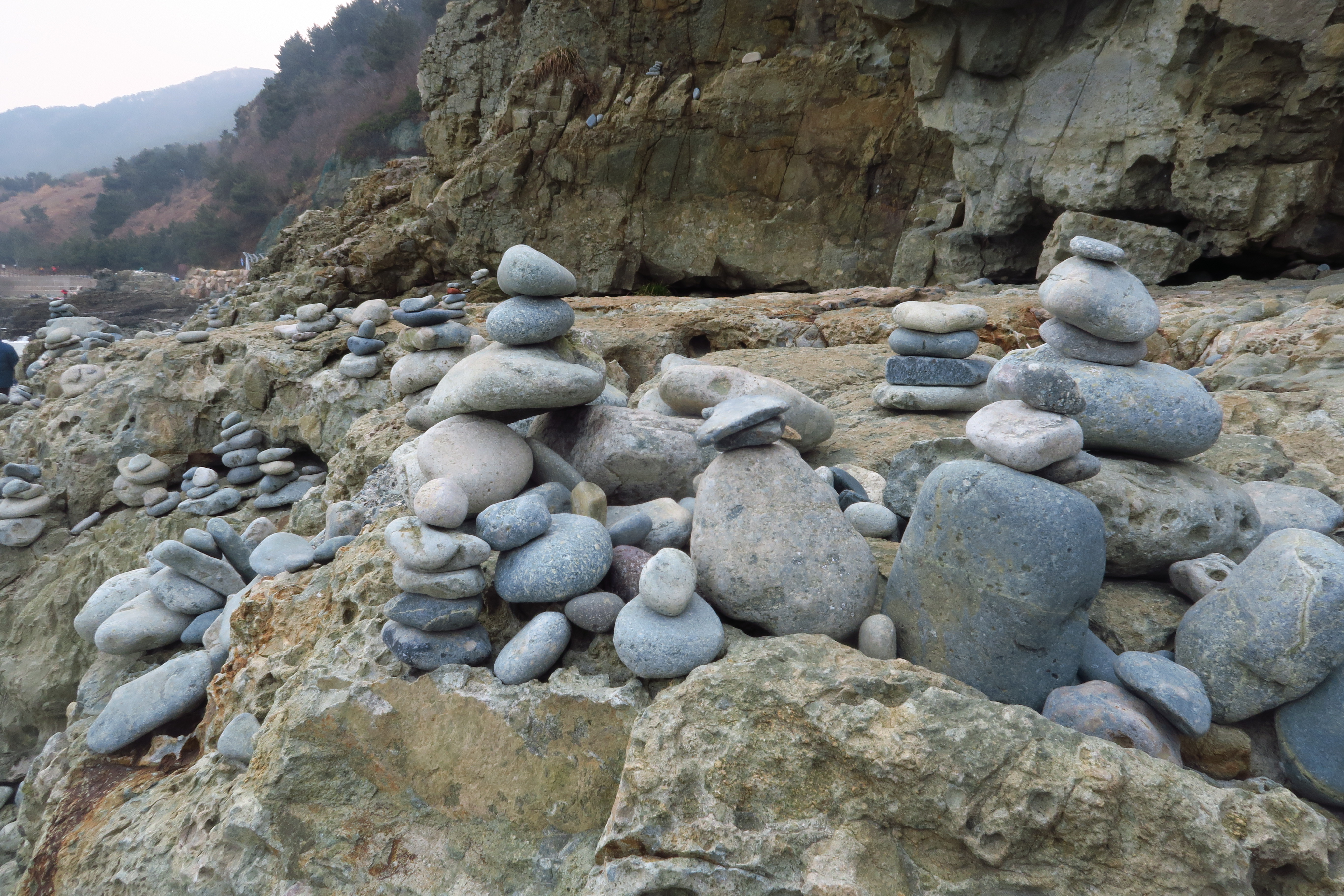 Misc
Notebook and pens
Pack of playing cards
Groceries tote bag
Sunglasses
Teabags
Ziplock bags 
The Vegan Passport
Why the ziplock bags? You ask. Well, in order to both save space and keep the dirty clothes away from the even dirtier clothes, I roll my clothes up, stuff them into plastic bags, push all the air out, and have an almost vacuum sealed almost flat clothes pack! After a while, the bags start to get a bit manky, though, so make sure to bring extras!
Well, that just about sums up everything that's in my backpack! I do have the odd electronic thing, but I generally keep them all on my person to avoid theft. So don't forget to bring your laptops, phones, chargers, headphones, SD cards, etc. Maybe throw in one of those portable battery chargers, too, if you have the room!
What's one thing you wouldn't leave home without? For me, it was a notebook! I am a poet, afterall! Let me know in the comments!
Until next time,
Ellie Lebo