It is a truth universally acknowledged that a hungry vegan in possession of an empty stomach must be in want of a veggie burger.
Not the most difficult thing to find on a menu, but often the most satisfying, a well made veggie burger can be the talk of the evening, bringing floods of joy even hours after consumption. At least it does for me. I don't know what it is about the combination of patty and bun that excites me so much. Particularly when you throw in the bonus ball of chips (or fries if you are predicated to calling them that). There is so much variety in means of preparation (from the sauce, to the toppings, and even the makeup of the patty itself) that finding the right veggie burger for oneself can be an enlightening experience. I have taken it upon myself throughout this adventure to embark upon a much more reserved and less focused side quest: The Quest to Find the Perfect Veggie Burger! I have made a point to try the burger whenever it has been an option. Now that we are so close to the end of our trip, I am able to collect my data and present to you my top five veggie burgers from travelling the world! How exciting.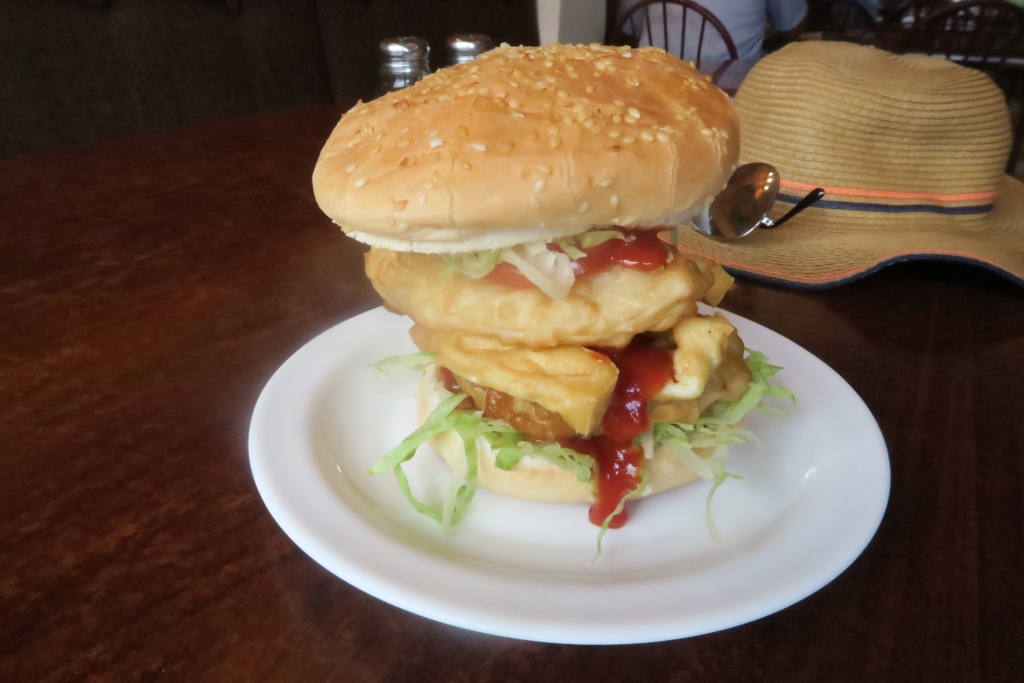 5) Tofu Burger – Basin Noodle House: This is by no means the classiest burger on the list, which is exactly what I liked about it. The tofu burger here is a nasty, greasy, cheap, delicious heart attack in a bun. The patty is made entirely, as the name would suggest, of tofu. It is topped with, erm… I guess one would call them potato fritters. This burger is an absurd tower of a meal, negating the need for chips (still fries) on the side, though it certainly couldn't hurt. The burger is only $4NZ, which is absurdly cheap. Working out at about the same price as it was to cook in hostels we ended up coming back here more times than one would care to admit. Make no mistake, I do not claim that this is among the most flavourful or most nutritious burgers you are ever going to find. This is pure fast food at its shameful best, and I love it for that!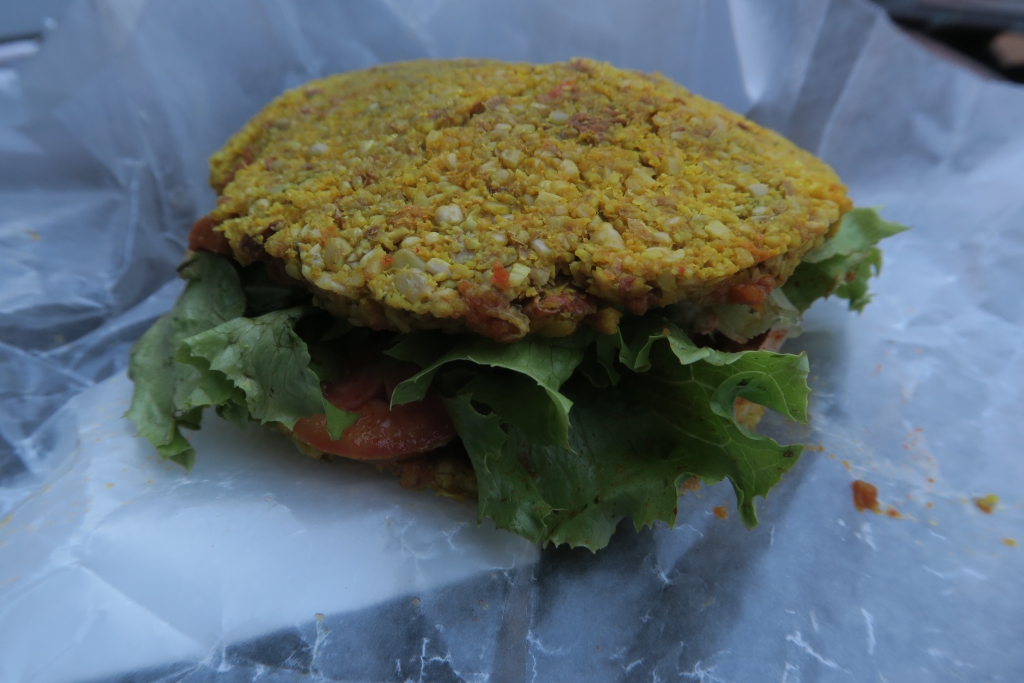 4) Raw Burger – Mi Hungry Whol'-Some Food: Coming in from the opposite end of the spectrum from the previous entry (at least in terms of nutrition) is the raw burger from Mi Hungry. Mi Hungry is a completely raw, Rasta run vegan restaurant in Kingston, Jamaica – an amazing place for raw food in general. They offer a wide variety of raw goodies, but I was, obviously, drawn in immediately by the burger. Everything in this burger is made from fresh vegetables, nuts, and seeds. Even the bun is made up, from what I can tell, mostly from seeds and fruits, pressed and dehydrated. The patty itself is just completely made up of vegetables and topped with deliciously fresh tomatoes and lettuce. I ordered mine with a beautiful, zesty hot sauce. Without question, the healthiest item on the list, this is definitely the kind of burger one can eat and feel much better in heart and mind.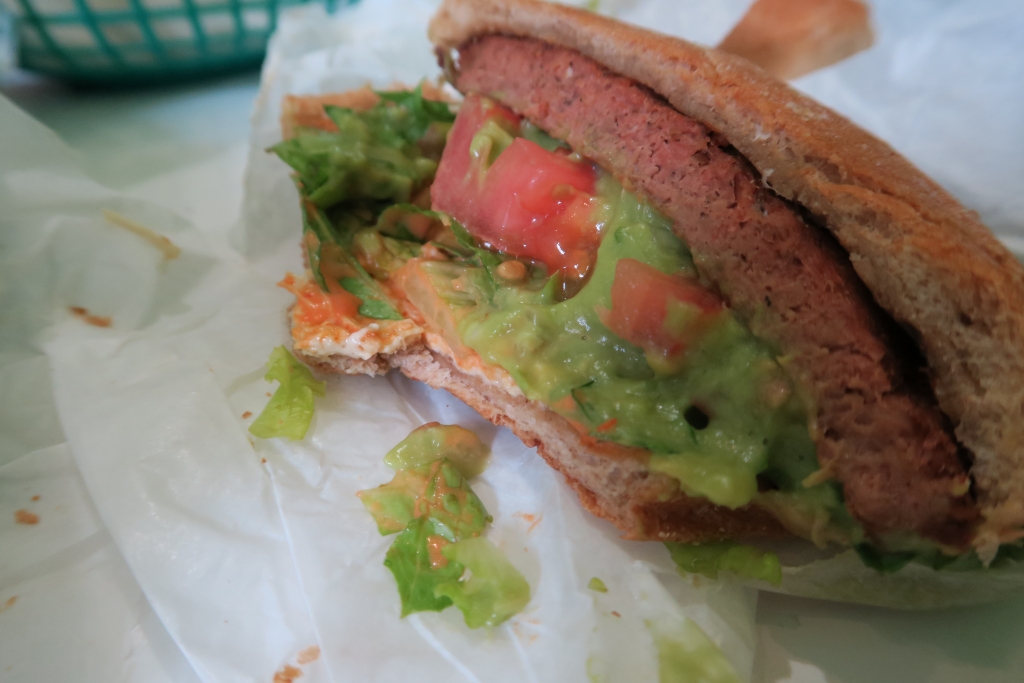 3) Guacamole Burger – VLife: Guacamole is definitely one of the best things on the planet. I mean, I say that about most things, but this is one of the true ones (they're all true!). Combining guacamole with a burger creates the perfect marriage between heaven and, eh, more heaven. I have had many guacamole burgers, a few of them in New York, but this one just minutes after arriving in the Big Apple tops the list. The serving of guacamole is ridiculously generous, taking up the bulk of the burger, rather than a little extra on top. There are huge chunks of fresh tomato thrown in there. And standing above it all is the patty itself. This was the perfect thing to eat after a five hour long bus journey.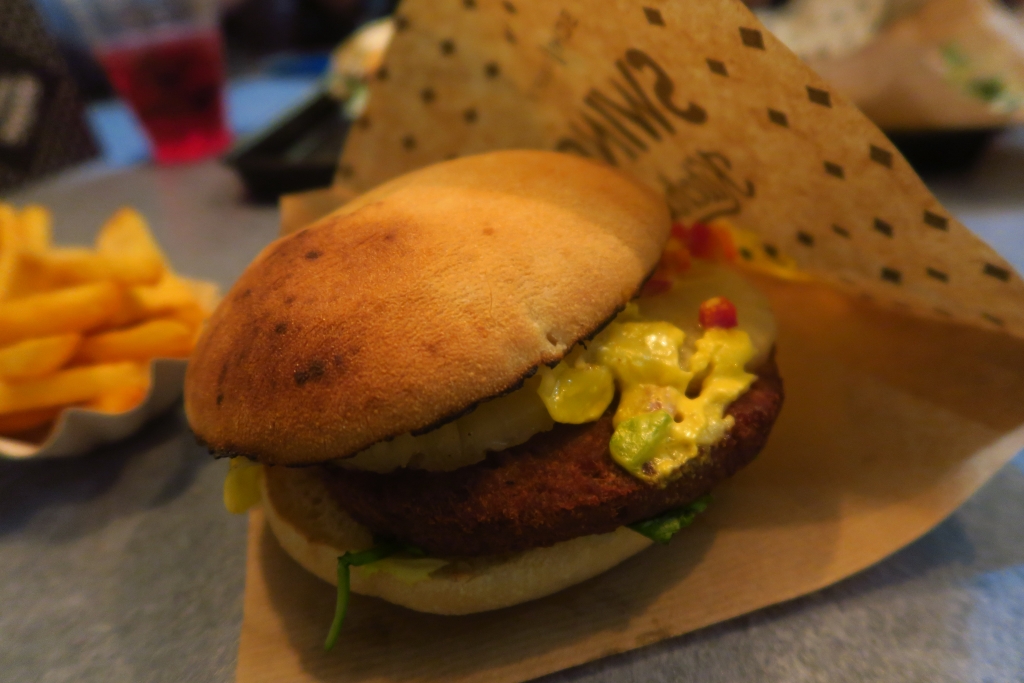 2) Aloha Burger – Swing Kitchen: Swing Kitchen is a fast food style all vegan burger joint in Vienna. While they have a few other additional options on their menu, the main draw is the wide selection of burgers. I stood allowing other people to order before me because it took forever to decide on what I wanted. There was the spicy veggie burger, that's my default. But I'd had one of those a few days previous from a different vegan burger bar (because Vienna is amazing), so I went for the limited edition Aloha Burger. I sincerely hope the Aloha Burger makes it to the standard menu, because woah dang! Betwixt the buns rests the patty, cheese, curry sauce, and pineapple. Now, I am someone who is very into merging sweet and savoury, particularly if said sweet is pineapple. And I was blown away by this combination. I am very much a eat the chips first and the burger second person. Always! But even after a belly full of chips I was beginning to mourn at the idea of this burger being over when I was halfway done. Bonus points to round up the experience is to finish off with the soft serve ice-cream that they do to.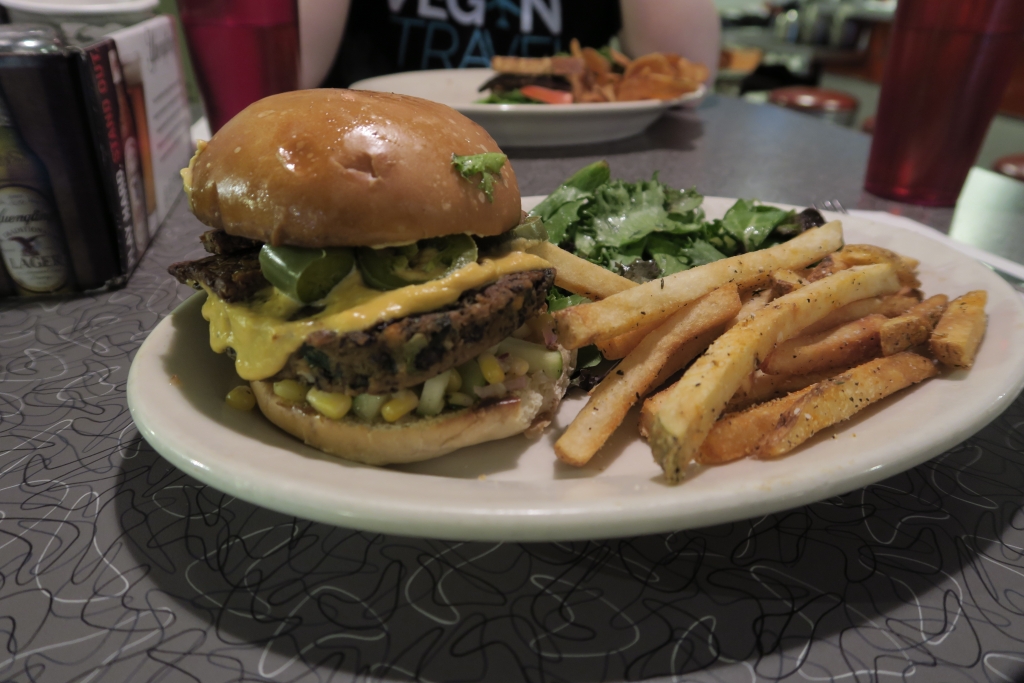 1) Veggie Burger – Veggie Galaxy: So, as predicted I peaked far too early into the trip. As far as I'm concerned I haven't had a veggie burger as good as the one I had in Boston in the second week of our adventure. Perhaps a bit of a cheat as an entry (particularly as a number one entry) because the burger I've chosen is a build your own. So, first off, the patty and bun are enough on their own for the Veggie Galaxy burger to make it onto this list, but once you throw in the wealth of toppings you catch gold. You have a selection of vegan cheese, which is almost never a choice one is faced with. They offer a brand cheese (I think it was Daiya, but I might be mistaken on that) and they do a house cheese. The latter is certainly the way to go. I can say that with confidence regardless to the fact that I only tried it that way. I topped mine with jalapenos, tempeh bacon, and apple salsa. This hit pretty much everything I look for in a flavour palette, thus creating a near perfect burger. However, as we all know, the burger experience can only be as good as the fries will allow it to be, and the fries in Veggie Galaxy are exactly what the burger calls out for, putting the finishing touch and pushing your burger experience into pure dining euphoria. I loved this so much that when we came back to Veggie Galaxy I unashamedly, without even looking at the menu, ordered the exact same thing. Without question the most enjoyable veggie burger I had in this entire trip.
Veggie burgers are by no means the Holy Grail of vegan cuisine. They can pretty much be found in any menu of any vegan restaurant. I don't know what it is about the simplicity of them that draws me in. But I covet them with an unwavering passion, and I am disproportionately excited to have been given the opportunity to try so many from around the world. I will continue my quest for the perfect veggie burger. It would be silly to stop now: I'm on a roll.