I know what you're thinking, "there are vegans in Utah?" and I'm here to tell you that it's true!  In fact, there are quite a few of them.  I go to Salt Lake City on a fairly regular basis to take advantage of all the ski hills that are so close to the city.  Over the time of my visits there I have discovered that there is also a thriving vegan culture. It might have something to do with the proximity of outdoor activities, or perhaps that it's been ranked one of the best cities for new grads, but something about Salt Lake City has attracted many vegans.
So next time you find yourself in SLC, here's a few of my favourite things to do and eat:
Activities
Temple Square and the Mormon Tabernacle Choir
Temple Square is the site of the LDS Temple in downtown Salt Lake City. The grounds and architecture are spectacular and worth the visit. You can also visit the Tabernacle, where the Mormon Tabernacle Choir rehearses on Thursday at 7:30 pm and admission is free.
Olympic Park and Park City
About half an hour east on I-80 you'll find the Olympic Park. This is where the ski jumping and sliding events were held. While you can get a guided tour around the park, there are also many free things to do, including the Alf Engen Ski Museum, the Winter Olympic Games Museum, the Discovery Zone, and many hiking trails.
Continuing on I-80 just a bit further and you'll come to Park City. Home of the Sundance Film Festival as well as 2 world class ski resorts. If you're here in the summer, you can still ride the chair lifts up for a great view of the town and the valley below.
Hiking
The Wasatch mountain range is lousy with hikes. Most of the ski resorts have summer hiking options, as well as all of the backcountry options. If you're not in to strapping on hiking boots and a day back and hitting the trails, a great hike in Ensign Peak. This short hike, just north of downtown, rewards hikers with a great view overlooking the city and nearby mountain ranges.
Antelope Island
Heading north on I-15 will eventually bring you to the turn off for Antelope Island State Park. After paying a small park entrance fee, you drive across the causeway and on to the island in the middle of the Great Salt Lake, filled with wild roaming buffalo and a few antelope, sheep, and deer as well. There is more hiking and camping on the island, as well as a small visitor's center, which I recommend stopping at. The staff were very helpful and indicated I could also visit Fielding Garr Ranch, one of the original permanent settlements on the island, now turned in to an exhibit for visitors.
Eats
Passion Flour Patisserie
Hands down this is my favourite place to go in SLC.  It might be because of their croissants.  Okay, it's definitely because of their croissants.  The owner is a classically trained french pastry chef who dedicated years to figuring out the perfect veganizations of the recipes.  They also have macaron, tartes, crêpes, and many more delicious goodies. Oh and they do custom orders too, just in case you're in town for a special occasion.
Vertical Diner
And what a diner it is!  If you have an image of a vegan diner in your head, it probably looks like this place.  Typical diner menu, vinyl seats in the booths, and small tables scattered around the rest of the place.  The menu has lots of good comfort food, including some chick'n and gravy and mac and cheese.
Zest Kitchen and Bar
Zest is located pretty much in downtown SLC.  Just a few blocks from the main shopping area, it's easily accessible.  The vibe is a bit of chic industrial, which they pull of quite nicely.  I've only been there for brunch, but I can say the portions are quite generous (I couldn't even finish my food!) and their desserts are worth saving room for.  Definitely come with empty stomachs.
Sage's Cafe
This is like the little vegetarian restaurant that could.  They have quite the history of moving around.  It's now on its third location, which I have yet to try out, but I visited both their original and second location and the food was still good.  So if you can find it, it's worth the visit.
Frisch Compassionate Eatery
This is an easy to miss spot in a strip mall, but you should try to find it if you're in the area.  Simple, but delicious meals and a cute cafe area.  They also sell Cakewalk's dillos! (aka vegan twinkies) Pretty much worth the visit just to see what flavours they have.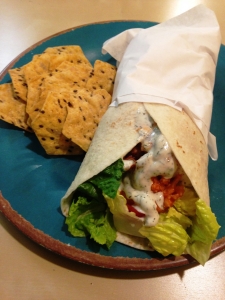 Ski Resorts
You can't go to Salt Lake City without being bombarded with all the information about their local ski resorts.  There are 9 ski resorts within an hour of SLC: Deer Valley, Park City, Solitude, Brighton, Alta, Snowbird, Sundance, Snowbasin, and Powder Mountain.  Typically there hasn't been a lot of vegan options available at the on mountain dining locations.  I have usually brought a packed lunch with me and hoped for the best.  Sometimes you can grab a snack, fries, or soup to round out the meal.
Snowbird recently invested in a new building at the top of the mountain, the Summit.  The new building features panoramic views, two floors, and some new vegan options.  The first time I visited I tried the vegan pizza, which was good, but a bit plain.  The second time I lucked out with some vegan curry.  It hit the spot on a cold winter day.
These are just a few of my favourite places!  Oh, and they have In-N-Out around SLC too just in case you need to get your fry fix.  There's something about fresh fries…mmmmm.  If you're going for a while, I'd also suggest trying to tap into the local vegan scene.  One time I was visiting and my host brought me to a local vegan potluck!  I keep discovering new things every time I go.
~Zen on a Plane~
For more tips, tricks, and fun times, follow my travel adventures!
Blog: http://zenonaplane.wordpress.com
Facebook: http://fb.me/zenonaplane
Twitter: http://twitter.com/zenonaplane
Instagram: http://Instagram.com/zenonaplane
Additional USA Vegan Travel Blogs:
Diana of Vegans, Baby and Kristin of Will Travel for Vegan F...

Shae from HeyShae joins our team as we show you the deliciou...

The Vegan Roadie in Atlanta, GA (S02E04) The perfect combina...

The Vegan Roadie in Washington DC (S02E06) The nation's capi...

The Vegan Roadie in New Orleans, LA (S02E03) Take a walk in ...

The Vegan Roadie in San Antonio, TX (S02E02) A jaunt in the ...

The Vegan Roadie in Seattle, WA (S02E01) Join your host, Dus...

The Vegan Roadie in Portland, OR (S02E10) Join your host Dus...

The Vegan Roadie in Salt Lake City, UT (S02E09) Dig into Sal...

The Vegan Roadie in Kansas City, MO (S02E08) Kansas City, MO...
VeganTravel.com is a place where vegans from around the world can share their passion for travel and adventure, help promote and grow interest in going vegan, shed light on the issues animals are facing around the globe, and help build a more sustainable and compassionate world. By sharing our collective experiences, we believe we can show the world how easy it is not only to travel as a vegan, but also spread a message of compassion with those we meet along the way.