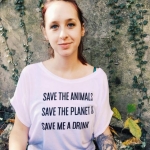 Why hello, there! I am so excited about the opportunity to share my experiences and stories on VeganTravel. Here, so many inspiring individuals share their fascinating travels with the world. Before I start blogging about my own wanderings, however, I thought I should introduce myself.
My name is Megan. I'm a 29 year old gal from Baltimore, Maryland. By day, I'm a city and community planner. In my "spare time" (as if that's a thing), I'm a vegan blogger.  (You can read more about my blog at the end.)
Youthful Travels
I love travel, but I don't do it nearly enough. During my childhood, my family would typically take two trips each year: one trip to the Eastern Shore of Maryland and Delaware with my extended family, and one vacation with my immediate family. Our annual travels exposed me to different landscapes throughout the continental United States—from Virginia westward to California, and Missouri south to Florida. We ventured somewhat beyond the U.S. borders—once to the Bahamas and to points in Central America during another trip, but never further. Sadly, my family trips stopped when I graduated from high school.
I always imagined I'd travel more, and farther. In high school, I was certain I'd be an exchange student. That ended up not working out. In college, I would surely do a semester abroad. Alas, that never happened. I couldn't take time off after graduation for travel, either.  Then, between graduate school, getting married, a new job, and buying my first home—my plans of seeing the world were beginning to feel as though they'd never come to fruition. And I felt trapped.
The Travel Bug
In 2014, I really got the itch. I first traveled just a few states south to Atlanta, Georgia, for a conference (the American Planning Association (APA) holds its National Planning Conference in a different city each spring). It was the first time I traveled alone, and I fell in love with solo travel. I later found myself wanting to recommit to ME, to my veganism, and to my lifelong desire to travel. I learned about a vegan cruise, and reserved my cabin when I got my first bonus check from my job. The cruise took me around the Caribbean—to places I had visited before, but to new destinations as well.
Since then, I travel each spring to a city in the United States for my annual APA conference, a few times throughout the year for work, and I still make it to my extended family's beach week each summer. Additionally, I strive to plan at least one "destination" trip (or vacation) each year.
In 2016, I traveled abroad for the first time, spending 12 days visiting Copenhagen and Paris. This year, I'll be visiting Orlando, Florida—a place I've been to quite a few times already, but never as an adult. My hope is that this trip will awaken my inner child, and remind her of how inspiring it felt to explore the world with wide eyes.
My Wanderings
I'm not traveling every other weekend. I don't go to extravagant destinations. And I have too many other hobbies to make scoring unbelievable travel deals my "thing." However, while my traveling is, for the most part, limited to cities in the United States, it's never boring. I hope to convey that in my future posts. I'll take some time to share about my recent past experiences (like Copenhagen, the vegan cruise, and U.S. cities like Phoenix, Seattle, New York, and (of course) Baltimore, to name a few). I also plan to write about travel more generally, including some of my tips for traveling as a vegan, and the great joy I find in solo travel (despite having a husband who I love dearly, solo travel really hits my reset button!!).

So I invite you to stay connected, to share your stories with me as I share mine with you. We live in an incredible world, and we are fortunate to have a strong community to spark wonder, to inspire others, and to spread compassion and kindness along the way!
About the Crunchy Vegan Gal
In 2015, I figured I'd stop subjecting my friends to unwanted food pictures by creating a separate vegan account. This was the beginning of CrunchyVeganGal! My website, Crunchy Vegan, came a few months later. I use this site as a resource for sharing information about veganism to encourage people to live according to their own values. It's a platform for others as well, and I welcome guest contributors to write about vegan and sustainability topics. I would love to stay connected! Find me online:
Instagram: crunchyvegangal
Website: www.Crunchy-Vegan.com
Facebook: www.Facebook.com/crunchyvegan
Twitter: crunchyvegangal
Pinterest: www.Pinterest.com/CrunchyVegan
Youtube: Crunchy Vegan