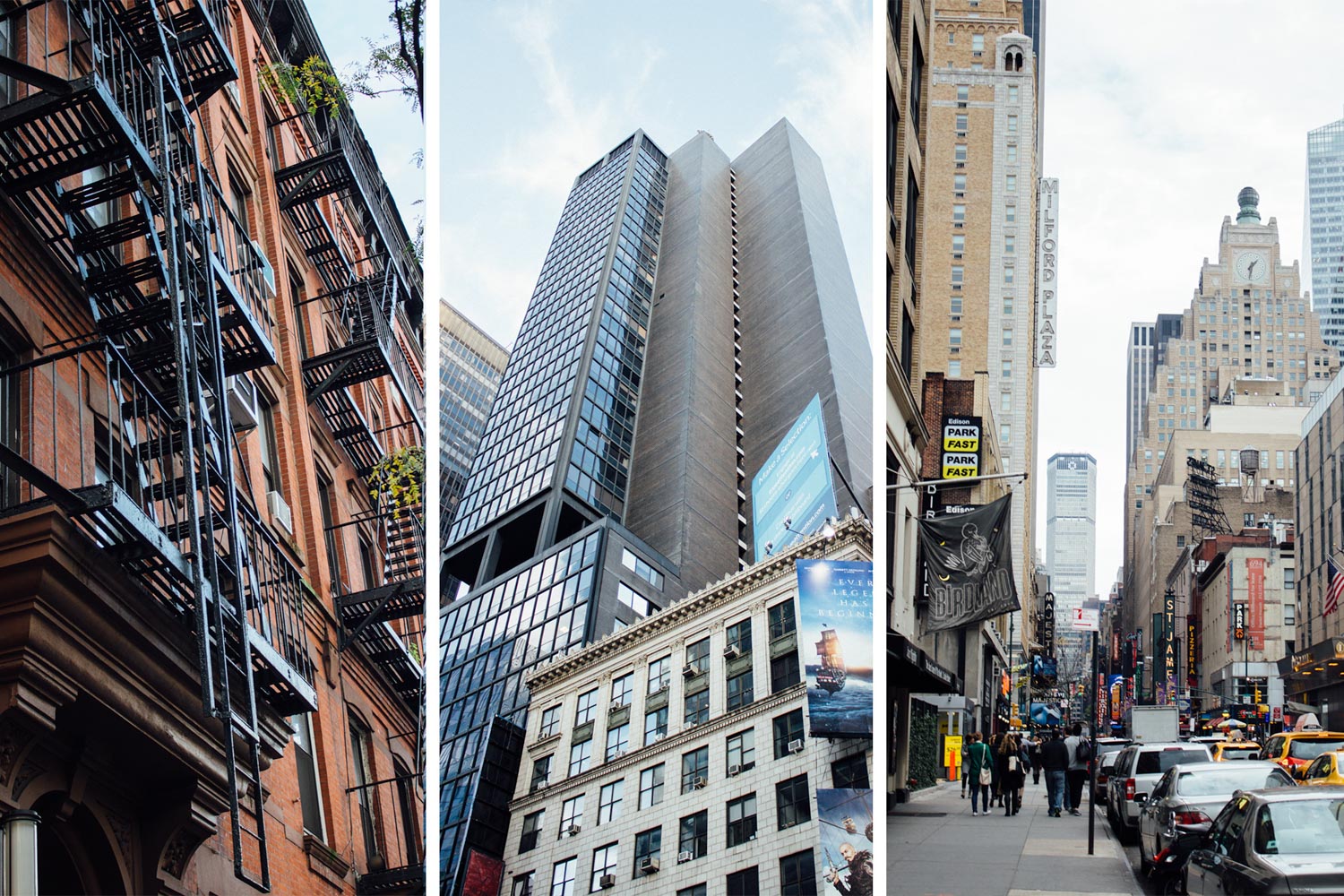 As someone who has never visited New York, I have to say that I was ecstatic and a little anxious over this trip. My only prior "knowledge" of this place, especially the city, is based on movies, TV shows and things I've read online. The day began with a morning flight from Denver to Newark, and then a train ride to Penn Station and a few blocks walk to the hotel. It was Halloween…so the journey to the hotel was definitely an interesting one with both children and grown adults dressed in costumes. I knew I had to explore the city some more that day, and it was totally worth it despite being a little tired from traveling.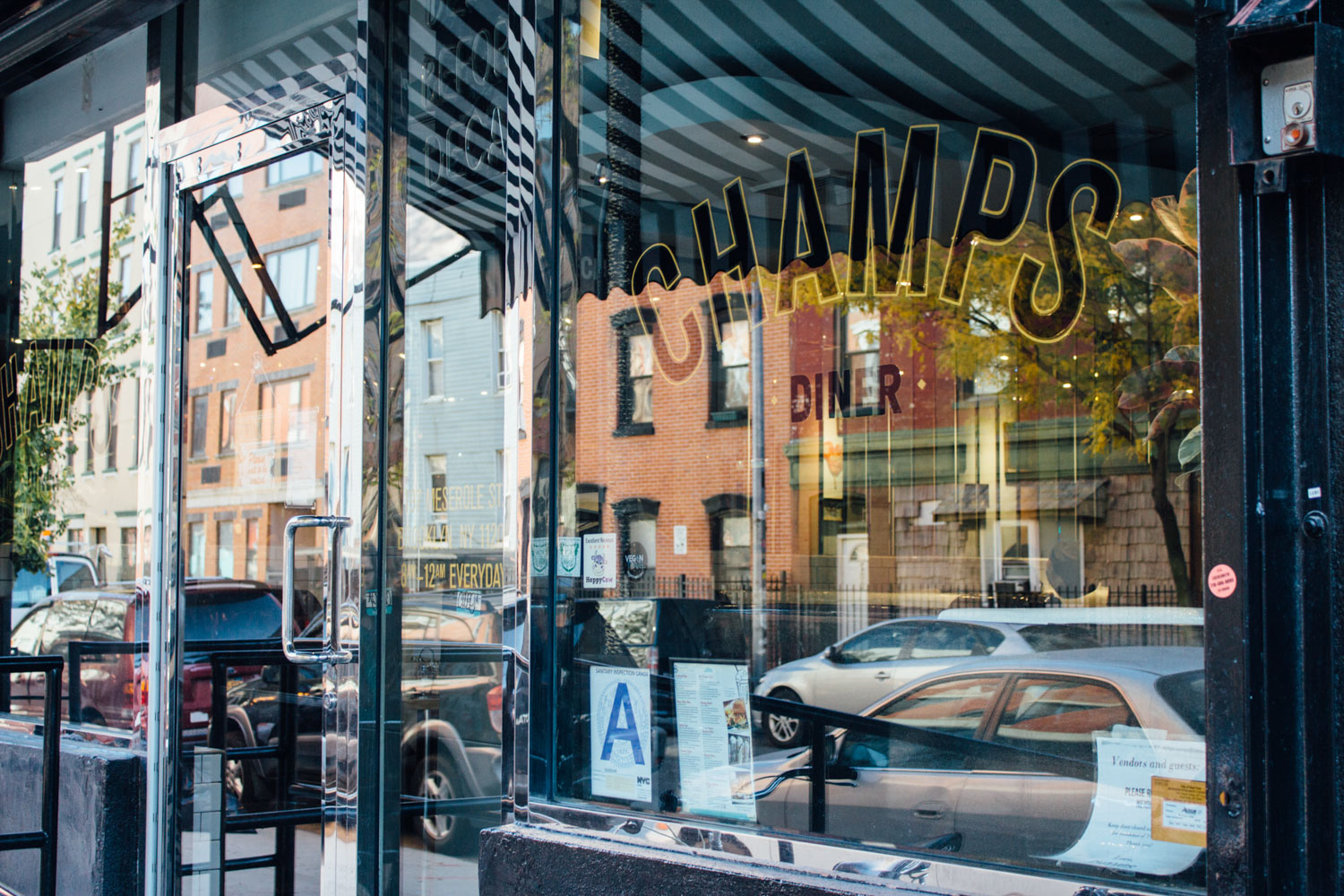 A friend of mine invited me out for dinner at Champs Diner, which is one of her favorite places in Brooklyn. Being super hungry after only eating snacks on the plane (and getting lost on the way to Brooklyn), I ordered a milkshake and a chik'n parm sandwich. Everything at Champs is vegan and really delicious (especially their breakfast)! After dinner we went over to a nearby Halloween party filled with vegans—some of which I follow online—and creative costumes, candy and a few homemade treats too. I got to talk to everyone at the party about VeganTravel and so many people kept asking questions about it. I ended up taking the subway back around 11:30pm, which was almost entirely full of people wearing costumes. I was still a little wired at the end of the night because of the time change, so I watched a scary movie on Netflix in my hotel room. I have to say, this was one of the best Halloween's I've celebrated in a long time.
The next day, I decided to venture out to Brooklyn again. It was a pretty easy subway ride, even though I did accidentally get on the wrong train. Someone told me about using the iPhone Maps app, which literally saved me on this trip. This is totally not an endorsement for it, but the app does include public transit and walking directions so it will tell you what trains to take and everything. I tried to avoid looking like an obvious tourist so the app on the phone is pretty discreet compared to the paper ones.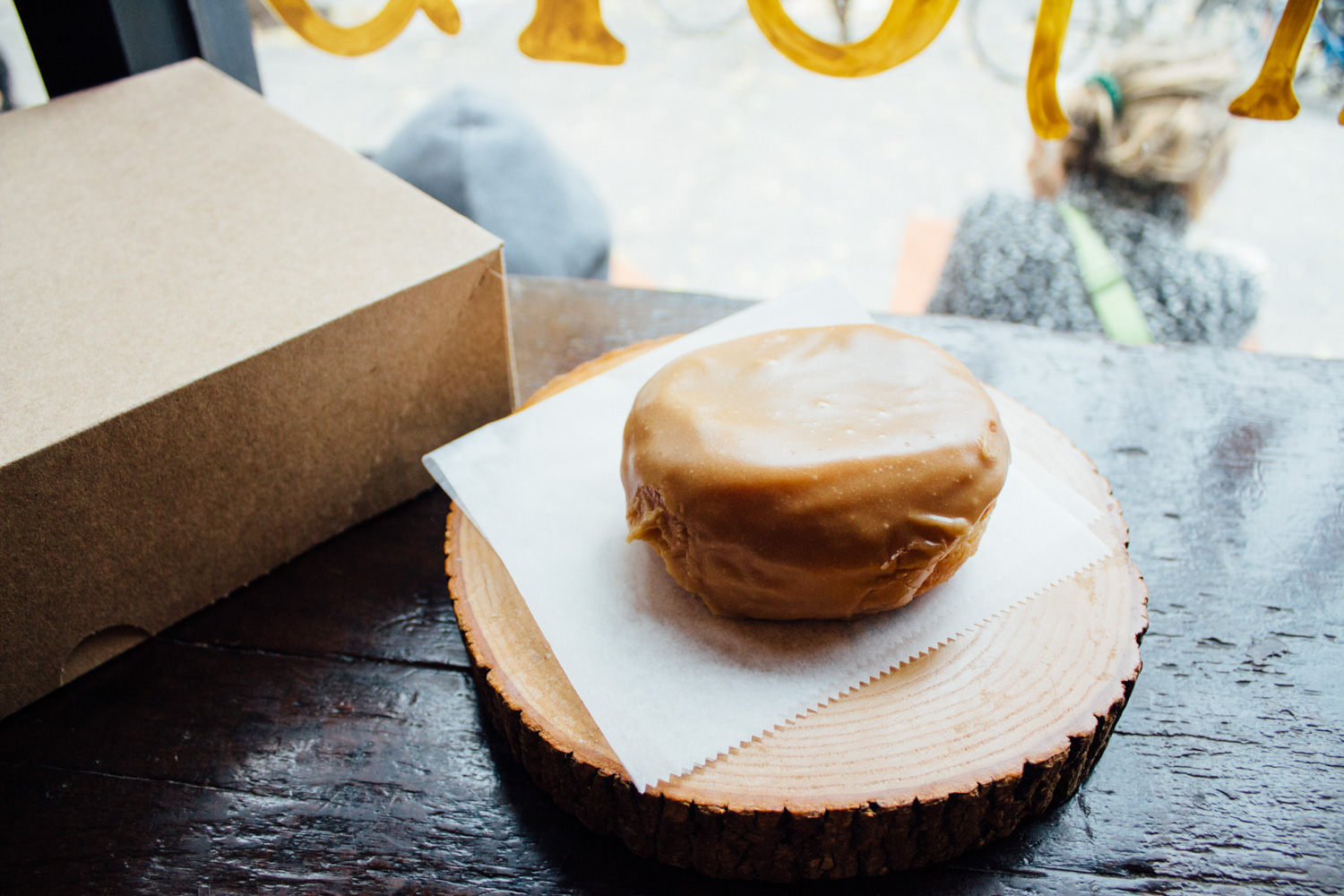 Once in Brooklyn, I went to Dun-Well Doughnuts because I had heard great things about them. It's an entirely vegan donut shop with raised donuts, which I was really looking forward to since I've only ever tried vegan cake donuts. I got the PB&J Doughnut which had peanut butter icing and a jelly center. This is their best-seller, and I can imagine why! I brought back a box of donuts for Ross & Ellie and their travel companion because they would be arriving the next day. I had them throw a PB&J one in there too, just for good measure.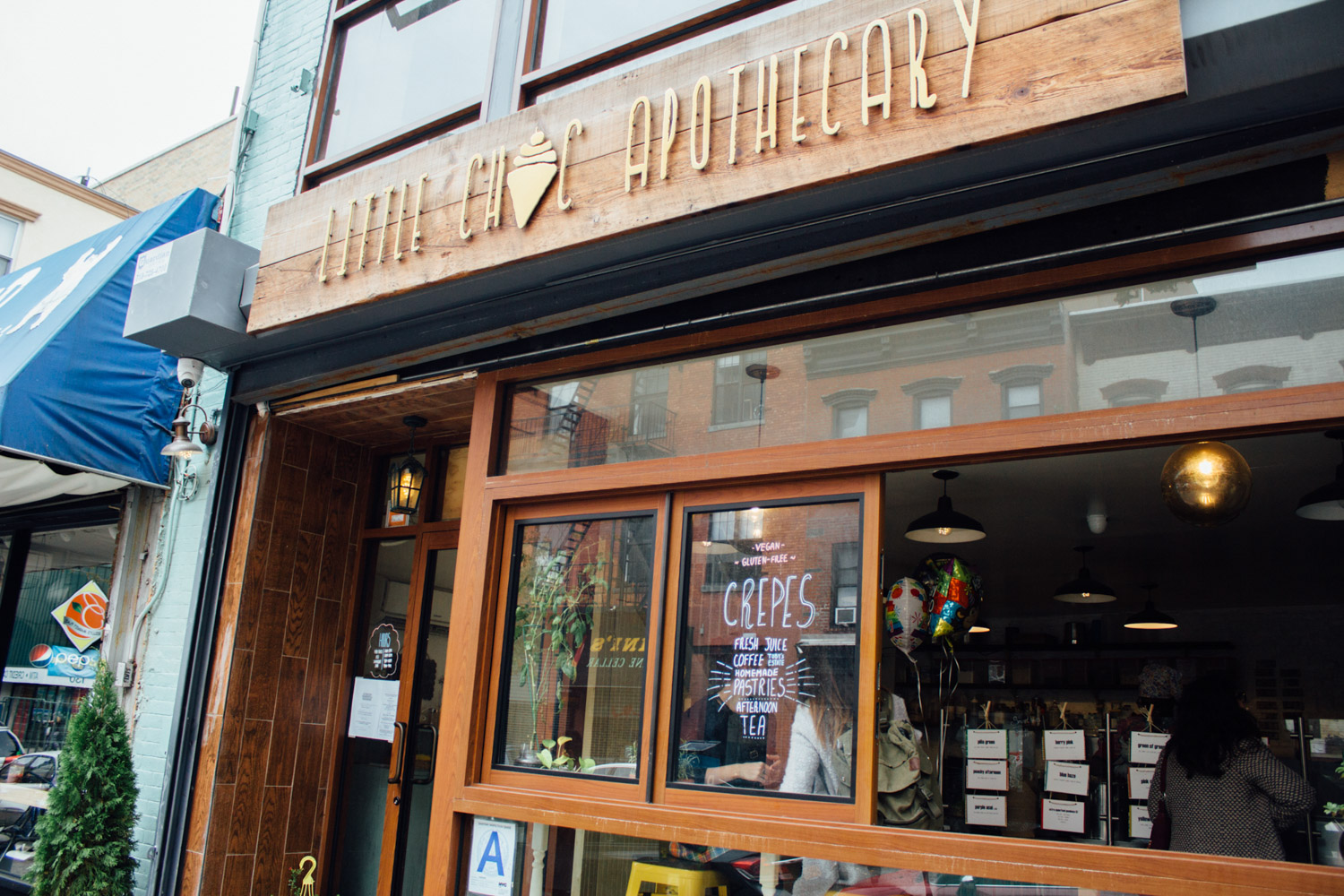 With a box of vegan donuts in hand, I made my way over to Little Choc Apothecary, an adorable little all-vegan cafe that's known for their vegan crepes. It was about a mile and a half walk, but the journey was pleasant with warm weather and clear skies. I already knew I wanted to try their Nutella Crepe, made with vegan chocolate hazelnut spread and fresh strawberries. This place was super adorable, and they have a pretty wide variety of menu options. Even for a place that seemed a little out of the way, this place was very popular. They have an upstairs dining area that was nice and quiet, and it would be a great place to chat with a friend over some juice and sweet or savory crepes. If I had time to go back here again, I would've tried a smoothie and taken a pastry to go (but there's always next time)!
The founder of VeganTravel and I reserved a spot at Candle 79 later that evening, so I came back into the city and stopped by Juice Generation to get a smoothie as a late lunch. I went to their location that was just a few blocks from Times Square, which is always a bustling place to be walking through. I love how much diversity there is in New York City, both with the food and the people. We just don't have the same kind of feeling back in Colorado, even in Denver which doesn't compare to NYC with all the vegan options. There is just this energy in the city that never dies, and this weekend was especially busy because of the New York Marathon. So many people proudly wore their medals after they finished the race, and walking through the city and Central Park was very heartwarming as the crowd cheered their loved ones on.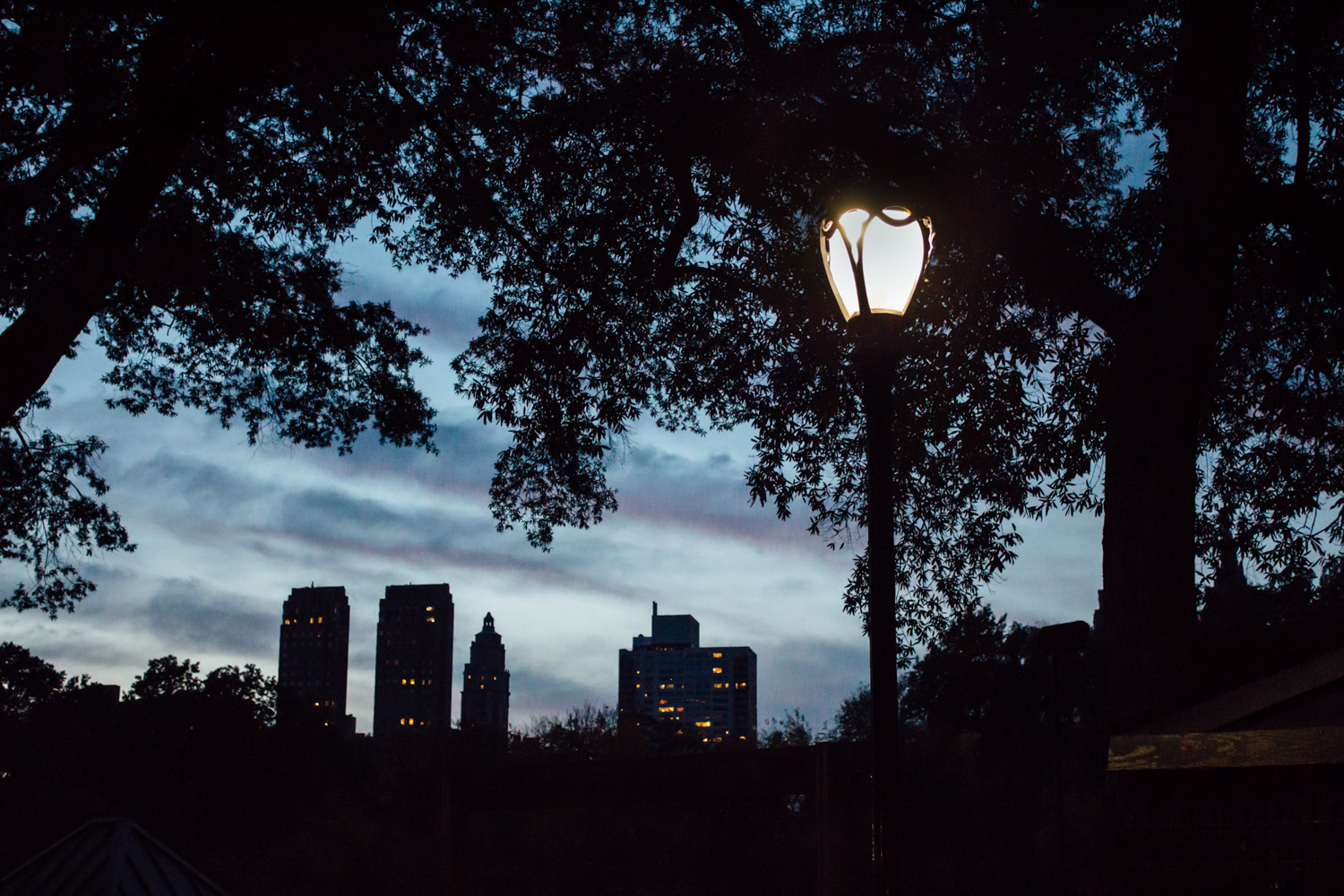 We made our way to Candle 79, which has always been on my must-try list of vegan restaurants around the country. This place is beautifully decorated to have a really nice ambience, and we lucked out with a seat right by the windows upstairs. The menu was full of incredible-sounding meals, it was so difficult to choose! We ended up sharing a few appetizers and their famous Seitan Piccata. Seriously, that dish alone calls for a trip out to NYC!
On this evening I got to experience probably the best vegan food I've ever had and developed a newfound interest in NYC's nightlife. Even on a Sunday night, people were going out to dinner, hanging out by the Met Museum, skating at Rockefeller Center and just exploring the city. Whether you've grown up here, are a current resident, or a tourist visiting for the first time…you're adding to the liveliness that makes New York great. Stay tuned for the next few blog posts—one of which where I get to go on a food crawl with Ross and Ellie—plus some more personal posts about my time spent seeking adventure in this unfamiliar place.