Last week I journeyed from NYC to Southwest Florida for the American College of Lifestyle Medicine Conference, which was absolutely amazing.  The conference was at the Naples Grande Resort and the theme of the conference was Healthy People, Healthy Planet.  ALL of the lectures focused on the benefits of a plant-based diet for reversing and preventing chronic diseases such as high blood pressure, high cholesterol and heart disease, and the benefits of a plant-based diet for our planet.  As a nurse practitioner, I have never been to a healthcare conference that didn't push pills for treating disease. Working in the healthcare field can be super frustrating for this reason, but it was exciting to see progress!  And an extra bonus was that ALL of the food at the conference was vegan and delicious!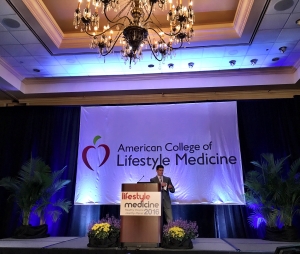 My parents have a condo in Fort Myers, Florida which I haven't spent much time at, so I headed south a few days before the conference to hang with family and do some exploring.  My first day there we stopped at Ada's Natural Market in Fort Myers to pick up some lunch.  There is a large juice and smoothie bar inside and lots of plant-based options.  I got the Flu Fighter juice since I felt like I was coming down with a cold. I am a huge fan of ginger anything and the ginger and cayenne in this gave it just the right amount of zing!  This place is SO much better than any of the Publix stores nearby.
We picked up a bunch of snacks to spend the day at Lovers Key State Park in Bonita Springs. Lovers Key is a 712-acre park with swimming, boating, kayaking, stand-up paddle boarding and wildlife viewing.  We spent most of the time sunbathing on the beach where we spotted two manatees really close to the shore and a couple of dolphins!  The vegan food options at Lovers Key are scarce, so definitely bring your own food, but I highly recommend the park otherwise!
The following day before the conference started in the afternoon, my mother and I went for a long bike ride and then grabbed lunch at Green Cup Organic Cafe in Fort Myers. It's a super cute spot with indoor and outdoor seating serving juice, smoothies, coffee, tea and healthy breakfast and lunch fare.  It isn't completely vegan, but they have tons of veggie options.  I got the Alkalizer juice which was good, but a little warm, and I was bummed that I couldn't taste any ginger.  I also had the quinoa wrap with white quinoa, spinach, kale, cucumber, beets, carrots, cranberries, sprouts, tahini, and sesame ginger dressing. It tasted a lot better than it looked- the tahini on it was amazing.  My mom got the rice bowl with brown rice, spinach, black beans, chickpeas, bell pepper, carrots, onion, tomato, guacamole, and balsamic dressing. She is particularly picky, but loved her bowl.  We finished off with a vegan key lime pie cheesecake and a raw coconut pie.  The coconut pie was the tastier of the two.
The conference the next day was amazing, but long and I didn't feel like venturing out so we ordered from Pizza Fusion in Fort Myers.  We got a pie with Daiya cheese, spinach, roasted tomatoes and peppers.  So good I downed three pieces!
My last night in Fort Myers following the conference my parents and I walked along the pier in Naples, watched the sunset and spotted some more dolphins.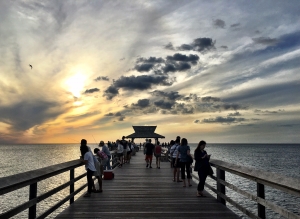 We then strolled down Fifth Ave, which is a shopping district in Naples, and stopped at Adelheidi's Organic Sweets for some ice cream.  I got the chocolate and my mom got the chocolate hazelnut.  It's cool that they had a bunch of vegan options, but unfortunately they were icy and pretty flavorless and we didn't even finish our scoops, which is pretty rare for me!  Maybe the sorbets are better.
The conference was absolutely incredible- it was so great to be surrounded by so many like-minded people. The energy there was inspiring and contagious and I didn't want to leave.  It was also great to have more time to explore parts of Southwest Florida and spend time with my fam.