Our week spent in Puerto Rico was nothing short of amazing, life changing even. A bit of a personal transformation went down for me on the Island of Enchantment and it's been hard to put into words. I'm not sure it's something that words can even quantify but I plan to find my way back there as soon as possible. In the meantime, a business plan with good vegan intentions for the island is in development as I wait for an altruistic investor to fall from the sky. I'm no stranger to tropical islands but Puerto Rico was different. There were so many noteworthy moments of our time there, from our adventures to the locals to even the vegan food, but one big piece I wanted to share was the place we called home for 7 nights: The Dreamcatcher Guest House – a vegan-friendly, vegetarian bed and breakfast in San Juan away from the resorts and among the locals. I had been following The Dreamcatcher on Instagram for a full year before we made reservations – and it was everything I hoped it would be…and then some. The only thing that could have made it better were if it were 100% vegan. I've yet to stay in a place like that. In the meantime, The Dreamcatcher will be my little travel sanctuary but you can see for yourself:
Deep within the gated community of Ocean Park, you end up at The Dreamcatcher more by choice than chance. A fierce but warming red gate beckons you among the neighboring neutrals. You immediately know you are stepping into something magical – caught in the web of your very own most delicious dream, if you will. This is what it feels like to enter the aptly named Dreamcatcher guest house.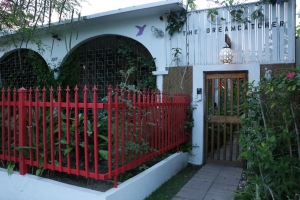 To the immediate right is an outdoor shower to rinse away the day spent at the ocean's side only steps away. To the left is the most picturesque red hammock that makes anyone lucky enough to be engulfed in its fabric look, and feel, like a God(dess).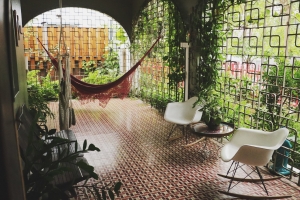 Continue along through the lush landscape and find every detail so thought out and intentional…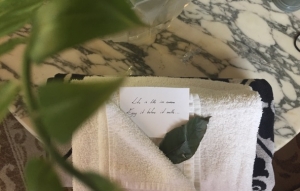 – from the many hanging lanterns that are works of art by day while their dancing shadows steal the show at night
– to the fountain that works as a centerpiece any time of day.
Lighted candles and the most perfect scent of incense hide in every nook
And every place you turn could be your own private alter.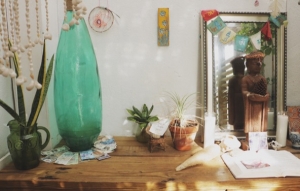 Hammocks are dotted throughout should the desire to relax become too hard to ignore.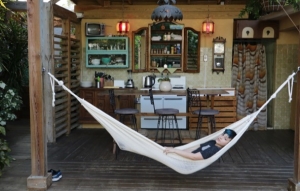 Repurposed furniture and materials provide new life for the otherwise forgotten and create an environment that can only be found right where you stand.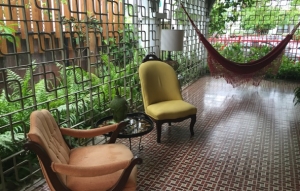 Outdoor showers keep you close to all that is grounding  you…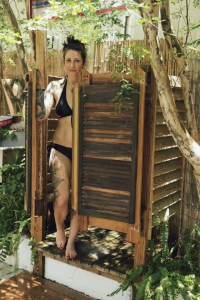 – and open air communal kitchens invite connecting and collaboration.
You'll find no flesh served here in this vegetarian bed and breakfast and only almond milk for your complimentary coffee and tea. The mini-bar will be stocked with fresh items like collard wraps, chia puddings, and vegan cheesecakes.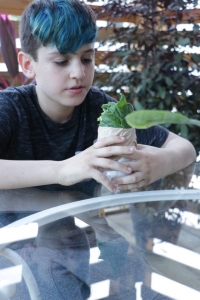 Breakfast will be three courses of lovingly prepared whole foods that both satisfy and nourish (for a fee). Chef Jerome arms your body with nutrients to tackle any island adventures you have in store.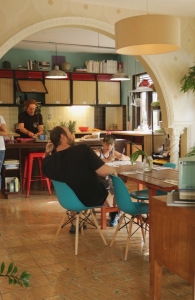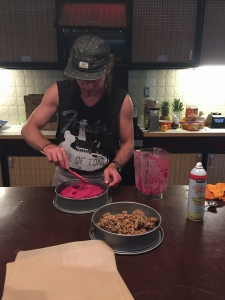 With no TV's in the room, this environment encourages you to reconnect to things that matter and find peace in the silence. There's a reason why this is not a place for kids under 8 and even at a mature 10, it felt very possible that Julian was one of the few kids to call this place home temporarily. Traveling with kids is a very different experience, let alone as a vegan family.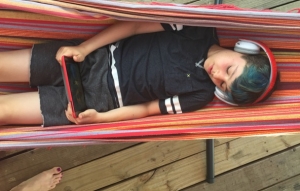 You'll find healers on hand ready to offer yoga, massage, or spiritual guidance
…and intimate tours to help you explore in a way only a local would know.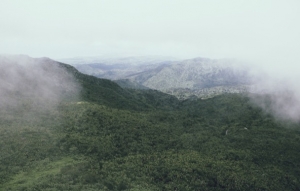 A hand drawn map will guide you to everywhere you want to be which is away from the chains and resorts because guests of The Dreamcatcher are unique and deserve an experience just as much so.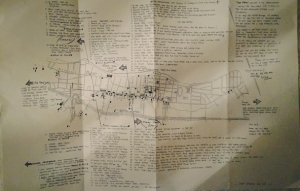 You'll meet Frank at his fruit stand and feast on some of the best veggie tacos on this side of Puerto Rico, perhaps the Atlantic.
You'll peruse the quaint shops and bring home souvenirs crafted by the most skilled and creative hands on the island.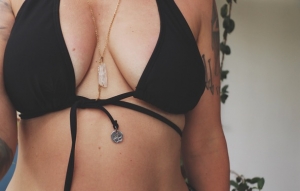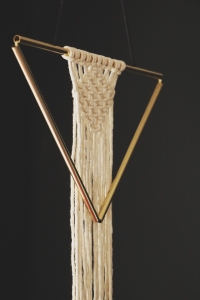 But it will be back at the Dreamcatcher you long to be, where this is your backyard…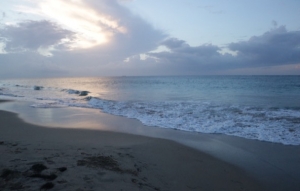 And there is always a friend around.
Hope you enjoy this little walk through and find yourself a guest at The Dreamcatcher some day…
<3 Cara