As you know the vegan lifestyle is quite personal and a unique way to live given our historical relationship with animals with regard to clothing and diet. This online platform to share our vegan-specific travel experiences is wonderful. I have thoroughly enjoyed traveling and dining at vegan/vegan-friendly establishments across the U.S. I'm not sure when I'll be able to make it abroad again, but I hope to soon. In the meantime, please enjoy my recap below.
Philadelphia, PA
Try….
Govindas: Chicken Philly
The Vegan Tree: Smoothie, Broccoli Soup, Sushi
Blackbird Pizzeria- Philly Cheesesteak
Franklin Fountain- Pumpkin Ice Cream
****ALL VEGAN!! =)
Raleigh, NC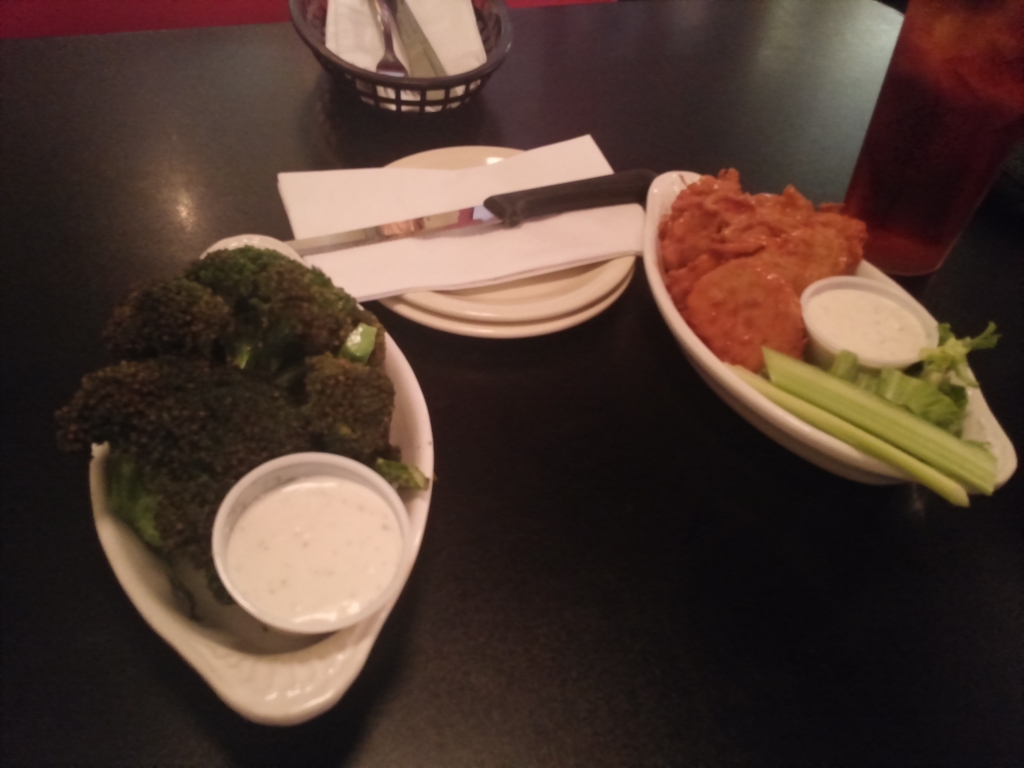 Top Choice: The Remedy Diner!
Los Angeles,CA
In Los Angeles, vegan restaurants are not a novelty. As a metropolitan city known for being trendy, I was not without options in vegan dining. However, I wanted to keep it simple and inexpensive. I can appreciate the creative decor of the fancy restaurants, it was easier to dine close to where I was exploring the sights. I wanted to visit the Melody Ehsani store on Fairfax Ave. and down the street is the Original Farmer's Market with a variety of eateries and shops. Located there was the Veggie Grill.
I ordered the Crispy Chickin' Plate served with cauli­-mashed potatoes, porcini mushroom gravy, and steamed kale and a side order of mac 'n cheese ($16). Delicious!
Similarly, before watching a movie at the Chinese Theatre on Hollywood Boulevard, I wanted to have a small meal. The theater is a venue within the Hollywood and Highland Center. I chose PokiNometry: A Sushi Restaurant. I built my own small rice bowl: brown rice, green onions, cucumbers, white onions, seaweed seeds, avocado. I enjoyed the flavors ($6).
Chicago, IL
I took a day trip to Chicago to attend an event at the University of Chicago. Buttoned up with gloves and a headband, I strolled the picturesque residential area of Hyde Park. On the Southside of Chicago, on 57th street near South Blackstone Avenue sits B'Gabs Goodies; a vegan restaurant offering raw, cooked, and healthy eats.   The space also has a store component with the selling of tea leaves, incense, knitted hats, supplements, and whipped shea butter.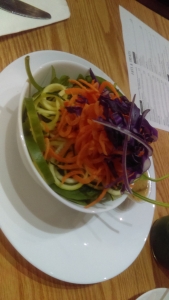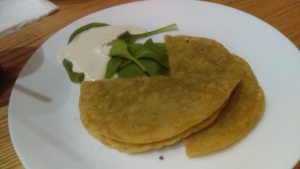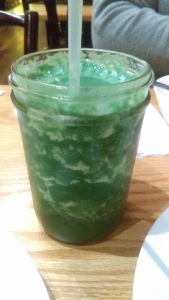 I tried the pad thai salad (spiralized zucchini and carrot noodles, greens, cabbage, onion, cucumbers and peppers with an almond dressing­$5), black bean & cheese quesadilla ($7), and the Green Spice smoothie (pineapple, banana, ginger and spirulina­$5.75). It was a light meal, but I felt sustained.
The cashier/server was nice, the music was smooth R&B, and I got a kick out of the lime green walls, exposed brick, and plants. I recommend this place if you ever in the area or decide to make a special trip!
Another recommendation when visiting Chicago is LYFE (Love Your Food Everyday) Kitchen!!!!
The restaurant is seat yourself and patrons go to the register to place their orders. Based on guests' diet, they can select a Vegan, Gluten Free, or Everything Menu. The food prices were very affordable. Each item was $3 or $4! The staff was really nice also!!
New York. NY
Returning to New York, I knew there wouldn't be a shortage of vegan-friendly dining. I was in town to visit a dear friend and of course explore. Arriving by Greyhound, I stayed at an Airbnb spot near Prospect Park and braved the icy-temps for mini-adventures.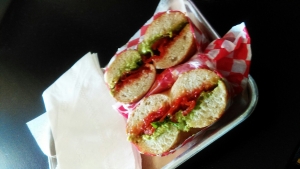 Breakfast was at Nagle's Bagels in Leffert Gardens, A cozy, very laid-back space: posted news clippings, local jam and books for sale- the spot filled with regulars. I ordered the Spicy Nagle and substituted the goat cheese with arugula. The pepper jam is bomb!  Below is a video of city highlights and plenty of happy eating!
Breaking Bread in the Boroughs!!!
Hallandale, Florida
I had yet to experience a Florida beach and decided to getaway with friends for a few days. I found this really cozy and minimalist plant-based restaurant called 'Screaming Carrots'!  See video! =)