I am back from my 2-week trip to Maui (actually, I've been back for almost a month… oops!), and I finally have the time to sit down and write some posts about everything Maui!
I've previously been to Oahu, Kauai, Lanai, and the Big Island, but Maui is by far my favourite Hawaiian island that I've visited. My family started going there as soon as they realised that my brother and I enjoyed being on the beach just as much if not more than being at Disney, where we had usually vacationed to. I love Maui so much that it feels like I'm returning home whenever I go back. This trip was very different to my usual ones, though, as I was going there with a friend rather than with family. I did a fair amount more touristy water sport things than I usually do, and most of them turned out to be a lot of fun (more on that later).
We stayed in Kahana, near Lahaina, mostly because that was the cheapest place we could find. I personally prefer the Paia/Haiku area more, but I don't know of any hotels around there.
Our first day in Maui was dedicated to getting settled. Our room happened to have a kitchen, which I would definitely recommend looking for, as eating out every day in Hawaii can get really expensive. Because we arrived so late the previous day, we didn't have a chance to go to Costco, Whole Foods, or Down to Earth in Kahului, but if you arrive at a reasonable time, I would recommend stopping by one or more of those stores on your way to the west. If you are staying in Kahalui or in the east, you will have more choices in terms of bigger grocery stores. However, Lahaina does offer its share of grocery stores as well, so we made a stop at the Safeway in Lahaina and the all-vegetarian Farmers Market in Napili-Honokowai.
The Farmers Market ended up being a favourite, as we would walk there almost daily for a smoothie and bagel for breakfast. They have the Tofutti vegan cream cheese in stock in the store, but for some reason don't offer it when making the bagels. However, they do allow you to put on guacamole, hummus, or their other spreads, or you can just buy the bagels un-toasted and unmade for cheaper, and put on the Tofutti cream cheese yourself, like I did. Most of the groceries at the Farmers Market are actually quite expensive, but the fruit and vegetable prices are quite reasonable, and they offer an outdoor farmers market on Mondays, Wednesdays, and Fridays from 7am-10am.
After our grocery runs, we stopped by the Barnes and Noble in Lahaina for some beach reading. I tried looking for any local bookshops, but couldn't find a single one, so if anyone knows of one, please comment and tell me where to find it!! The Barnes and Noble is a nice place to cool down if it's hot though, as the air conditioning is on full blast.
The next day we were off on the famous Road to Hana. I had been before, so I knew that the best thing to do was pick a few places you want to stop by before hand, and since our intention was to drive all the way to the Seven Sacred Pools (Pools of Ohe'o) or Waimoku Falls, both located inside the Haleakala National Park, we decided to leave early (around 8am) from Kahana and drive straight to the National Park. The attractions on the Hana Highway are structured to be seen when driving towards the National Park, not away from it, and the signs are mostly visible from that side, but all of the tourists stop at the earlier attractions, making them really crowded. Going to the National Park first allowed us the least amount of tourists both at the park and at the other attractions.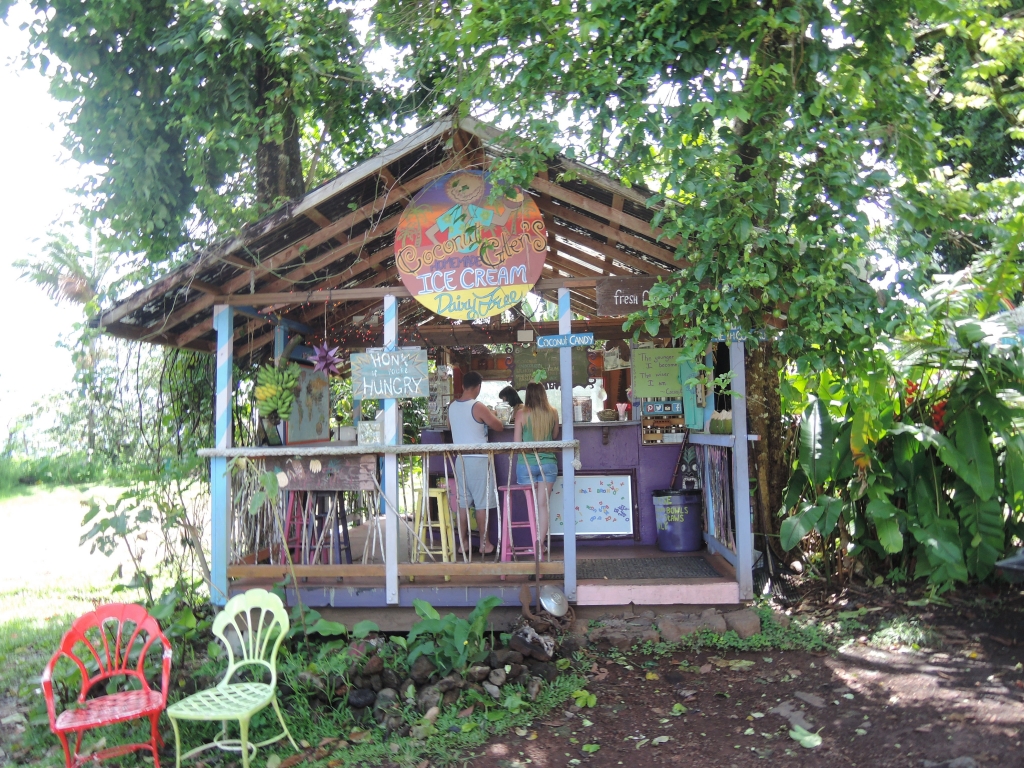 On the way to the National Park, though, we knew we had to stop by Coconut Glen's at Mile Marker 27 1/2 to experience their coconut-based ice creams. Everything at this place was vegan, and the day's flavours included plain coconut, chocolate, lilikoi, pineapple banana, mint chocolate chip, coffee toffee, salted caramel, rum raisin, chili chocolate, and jack fruit.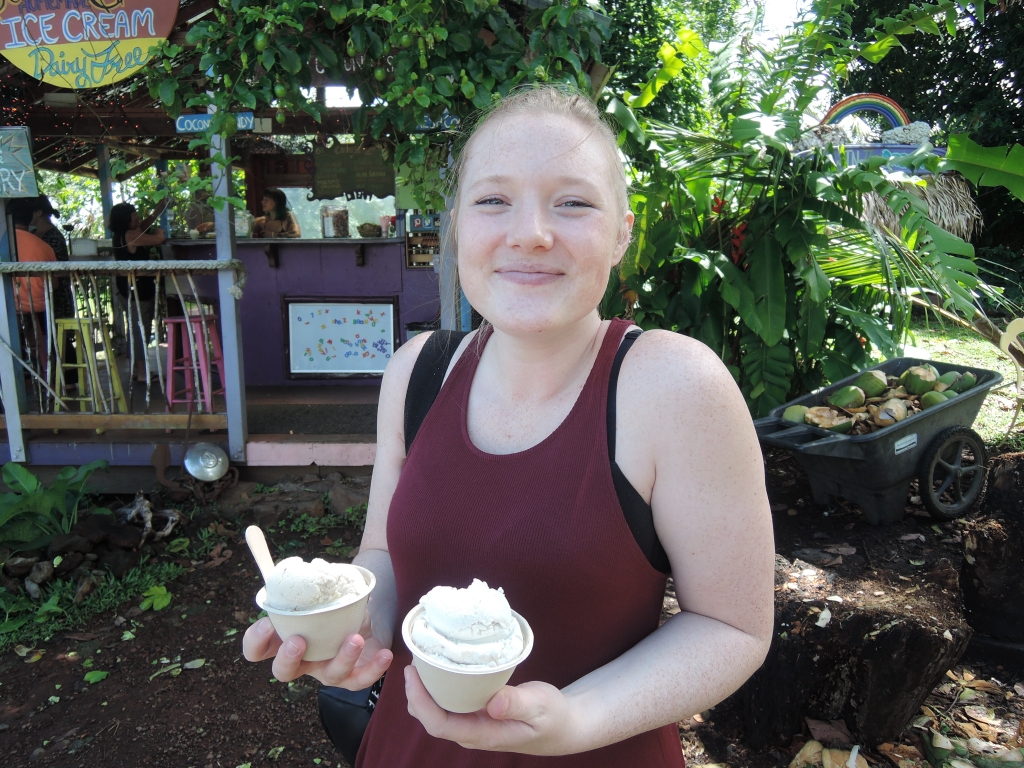 My friend Amanda opted for the pineapple banana and the jackfruit, while I opted for the chocolate and the jackfruit. I am kind of a chocolate junkie, so that was definitely my favourite, but the jackfruit was surprisingly good!
After ice cream, we powered through all the way to the National Park. You can get in with a National Parks pass, or buy the $20 ticket, which allows for entrance for 3 days to both the Kipahulu area (the one we were in), and the Haleakala Summit, popular for watching sunrises and sunsets from above the clouds.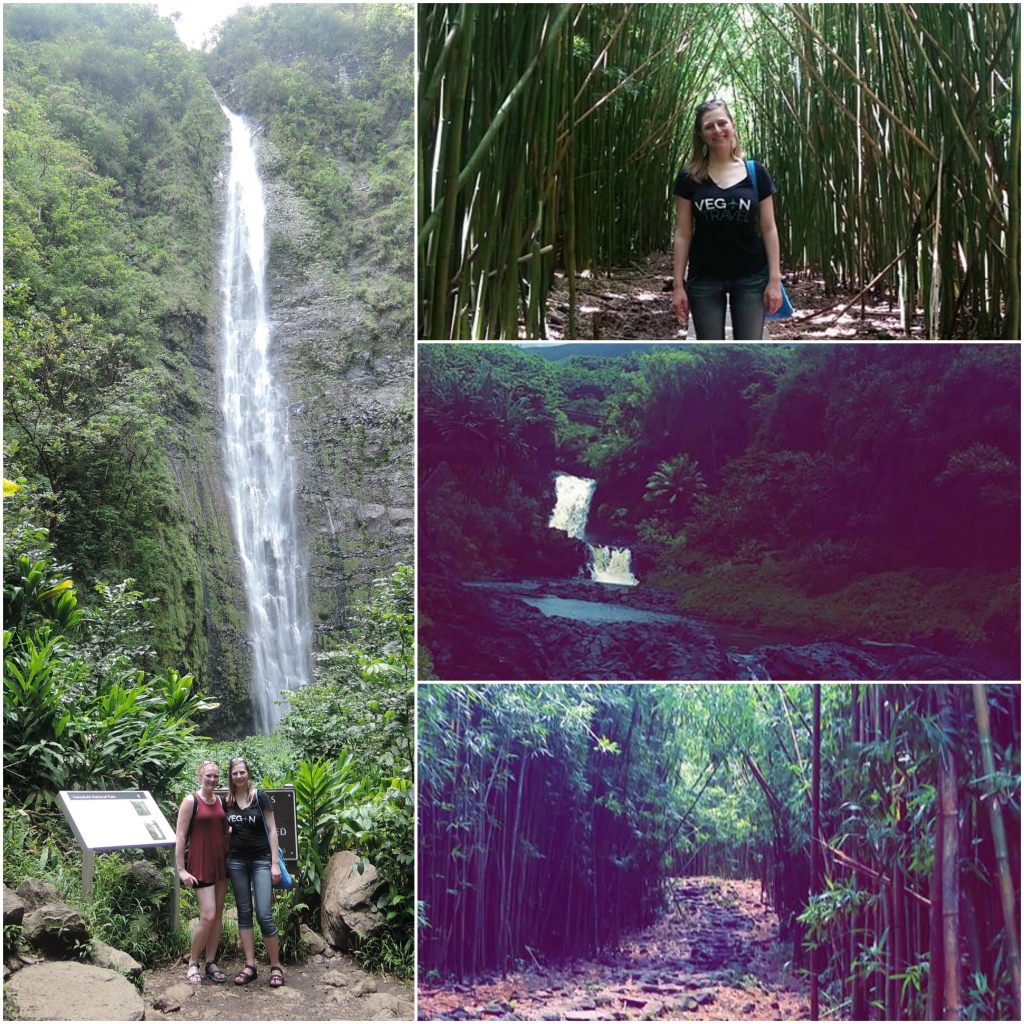 We wanted to go swimming in the Seven Sacred Pools, but unfortunately the water levels were too high, so the area was closed off. We did stop above them to have our lunch, homemade sandwiches, since I knew from experience that it is fairly hard to find vegan food in restaurants around Hana. After lunch, we took the short 2-mile hike (4 miles round-trip) up to Waimoku Falls, passing through a bamboo forest and smaller waterfalls. We were so hot and sweaty by the end of the hike, but it was completely worth it! It was the first time either of us had been in a bamboo forest, so it was exciting being surrounded by the tall bamboos and walking along the wooden path, and neither of us expected the Waimoku Falls to be as tall and powerful as they were.
However, by the end of this hike we were so hot and tired that we decided to skip most of the other things we had planned for our day, and just go to the black sand beach at the Waianapanapa State Park.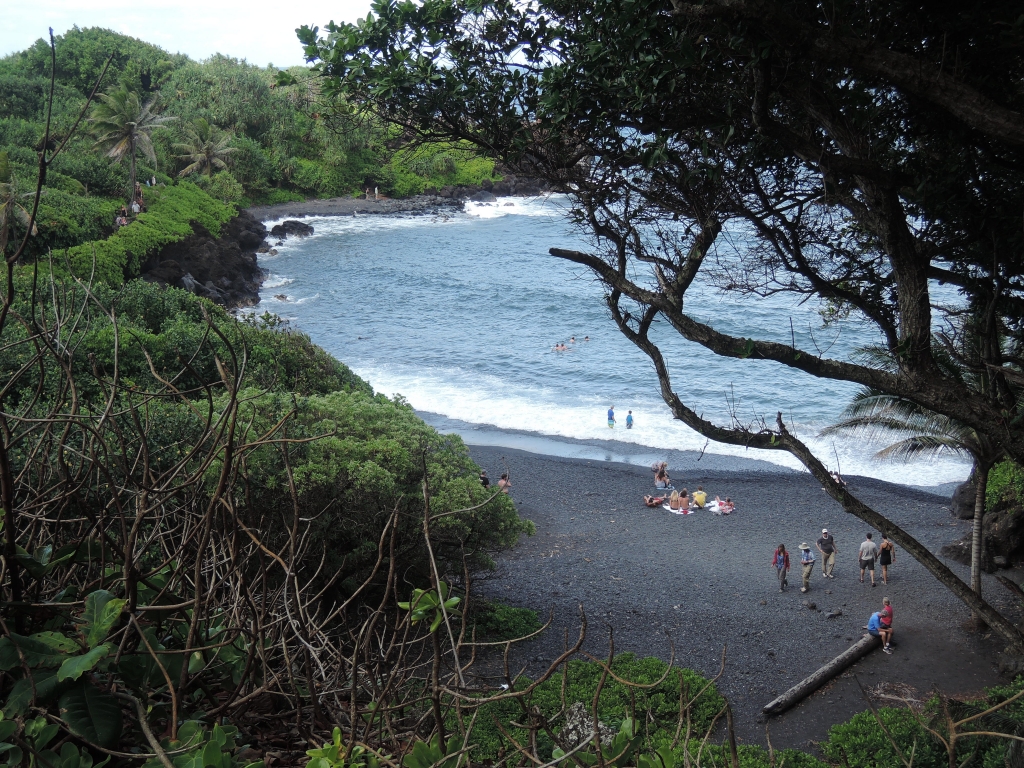 Most of the beach was a pebble beach, with finer black sand only right by the water. I thought I would love this beach, but there was trash all over the place, with way too many tourists around taking pictures, and we ended up staying only for a few minutes, enough to walk in the sand and check out a nearby cave. Checking out this beach was kind of okay just to say we've been there, but personally I think I would skip it and opt for much nicer, less touristy beaches away from Hana Highway.
There is so much to do along Hana Highway, that it's impossible to see it all in a day. If you have a few days to spend around there, do it. If not, pick a couple that you're most excited for, and focus on those.
On the way back home, we stopped by in Paia for dinner. Paia is great for vegan food, as it has one of my favourite grocery stores, Mana Foods, in it, as well as several vegan-friendly restaurants, including the almost-vegan Maka by Mana Foods, and the Mediterranean/Indian Cafe des Amis, where we stopped by this time. Paia is also great for cute little shops, and the area has good surfing.
Easy to get to from Paia or Kahalui, but quite a drive away from Lahaina, is the Haleakala Summit, where we went for a sunrise. While most places on Maui are quite warm, if not hot, year-round, the summit is definitely not! I wore a tank top, hoodie, and light jacket, and was absolutely freezing while watching the sunrise. The sunrise itself was very pretty, but I'm not sure it lives up to its reputation and the effort it took to get there. We had to leave around 3:00 to be at the summit for a 5:45 sunrise, drive for a couple of hours, and wait in a very long car line to get into the park, before getting there and freezing. The sunrises and sunsets in Hawaii are quite spectacular enough by the beach, so that's what I'll stick to next time!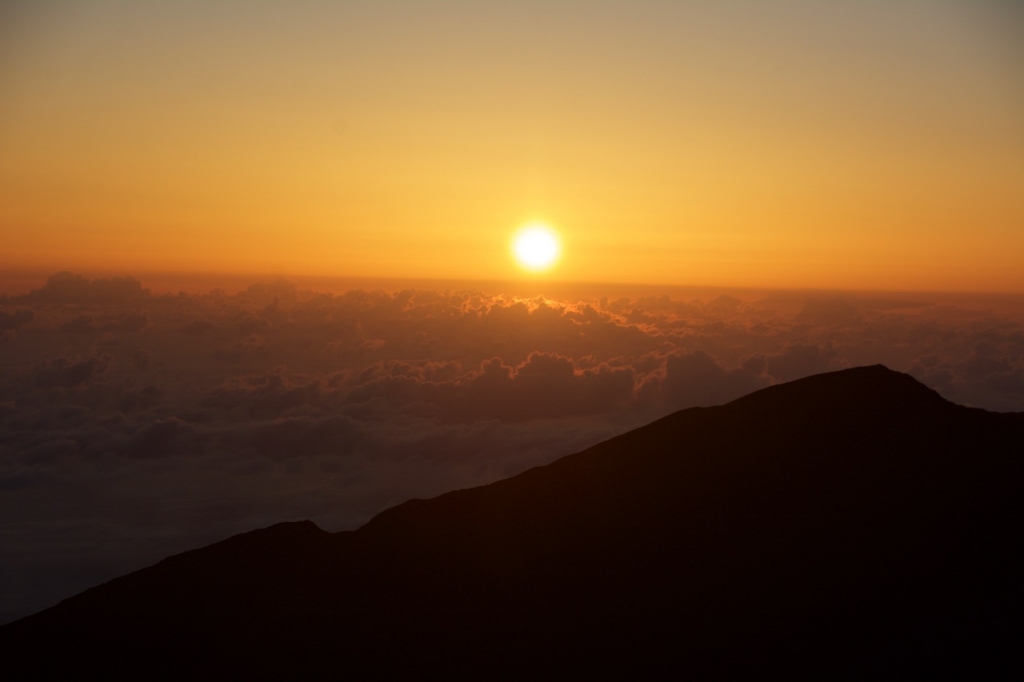 Stay tuned for another post about the water sports in Maui and a trip to Lanai and Molokini 🙂