I recently went to visit my hometown in New Jersey and decided to take a trip to the first all vegan restaurant that I've ever tried: Veganized.
In the past, we've gone there for celebration dinners, but today we decided to drop in for a light lunch.
I'm not sure if it's nostalgia, but every time I feel like it's the best vegan restaurant I've ever tried — and believe me, I've tried tons of them by this point.
And I'm not the only one. Ever since they got this review from the New York Times the place is a packed house almost every time I go there.
I believe the thing that separates this small restaurant from others is their attention to detail and ability to capture smokey flavors in a way that I've never experienced. Especially when it comes to the mushrooms they serve, the complex and smokey flavor profiles are second to none. It's one of those things that you really have to force yourself not to eat too quickly as to take in the moment.
So for this light lunch, my wife and I each ordered a Caesar Salad and the Off the Grill Appetizer. Both mushroom-rich dishes.
There's so many different flavors and texture in this dish, that I actually had to look back at their menu to see what it was.
According to their website, the ingredients read…
"Romaine lettuce, kale, caper Caesar dressing, Parmesan croutons, smoked shiitake, dulse, avocado"
Between the capers, the dulse (which are basically just seaweed flakes) and the smoked shiitake, you're hit with a level of flavor complexity that I haven't experienced anywhere else.
My wife who isn't the biggest fan of Romaine lettuce, cannot get enough of this salad and neither can I! Whenever I go for dinner, I also like to get it as an appetizer in a bigger meal.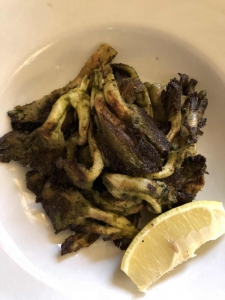 The next thing we ordered was the "Off the Grill", one of their most popular appetizers. This dish is simple, but still one of the best things ever.
The menu reads…
"Grilled oyster mushrooms, garlic rosemary marinade, lemon wedge"
That's it!
You can tell by the picture that the edges of the mushroom's cap are seared to perfection which brings crunch and a complex flavor.
The oyster mushrooms have a chewy/fatty mouthfeel which makes them unlike any other plant-based food I've tried. They're better than any fancy steak I've ever had in my non-vegan days.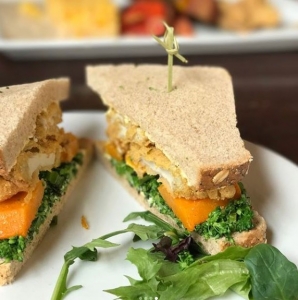 This sandwich (from another visit) is also delicious. It's called the Crusted Curry and is a great combo of fried mushrooms and fresh veggies.
Here are a few of my other favorite things I there. I promise to take more pictures next time I go for dinner!
Sweet Potato Wedges: These are the perfect balance between soft and slightly crunchy. They come with a cashew cream dipping sauce that I think is actually fermented in the back for an extra umami punch.
Philly: An open faced vegan Philly Cheese Steak on flatbread. The perfect balance of mushrooms and onions.
BBQ Skewers: Perfectly cooked kebab with seitan and veggies. It comes with fried mushrooms and rice on the side. This dish is extremely filling.
Chocolate Peanut Butter Torte: If you have room for dessert, this is my favorite thing on the menu. It's rich, but also very refreshing at the same time and not overly sweet.
I hope you all stop in and try this place if you're ever in the area. I promise you won't be disappointed.
Want to say hi? Here's where you can find me…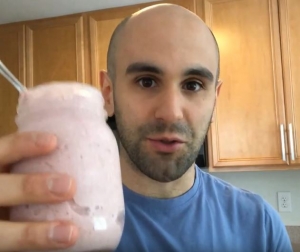 Writing about vegan stuff and testing blenders on my blog – Thrive Cuisine.
Being silly and giving people cooking advice on YouTube.