So Portland, Oregon is one of those places you hear about pretty quickly when you go vegan. It's kind of the holy grail of veganism in North America, with as many varieties of vegan food as you could ever wish for. So contrary to my recent trip to Denver, Colorado (blog on this coming soon!) where I thought I may have struggled, I knew I wouldn't have a hard time finding great vegan food here.
There is honestly so much to do in Portland and in the surrounding parts of Oregon! I ended up going there twice last year because I loved it so much. It's got such a laid back, creative feel where I would happily spend all day in a coffee shop writing, or reading in one of the amazing book stores (I'll get to Powell's in a second!). Plus there is so much incredible scenery – waterfalls, rivers, national parks – all over the place. And if you're a film geek like me, so much cool stuff is filmed around the area, too. So I really hope you get the chance to go! And when you do, here are 12 ways you can be sure to have a great time…
1.   Chill around Hawthorne
Hawthorne was one of my favourite areas around Portland. This place has an extra chilled out, artistic vibe and you can find a lot of vintage stores, coffee shops, and some great vegan food too! I stayed at HI Hostel Hawthorne which I would definitely recommend as the location is so great – right on Hawthorne Boulevard.
My favourite restaurant here was 'Harlow' – a vegetarian restaurant with a tonne of great vegan options. The food is super fresh – I had the 'Farmer's Vegetable Scramble' with seitan and it was great. There is a wide selection of vegan meals, and it's also a great stop for fresh smoothies and juices too (nothing like a shot of turmeric to see you on your way!).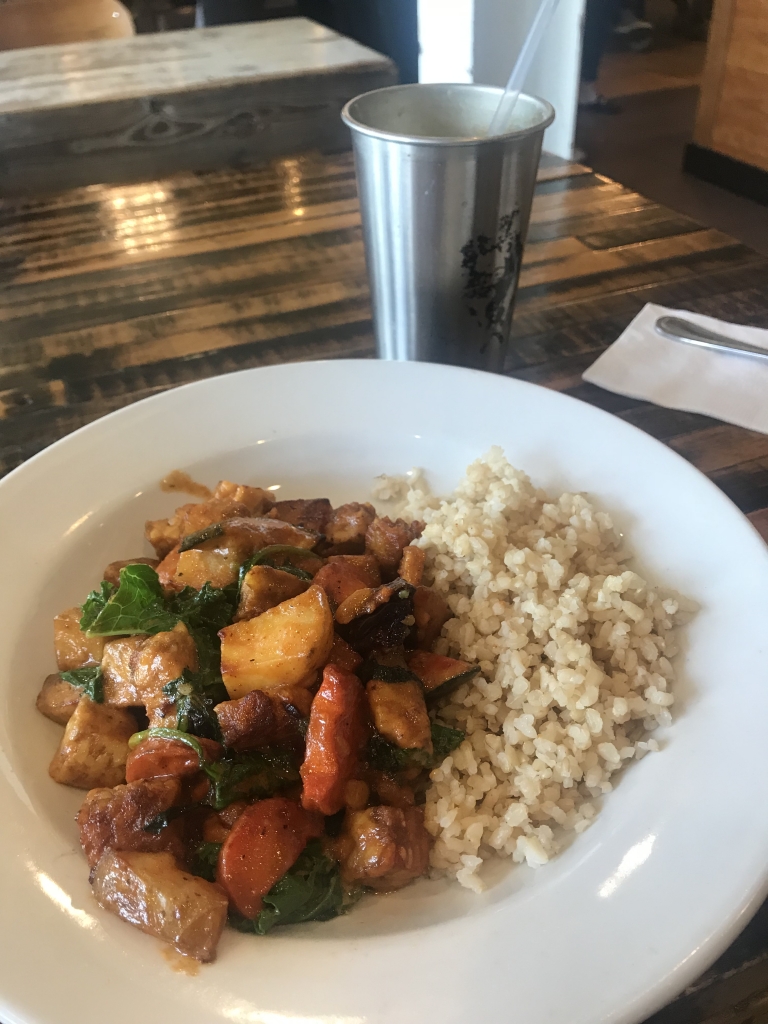 So doughnuts is going to be a recurring theme throughout this blog, because for some reason, they are absolutely everywhere around Portland! Hawthorne is in on the action too – Blue Star doughnuts has a few vegan doughnuts (I tried the flavour 'Orange & Olive Oil') and they are A-MAZING!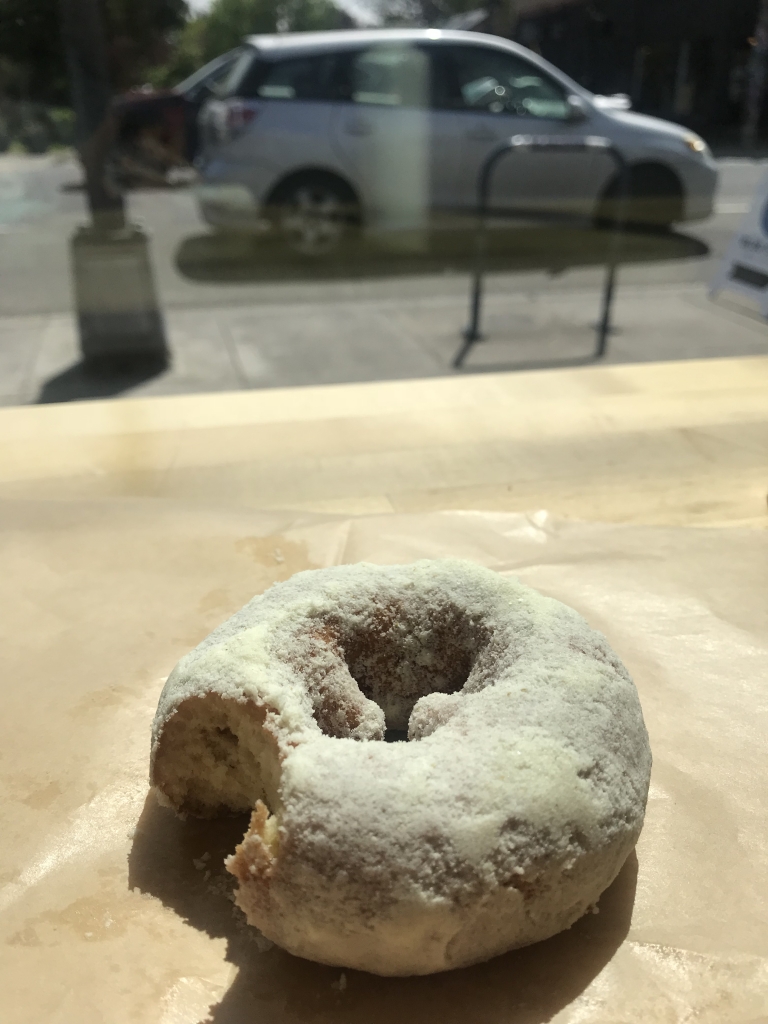 2. Get to the vegan mini mall!
I'd heard about this place prior to coming, so naturally, it was pretty up there on my list of places to visit. You can find it on SE Stark Street, and it consists of Scapegoat Tattoo, The Herbivore Clothing Company, Sweetpea Baking Co, and Food Fight! Grocery supermarket. All of these were awesome, and for a while, it feels like you're living in a totally vegan world. I'd recommend more doughnuts at SweetPea Baking Co., and you can find a lot of cool clothing and accessories at the Herbivore Clothing Company too.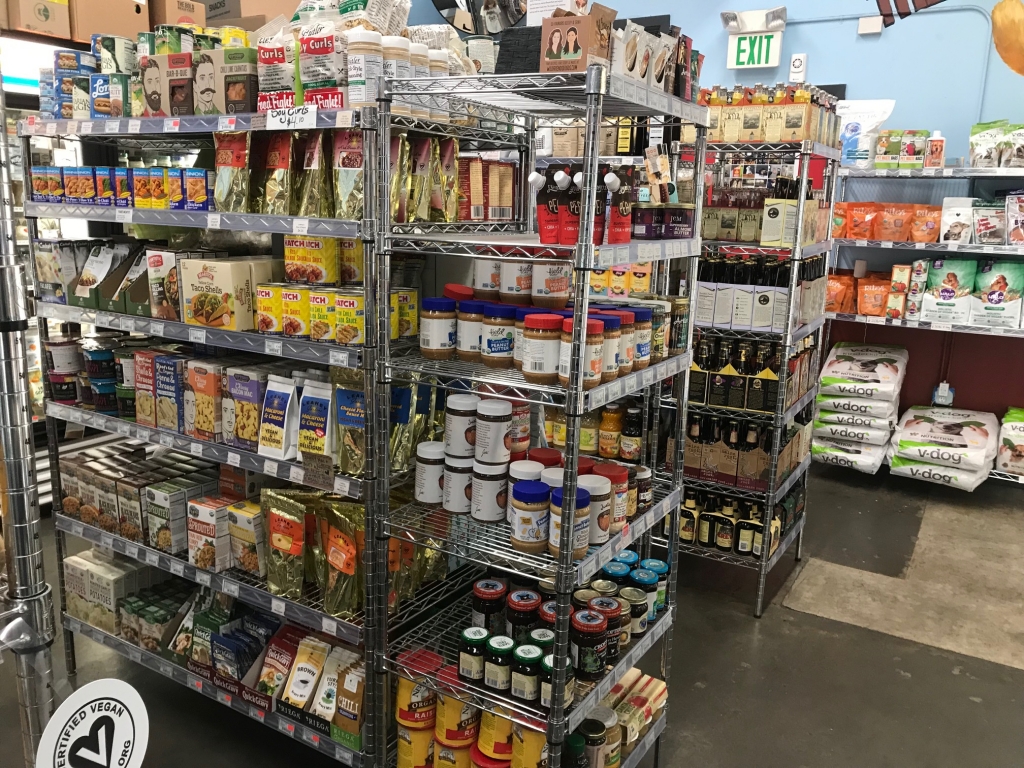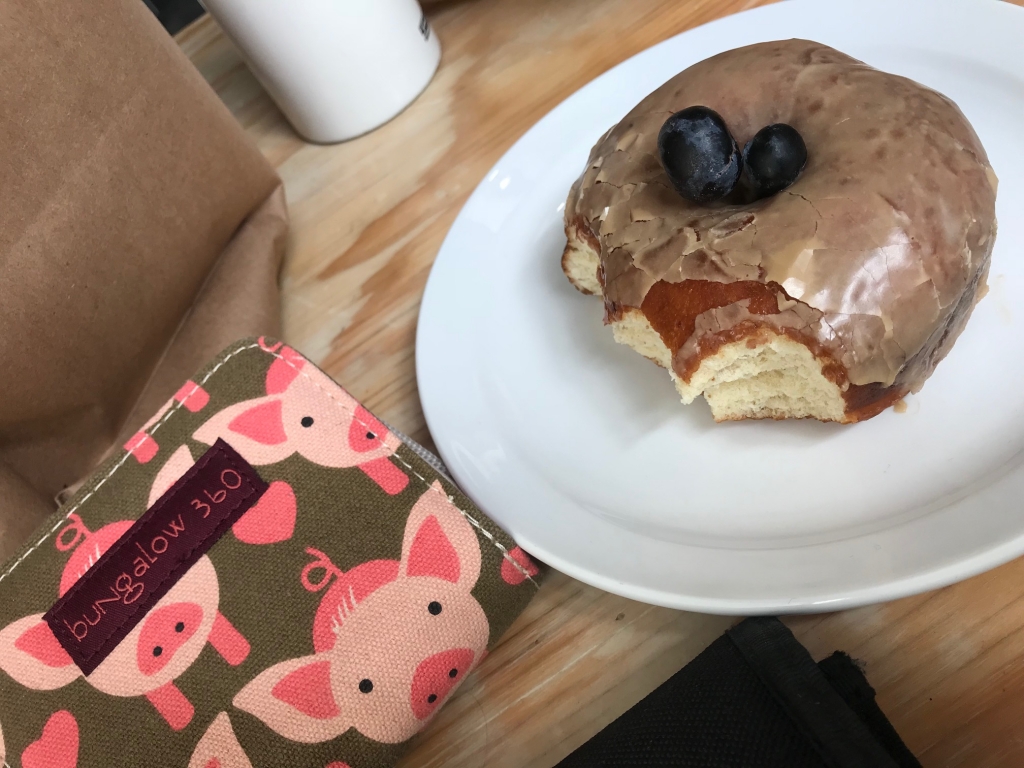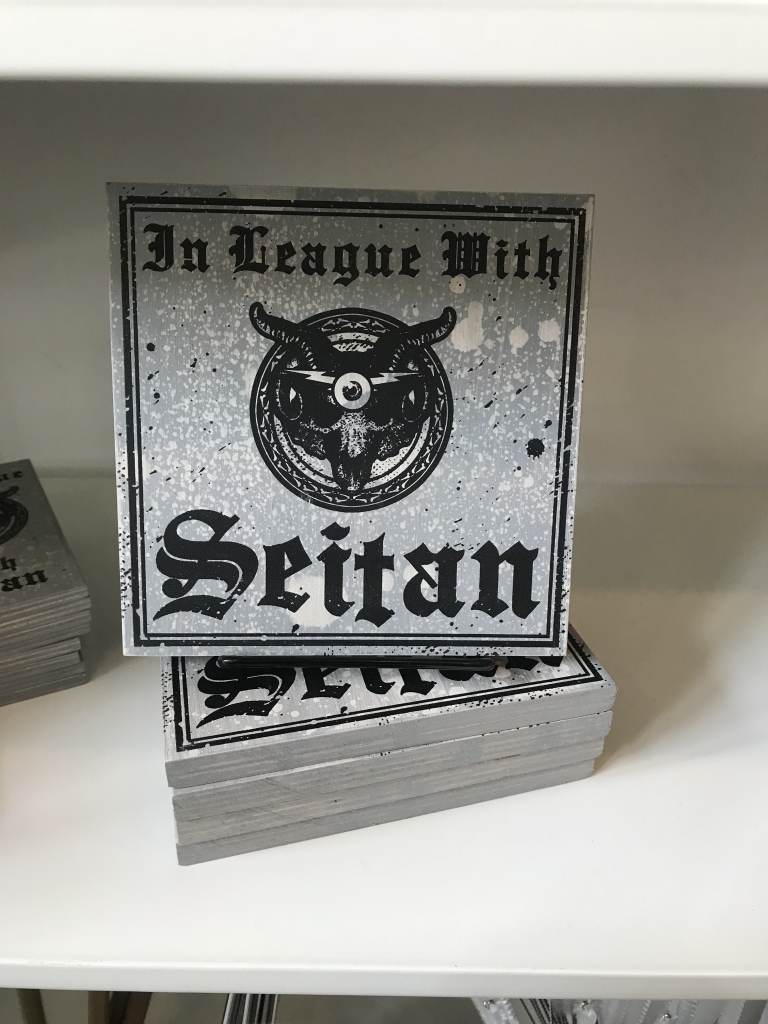 3. …and while you're there, get a cruelty-free tattoo
Every product used at Scapegoat Tattoo is completely animal-friendly. And if you're lucky like me and are going for something small, the wait time isn't too long and you can browse the rest of the mini mall while you wait.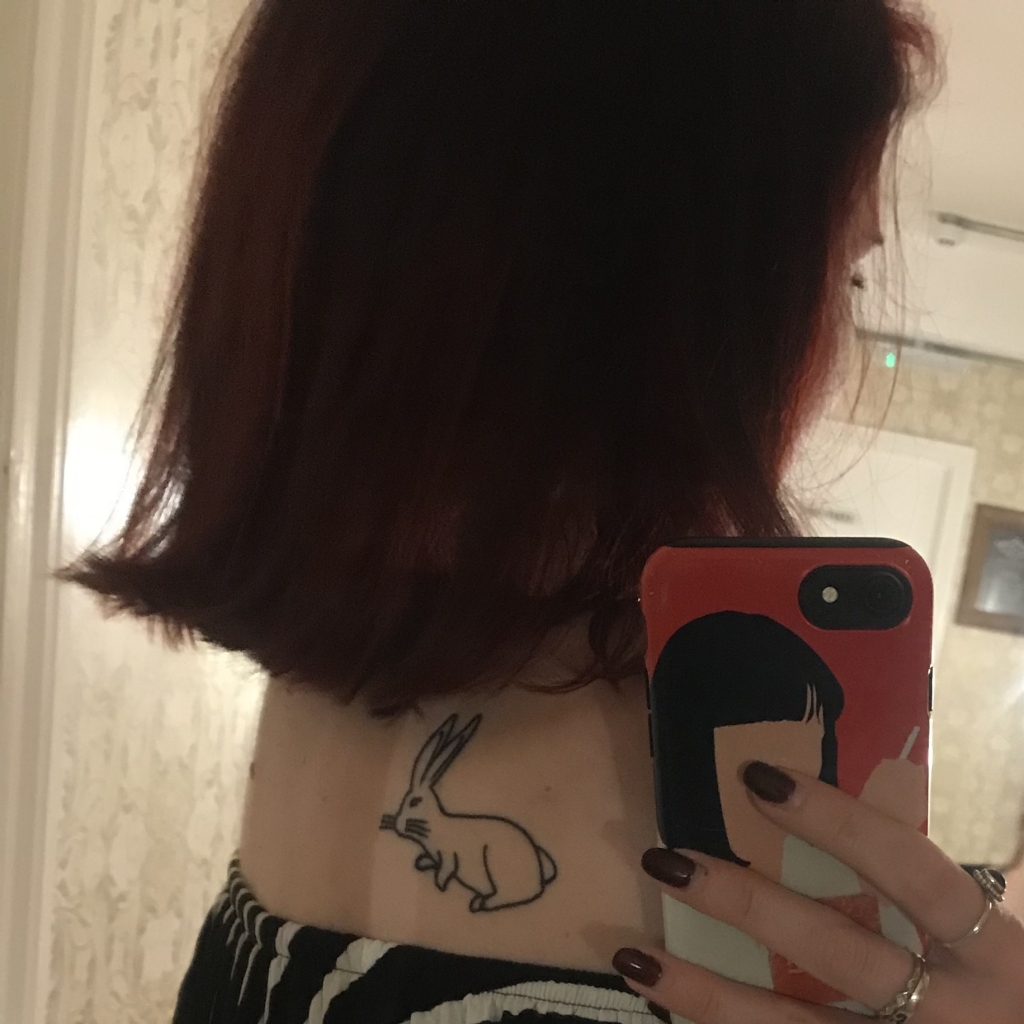 4. Spend a day (or a week!) at Powell's City of Books
So Powell's City of Books may just be my favourite place in the world, like… ever. I mean come on, it's the world largest independent bookstore that basically takes up a whole street – what's not to love?! I spent a rainy day in Portland here and had the best time. There's also a pretty cool cafe and lots of unique merch inside (I particularly loved their postcards which I turned into a wall picture). 
NB: There is also a much smaller Powell's store in Hawthorne too, but I'd definitely recommend checking out the original City of Books if you're in the downtown area.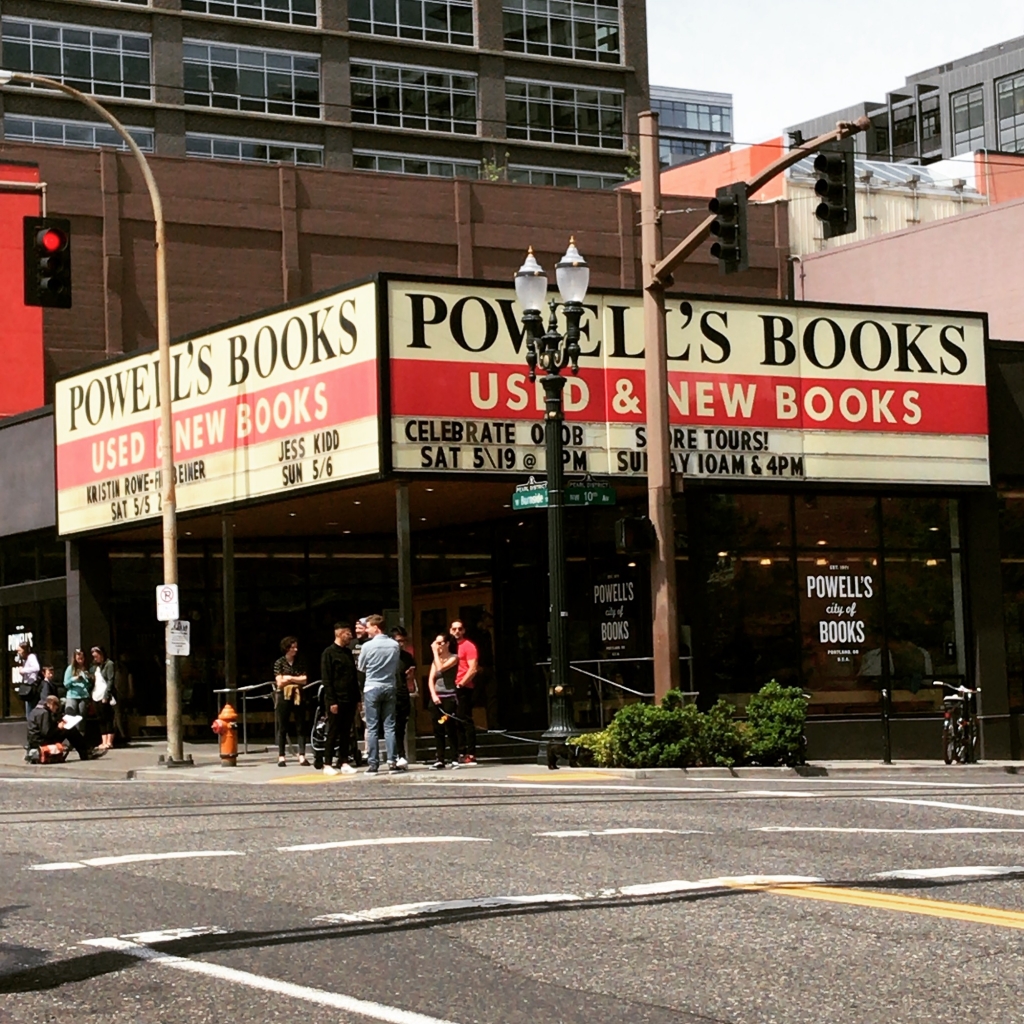 5. Take a day trip to Multnomah Falls!
If you don't have a car, there are a bunch of companies that will pick you up and take you to see the Colombia River Gorge and Multnomah Falls for the day (mine picked me up right at my hostel in Hawthorne!). This is well worth doing to soak up some of the amazing Oregon scenery. Due to the fire last year, the bridge wasn't open when I went, but you still get an incredible view of the waterfall. My tour also stopped at several areas along the way for viewpoints of the Colombia River Gorge – this is what really made me realise how beautiful Oregon is (and my favourite state I have visited in the US far!). I would definitely recommend taking some time to check out some of the beautiful Oregon scenery.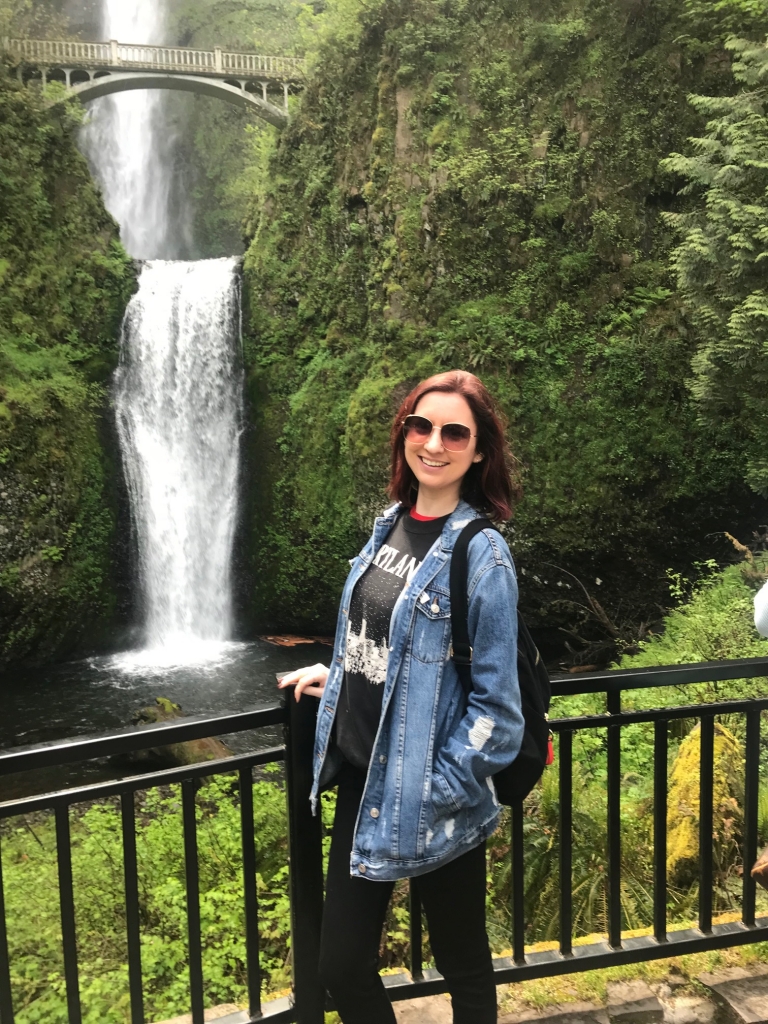 6. Eat more doughnuts at Voodoo!
Voodoo doughnuts is definitely a tourist favourite in Portland, I mean, how often do you see voodoo doll doughnuts that you can stab to death with a pretzel?! The awesome thing is, they do vegan doughnuts too (including the aforementioned voodoo doughnut!). There are two of these in Portland, and one in LA – so I recently found out – and they are a lot of fun to hang out in.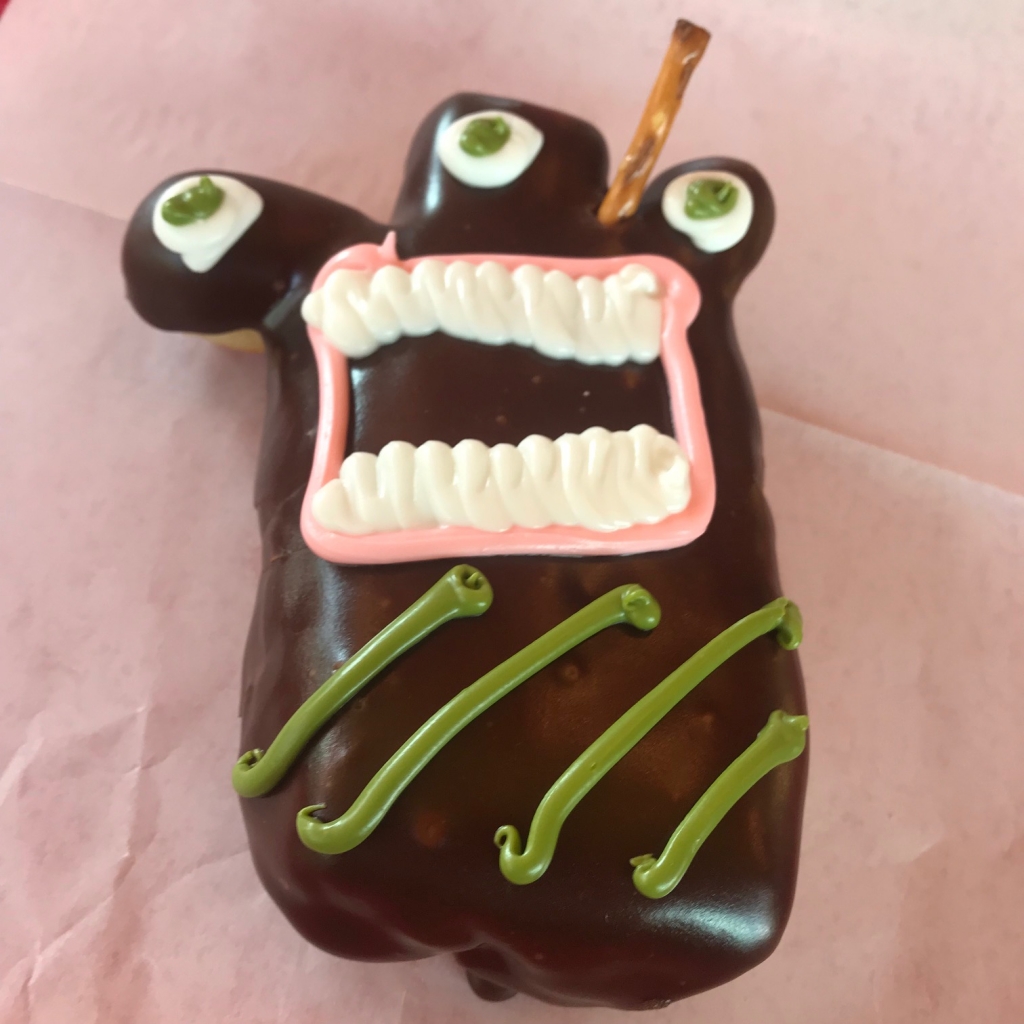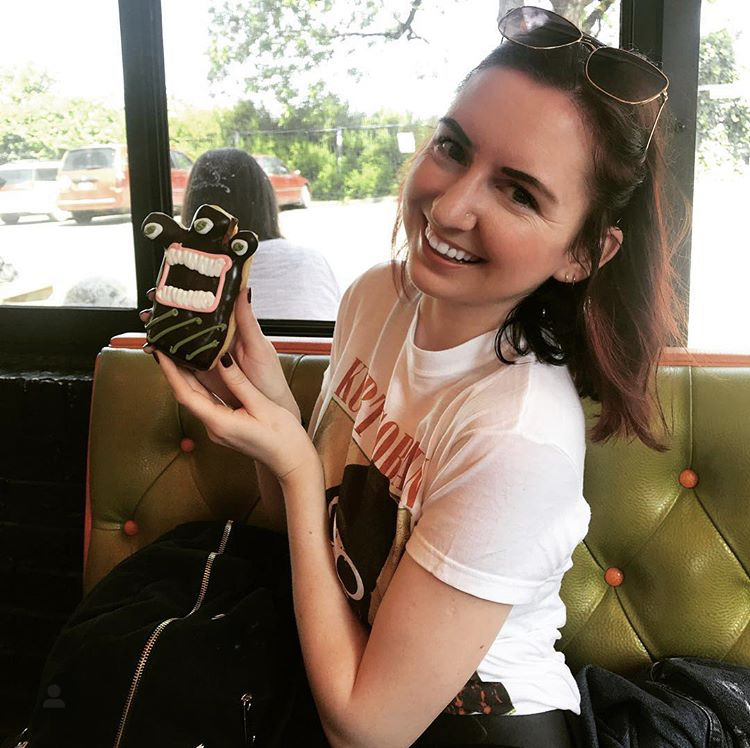 7. Be a film geek!
There are so many great films that were filmed in Oregon – I took a whole separate trip to Astoria and Cannon Beach (where they filmed The Goonies, Free Willy and loads more) which I'll talk about in another blog. But there's also quite a bit that you can visit while you're in Portland. I'm a Twilight fan and was far too excited to find the Cullen house! This was pretty easy to locate – I got a bus from Downtown Portland which only took about 20 minutes. I found this location from the blog 'Special Needs Travel Mom' which also has a bunch of other Twilight locations in the area.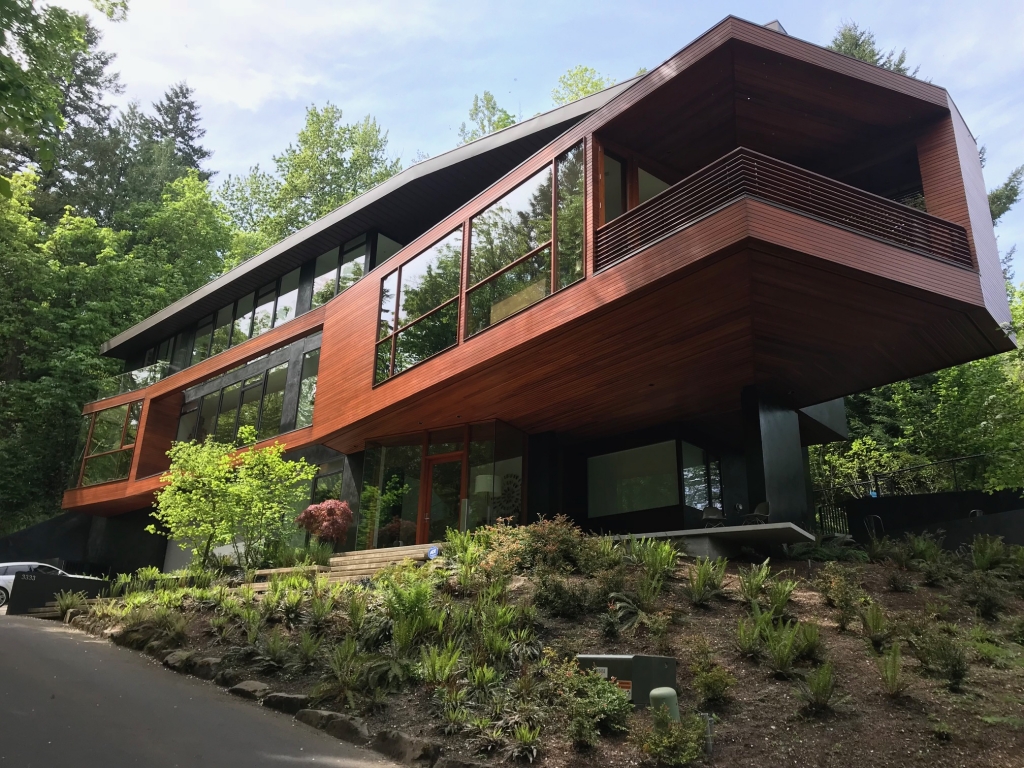 8. Mural-madness!
One of my favourite things to do in basically any city is to see if I can find some rare murals – if you do too, this is another reason why you're going to love Portland. My favourite one here was the Mia Wallace mural – see if you can spot it when you go!
NB: The last photo is from Alberta Arts District which is another really cool place to walk around with some great vegan restaurants and bakeries too.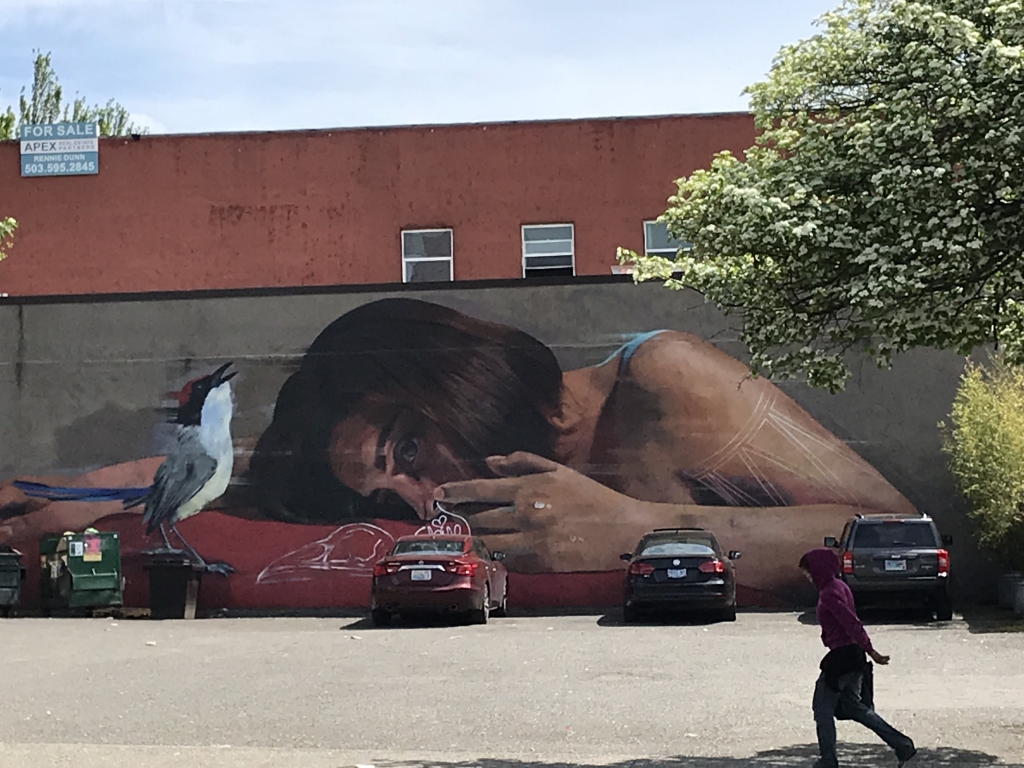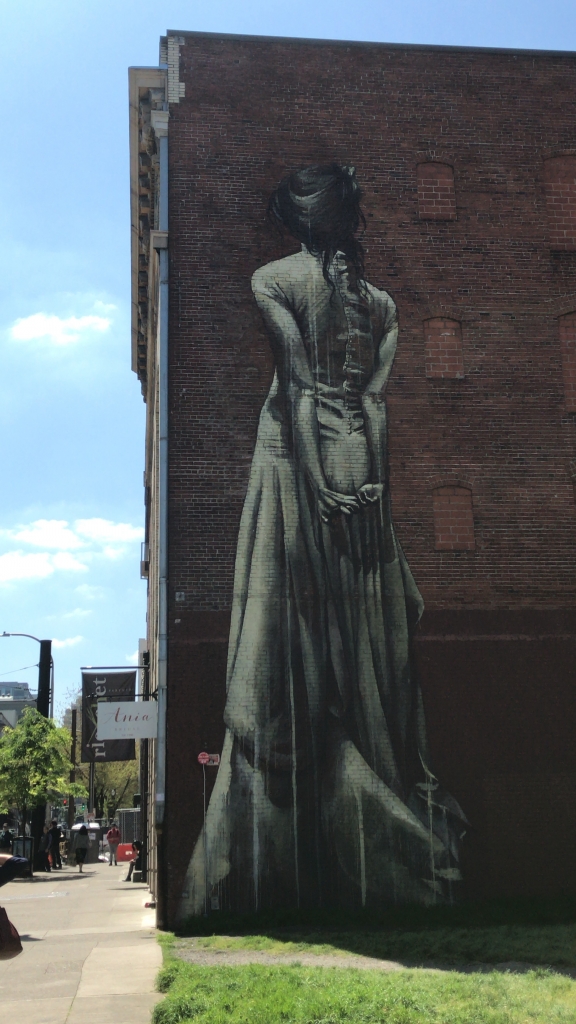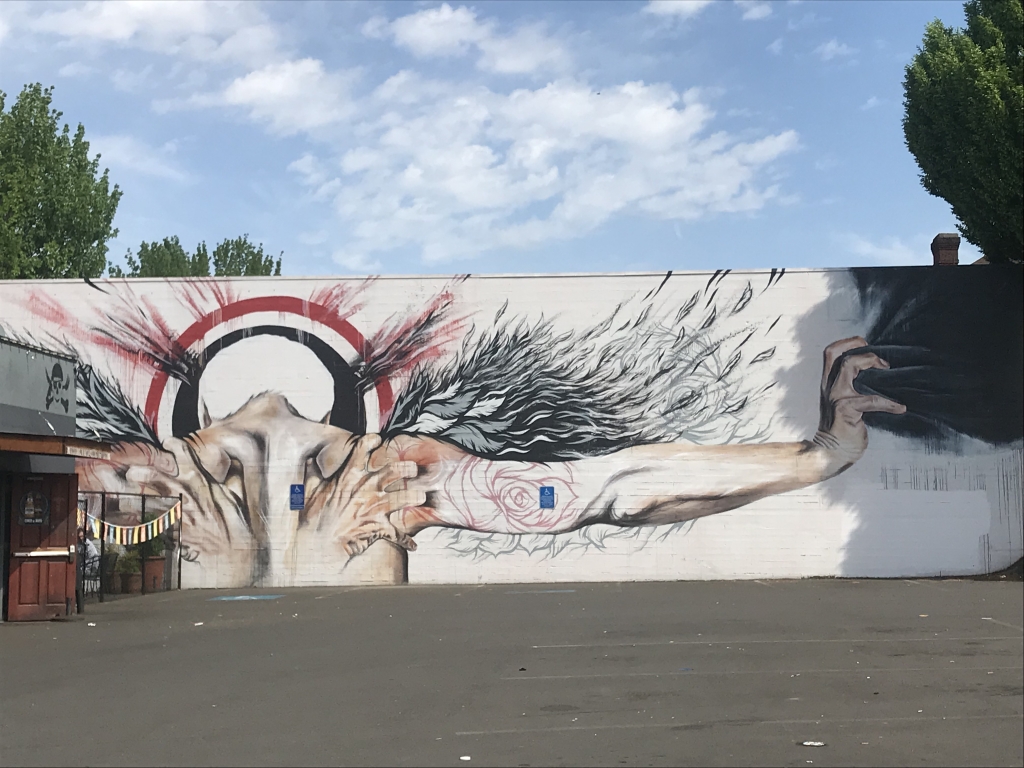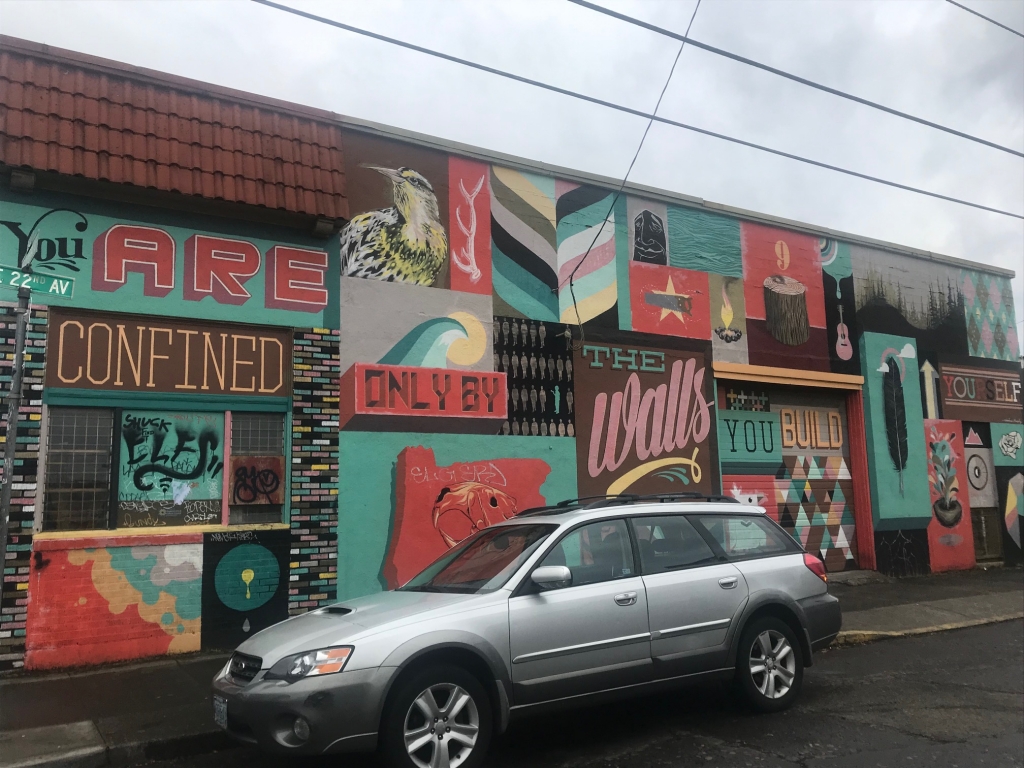 9. Try some vegan BBQ!
The Homegrown Smoker at North Lombard Street is a short drive from the Hawthorne and Downtown areas but well worth it! This 100% vegan cafe offers barbecue plates that you thought you'd never see again after going vegan (you can even get ribs!) plus a whole host of other comfort foods. Personally, this stuff is a little too 'meaty' for me, but if that texture is something you miss, absolutely check this place out!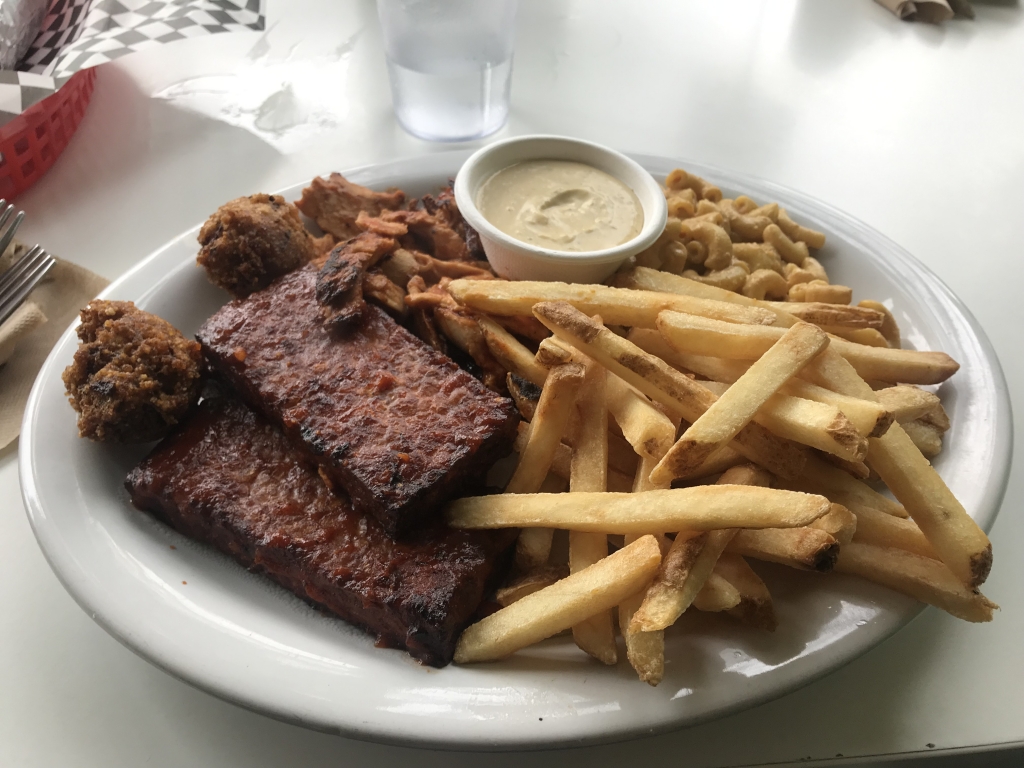 10. Hike to the Witch's Castle in Forest Park
Forest Park is a really great national park and easy to get to on public transport too. The extra cool thing about it is there's a creepy old witch's house (well, what's left of it) and you can hike there quite easily. I found the directions via the blog 'Good Hearted Woman' which tells you all about the history of it too.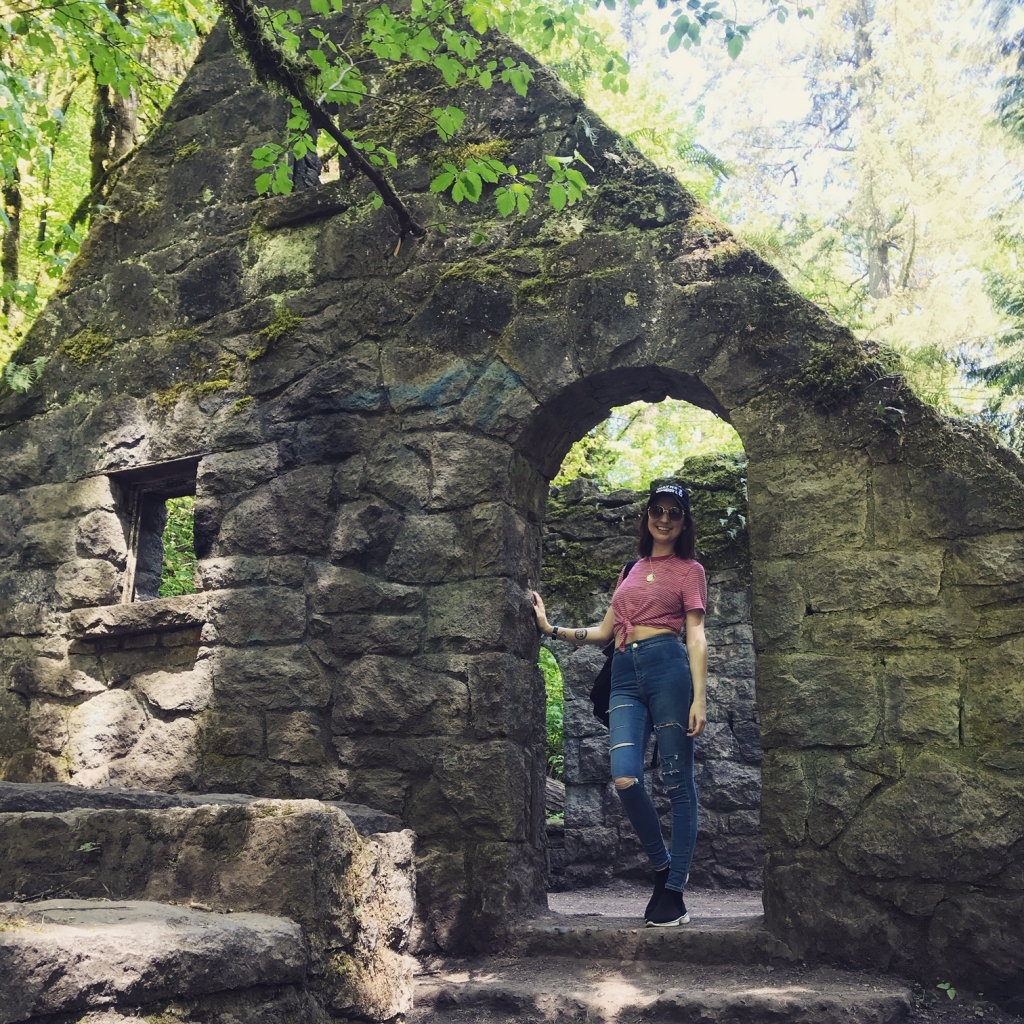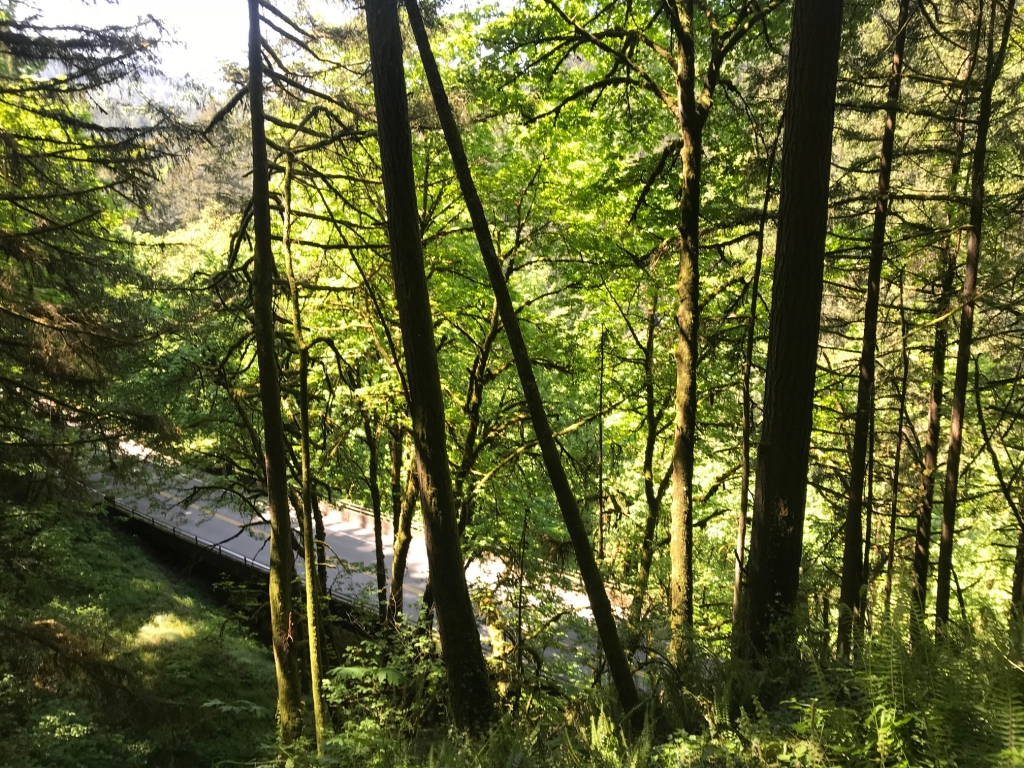 11. Food trucks!
Some of my favourite food I had in Portland was from the many food trucks dotted around. You can get a huge variety of vegan food here, including poutine, pizza, buffalo cauliflower and a whole bunch of other good stuff. There a quite a few around the Hawthorne area that stay open late. My favourite selection can be found just off SE Hawthorne Boulevard (they even have fires that you can chill around when it gets cold!).
NB: Potato Champion at this same location does THE best vegan poutine!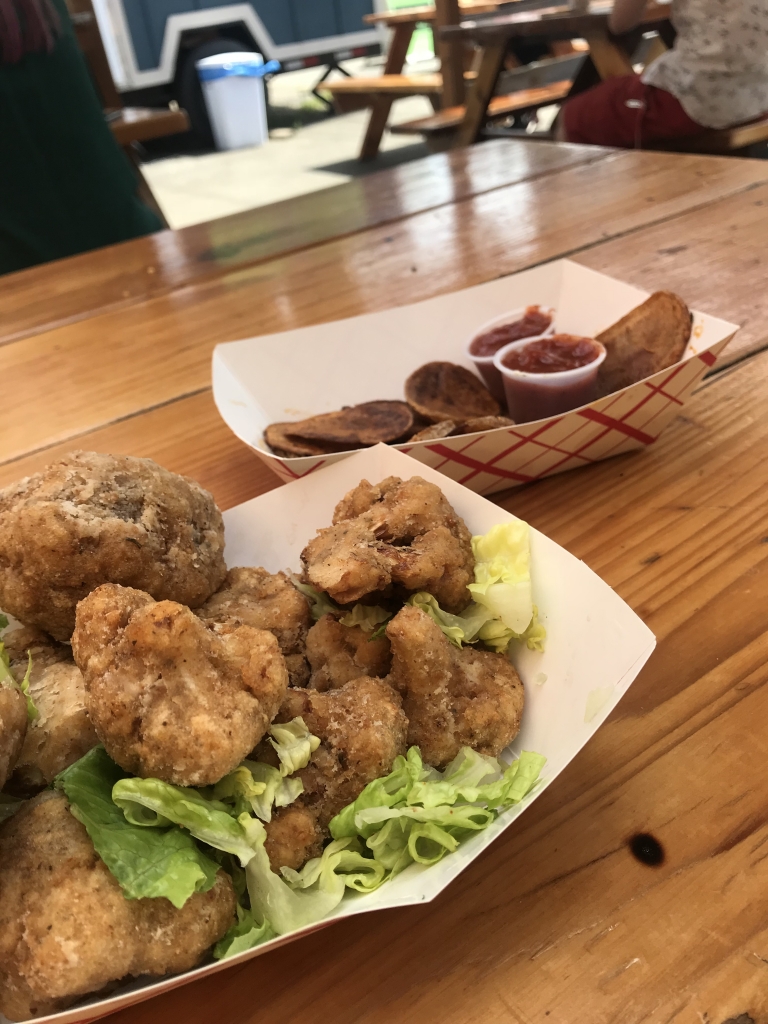 12. #views from the Pittock
And last but certainly not least, I always love to go to a real high point to get a view of the entire city. In Portland, one such opportunity is from Pittock Mansion, which isn't too far from Forest Park, either. Nice, Portland…real nice.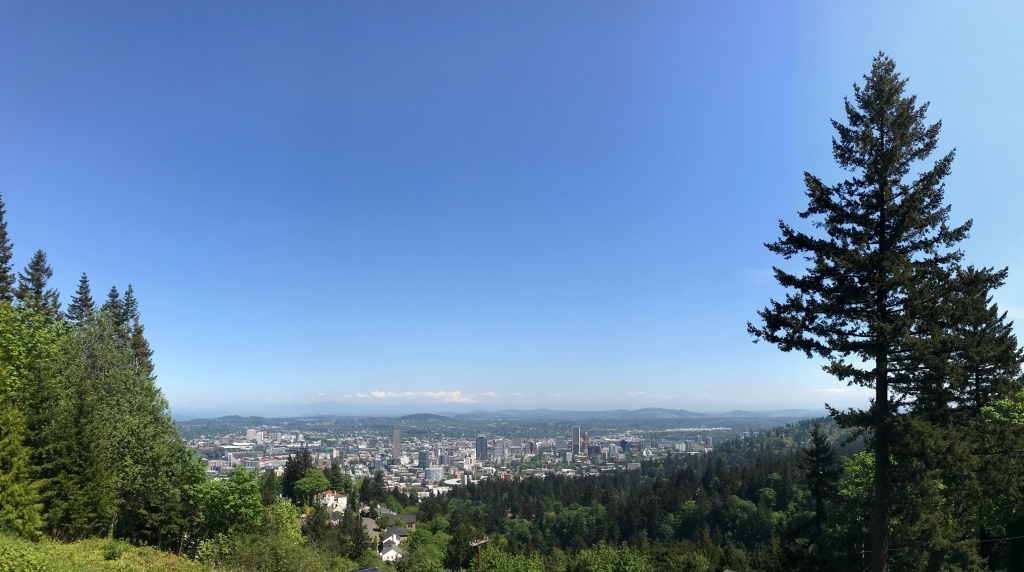 Well, that brings me to the end of my '12 ways to have the BEST time vegan in Portland!'. I hope this inspires you with ideas of some of the different things you can get up to in this vegan-favourite city!
For more vegan travel guides for the U.S. and all over the world, plus vegan recipes and product reviews, please check out my website Vegan Boho.
I look forward to contributing more content to Vegan Travel very soon!
Big love from London, UK,
Jenny