LA is a study of contrasts, it blew my mind to see how diverse and interesting it was and completely contrary to common perceptions. Also, Los Angeles is freakin' huge. Like, enormous. I'm one of those people who loves hopping off a plane and wandering around the streets to orient myself and to get a proper taste of the local culture. I also love catching public transport or walking/riding a bike around if that's an option.
It doesn't quite work like that in LA, but there are other perks.
Your new best friend will be Uber and Uber like you have never seen it before (…for us Aussies anyway!) Uber in the States has a "carpool" option that is around half the price of an UberX (one all to yourself.) Basically it means that you may share your Uber with someone else, which is cool for meeting new people and those on a budget. For those who are in a hurry or like the privacy of their own Uber, go with the UberX.
Also, everything you've heard about the bad traffic in LA isn't even close to the truth, its worse.
If you can avoid travelling in peak times, do. The distance between Downtown LA and West Hollywood is about 9 miles (14kms) and Downtown LA to Santa Monica is 15 miles (24kms), but if you travel at the wrong time, those trips can take you in excess of an hour. Plan ahead where you can, it can add some extra time into your trip.
There is so much to do in LA but I've left out the full day activities like Universal Studios, Disneyland and a lot of other fun stuff. This list is only a taste of LA but you will be left wanting more. So here's my must do things in 48 hours in the City of Angels.
From there, stroll down (or grab an uber) to Venice Beach where you get to see all the craziness and gorgeous views that so encapsulates LA. Walk to the corner of Pacific and Windward Avenues and grab a cheesy snap of the Venice Sign. Or just have a laugh at everyone sprinting out into the middle of the intersection when the lights are on red, just to get a snap. Guilty! There is cafes and restaurants dotted along the beachfront, but i couldn't go past an Amaze Bowl açai bowl (sensing a trend here?) because the weather was divine!
Check out the art scene, the tourist shops, watch the muscle men work out or just people watch in the sunshine. I definitely recommend hiring a bike and riding up along the beach, it's about $7USD per hour to hire a bike and its your cheapest and easiest way of getting around. And did I mention that it also has a basket on the front where you can put your purchases from the quirky shops along the way? Winning! You can cruise the 3 miles (5km) down to Santa Monica pier and have a look at the famous Santa Monica Pier and all its rides too while you're there.
Santa Monica is the end of Route 66 and a gorgeous little seaside suburb to boot. A few streets back from the water is a 3 block shopping street that is closed to cars which you can wander along, look through the shops or grab a bite to eat. I was desperate to try a typical American burger with some onion rings and Johnny Rocket's fit the bill! You could choose from a fake chicken or fake meat for the vegan burger and have chips and onion rings with a coke for like $12USD and it was delicious! Satisfied all the junk cravings I had going on. But the real attraction is the famous Santa Monica Pier, down by the water. It has amusement park rides, traditional fair type food and gorgeous views over the beach. Its fun to see by day or by night, but sunsets are gorgeous to watch from there.
With it's close proximity to Mexico (it's only 2 hours drive to Tijuana) it is no wonder that LA has some of the best Mexican food going round. Most places have a few good Mexican options on their menu, but for a place that will blow your mind, hit up Gracias Madre in West Hollywood. Super cute vibes that make you feel if you are on an episode of The Hills and delicious vegan Mexican fare that will leave you drooling. The guacamole and corn chips will leave you drooling for a starter, then once you've had the jackfruit and potato chorizo tacos and finished with a wedding cookie and ice-cream, you'll want to move to LA and never eat anywhere else. It's that's good.
We went shopping at the Citadel Outlet Mall and asked the uber driver for recommendations for food there and he said we couldn't go past Pieology and boy, was he right! Think of it as a Subway but for pizza. Choose your base (we went for original pan, but you can have thin and crispy too), choose your toppings (they even have vegan cheese) and voila in about 10 minutes you have a delicious mouth watering pizza that's 100% vegan!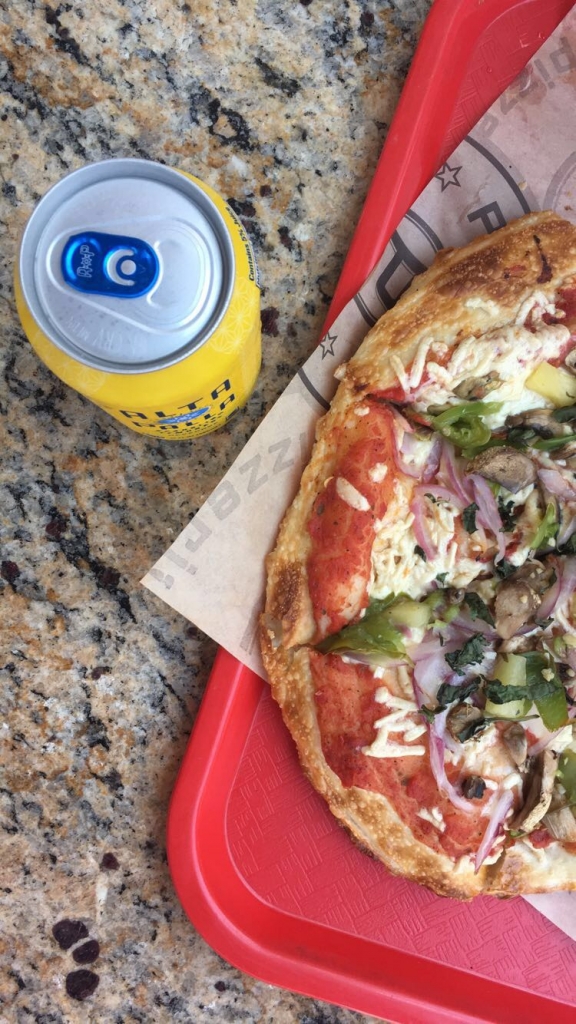 On our last afternoon we knew we couldn't leave LA without visiting Cafe Gratitude. It is exactly what it sounds like – a cafe filled with love and positive thoughts and deeeeelish food too! We went for a kombucha float and an iced tea, buffalo cauliflower, nachos and raw lasagne… then even ordered some salads and samosas to take with us. The whole vibe of the place was gorgeous and the food… to die for! Best part is, there's a few locations for Cafe Gratitude, so no matter where you are in LA, you'll be close to one.
I know, I know, we've barely scratched the surface, but I guarantee all these places make for an awesome taste of LA. Feel like you want more? You're not alone. Guess we'll just have to book another trip back, amirite?
Additional California Vegan Travel Blogs:
California Vegan Travel Videos:
The Vegan Roadie in San Francisco, CA (S01E09) Join host, Du...
VeganTravel.com is a place where vegans from around the world can share their passion for travel and adventure, help promote and grow interest in going vegan, shed light on the issues animals are facing around the globe, and help build a more sustainable and compassionate world. By sharing our collective experiences, we believe we can show the world how easy it is not only to travel as a vegan, but also spread a message of compassion with those we meet along the way.