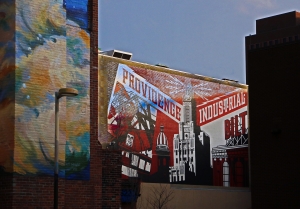 During the tail end of last winter, we decided to hit the road for a week over our son's spring break, with our sights set on Rhode Island, Maine, and Vermont. Traveling by car from Baltimore to the Northernmost state didn't leave us with a whole lot of time for each destination but we managed to fulfill our sightseeing, and eating, desires.
With our GPS armed and ready to lead us to Rhode Island, we decided to venture off the path a little bit along the way and stop for lunch at a cafe in Connecticut that came up when searching for vegan food. It was one of our favorite stops during the trip; going in with very little knowledge and expectations, we walked through the doors of the legendary feminist book store and vegetarian cafe, Bloodroot. The most charming place on the water in Bridgeport, you can eat outside on the porch but considering it was late March, we opted for inside. Bloodroot has been in existence since the 70's, still owned and operated by some of the original owners, you can find Selma at the desk where you order and pay. We were happy to learn that this vegetarian cafe with a small  menu that changes daily, was making the transition to veganism, now making their own non-dairy milk and ice cream, often with a completely vegan dinner menu. We settled on 3 famous Bloodroot burgers, 2 soups, followed by 3 desserts to share, going for two ice cream sundaes and a piece of chocolate cake. It wasn't the most budget-friendly meal but it was a place we were happy to support.
After a few more hours on the road, we reached our first official stop. What Rhode Island lacks in size it makes up with a big punch of pleasure to the taste buds of compassionate travelers. With just a little less than 48 hours to take in the small-stature state, we focused our sights on Providence – the liberal college town home to Ivy League Brown University. But we weren't here for the academia, with more vegan-friendly options than one could consume in a day, we were on a mission to sample as many as possible to put Rhode Island on every vegan's travel map.
To fuel up for a fast-paced day of sightseeing, we hit the vegan-friendly brunch available any day of the week at Julian's, which our son, Julian, was all too tickled about. The small and packed place with a happy crowd, proudly proclaims having "vegan options since always". Since my sweet tooth calls the shots in the morning, I went for their eggnog pancakes with coconut whip, walnuts, and real maple syrup where Bryan leans more more toward the savory side of the spectrum and chose the St. Jamez Vegan Benedict that featured fried tofu slathered with vegan hollandaise, garlicky spinach and served over thick Italian bread with a side of home fries. Our boy went the more traditional route with a Build Your Own tofu scramble and added in some vegetables, beans, and a vegan pepperjack cheese. We all went for a side of their satisfying housemade tempeh sausage to make up for all that protein we're lacking.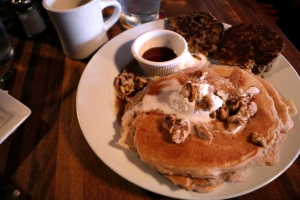 While we let our food digest to make room for our next meal, we took the short drive to the 430-acre Roger Williams Park and strolled through the Botanical Gardens. While we weren't able to revel in the beauty of the resident heirloom and modern variety roses since there were still patches of snow, we were able to enjoy the indoor greenhouses with cacti and even a banana tree sighting. Roger Williams Park is also home to a very quaint Museum of Natural History and Planetarium and for just $2 we were able to access their small collection of history and space. We made our way across the vast landscape of the park and were tempted by the charming carousel, but discovered the carousel is owned and operated by Roger Williams Park Zoo so our dollars were better saved while we enjoyed the free Candy Land inspired playground, Temple of Music, and wildlife watching in the many ponds with footbridges overhead.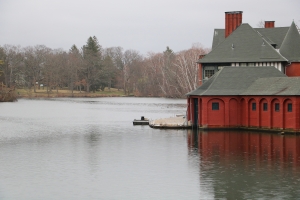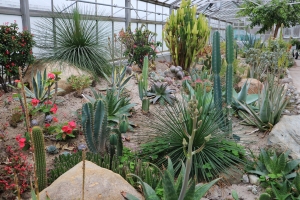 Now with our appetite fully replenished, it was time to head to the nearby town of Pawtucket to an unassuming shopping center that houses the popular Garden Grille. Their vegan pizza with seitan sausage and broccoli was some of the best we've had, but their selection of sandwiches, starters, and bowls also looked appealing. We made sure to leave room for dessert and headed just a few doors down to Wildflour Vegan Bakery and Juice Bar. Although it claims to be a vegan bakery, we were a little disappointed to find them using such a title and still offering cow milk. Regardless, we didn't pass up their selection of cupcakes, cookies, raw treats, and grabbed a cold-pressed juice for the morning.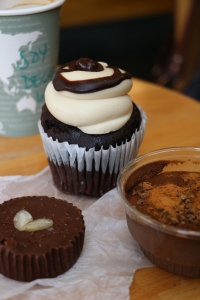 Rhode Island began branding itself as the Creative Capital so we didn't head out of town without taking in the art from the Art & Design Museum of the Rhode Island School of Design. We found ourselves inspired by all forms of mediums ranging from ancient to contemporary by renowned and lesser known artists and designers from all over the world. As our day started to slow and shift to evening, we headed right to Veggie Fun with an extensive Pan-Asian menu that is 100% vegan. We started with one of our favorites, dumplings, along with curry samosas while I resisted the temptation for the fried donuts on their appetizer menu. For our entrees we chose a Pad Thai,  Malaysian Curry Stew, and General Tso's with soy protein. We finished our meal with fried soy ice cream but the banana spring rolls were a strong contender.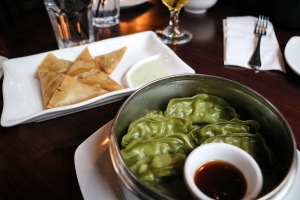 We tossed around the idea of taking in a few spins on the ice at the Alex and Ani City Center ice rink but with our bellies full, we decided to stroll the streets to let Julian parkour off of curbs and railings and took our time making our way back to the hotel room. When the morning came and we were ready to hit some shops in one of the oldest cities in the United States so we grabbed a quick bagel with Toffutti cream cheese and avocado from White Electric cafe with a dairy-free latte to fuel us up for the day.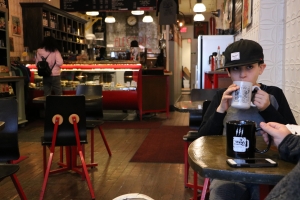 We walked along the city streets and popped into the cute shops, especially the ones with little pups in the window.  For lunch we went to Julian's sister restaurant called Pizza J, where you can substitute vegan cheese on any of their pizzas or create your own. You can also go for a vegan sausage grinder or banh mi. I recommend a combination of all three for sharing and wash it all down with a pint of the local vegan Narragansett Lager.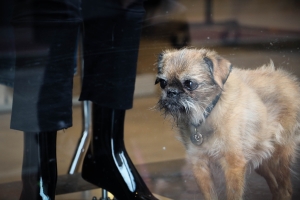 Feeling stuffed and ready for a nap, we retreated to our room for a bit before coming up with dinner plans. Based on several recommendations on my Instagram account, we decided on The Grange, a popular vegetarian place. Whatever the kitchen of The Grange sent our way was a culinary experience we were glad we did not miss. The menu changes seasonally but whatever you get, should be a hit.
It was time for us to finally retire from the streets of Providence for a night's sleep before we hit the next spot on the map. We could easily get swept away for weeks by the historic charm dotted with modern street art of Rhode Island but even with just 48 hours, Providence fulfilled a week's worth of vacation desires. Should you find yourself there with more time to spare, make sure to save time for Rasoi in Pawtucket. I hear they are home to some of the finest Indian food with many vegan options. Try to catch their Ayurveda focused lunch buffet every Saturday which is entirely vegan. Enjoy your travels! xx
[vc_row