Hawaii is, quite obviously, a place for water sports. Surfing, parasailing, jet skiing, scuba diving, snorkeling, paddle boarding, kayaking, or just plain swimming, Hawaii's got it all. Traveling with friends is great, because they encourage you to do things you wouldn't do on your own, so you get more varied experiences. I was in Hawaii with my friend Amanda, who insisted we go kayaking, parasailing, surfing, jet skiing, and snorkeling. Alone, I would probably have just gone snorkeling and maybe surfing, but going with a friend allowed me to share a variety of experiences that I wouldn't have had, and see Hawaii from a different, albeit more touristy, point of view.
With touristy things, however, come high prices. Let's just say that I already knew that I was going to be spending a fair amount of money on this trip, about the same as I would spend on a 2 month's budget anywhere else in the world. This was a Vacation, with a capital V. It is absolutely possible to spend time in Hawaii on a budget. Just be prepared to do some camping or book far ahead for hostels. Eating out is quite expensive, but groceries can be reasonable, if you're sensible about them. Basically, anything imported from off-islands is likely to cost more than in the mainland U.S., and unfortunately that includes all plant-based milks, cheeses, and meats. Vegetables and local products are your friends, and they help support locals, too!
Anyway, on to the water sports!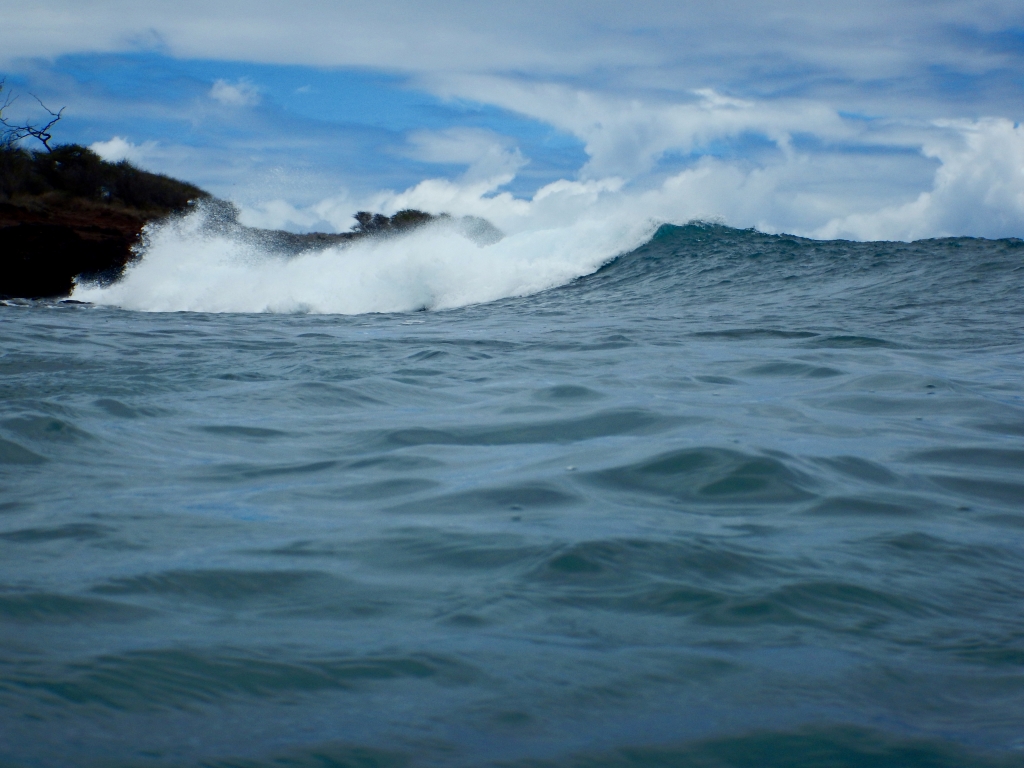 First up we took a trip to Lanai, another island in Hawaii, and about an hour ferry ride from Lahaina. Lanai is much less developed than Maui, and that makes it great for snorkeling. It is quite pricey to get here, about $60 for a round-trip from Lahaina. Just a short walk from the ferry is Hulopoe Beach Park, where you can relax on the beach or go snorkeling. The reef is much better preserved than many in Maui, and you can see lots of colourful fish! However, the waves can get strong sometime, so it's good to pay attention to how close to the beach you are, and not venture out too far. There is a snorkel rental shack further along the beach for those who don't have their own snorkel gear with them.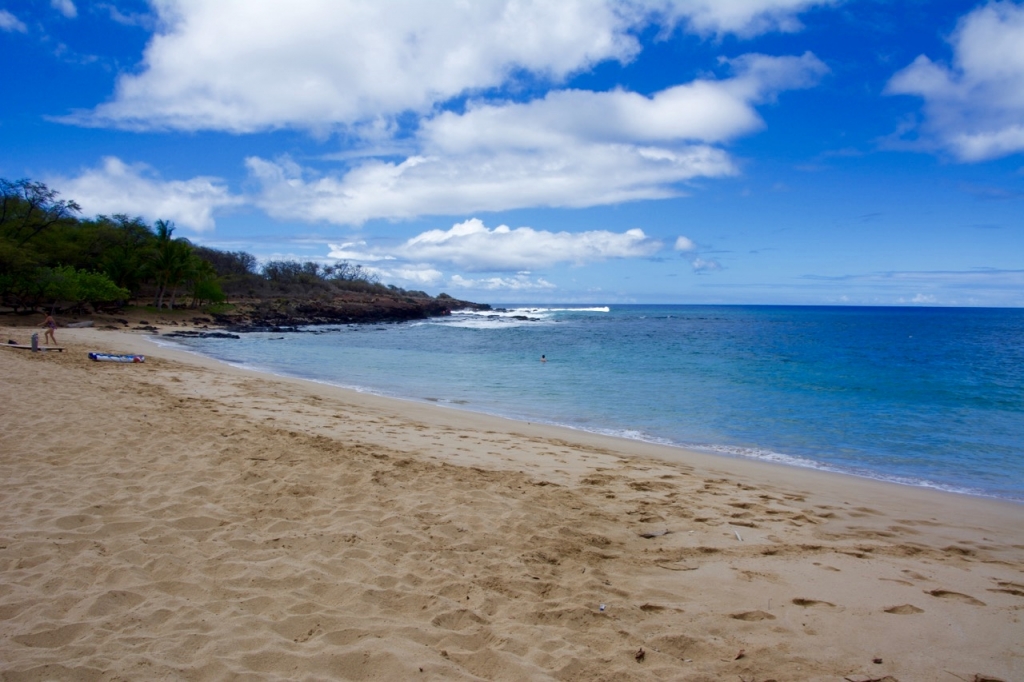 After snorkeling, we went up to the Four Seasons, which is right next to the beach. The hotel restaurants actually have marked vegan listings, which was a big, happy surprise. What was not a happy surprise was the prices. We ate at Malibu Farm, because we hadn't thought ahead to bring food with us, and there were no grocery stores nearby. One entree set us back $30! Ouch. The food was good, but nothing spectacular, so I'd recommend bringing snacks.
When returning to Lahaina, there are luckily plenty of options for food. Old town Lahaina is definitely a tourist trap, but that is also where most of the restaurants in the area can be found, as well as a huge Banyan tree with at least 10 trunks connecting it to the ground.
My favourite place in Lahaina for food is Thai Chef, which is tucked away from the main street, near a theater, grocery store, and Starbucks, and Jamba Juice. They have a Vegetable Lovers menu that is 2 pages long, and all of it is vegan! The panang tofu is great. Unfortunately, I haven't been able to put any pictures of the food up on the restaurant page, because every time we go there, we are too hungry and forget to take pictures! Right next door you can find Maui Sugar Shop, where everything is gluten free, and they can make vegan cakes, although they may need advance notice.
Choice Health Bar is a bit further away, but a good, healthy choice. It had a bit too much raw food for my taste, though, but the smoothies were tasty!
If you're in the mood for some ice cream while you're strolling along the main street, Ono Gelato has a wide variety of dairy-free sorbets.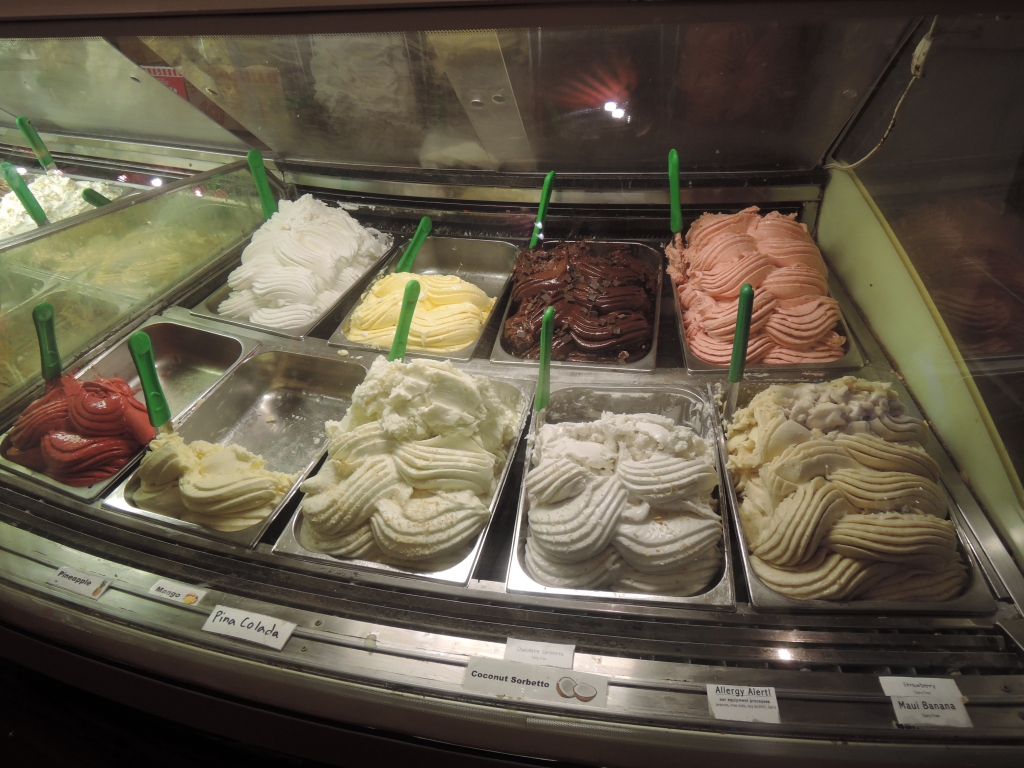 Our next big activity was parasailing. For those of you who don't know, that's hanging off of a parachute either 800 or 1200 feet away from a boat, attached to the boat by a rope. You can go in groups of 1, 2, and 3. We decided to go together at 1200 feet, which was a great decision, because we got to chat and 'ooh' and 'aah' together. We went with West Maui Parasail, but I'm guessing the experiences are about the same with any company. The guides were great, and dipped us in the water both before and after we started. You could buy the pictures for $30, which is expensive, but they got some pretty good shots of us, and you can have as many family or group members on one SD card, so at least you can split the price. Parasailing is a great option if you want to see the islands (that's plural, because you can see Maui, Lanai, and Molokai if you're parasailing from Ka'anapali beach, like we were) from above, and don't want to shell out the big bucks for the helicopter tours. Although to be fair, I've never done a helicopter tour, so who knows, those could be completely worth it!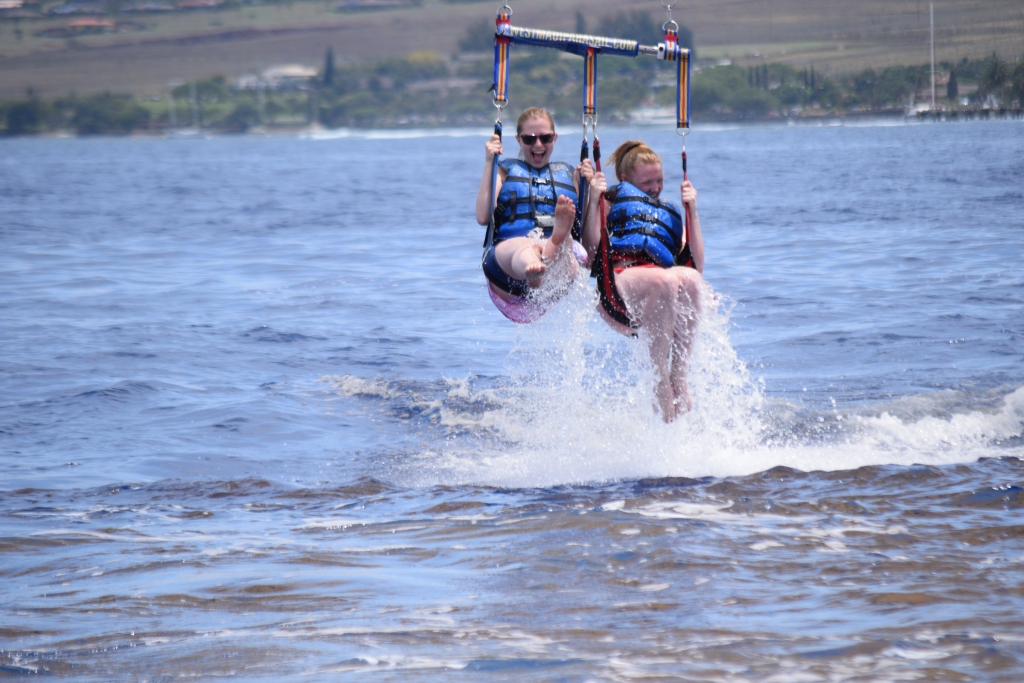 Jet skiing is one of those things that, realistically, you could do anywhere there is a big enough lake. I'd never jet skied at all, but the waves in the ocean made for a fun, very bumpy ride. I absolutely loved it, but as it's not something that can be done exclusively in Hawaii, I'd recommend saving your money and time, and doing it somewhere cheaper and closer to home.
Out of all of the activities we took part in, Molokini is the one thing that I would actually advise against. Don't waste your money! Molokini is that cool, crescent-shaped island that is known for its snorkeling. While the snorkeling there may have been good at some point, it is now way too crowded with snorkeling boats, and there are not as many fish there as the boat companies would have you believe. I felt claustrophobic around so many amateur snorkelers kicking each other in the face and all crowding around anything the guides would point out, and so missed out on the information the guides were giving out on the fish. I did, however, find a moray eel and a sea cucumber while venturing out on my own.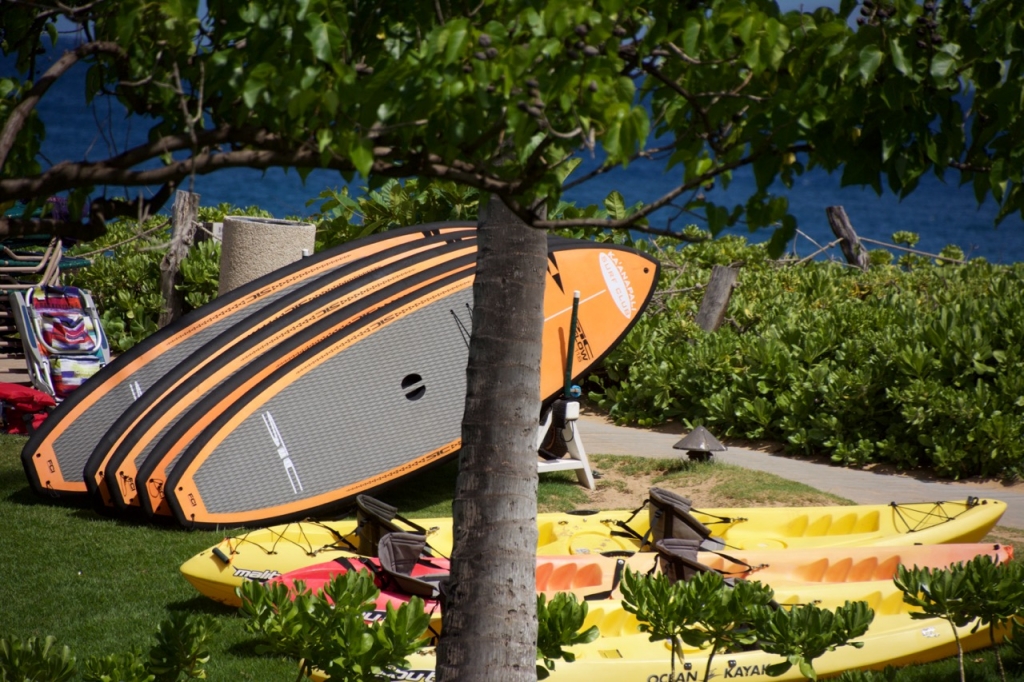 Luckily, we went kayaking to Honolua Bay the next day, and had a much better time snorkeling there! This was by far my favourite activity. We booked the Honolua Expedition through Maui Kayaks, and somehow we had managed to book a day that no one else had booked, so it was just Amanda, me, and our guide heading out from DT Fleming Beach Park to Honolua Bay. Because we were a small group, we got to the bay much sooner than our guide was expecting us to, and had loads of time to snorkel around. Snorkel gear was included in the kayaking expedition, as were bottles of water. The waters here were amazing! There is a ban on fishing at Honolua Bay, so fishers can't deplete the waters here of the amazing fish, and the bay provides a sanctuary for them. Apparently, manta rays and dolphins can be sighted here semi-regularly, although we didn't get to see either of these.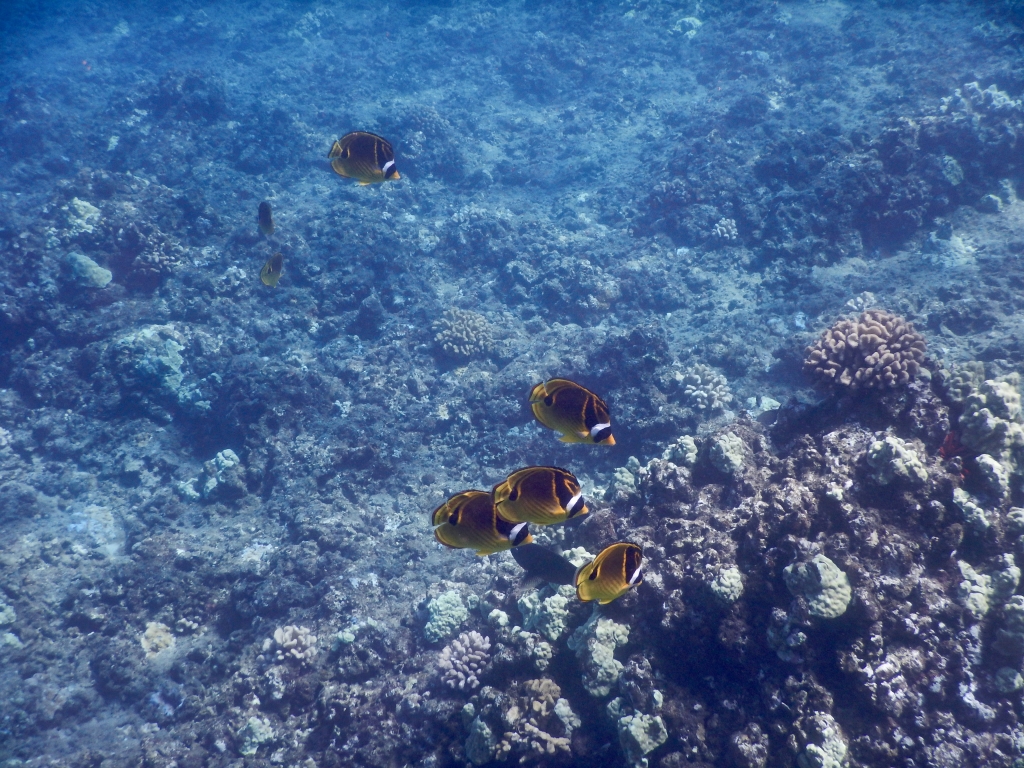 The water was really clear, and there were more fish here than I'd seen anywhere while snorkeling. We even got to see an octopus up-close, being harassed by some nosy fish.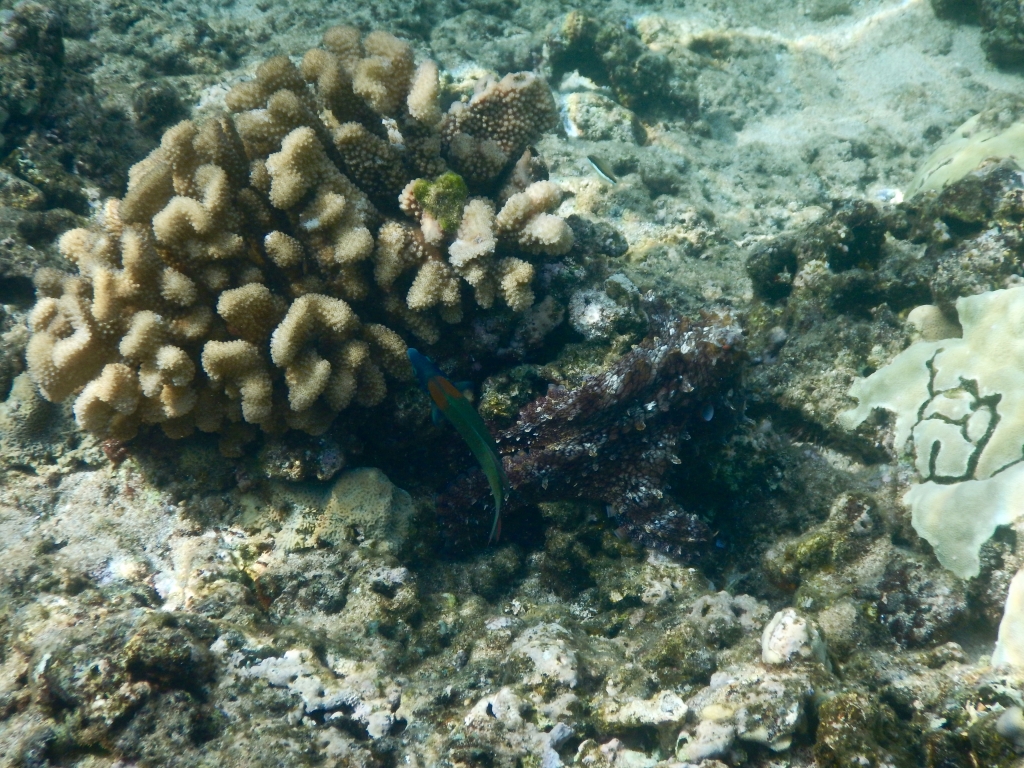 The Molokini trip had included a little trip to Turtle Town, where we saw a few turtles, most of them inactive and harassed-looking from the amount of tourists. There were so many more turtles here at Honolua Bay, and they were much more interesting to watch. I even got to watch a turtle poo, and have it's poo immediately eaten by a few fish that were attracted to it. Weird, and definitely a once-in-a-lifetime experience, I'd say.
After we'd had quite a lot of time to snorkel around, our guide decided to take us to the beach for a little snack of fresh mango, straight from the trees. Or the ground, actually, as there is so much of it that most of it just falls to rot. All of it is free for the taking though, and according to our guide, the area has a large amount of different fruits to enjoy depending on the time of year. We had such a great time kayaking and snorkeling, and I would really recommend this company for kayaking, but it is absolutely possible to have our experience sans the kayaking for free, as well. There is parking by Honolua Bay, and an unpaved path that leads down to the pebble beach. There are port-a-potty's, but no lifeguard, and the beach is quite painful to walk on without shoes, so come prepared. The earlier you can get here, the better, as the bay fills up with snorkeling boats as the day goes on.
Snorkeling at Black Rock and visiting Whalers Village are both one of those things that everyone knows about when coming to Maui. Ka'anapali beach is also quite a nice beach, although the whole area is very touristy. Black Rock always has a bunch of divers on it, despite it's numerous signs telling people to stay off, and there is a torch-lighting ceremony at sunset every night.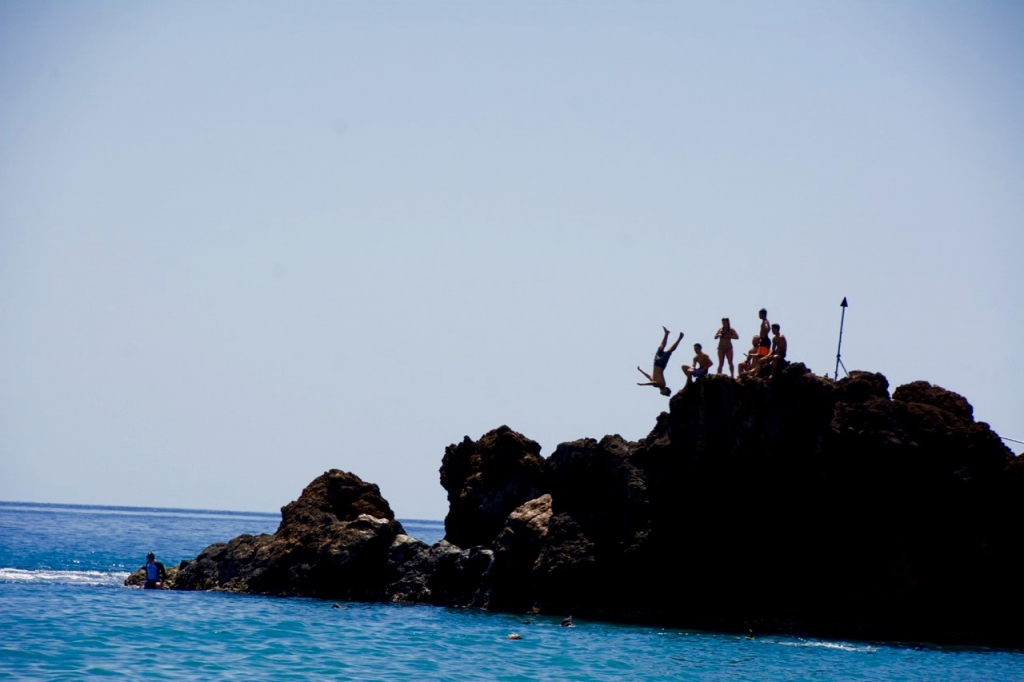 Black Rock is a good place to start out if you're new to snorkeling, as the waters are calm, there aren't too many people in your way, and there's a good chance you'll see some fun fish or turtles.
Trust me when I say from experience, don't forget to apply lots of sunscreen (reef safe, of course!) and possibly wear a rash guard t-shirt, because sunburn on your back is painful. Luckily, this time, we came prepared.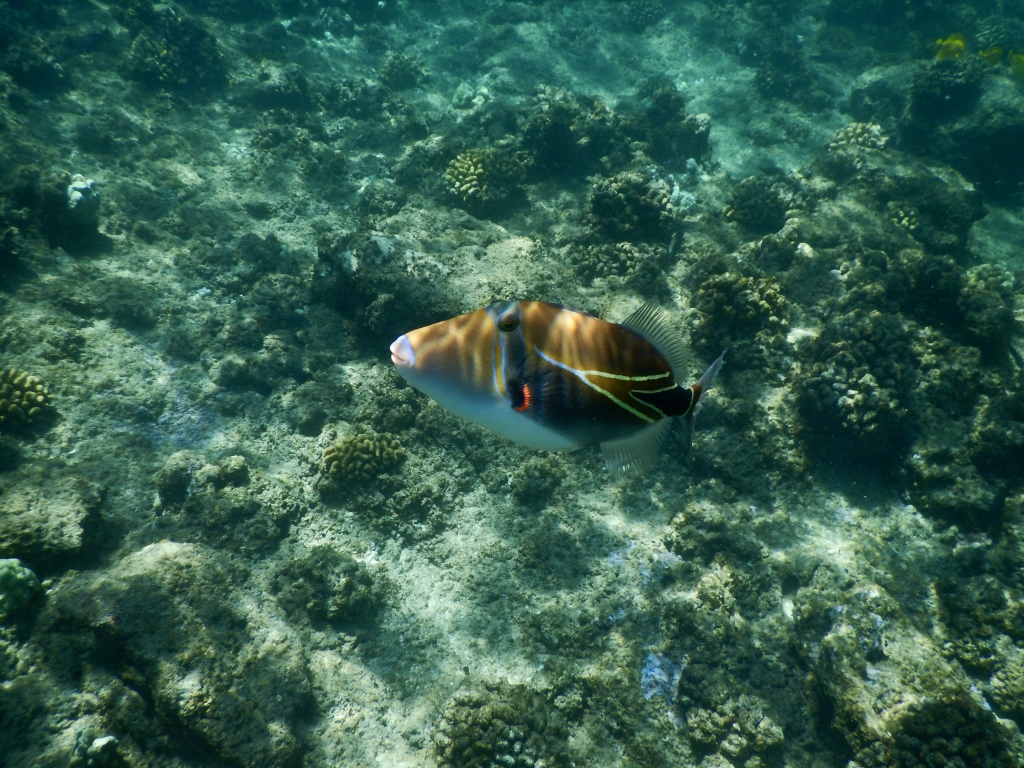 There's a good chance you'll see Hawaii's state fish, Humuhumunukunukuapua'a (as a side note, how impressed are you all that I only had to look up how to spell this once?!)
Black Rock is also where a lot of scuba diving and scuba diving lessons take place. We didn't go this time, but you can get your PADI certification here if you'd like to do more diving.
Surfing is something I'd always wanted to try. However many benefits there are to being from two very different places, what Colorado and Finland have in common is that they both suck for surfing and waves, one being land-locked and the other not exactly warm enough or with enough waves for surfing. I'd taken a surfing lesson a couple of years back with Maui Surfer Girls, but wasn't feeling confident enough to be able to do it again, let alone teach Amanda how to surf, so on we went for another lesson, this time with Royal Hawaiian Surf Academy. Both were good and had their benefits, the biggest differences being that the area Maui Surfer Girls taught in was a bit more remote, and so had less surfing traffic, but the people at the Royal Hawaiian Surf Academy seemed friendlier, had a better photographer, and the lessons were located right in Lahaina, so it wasn't necessary to have a car to get to them.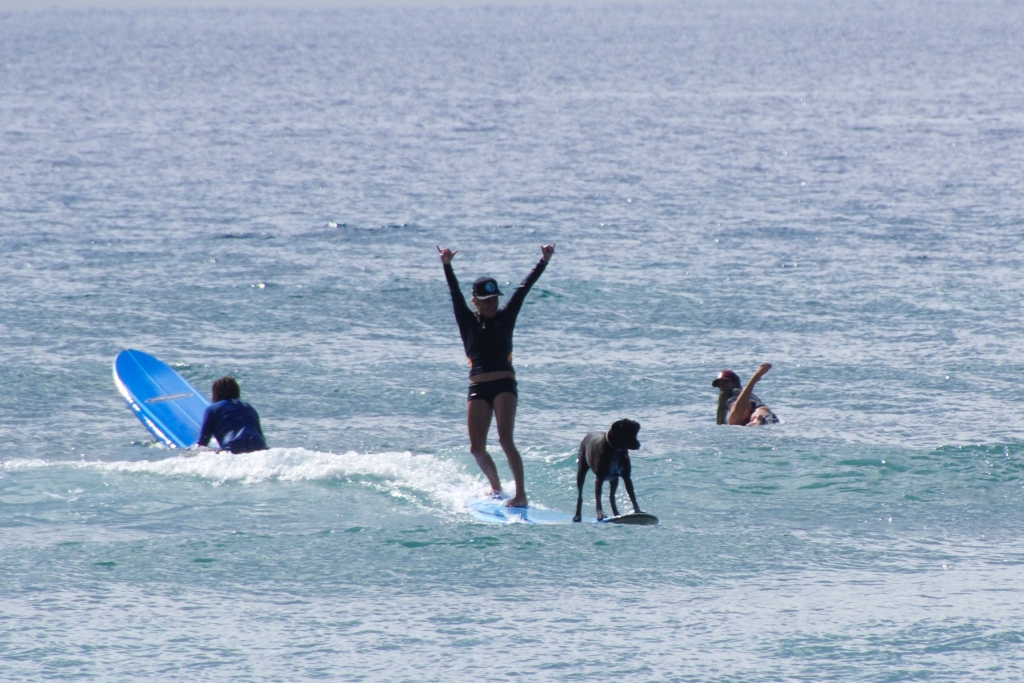 I would absolutely recommend trying out surfing, but with any hobby, that's really a taste thing. It was such a great feeling being able to catch a wave, though! And we even spotted a couple of surfing dogs, who seemed completely at ease at being in the water, and much more confident at surfing than we were.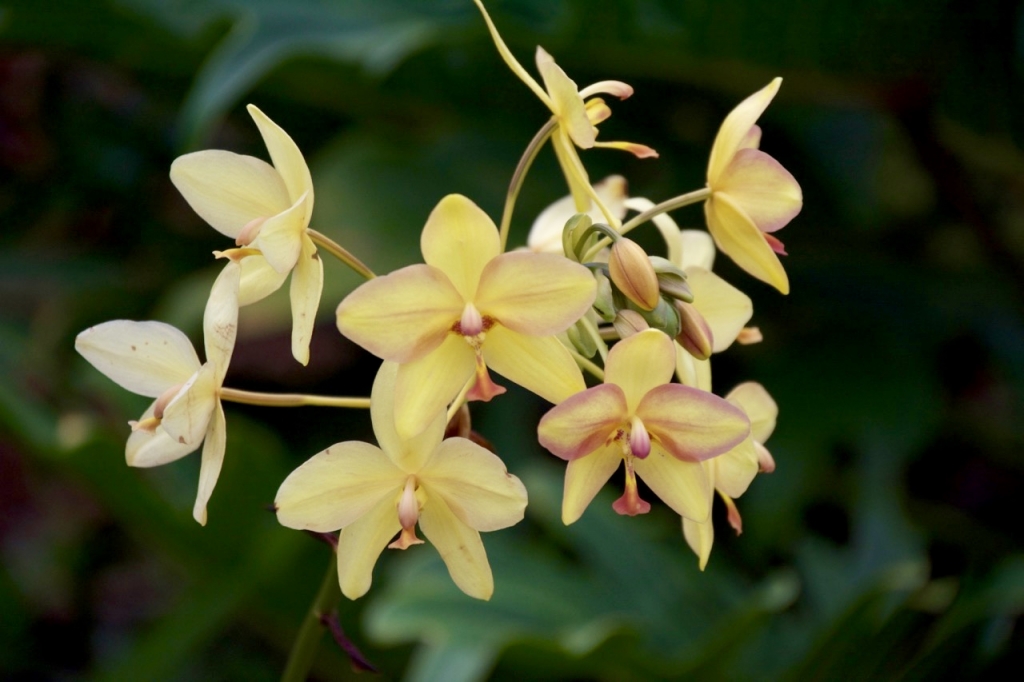 We were in Maui in June, but if you're in Hawaii during whale watching season, I would recommend skipping the whale watching boats. They can be harmful to whales (read more about this here), as some of them chase the whales to give their customers a better view, and you can see them really well just from the beach – they are everywhere! The same applies with the boats boasting about showing dolphins. They are attracted to the big boats making waves anyway, so it's better just to hope for the best on one of the boats going to Lanai. These are wild animals, and don't like being interacted with. There are even signs on the island warning people against interacting with dolphins, as studies have shown that they have done more poorly after having interacted with humans.
Hawaii is a wonderful place to visit, and seeing all of the wildlife around you is humbling. However, please remember to be mindful that you are visiting their home, and be respectful to both it and the local humans and other creatures that inhabit it.