Marissa and Shae are two passionate vegans who are also well known vegan vloggers. Shae is from Portland, and Marissa is from West Virginia, but they met and became the best of friends after learning more about each other from their YouTube channels. During 2016 and 2017 they reunited to travel around the world helping us at VeganTravel  promote our mutual goals of growing veganism and compassion. Some of the countries they visited during this past trip include Iceland, England, Netherlands, Denmark, Sweden, Germany, Italy, Croatia, Greece, United Arab Emirates, Sri Lanka, Australia, New Zealand, Indonesia, and Thailand.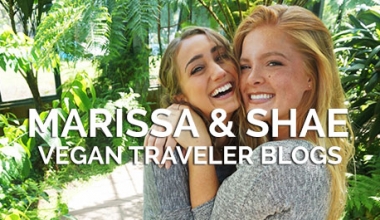 Shae & Marissa's Vegan Travel Videos
Vegan Travel in Cambodia Cody and Giselle head back to Cambo...

Diana of Vegans, Baby and Kristin of Will Travel for Vegan F...

Shae from HeyShae joins our team as we show you the deliciou...

The Vegan Roadie in Atlanta, GA (S02E04) The perfect combina...

The Vegan Roadie in Washington DC (S02E06) The nation's capi...

The Vegan Roadie in New Orleans, LA (S02E03) Take a walk in ...

Vegan Food Finds in Bali Andrea (@misusyaya) shares a fast-p...

Palitana Pilgrimage When Lucas (@lucas) heard that the world...

The Buffalo of Palitana On the first day of the new year, Lu...

The Vegan Roadie in San Antonio, TX (S02E02) A jaunt in the ...

Shae and Marissa's Elephant Sanctuary Experiences in Thailan...

The Vegan Roadie in Seattle, WA (S02E01) Join your host, Dus...

Where to Eat in Hoi An, Vietnam Hoi An, Vietnam is bursting ...

Vegan Travel from Penang to Singapore Giselle and Cody (@min...

The Vegan Roadie in Portland, OR (S02E10) Join your host Dus...

The Vegan Roadie in Salt Lake City, UT (S02E09) Dig into Sal...

Vegan in Penang Giselle and Cody (@mindfulwanderlust and @c...

Vegan Travel in Kuala Lumpur, Malaysia Giselle and Cody (@mi...

Vegan/Organic Groceries in Vietnam The @ourcuriousgeorgia fa...

The Vegan Roadie in Kansas City, MO (S02E08) Kansas City, MO...

Marissa & Shae explore activities in Chiang Mai, Thailan...
VeganTravel.com is a place where vegans from around the world can share their passion for travel and adventure, help promote and grow interest in going vegan, shed light on the issues animals are facing around the globe, and help build a more sustainable and compassionate world. By sharing our collective experiences, we believe we can show the world how easy it is not only to travel as a vegan, but also spread a message of compassion with those we meet along the way.