Melbourne brought me and Shae a lot of cold, rainy weather but what it delighted us with was a LOT of vegan restaurants and shops. We were even there during their World Vegan Day festival! Here's some of our favorite places we visited:
This 100% vegan restaurant/cafe is hands down my favorite food place in Melbourne. With their cool, edgy style and unique menu options like matcha pancakes and charcoal burger buns, this place will get you intrigued to try it all. It's unbelievable that all this deliciousness is VEGAN! Sometimes it's hard to believe that some people think we just eat lettuce and carrots–haha. Just check out those pancakes! My breakfast was not only breakfast, but was a work of art, and the ingredients were so fresh tasting. Located in St. Kilda, this is a cool area to explore and then stop in for some good eats! Food is delightful as well as their upbeat, friendly staff!
"We believe plant based dining is the future of food, as it works completely in synergy with your most important health commodity; you. The practice of plant based eating is sustainable, reduces pastoral chemical use and reinvigorates the connection between the primary producer and the consumer."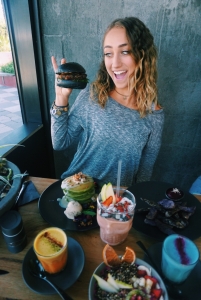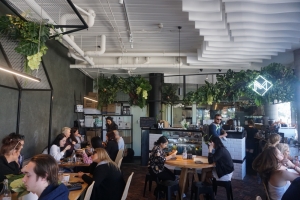 Gopal's Vegan and Vegetarian restaurant is currently the oldest vegetarian restaurant in Melbourne! The menu changes weekly and you order in a "cafeteria style" manner, walking through and picking what you want on your plate. When we were there, the options greatly resembled Indian cuisine. Cheap and delicious! We also tried their mocha ball dessert!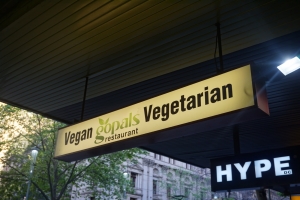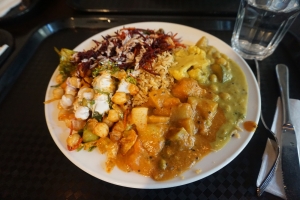 Let's talk about Brunswick street for a minute, shall we? A street lined with vegan restaurants, a vegan bakery, vegan shoe store, vegan shop, and DOUGHNUTS! Sounds like heaven, right? Let's start at Doughnut Time. Not totally vegan, but blessing the vegan world with 4 vegan doughnut options (which we tried all of, of course). It's like a little doughnut stand on the side of the road where you can swing by and grab a fresh doughnut or two (or twelve). So sorry you only have these photos to look at, but it's a must visit when you're in Melbourne.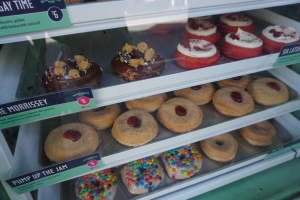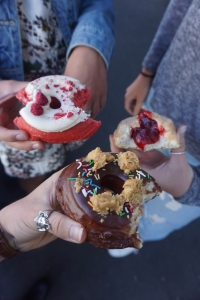 Walk across the street from Doughnut Time and you'll end up at Vegie Bar, a vegetarian restaurant. The menu denotes which items are vegan and has an extensive amount of options. From burgers to pad thai, they have a huge variety. I'd consider this more of a "fast food" option, but delicious nonetheless!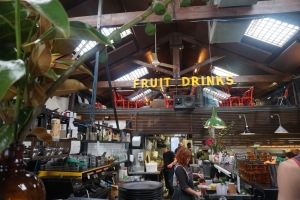 Ahhhh yes, my favorite. A fully vegan shop with everything from food to supplements, from clothing to dog treats. Although quite pricey, this shop is perfect for any of your specialty vegan needs.
"The Cruelty Free Shop is Australia's favourite purveyor of everything vegan. We bring you the widest range of vegan products including food, health, fashion, beauty, and household items."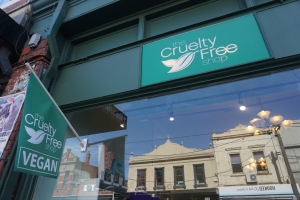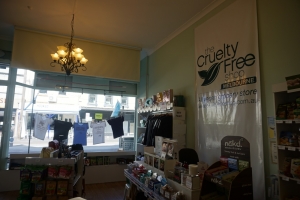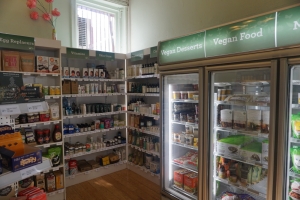 You really can get all of your shopping and eating done on Brunswick street. Vegan Style is a vegan shoe store where you can get all your high quality shoes without leather. Get your ethical handbags, shoes, and accessories! My pal Ally has a few pairs of their shoes that I borrowed during our stay in Melbourne and I fell in love!
"Our passion is providing our community with high quality products that are made without harming animals and minimising our impact on the environment."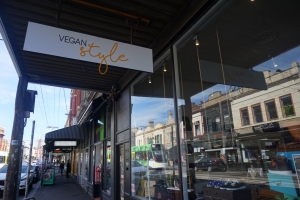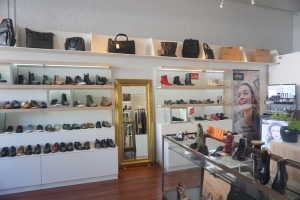 This little cafe in Kensington was SUPER interesting to me because they are undercover vegan (unless you request dairy milk instead of an alternative in your coffee). They make all their pastries and drinks vegan but nothing is actually advertised as vegan! I think this is awesome because those who are not vegan are trying vegan things without thinking it's "lacking" anything that could make it better! Hopefully one day those who try their food or drinks find out it's actually vegan and are amazed by the quality.
You can find more from Me and Shae here:
https://www.youtube.com/lifestylewithme
https://www.youtube.com/heyshaee
https://www.youtube.com/vegantravel
Instagram: @shaedynmann @marissa.kai
Snapchat: @shaedynnn @marissa_kai
Blog:
Marissa: https://www.vegantravel.com/vegan-traveler-blog-marissa/
Shae: https://www.vegantravel.com/vegan-traveler-blogs-shae/    
Team Page: https://www.vegantravel.com/vegan-travelers-shae-marissa/
Contact us:
Marissa@vegantravel.com
Shaedyn@vegantravel.com