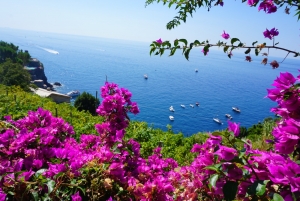 Cinque Terre translates in English to "five lands." Cinque Terre is a city made up of five smaller towns along the rocky coast of the Italian Riviera. In each of the towns you will find colorful buildings and homes, heaps of stairs climbing each town, fresh produce stands, sweet elderly couples vacationing, so many outdoor activities, local boutique shops, mountains covered in vineyards and some of the best sunsets you will ever see. Those are just a few of the reasons why I fell in love with this place. It felt like I was in my kind of fairytale.
My favorite part of traveling and also my favorite part of life is exploring the great outdoors. Nothing makes me happier than a trail run or a day hike or a nice swim in clear ocean waters. Cinque Terre may be an awesome vacation spot if you're looking to relax on a boat or have a glass of wine on a restaurant balcony with a view, but that's not what I was looking to get into. Hiking, climbing, kayaking, snorkeling: these are all the things I had my eyes on when first researching our visit. And I'm so happy to say we did it all…(except kayaking due to weather, but who's counting?).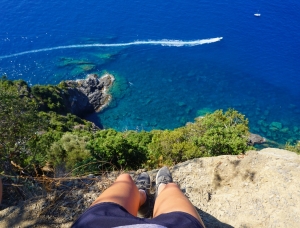 We stayed in a hostel in the hills of La Spezia called Ostello Tramonti where we were lucky enough to meet fellow travelers our age to explore with! We all went to Riomagiorre the first night we arrived to climb around on some rocks and relax by the water. We made a game plan for the next day of adventuring around the towns as a group!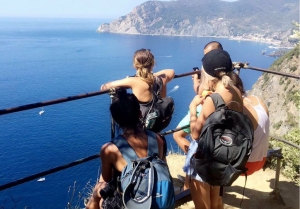 Hiking around Cinque Terre is one of the best things to do in Italy. I'd say they're some of the most beautiful scenic hikes in all of Europe. Each hike takes you to the next town where you can stop for a bite to eat or a nice swim. We hiked from Monterosso to Corniglia, stopping along the way for peaches and snorkeling and cliff jumping. This hike was unlike anything I had ever done before. Insanely beautiful. Indescribable.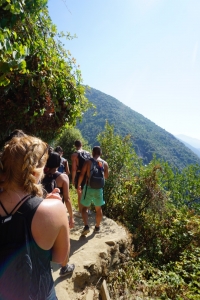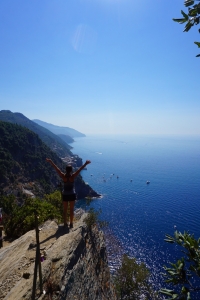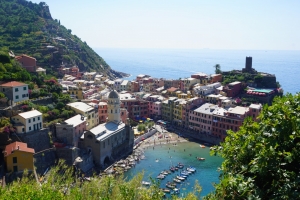 The following day we did a bit of the same hike to get to our favorite swimming spot in Monterosso. This involved snorkeling, cave exploring, and cliff jumping. Ahhh it was like a dream for me.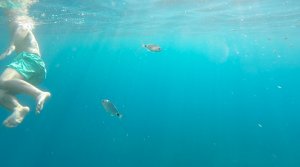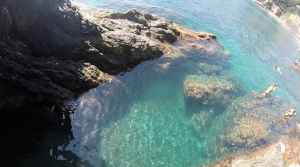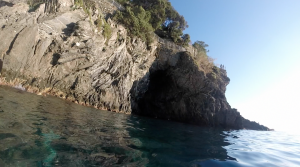 Once 4 out of thte 7 members of our "hostel squad" departed, 3 of us decided to take a day trip outside of the 5 towns to Portovenere. We took a pretty cheap ferry directly there from Riomaggiore. The village, similar to those in Cinque Terre, is perched on a cliffside covered in colorful buildings. The difference is that you'll see a medieval looking castle on the very tip that will spark your curiosity to go explore it! It's actually the medieval Church of San Pietro that looks almost made of rocks. Climb up just a few flights of stairs to the top for an amazing view! It's an easy trip, even just for a half day, and totally worth it.

Some Tips for Visiting Cinque Terre:
Come prepared with appropriate shoes
I want to say just wear tennis shoes all the time because of all the climbing of stairs just strolling through the towns, but if you feel like you can do it in flip flops–so be it! But know that I never once wore my sandals, not even to the beaches. Also, if you're training into a town with all your luggage, you're going to be dragging everything up steep inclines to get to your accommodation, so just understand what you're getting into when deciding on packing light or bringing an extra bag of "just in case" items.
Snorkel in the Mediterranean Sea
It's crystal clear and there's beautiful sea life to be seen with some snorkel gear. Buy a mask, don't rent. It's cheaper to just buy it. You'll find yourself swimming in circles staring at the ocean floor below. And an underwater camera is definitely not a bad idea for these beautiful moments.
I feel like you need at least 3 days to visit all the towns (at the VERY least). There's so much to see and really so much to do. Everyone we met who only had a day or two all said they wish they had longer. It's better if you pace yourself and have time for equal amounts of play (hiking, swimming, athletic-type activities) and relaxation.
We found the most vegan options in Corniglia! We even found a restaurant with vegan cheese for a caprese sandwich! Not to also mention vegan gelato. Just seeing the words vegan on doors and menus here made us incredibly happy. Spend your restaurant money here, but otherwise live off the cheap focaccia and fruit stands.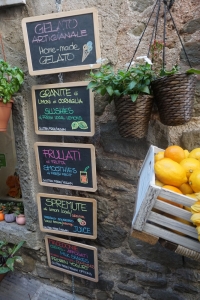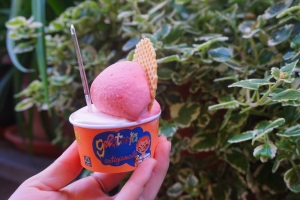 You must watch the sunset cliffside in one of the towns. We watched it twice, both times in Riomaggiore from two different spots, and their sunsets are definitely top 5 in my sunset book.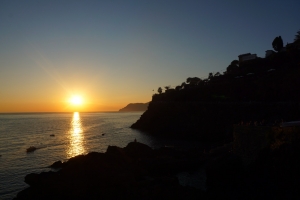 Cinque Terre is my favorite place in Italy I have visited and believe that there really is something for everyone to enjoy!
Ciao!
You can find more from Me and Shae here:
https://www.youtube.com/lifestylewithme
https://www.youtube.com/heyshaee
https://www.youtube.com/vegantravel
Instagram: @shaedynmann @marissa.kai
Snapchat: @shaedynnn @marissa_kai
Marissa: https://www.vegantravel.com/vegan-traveler-blog-marissa/
Shae: https://www.vegantravel.com/vegan-traveler-blogs-shae/    
Team Page: https://www.vegantravel.com/vegan-travelers-shae-marissa/
Contact us:
Marissa@vegantravel.com
Shaedyn@vegantravel.com