Vegan food, culture, and elephants are probably the top three reasons Marissa and I had Thailand at the top of our list for this trip. Our trip to Thailand wouldn't have been complete without spending time with elephants, but if we couldn't find a sanctuary that promotes and practices ethical tourism, we would have gladly left Thailand without ever seeing an elephant. With elephant tourism on the rise, it became more important to us than anything to make sure our money, time, and promotion was going into the right hands- so we began researching.
Some sanctuaries we had previously heard amazing things about had taken turns for the unethical worse. It became our mission to find a place that we felt good about going to and that we felt good about telling you to go to as well!
In our research, we came across a fairly new sanctuary by the name of Elephant Jungle Sanctuary in Chiang Mai, and we booked our visit.
We were so excited to go, but I can promise we were in alert-mode to try and make sure there wasn't anything going on that a tourist wouldn't take the time to pay attention to or call out.
Early in the morning, the truck picked us up to start the journey to Elephant Jungle Sanctuary. We picked up a group of people along the way and eventually made it to the sanctuary. Driving in, we could spot elephants wandering around the jungle- completely different from the ones in the riding camps we also passed along the way.
We unloaded and met the other visitors and before we ever had any interaction with the elephants, we learned about these beautiful creatures and an easy do's and don'ts, which I found very important. We also were told that they just opened a location in Phuket, Thailand (AKA, the most touristy part of Thailand)… First red flag.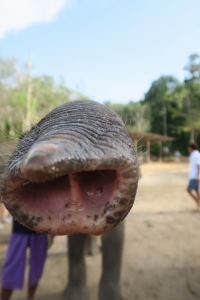 The reason I am going into such detail is because I am torn…
Before I go any further, it is probably best to explain why I am so upset writing this post and even getting you excited about the ethical experience we had at the Chiang Mai Elephant Jungle Sanctuary feels wrong. Why? Because I also visited the Phuket location and my heart was racing nonstop while trying to keep my mouth closed as red flags were flying through the sky. If one of their locations is completely unethical, does that mean the company as a whole is unethical and the Chiang Mai location just happens to be great at hiding what they're doing? I think so, or they don't know what is going on at their Phuket location, and that is messed up- so this is why I'm torn.
Lets compare and contrast, shall we?
Chiang Mai:
A lesson on how to interact with elephants BEFORE the clueless humans try and decide how to do it themselves.
Phuket:
Dump the humans off 5 meters away from giant elephants and let them do whatever they want right off the bat.
Why it Matters:
We are a swarm of unfamiliar, ignorant, uneducated humans who are stepping into the presence of mentally fragile, yet gentle beasts. These aren't small house dogs, these are wild 12,000 pound animals who were mentally abused. Tell us what to do.
Chiang Mai:
Wait for the elephants to wander into the area from the acres of open and natural habitat.
Phuket:
Have the elephants barricaded in wooden "cages" and tied at the ankle waiting for said humans to arrive to petting zoo.
*cue fuming Shaedyn immediately upon entry*
Why it Matters:
What was the point of saving them from captivity just to put them into captivity once again?
Chiang Mai:
Elephants were constantly feeding, whether it was from us by hand or them having an abundance of food lying around for them to graze on.
Phuket:
No food in the cage while they were locked up, we hand-fed them bananas and some sugar cane, then they went back into their cages with nothing to graze on.
Why it Matters:
Elephants need to eat almost every hour of the day because of their size and the way they digest their food. To keep the animals out of reach of food is a horrible thing to do, do I really need to explain why this matters?
Chiang Mai:
There are eight different camps with ~60 elephants. Each volunteer group is rotated between the camps so the elephants aren't continuously having excessive human interaction.
Phuket:
There is one single camp with no gate around the border, so instead they resort to cages and tying up the elephants. There are two loads of humans every single day. No breaks for the elephants except the glamorized hour break they get between the groups.
Why it Matters:
They are in performance mode every single day, all day long. They need limited human interaction, if any. They are a source of income. Elephant Jungle Sanctuary is just another tourist attraction to come to Phuket.
Chiang Mai:
Mahouts knew how to handle each elephant without (visibly…) hurting or forcing them anywhere and you could see how much they cared about the wellbeing of the elephants.
Phuket:
Mahouts were in constant play/joke/entertaining mode. They put on a lady-boy performance. They knew the commands to use to make the elephants perform for us. Examples- Mahout held on to Natalie's (biggest elephant) trunk as he shouted something so that she would lift him from the ground, hovering in the air. I was standing next to Natalie (with the wooden cage separating us) observing her as she swayed back and forth *red flag*, and the mahout shouted another command to Natalie so that she would kiss me on the cheek.
Why it Matters:
This one has so many awful and crucial things that made me boil over with frustration. Firstly, elephants sway back and forth as a form of psychosis whilst they are held in captivity out of their natural habitat and their needs are not being met… Natalie was held in a very small cage with another elephant. Secondly, I didn't need a kiss from Natalie. Natalie would not have kissed me if I came face to face with her in her natural habitat. Natalie would have stomped my face into the ground if she weren't absolutely terrified out of her mind about what the humans would do to her because this sanctuary may have freed her from a much worse environment, but they have not freed her mentally and they take complete advantage of that control. If I wanted to come to a tourist attraction that included a man running around with water balloons in his shirt, maybe I would have booked it. But then again, maybe I unknowingly did, and that is actually where my money is going and that could be why the Phuket location costs almost twice as much than the Chiang Mai location.
Chiang Mai:
The sanctuary served a completely vegetarian menu and when we let them know we were vegan, they went into the kitchen and prepared us two completely vegan dishes without hesitation.
Phuket:
We let them know we were vegan because I saw them preparing lunch and I thought it'd be easier to let them know beforehand so they could possibly prepare something while they were already in the process. He let me know there would be vegetarian options and some vegan stuff. Then he made a hilarious "joke" about how there were elephant meat options as well… *cue speciesist outcries* as they laughed it off assuring everyone that they were juuuuuust kidding. HA, so hilarious. The joke was on me, however. They weren't juuuuust kidding about having animals in the food, just that it was a different animal than elephant. It was only chickens that they put in our food this time! What a relief!
Why it Matters:
This is the most important flag in my opinion. Can someone explain to me how they run a sanctuary for one kind of animal, to do so much to protect the life of this animal that it would be so absurd to eat it as food. That they decided this animal was okay to love and spend time with, but that they could turn around and kill a different kind of animal, and feed it to the volunteers. How is this justified? It just isn't. I don't pay sanctuaries to kill animals not lucky enough to have sanctuaries of their own. I would not have given Elephant Jungle Sanctuary a single Thai Baht if I knew this was what I was paying for.
So, how am I supposed to tell you how amazing the Chiang Mai Elephant Jungle Sanctuary was if I know their name represents so many things I don't?
I was going to continue this blog post explaining my experience, but I really don't think that is the direction this post needs to go in. More than anything, the elephants in the hands of this sanctuary need to be taken care of and awareness needs to be brought to this situation. Something needs to change and it needs to happen fast. Until then, I will gladly remain torn until I can proudly support everything that is happening to the elephants in Phuket and Chiang Mai.