I have been taken by surprise once again by a city that I expected to have to hunt down vegan options, when in reality, I had way too many places to visit in the week that I spent there. Taipei offered everything from a 100% vegan grocery store to restaurants completely willing to accommodate vegans. Cutting my time short here was more than disappointing, I wish I could've had a few more days to explore all that this city had to offer.
I spy with my little eye, a 100% vegan spot with delicious breakfast, lunch, and dinner options. There is also a drink menu with smoothies, coffee, tea, and even wine. 
The breakfast option I went with was the maple chia pudding with chocolate cacao gogi rawnola $250 NTD, and it was a great healthy option. The rawnola was an addition, but it was a great third part to the chia + fruit combo.
Tonghua Night Market
Night markets are a huge part of Taipei's culture. You will probably stumble upon a night market of sorts while wandering the streets, which is exactly what brought us to the Tonghua Night Market. There are multiple little shopping stalls where you can get a glimpse of local fashion and cuisine, both of which are heavy in animal products.
However, we found a food cart serving little dessert hand rolls that we discovered were made with vegan ice cream, peanut brittle, cilantro, and a rice paper wrap. This was an odd combo, but it was a fun experience trying a local street food option, and it was surprisingly delicious!
"Homemade food with love. Eat to be a hero."
This is a restaurant that is actively trying to make a difference. They have a questionnaire available about what is more important- the taste of meat or an animal's life, followed by a couple QR codes that link you to Gary Yourofsky's speech as well as other sources to help someone move towards the direction of a vegan lifestyle. 
They have delicious assorted menu options like pizza, mac n cheese, burgers, smoothies, salads, and more. We ordered their two burgers- the Chickpea Burger (270 NTD=8.80 USD) and the Mushroom Lentil Burger. Man were they filling! 
Both burgers come with a side of fries, and you can choose for them to be baked or fried. We had both options, and both were equally great! 
Come in, trade your shoes for slippers, and dive into an extensive menu of 100% vegan options.
We opted for the nacho appetizer, or a pile of chips with a smoky/creamy nacho cheese.
For our entrees, we eventually settled on the mac and cheese which came with a side salad and bread roll. We changed styles of food once more for some Indian curry and rice. The spicy and salty combo of everything left us very full and satisfied, and we wanted to return to try more items off of their menu, but ran out of time while eating at all of the other places!
Flourish is such a beautiful and refreshing space with an equally refreshing menu. I couldn't get over how delicious and well-made their menu options were. If you're looking for a nice macronutrient meal, this is a great place to look for it.
A prime example of one of their deliciously healthy options is the new Organic Brown Rice Futomaki Sushi (220 NTD). The veggie sushi rolls with a liberal amount of smashed avocado on top made it very difficult to not order three more. 
What is the point of ordering sushi if you don't pair it with miso soup? It went so well with the sushi roll, and it felt especially good enjoying this inside after freezing outside. Miso Soup (80 NTD)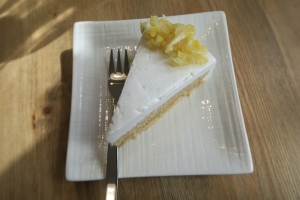 Taiwan is known for their cakes, and a lot of them happen to be vegan. I had to try one before I left and the Organic Lemon and Pineapple Cake (180 NTD) caught my eye. Honestly, I couldn't finish it and I wish I would've ordered a different one. It must've had lemon peels in it, giving it a very bitter taste. 
Want something quick but delicious that you can actually pick up on the side of the road? This was the closest thing to street food I could find in Taipei, but it was just a hole-in-the-wall Mexican joint serving up delicious burritos, tacos, and bowls.
I had been craving something similar to Chipotle because the last time I tasted something in that realm was 5 months prior in Germany, and your girl misses her Chipotle. I wouldn't consider Nala's to be authentic Mexican food, and I wouldn't consider it to be quite like Chipotle, but it hits the spot if you're just looking for a delicious rice+bean+salsa deal.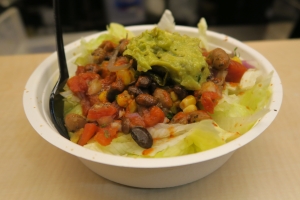 I chose the bowl with a side of chips ($99 NTD), but I immediately wished I had gone with a big ol' burrito. I think it is common sense to always get a burrito because its usually always stuffed with fillings rather than a bowl that spills over if there is too much. I love food, the more the merrier, hence why I want all the burritos.
If you're in Taipei, a visit to Nice Cream is a MUST. Its an entire gelato shop with completely vegan options. There are sorbet flavors, but there are also so many creamy "milky" flavors. I combined peanut and chocolate atop a vegan cone, and that baby was gone in .5 seconds.
The flavor options at the time were: Soy Milk, Chocolate, Matcha, Peanut, Pineapple, Lemon, Strawberry, and Coconut. 
Man, oh man… Do you ever look at a menu and become suddenly overwhelmed because there are too many delicious choices? This place did that to me both times I went. Yes, I repeated coming here because it was THAT good. It was also so good that I devoured my meal the first time without even thinking about taking pictures of it. I know, how is that even possible?
Their menu has Risotto, Steak, Pasta, and more… and each of those categories have multiple options within them. Want risotto? Now choose between their 129048 flavors. Hey, I'm not complaining. 
You don't need to dress fancy, but it has an upscale dining ambiance. 
Eslite Dunhua Food Court
While I was searching for vegan options, I was navigated to Miss Green inside of this shopping mall. I was confused when I arrived at the big building because I was expecting a storefront, but it turns out they have two locations! While I was ordering at Miss Green, I looked over one stall and saw that there was also another location of Vege Creek, a place I also intended to stop by! A little more wandering around the food court led me to a completely vegetarian buffet. So what I'm saying is, this is the most vegan-friendly mall food court I have accidentally wandered into and I'm not mad about it.
 "Many of us dream of saving the world. What if you could do it three times a day?" – A thought-provoking saying posted around the restaurant and on their website. 
Yet another 100% vegan spot… What the heck, Taipei?? Why are you keeping yourself a secret? 
How about that mouth-watering combo in the photo? I ordered the Italian Spiced Mushroom Panini ($280 NTD) with my two sides being hummus and a chickpea salad. I also ordered a side of creamy potatoes and a cup of tea ($120 NTD). You could stay I was pretty stuffed, but so satisfied! What a great find.
Miss Green's next door neighbor happened to be another great option for vegans! At Vege Creek, you build your own soup or ramen by grabbing a basket and "shopping" around a little produce market, choosing the ingredients you want them to throw together! I never had the chance to go, but the whole concept caught my attention right away, and the ingredients are about as fresh as you can get! 
Staying in Taipei long enough to go for a grocery run? Completely vegan grocery stores are few and far between, but Taipei has one in the Wenshan District, and it is huge. From a fresh produce section, to freezers full of imported items like Follow Your Heart vegan mayonnaise, to toiletries, I don't see any reason to shop anywhere else. It's a bit out of town, but who can pass up a completely vegan supermarket??
If you can't tell, I was pleasantly surprised with my experience as a vegan in Taipei, Taiwan. The vegan movement is growing rapidly and the city is receiving it so well! I completely recommend going to Taipei if you ever have the chance, I would return in a heartbeat.