It's much easier to get to the islands of Thailand from inland than I thought, and cheaper than I was expecting! We knew we wanted to either go to Ko Samui or Koh Phangan and luckily they both take the same route of travel so we really didn't need to decide until we were at the bus station in Surat Thani. We even met a traveler who made the decision when buying the tickets!
The first thing we did was get a flight from Chiang Mai to Surat Thani. We use Momondo to book all of our cheap flights and managed to get a flight for about 30 usd a piece! You can also get a flight straight to Ko Samui but that's a bit of a pricier option (about 200 usd a piece). I suggest getting a flight that lands in the early afternoon so you can be sure not to miss the last bus/ferry to the island.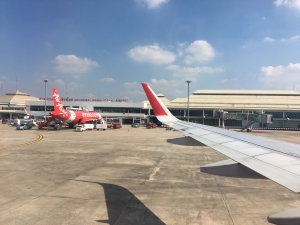 When you get to Surat Thani it is SUPER easy to purchase bus and ferry tickets as a package. I saw about 3-4 kiosks to organize the trip for you, all charging about 500 baht (14 usd) for the bus and the ferry!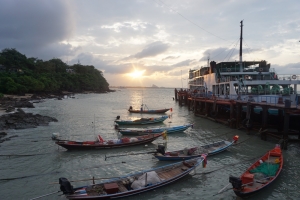 The bus takes about 2-2.5 hours and takes you straight to the ferry port, and then the ferry takes around the same amount of time. When you get off the ferry there are a ton of tuk tuks waiting to take you wherever you need to go, just be sure you have cash on you! Our tuk tuk going about 1.5 miles was 150 baht.
That's it! It's super easy to get to either of those two East islands. Enjoy and hope you get more fun in the sun than we did! When you get to the island, rent a little scooter to get around!