Stockholm, Sweden quickly became a second home to me and Shae. The people are so friendly, the architecture is beautiful, and the vegan food is abundant! And it helps that we met up with the founder of VeganTravel, @alan, who also claims position as our second dad!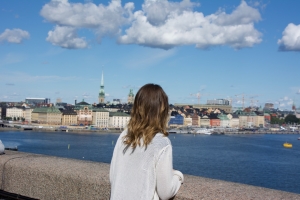 We had the chance to visit so many vegan restaurants during our stay in Stockholm that I just want to share with you our absolute favorites! These are a MUST. Do not miss out on visiting these places while visiting Stockholm. Some may dent your budget just a smudge but I promise your taste buds and bellies will thank you.
From most favorite to least favorite:
Farang is what I call a "fancy-pants" restaurant that makes you feel like you're dining like a king! It's Southeast Asian cuisine made from scratch using the highest quality ingredients. They do "family style" where you order a few different dishes and share with everyone. Shae, Alan, and I shared the set vegan menu with 7 courses. My favorite was grilled pumpkin satay! Farang is the perfect example that vegan doesn't mean boring! This isn't a totally vegan restaurant but the vegan menu is enough to make it my favorite of them all.
"Good food and a pleasant atmosphere, a relaxing and nourishing whole, is our philosophy."
Växthuset is located under a bridge in this square called the Trädgården. It is a vegetarian restaurant similar to Farang with a focus on family-style sharing food! We had another 7 course vegan feast with friends who live in Stockholm! The food was beautiful as if it were an art piece. It was great to bond over delicious vegan food with a cool view of the garden that turns into a club in the evening! Awesome atmosphere and even better food.
"The menu is influenced by the seasons and borrows flavors from both near and far."
Hermans is a restaurant overlooking Stockholm with a vegan lunch/dinner buffet! It has an incredible view of the city, you really don't need to go farther up than Hermans to get a better view. The buffet consists of a wide selection of salads, potatoes, rice, stews, bread, hummus, and a small vegan BBQ selection. Hermans has a wonderful atmosphere and the food makes you feel like you're getting a delicious home-cooked meal. There's so many amazing flavors in the buffet selection and you can tell they aim to please vegans, vegetarians, and omnivores alike! It's all you can eat so bring your stretchy pants!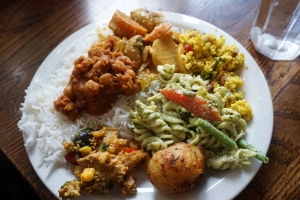 Ahhhh the first fully vegan place on my list! Sattva Bageri is a vegan organic cafe and bakery located in the heart of Gamla Stan. The stack of cinnamon rolls in the morning will catch your eye immediately and if you go early enough (according to Alan) you can get a chocolate croissant! We missed the croissant all of the 3 times we stopped by during our stay but we settled with the cinnamon rolls and apple pastry. As if we were "settling"…they were amazing! My only suggestion would be that I wish they would heat up the baked goods for you, but if you ask they might be able to make that happen!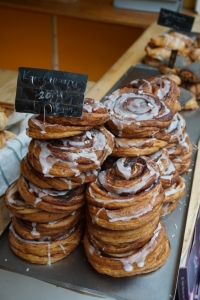 Hälsocafet is a vegan cafe and juice/smoothie bar with raw vegan treats, vegan sandwiches and wraps, and of course smoothies, juices, and acai bowls! I'm always on the lookout for a good acai bowl and theirs definitely hit the spot! I could tell their ingredients were fresh and ripe and they used the perfect combination of toppings. They have a really cool backyard area to hangout in that makes it a perfect meeting spot for friends or just to read a book!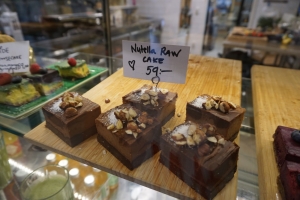 Femtopia is a vegan cafe in Södermalm with smoothies, sandwiches, cafe drinks, and baked goods! It has great food, music, and an artistic atmosphere. Not only are the vegan food and drinks great, but it has a great mission as well! Femtopia has a goal of supporting feminism, equality, and a safe environments for the LGBT community and people of all backgrounds and preferences. Doesn't that make you love this place even more? Very cool spot and I highly recommend stopping by for some lattes and desserts!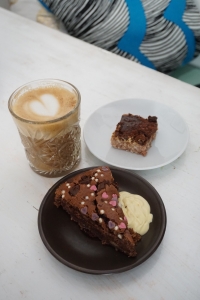 Stockholm has so much history, beautiful architecture, museums, and amazing views…but if that doesn't convince you to visit then hopefully all of this vegan food does!
The biggest thanks EVER goes out to Alan for taking us around and eating way too much food with us. We cannot even begin to express how much we enjoyed spending time with you in Stockholm.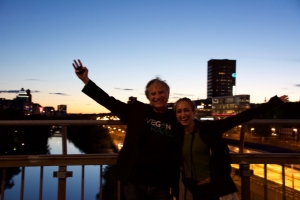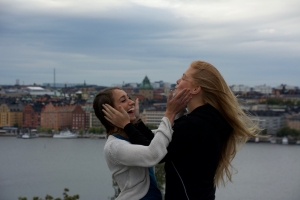 You can find more from Me and Shae here:
https://www.youtube.com/lifestylewithme
https://www.youtube.com/heyshaee
https://www.youtube.com/vegantravel
Instagram: @shaedynmann @marissa.kai
Snapchat: @shaedynnn @marissa_kai
Blog:
Marissa: https://www.vegantravel.com/vegan-traveler-blog-marissa/
Shae: https://www.vegantravel.com/vegan-traveler-blogs-shae/                                                              Team Page: https://www.vegantravel.com/vegan-travelers-shae-marissa/
Contact us:
Marissa@vegantravel.com
Shaedyn@vegantravel.com