The 2nd largest city in Croatia next to Zagreb is Split, our next destination!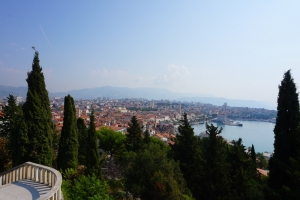 We road tripped up from Dubrovnik to Split, spontaneously passing through Bosnia (even got a passport stamp–woo!). We arrived in the evening, not really knowing anything to do, but with the help of the wonderful front desk at Hotel Slavija, we mapped out a to-do list and set off to explore! I'm going to make your Split planning a bit easier by giving you some ideas from what we checked out!
Things to do in Split
Just like Dubrovnik, Split has it's own old town as well. Cobblestone streets and orange rooftops, it's very similar. What's different is that so much of it is wonderfully preserved because it is a UNESCO world heritage site! In the old town, make sure to visit Diocletian's Palace. We were lucky enough to stay at Hotel Slavija, the oldest hotel in Split, inside the Diocletian Palace walls with so much history including their restaurant located in 4th century Roman baths. They're not looking for a another star on their 3-star hotel rating, they're not looking to add amenities to attract more vacationers, they're looking to give you a wonderful place to lay your head while being engulfed in everything Split stands for since the beginning of time. I absolutely love how passionate this hotel is about what they do and I could stay here forever just because of that. Thank you, Hotel Slavija for our wonderful stay and everything you believe in. Such a beautiful place to stay right in the heart of old town.
If you want the best view of Split and its old town, take a short walk up the steps of Marjan Hill. I'd say the walk up takes maximum ten minutes, and the view is well worth it. If you continue walking up, there's a little cafe you can stop at to grab a snack and some water. Try to make it up there for sunset! We didn't get the chance to, but I'm sure the view is incredible! Right around the corner is Makrovega, so if that walk worked you up an appetite, check out their wide selection of vegan options!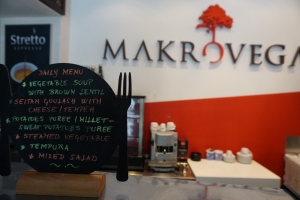 We checked out two beaches in Split so you won't have to! You may be directed to Bacvice which is near many beach clubs and bars, but if you're looking to actually relax and see how the locals beach it, check out Kastelet. It has a rocky beach that i less crowded than Bacvice. There's even some cliffs we saw some people jumping off of into the water!
Check out the Green Market
The Green Market is located by the main boat port. It's full of local vendors selling their fresh fruits and vegetables, and also some selling their homemade goods and jewelry. We feasted on figs and I got a handmade bracelet from a Split local. If you walk the perimeter of the market, you'll likely run into Vege which is a fast food vegetarian restaurant (but really it's 100% vegan!). The food was good considering the cheap prices and it was exciting to find a vegan place in this part of town!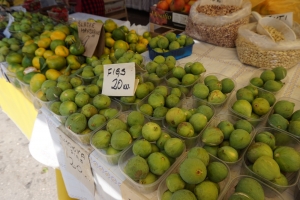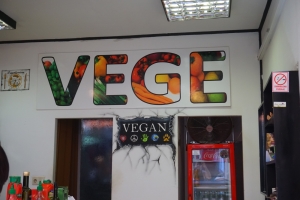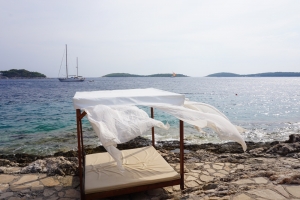 We didn't get the chance to take an excursion around the islands, but we did take a ferry from Split to Hvar for a night! Hvar offers a lot of the luxurious island life you dream about when visiting Croatia. However, the weather wasn't so permitting for us. If you're into partying or bar hopping, you'll gladly find this here on the island, and we were recommended to check out Hula Hula beach bar. We went to check it out but it costs 20 Kuna each just for a place to sit before ordering any drinks or food. Instead, we snuck into a local resort and spent our time lounging by the pool and going down their water slide–probably a more fun option and in turn much much cheaper (100% cheaper). Ha!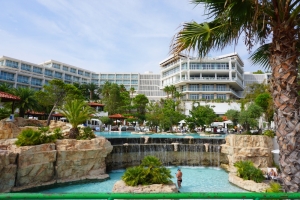 We stayed at Pharos Hotel which is where we spent our final morning in Hvar; just one look at the pool and you'll understand why. Perched up on the hill, it allows a great view of the water from their pool. We had an all you can eat complimentary breakfast that served a ton of vegan options! Definitely a place to check out for accommodation in Hvar!
If you have any other suggestions for things to do in Split/Hvar, leave them in the comment section below!
You can find more from Me and Shae here:
https://www.youtube.com/lifestylewithme
https://www.youtube.com/heyshaee
https://www.youtube.com/vegantravel
Instagram: @shaedynmann @marissa.kai
Snapchat: @shaedynnn @marissa_kai
Blog:
Marissa: https://www.vegantravel.com/vegan-traveler-blog-marissa/
Shae: https://www.vegantravel.com/vegan-traveler-blogs-shae/    
Team Page: https://www.vegantravel.com/vegan-travelers-shae-marissa/
Contact us:
Marissa@vegantravel.com
Shaedyn@vegantravel.com