If you're looking for more adventure to get into in Croatia, check out Cadmos Village Adventure Park right outside of Dubrovnik.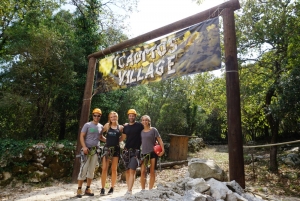 They have zip-lining, an obstacle course, mountain biking, archery, and more, but that's all we got into!
They also have a treehouse available to stay in through AirBnB! Going against all of their family and friends' expectations, the guys built the first and only treehouse ever in Croatia! They had a mission to make it 100% sustainable, with solar panels for the electricity and solar-heating for the water! The treehouse is fully equipped with 5 beds, a kitchen, bathroom and shower, television, and patio. It reminded me of a tiny-house I would love to live in! Perfect getaway for us from the city, and would be perfect for a stop on a family road trip!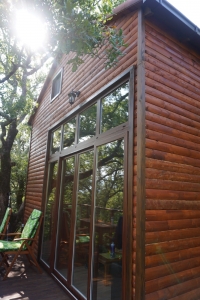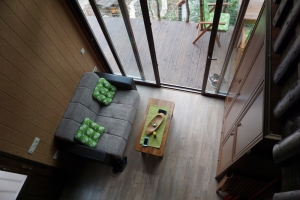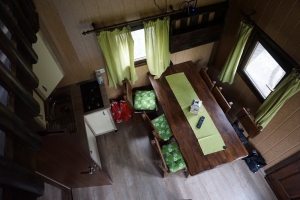 We started off with an off-road mountain biking trip. We were joined by 5 friends from the Netherlands so we knew we had some biking competition. Little did we know what we were in for… these girls were biking professionals! I mean the whole group left me and Shae in the dust!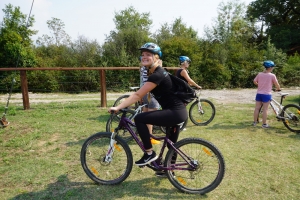 We biked out through fields and paths to a flour mill where we got to see how flour used to be made with big round stones and corn and grain. We were also presented with traditional Croatian snacks and drinks such as candied orange peels, figs, lemonade, and flavored liquors.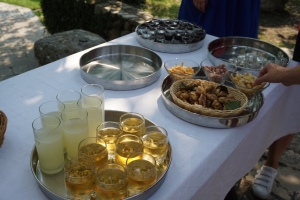 After that, it was pretty much a road ride the rest of the trip back to Cadmos Village, allowing us to put less concentration on the rough terrain we were biking through before and more attention on the beautiful scenery that surrounded us. Sounds so serene, right? Although biking on the road went a lot more smoothly, the powerful 5 proved our strengths wrong again by pumping up the hills so fast, leaving us barely a moment to say "wait up!". Either they were incredibly talented bikers, or we are incredibly out of shape… let's go with, "they're from the Netherlands! Of course they're great at biking"… yeah, that's it! Ha!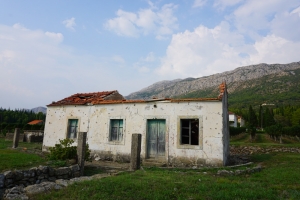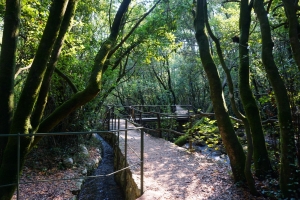 We got back to our little humble abode of a treehouse and finished the evening with rice and beans and a little editing session thanks to the lack of wifi. But don't worry—if you stay here they should have wifi! A storm just knocked ours out.
The next morning we were up and at 'em for a day packed at the adrenaline park! You'd take one look at the tree obstacle course and think it looks like a piece of cake. Well…it looks easier than it is! We kept climbing up and up, making our way to the treetops to zip-line to the next tree posts.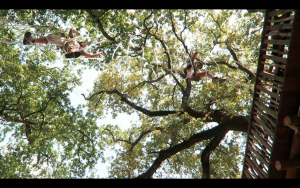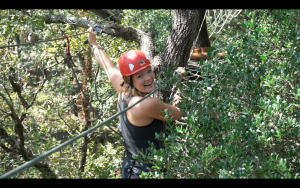 Afterwards, we made our way to the archery course for some "vegan hunting"…aka us pretending to be shooting arrows to catch apples from the trees for our families. Yeah… you'd get it if you watched Shae's Snapchat story of us "vegan hunting" for some grapes in the vineyard—hahaha! (@shaedynnn on Snap)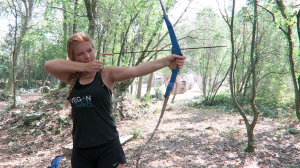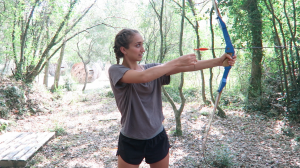 After all the adrenaline and workout from the park, you can say were were exhausted. Unfortunately we didn't have another night in the treehouse and had to say our goodbyes! At that point though, we had no idea how we were getting to Split that evening. Lucky for us, the guys at Cadmos Village Adventure Park are amazing and hooked us up with their friends at Uni Rent who got us an amazing deal on a rental car for a road trip up to Split! Ahhh just another reason to LOVE this place!
We had an amazing time with Cadmos Village Adventure Park and I will for sure be returning during my next trip to Croatia!
You can find more from Me and Shae here:
https://www.youtube.com/lifestylewithme
https://www.youtube.com/heyshaee
https://www.youtube.com/vegantravel
Instagram: @shaedynmann @marissa.kai
Snapchat: @shaedynnn @marissa_kai
Blog:
Marissa: https://www.vegantravel.com/vegan-traveler-blog-marissa/
Shae: https://www.vegantravel.com/vegan-traveler-blogs-shae/    
Team Page: https://www.vegantravel.com/vegan-travelers-shae-marissa/
Contact us:
Marissa@vegantravel.com
Shaedyn@vegantravel.com