Marissa and Shae are two passionate vegans who are also well known vegan vloggers. Shae is from Portland, and Marissa is from West Virginia, but they met and became the best of friends after learning more about each other from their YouTube channels. During 2016 and 2017 they reunited to travel around the world helping us at VeganTravel  promote our mutual goals of growing veganism and compassion. Some of the countries they visited during this past trip include Iceland, England, Netherlands, Denmark, Sweden, Germany, Italy, Croatia, Greece, United Arab Emirates, Sri Lanka, Australia, New Zealand, Indonesia, and Thailand.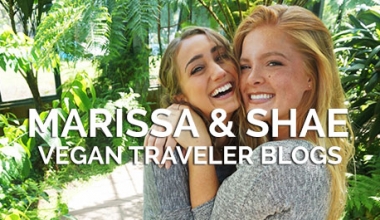 Shae & Marissa's Vegan Travel Videos
Hostel Options in Amsterdam To make it a little bit easier f...

Vegan Amsterdam Sites and Highlights from the sky! Vegan tra...

Vegan Grocery Haul in Reykjavik, Iceland Marissa (@lifestyle...

The Catboat in Amsterdam! Vegan travelers Shae & Marissa (@h...

LEARN DUTCH in 4 minutes |VEGAN Terms + Pickup Lines You all...

Shae & Marissa take a boat from England to Amsterdam Vegan t...

Sneaking into a Hotel in Stockholm, Sweden Marissa (@lifesty...

British Vegan Afternoon Tea! Marissa (@lifestylewithme) vis...

Vegan Ice Cream in London, England! Shae & Marissa (@lif...

Vegan Afternoon Tea in London, England! You really can't go ...

Vegan in London, England! Shae and Marissa (@heyshae and @l...

London Vegan Meetup! Shae and Marissa (@heyshae and @lifest...

Vegans in Oxford! Around the World vegan travelers Marissa (...

Epic Vegan Iceland Adventures in Reykjavik, Iceland Marissa ...

Things to Do & Eat in Iceland! Shae and Marissa (@heyshae an...

Trying Vegan Food in Iceland! Marissa & Shae (@lifestylewith...

ICELAND | Vegan Travel | HeyShae Shae and Marissa's (@heysha...

Anti-Whaling Campaign in Iceland! Marissa and Shae (@lifesty...

Swimming in the Blue Lagoon! Shae and Marissa (@heyshae and ...

Where are Shae and Marissa planning on going on their 6-mont...

Winning the Vegans Around the World Contest! Shae & Mar...
VeganTravel.com is a place where vegans from around the world can share their passion for travel and adventure, help promote and grow interest in going vegan, shed light on the issues animals are facing around the globe, and help build a more sustainable and compassionate world. By sharing our collective experiences, we believe we can show the world how easy it is not only to travel as a vegan, but also spread a message of compassion with those we meet along the way.