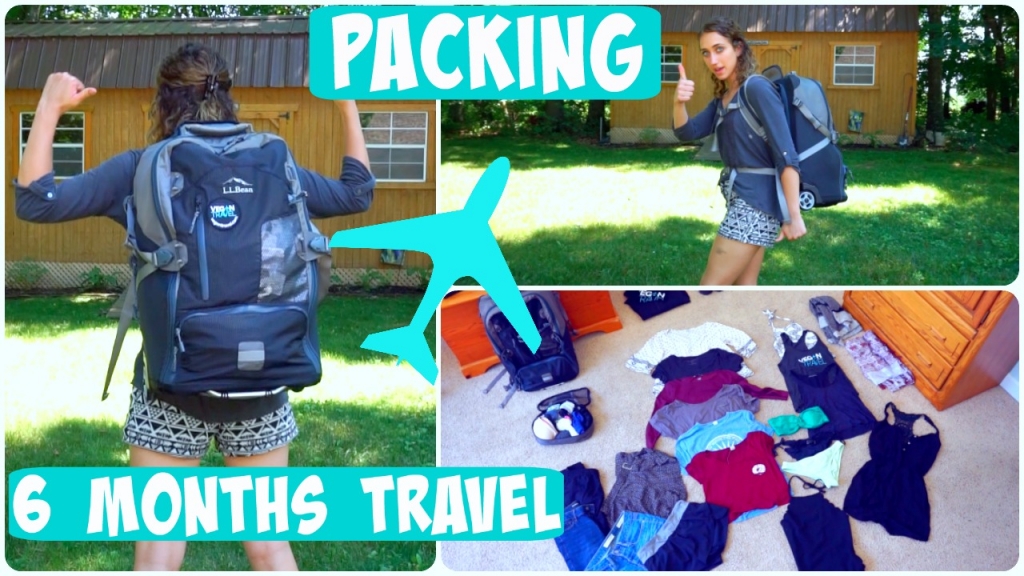 I knew packing just 1 carry-on bag for my entire 6 month trip was going to be a challenge. People do it all the time, but I definitely over-estimated in my head how much room I would actually have. I shared a video of everything I packed on my youtube channel as well!
I spent the past month packing, unpacking, and repacking my bag to figure our exactly what I NEEDED and not what I wanted to bring. I sacrificed a lot (my previous "over-packing" self is shocked) but I think I finally came up with the perfect carry-on bag!
So I am using the L.L.Bean Ridge Runner Rolling Duffle. I love it because not only is it a perfect international carry-on size, it is a rolling suitcase AND a bookbag.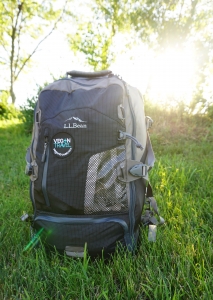 I also am using ebags packing cubes to roll all of my clothes into. These are a LIFE SAVER for saving space.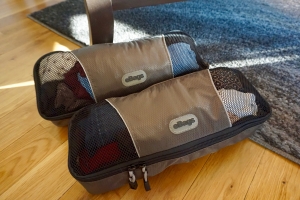 So, for what I am actually packing: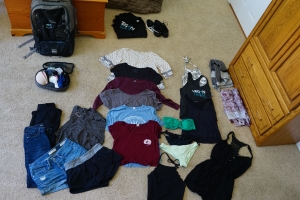 Clothing
7 T-shirts
3 Tank Tops
1 Athletic Tank
1 Cardigan
1 Athletic Zip-Up
1 Kimono/Scarf
1 Romper
1 Pair Blue Jeans
1 Pair Black Parachute Pants
1 Pair Black Leggings
1 Pair Jean Shorts
1 Pair Cotton Shorts
1 Pair Athletic Shorts
1 Bikini Top with 2 Bottoms
1 One-Piece Bathing Suit
15 Pairs of Underwear
2 Bralettes, 2 Sports Bras, 1 Strapless Bra
6 Pairs of Socks
1 Pair Tennis Shoes
1 Pair Converse
1 Pair Sport Sandals
1 Belt
Electronics
Sony a5100 vlog camera
Camera charger + 2 batteries
Camera External Mic + Lapel
2 SD Cards
Phone Charger + Headphones
Kindle + Charger
Macbook + Charger + Case
1 International Outlet Adapter Set + 1 Outlet Voltage Converter Set
Toiletries
Travel Size Toothpaste, Deodorant, Bug Spray, Sunscreen, Eyedrops, Hair Oil
Feminine Products (5 Tampons/5 Liners + 1 Diva Cup)
Makeup
Hair Straightener
Hair Ties and Bobby Pins
Contacts
Glasses + Case
Ibuprofen, Benadryl, Melatonin
Etc. Travel Items
Sunglasses
Hot Hands/Toes
Vegan Travel Stickers + Business Cards
Please let me know if you feel like I am missing something or can get rid of something(s)! I hope this helps anyone pack for their trips, this has definitely taught me to pack lighter in the future.
Take-off is in one week! See you around the world!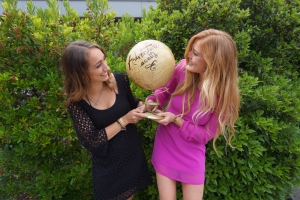 You can find more from Me and Shae here:
https://www.youtube.com/lifestylewithme
https://www.youtube.com/heyshaee
https://www.youtube.com/vegantravel
Instagram: @shaedynmann @marissa.kai
Snapchat: @shaedynnn @marissa_kai
Blog:
Marissa: https://www.vegantravel.com/vegan-traveler-blog-marissa/
Shae: https://www.vegantravel.com/vegan-traveler-blogs-shae/                                                           Team Page: https://www.vegantravel.com/vegan-travelers-shae-marissa/
Contact us:
Marissa@vegantravel.com
Shaedyn@vegantravel.com