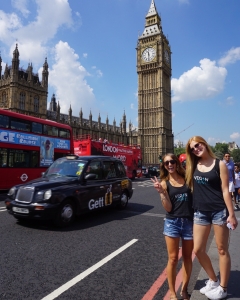 When it comes to being vegan, London has got you covered. You can't go to a single area without finding at least one vegan restaurant. We found everything from ice cream sandwiches to proper afternoon tea! If you're going to explore the vegan scene in London, you're in for a treat.
London is HUGE but we managed to hit many of the big areas to check out some of the places to eat. Here are just a "few" we visited (categorized by area):
Reading
Zizzi
The first place we went to right off the train in Reading was Zizzi. Zizzi is an Italian restaurant with an entire vegan menu to fit our dietary needs (they also include gluten-free options). They have everything you could want from an Italian restaurant including non-dairy garlic bread, cheese pizzas, pasta dishes, and even gelato! And of course, they have a large selection of Italian wines. The ambience is relaxed upscale, but they'll welcome you in wearing your converse, sweats, and an "hours of travel" look on your face–we know from experience.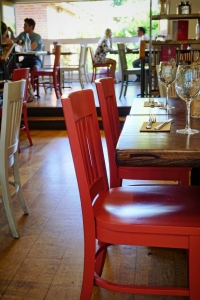 Finchley
1. Rani
We stayed right in the outskirts on London in Finchley. Our first night we ordered take-out food from Rani, a vegetarian indian restaurant. Everything on their menu is marked if it contains dairy/nuts/wheat/etc. so it will cater to all of your dietary needs. I haven't ever had such authentic indian food, so if you've only had the americanized indian food like I can only find in West Virginia, you MUST check out Rani. It was the best Indian food I've ever had.
Soho
1. Yorica!
Yorica! is a "free-from" ice cream/froyo place! Simply put, all their recipes are free-from dairy, eggs, nuts, and gluten. Even their toppings such as gummy bears are free-from any animal products such as gelatin! They believe in using natural ingredients to promote sustainable health and a sustainable planet.
"The natural, good stuff that goes into every mouthful of Yorica! ICE CREAM, SHAKES and FRO-YO is carefully chosen from sustainable sources. In fact, all the ingredients we use in our yummy treats are certified and traced, from crop to cone."
Their theme is straight out of the 70's, with groovy music and classic 70's phrases and fonts full of peace and love. They're new to London, having only been open a couple weeks, and are already opening a new location in Los Angeles!
Choose froyo, ice cream, shakes, or smoothies, choose your flavors, toppings, and finish at the complimentary self-serve sprinkles bar.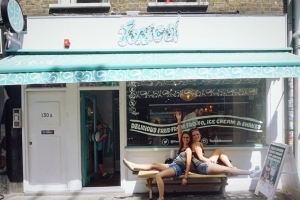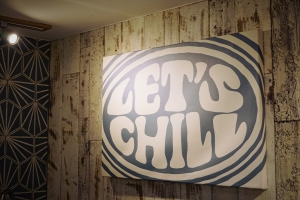 Camden Town
1. Campbell's Canal Cafe
Campbell's Canal Cafe is a vegetarian and vegan cafe with an array of classic cafe drinks like lattes, teas, and juices along with raw, cooked, and gluten-free home-made foods. It has amazing views of the canals right in the center of all things happening in Camden Town. On the weekends, they turn into a music club for electronic DJ's and open mic nights. A very cool and different cafe you should check out!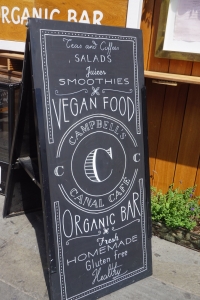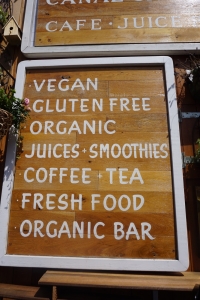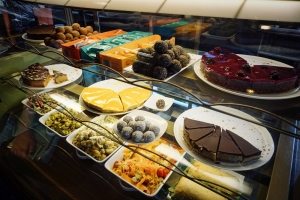 2. Cookies and Scream
About 101 people recommended Cookies and Scream to us so there was no way we would miss it. Winding through the maze that is Camden Lock Market brought us to this hidden gem. It's a bit hard to find but it's fun to walk through all the vendors set up to find this place; we even found vegan street food while walking through! Cookies and Scream is a Vegan and Gluten-Free bakery and ice cream shop with everything from cookies, cakes and donuts to thick "scream shakes" (low-fat!) and ice cream sandwiches. Don't think too hard about what to get from their large selection, you won't be disappointed by a single item!
My favorite of the things we tried was the PB&J cookie that my cousin got. I've also heard that it's a crowd favorite!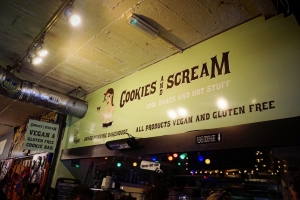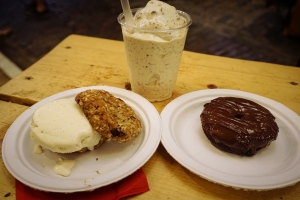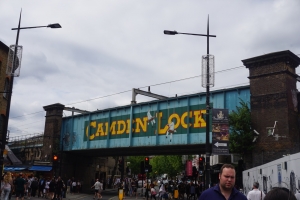 Covent Garden
Neal's Yard
All of the places we visited in Covent Garden are located in the center of Neal's Yard, just a couple blocks from the Covent Garden tube station, part of the Seven Dials.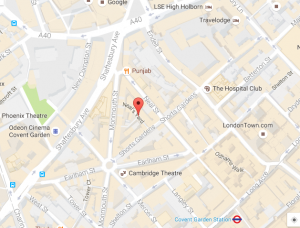 1. Wild Food Cafe
Wild Food Cafe is a 100% vegan restaurant with a focus on raw cuisines. They have dishes ranging from sushi rolls to spaghetti, and burgers to banana bread. Their food is made fresh daily using only the best ingredients and organic as often as possible! A great place for a delicious and nutrient-packed meal that will make you feel your best!
"We are all about wild, fresh, colourful gourmet ingredients created around the art and science of feeling great!"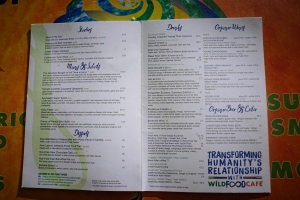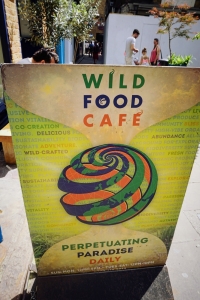 2. 26 Grains
26 Grains has dishes focused around whole grains (hence the name)! It is not 100% vegan but has a lot of vegan options.  In my opinion it is best for breakfast. They have options such as sweet or savory porridge, meusli, and a smoothie bowl. You could also stop here for your morning coffee and tea!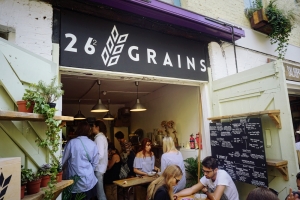 3. SALADPRIDE
SALADPRIDE believe it or not specializes in a variety of salad bowls. They also have juices, smoothies, and acai bowls! Although the entire place is not vegan, all of their desserts and treats are vegan, gluten-free, and refined sugar-free; some also raw! Their dishes are beautifully crafted, a picture perfect layout. Although the food we got was delicious, unfortunately the portion sizes are quite small and the service was very slow, so be prepared to be patient!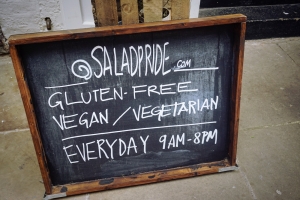 Leicester square
1. Coach and Horses
Coach and Horses was the best pub I have ever stepped foot into! It's London's first vegetarian pub. We walked in on the perfect evening because it was "sing-along" night where they had a pianist come and play classic musical theatre tunes with lyric sheets for everyone to join in on! It has a classic feel of a downtown pub, with all the pub food and beers you could want but veganized! If you want a hilariously fun time, go on a Saturday for "Sing-Along-A-John" night!
Kings Cross
1. Vegan Cross (Vx)
Vx is a vegan boutique selling shoes, clothing, vegan activist gear (from Th Secret Society of Vegans), groceries, pastries, cakes, and a takeaway menu of hot dogs, kebabs, wraps, and more (all vegan of course). This is definitely the place to get your vegan junk-food fix! Vx was the first vegan boutique in the UK and the first vegan shop in London! They just opened their second and bigger location in Bristol. One-stop shop for your specialty vegan needs and products you wont find elsewhere in London!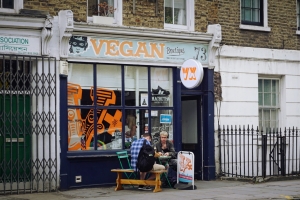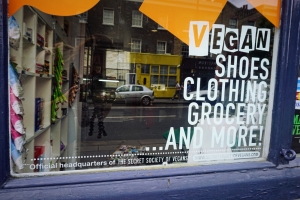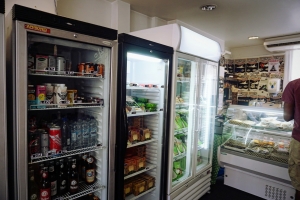 2. Mildreds
Mildreds is a Vegan and Vegetarian restaurant with 3 locations: Soho, Camden, and Kings Cross. We have heard that the Kings Cross branch is the best for vegans! They serve brunch, lunch, dinner and have a large bar selection.
"…serving vibrant internationally inspired vegetarian, vegan and gluten free dishes."
Shae got the "Polish Burger" which has a patty made from beetroot, white bean and dill in a focaccia bun with iceburg lettuce, basil mayo, pickled cabbage and gherkin…sounds amazing right? Well it was our favorite! I got the "Summer Burrito" filled with organic black beans and red rice, avocado mousse and grilled pineapple salsa on the side. We also shared a serving of sweet potato fries with a basil mayo dipping sauce. Sweet potato fries are always a crowd favorite and these lived up to my standards–I'm kind of a sweet potato connoisseur.
Shoreditch
In Shoreditch there's this area called the Boxpark which is a "mini-mall" of pop-up shops and restaurants in the style of stacked shipping containers. This is a really interesting and popular area to go to eat or grab a drink. We stopped by two of the vegan restaurants!
1. #home
2. #cookdaily
Queensway
1. Raw @ La Suite West
Nothing is more British than Afternoon Tea in London. We were lucky enough to get invited to Raw for afternoon tea! It was the most wonderful experience we had of all of London! They have a regular restaurant menu of raw and vegan options, but the afternoon tea must be booked ahead of time online since the course is fully prepared for you. The afternoon tea experience was classically delicate, delicious, and beautiful and the staff was absolutely wonderful. There is no better place in my opinion to enjoy your London afternoon tea experience!
"…a combination of designer finger sandwiches, home made scones served with coconut cream and fresh strawberries, followed by a delectable selection of home made pastries."
Oxford Circus
1. Ethos
Another option for vegan afternoon tea was Ethos. We stopped by just to chat and check out their restaurant and vegan options. Ethos is a self-service based restaurant that does pay-by-weight. They are open for breakfast, lunch, and dinner alongside their daily afternoon tea (just make reservations for tea ahead of time).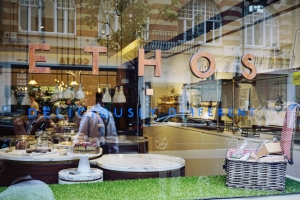 London, you treated us well to vegan restaurants and treats (although your transportation expenses drained us). I hope if you make your way to London and the surrounding areas you check out these hotspots! They are definitely our favorites!
A HUGE thanks to my cousin, Michele, and her family for hosting us and showing us all around London. We couldn't have done it without her!
You can find more from Me and Shae here:
https://www.youtube.com/lifestylewithme
https://www.youtube.com/heyshaee
https://www.youtube.com/vegantravel
Instagram: @shaedynmann @marissa.kai
Snapchat: @shaedynnn @marissa_kai
Blog:
Marissa: https://www.vegantravel.com/vegan-traveler-blog-marissa/
Shae: https://www.vegantravel.com/vegan-traveler-blogs-shae/
Team Page: https://www.vegantravel.com/vegan-travelers-shae-marissa/
Contact us:
Marissa@vegantravel.com
Shaedyn@vegantravel.com