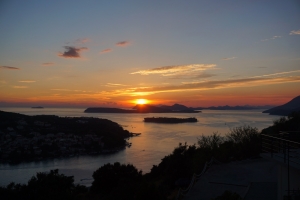 After a choppy overnight ferry from Bari, Italy, Shae and I arrived in Dubrovnik to probably the most welcoming sight ever: a beautiful sunset view from our AirBnB. I'd say it was hands down my favorite sunset I've ever seen.
We took off the first day to explore old town Dubrovnik and climb the famous city walls. The orange rooftops were beautiful and the contrast in colors with the buildings and seaside were so captivating. We got a Dubrovnik card which got us unlimited access to the city bus and free entrance into the city walls and many museums.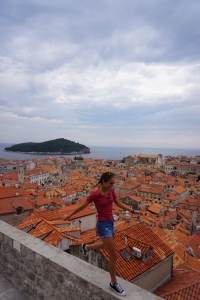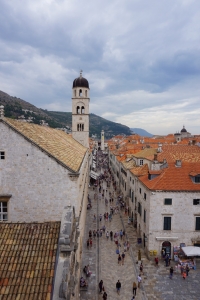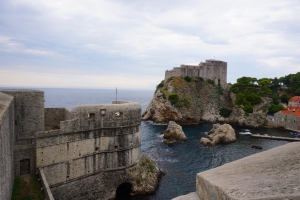 At the end of our day exploring old town, we stopped in this vegetarian restaurant called Nishta! Exciting to find such a vegan-friendly restaurant in Croatia! Probably 80-90% of the menu was labeled vegan. Shae got the Temperhitos and I got the Bar-Bea Burger with baked Sweet Potato Wedges. Of course we finished off with some dessert, the Creme Au Chocolat, a chocolate mousse made from tofu! Better than it sounds but just as good as it looked.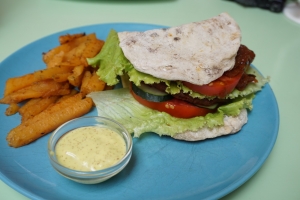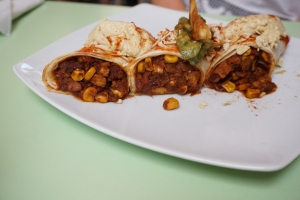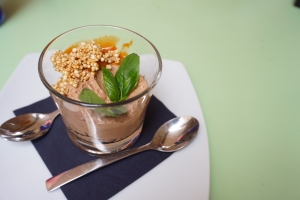 By this point in our 6-month around the world trip, we had seen 100 churches, been in 100 museums, and gone on 100 tours. We wanted to make Dubrovnik different. We were interested in seeing more of the culture that isn't catered to tourists and learning more about what the real Croatian lifestyle was like. We took to finding something on the outskirts of Dubrovnik that included adventure and the great outdoors.
We were excited to find an off-roading trip through the country-side right outside of Dubrovnik.
"Dubrovnik Jeep Safari offers a three-hour adrenaline ride. Feel the charm of a true off-road and experience Konavle in a different and more exciting way: beautiful nature, forests, meadows, rivers, sea and views that take your breath away."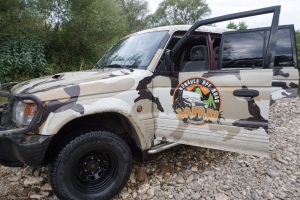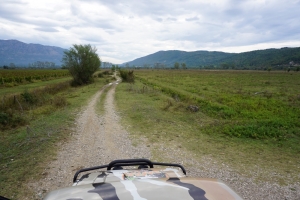 Sounds like exactly what we were looking for! We took a bus from Dubrovnik to Cavtat and the Jeep picked us up right from the bus station. We were lucky to have our own private tour scheduled, and briefed the guide on our VeganTravel trip; he was quick to personalize the tour for us. We stopped every few kilometers by wild blackberry bushes, grape vines, fig trees, and apple orchards to pick and feast from along the ride. He even took us to his family's garden where he let us pick vegetables to use for dinner that evening. We called it a "Raw Vegan Safari"! It was perfect! We also got to go to a working water mill and try traditional snacks of dried figs, candied orange peels, and almonds. We opted out of the flavored liquors and wine and went for the river where you could drink fresh, clean water straight from the streams!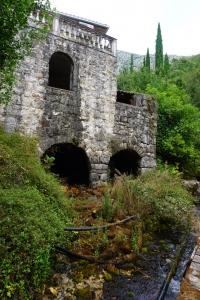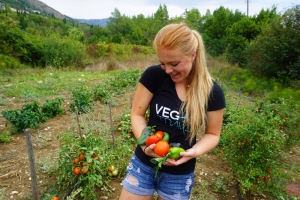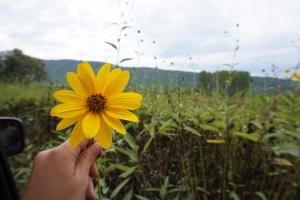 For lunch halfway through the Safari, our guide took us to a local restaurant that is included in the tour and they were so happy to accommodate a vegan meal for us.
We finished with a ride up the mountain to a peak overlooking the cliffs along the water. Beautiful is an understatement. Silent, peaceful, and the perfect finish to a long and adventurous day.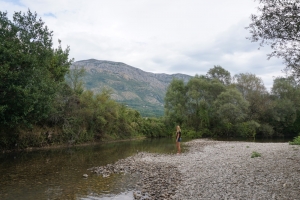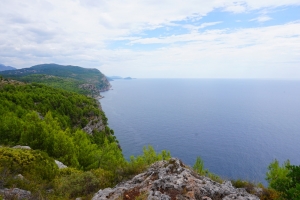 We got back to the city with just enough time to catch another sunset. The thrill of seeing a less touristy side of somewhere has us eager to see more. We did more research and found another excursion including a treehouse, mountain biking, and zip-lining…but that deserves its own blog post.
Huge thanks to Konalve Safari for taking us through meadows and streams along the mountainsides of Croatia and filling our bellies with so much fruit! We had the best time and would gladly do it all over again!
Raw Vegan Safari! WOO!
You can find more from Me and Shae here:
https://www.youtube.com/lifestylewithme
https://www.youtube.com/heyshaee
https://www.youtube.com/vegantravel
Instagram: @shaedynmann @marissa.kai
Snapchat: @shaedynnn @marissa_kai
Blog:
Marissa: https://www.vegantravel.com/vegan-traveler-blog-marissa/
Shae: https://www.vegantravel.com/vegan-traveler-blogs-shae/    
Team Page: https://www.vegantravel.com/vegan-travelers-shae-marissa/
Contact us:
Marissa@vegantravel.com
Shaedyn@vegantravel.com