I had the pleasure of taking a VERY short trip to Poznań, Poland recently and was surprised by the number of fully-vegan and vegan-friendly eateries!
The trip was somewhat last minute but the great thing about being in Berlin is that so many other wonderful cities and countries are only a short bus ride away! I went with a group of other vegan travel bloggers (Vegan Nom Noms, Mostly Amélie, and Indefinite Adventure)—each of whom are currently based in Berlin. We booked our bus tickets on Polskibus and set sail on a Saturday morning; returning to Berlin the very next day, Sunday evening. We stayed in a traditional chain hotel but found a great deal, making it only about 30 Euro per person.
NOTEWORTHY: In each restaurant we found that some of the staff spoke at least a little bit of English if not fluently. Some also offered their menus in English as well. Thankfully for us it was very easy to navigate this city without speaking Polish.
ALSO NOTEWORTHY: We didn't end up taking any public transit around the city. It's all quite small and walkable. I think the farthest we ventured was on a thirty minute walk one-way. If you're up for some strolling, this is a great city for getting around by foot!
Without further delay, I bring you the vegan restaurants we found in Poznań, Poland!
Je Sus – 100% vegan
We all totally fell for this place immediately! Walking in the decor was absolutely adorable with its minimalist, yet edgy, "Jesus" theme. Brightly colored furniture covers and healthy green plants popped against the crisp white, grey, and brown interior.
As  a pre-meal snack we were given an ENTIRE sunflower head to pick the seeds out of. It was pretty cool!
They had just two items on the menu: a vegan yogurt porridge and rice paper wrapped summer rolls. The presentation was gorgeous with fresh and brightly colored fruits and veggies on each dish. They also offered us a shared dish of a fresh, thick cut tomato in olive oil, topped with chopped scallions.
Je Sus also had some freshly pressed juice/lemonade options and hand-pressed coffee! The staff (owners?) were extremely friendly and informative. I got the impression that the menu changes daily. In fact, as we sat there for the few hours we enjoyed our food it sounded like people were ordering even more varied items from the staff.
We arrived at Kwadrat with the intention of getting something sweet and having coffee/lattes. But everything on the menu sounded so good—and we watched the servers bring out stunning meal after meal to other guests—that we ended up ordering one of the specials that day, the Dahl with cauliflower rounds, to share.
The cakes and lattes and Dahl were all absolutely delicious! We enjoyed our snacks while sitting in the shaded (by lime green umbrellas), brick- and tree-lined backyard area. Though the interior seating section looked quite fun as well!
I wish we had time to go back to this place. The menu was full of a variety of amazing-sounding meals, like Moroccan soup, gnocchi, Mexican corn chowder, and cream of zucchini.
NOTEWORTHY: You'll likely walk through Old Town Poznań on your way to Kwadrat so take your time; or plan a little walk through of Old Town after your meal here. It's definitely a non-food-related destination to add to your things to do/see if you're ever in Poznań! 🙂
This was our very first destination when we arrived on Saturday because Misa Lisa is closed on Sundays!
Like with Je Sus, we all adored this place the moment we walked in! A two-meal option place as well, Misa Lisa appears thoughtfully decorated in neutral, coastal tones—making the colorful platefuls of food really stand out (see: great for pics!). The custom wooden tables, eclectic chairs, and unique hand-crafted wall decor all pulled together into a snug and cozy vibe. I was also personally quite in love with their little fox logo. So cute!
We nearly cleaned out their kitchen with the six of us all ordering meals. It actually made the entire experience feel even more sweet and lovely as the two women working appeared to be the sole operation.
The meals were quite interesting. I indulged in a salad, fresh fruit, salted tofu slices, and some kind of light, cheesy, oat covered patty topped with a pea and/or avocado sauce. The other option was a salad with roasted veggies and some kind of pancake-like topping. Looking back on it I think this place was my favorite in terms of uniqueness and quality of food!
Oh and each pair of us shared the one dessert option they had as well. It was some kind of chocolate covered pretzel crisp. I don't even know. But it was awesome! 🙂
One of our travelers this weekend is gluten-free and so Misa Lisa put together a custom meal for her. It was very nice of them and according to Miranda, very tasty as well.
Vege Pizza – 99% vegan (they offer dairy mozzarella as an option)
Craving pizza? This near-completely vegan pizzeria in Poznań is fantastic. Another place with lovely and personable service, the staff (owners?) chatted with us after our meal to share that they first started out as a pop-up establishment at events, making pizza pies. Then they began getting requests from other restaurants to host vegan pizza specials, before just recently opening their own location (about six months ago).
With pizza pies like salami and olives, beetroot with capers, tofu and spinach, there really is quite a wonderful variety to choose from. They also had a gluten-free option on-hand (a chickpea based pizza pie)! And of course we had to try the dessert: vegan chocolate cupcakes with lemon frosting! They surprised our gluten-free friend with a delicious fruit smoothie for dessert while the rest of us indulged in the cupcakes. So thoughtful!
Vege Pizza also had a great energy about it. There was some kind of Polish punk music playing from the sound system, the staff and many other customers were covered in tattoos, and the logo even reps a more edgy appeal. Overall everyone loved the pies they tried and enjoyed how friendly the staff was.
NOTEWORTHY: The restaurant had posters of Poland's upcoming Pride Parade and seemed generally quite progressive and liberal. Which made us all love the place even more!
The last place we stopped at was this super unique and hipster-esque cafe, Zemsta. It could be easy to miss as they're off of a cool, graffiti-lined walkway with little signage to identify that it's a vegan foodie place. We actually stumbled upon this place somewhat accidentally at first and then made it a point to revisit before leaving.
Zemsta has great coffee, tea, and lattes, and a few snacks and small meals (like simple pasta and sushi). They've also got a great big wall stocked from top to bottom with books and albums. I didn't ask how it all works but I'd guess you can check-out books and/or read and lounge while enjoying a meal inside.
They had some vegan literature around, interesting Polish band posters, and a DJ was slingin' cool tunes while we wound down from our busy day and readied for the bus ride back to Berlin.
If I spent more time in Poznań I could see this becoming my favorite hang/remote "office" locale!
NOTEWORTHY: As we were leaving Kwadrat (above) we stumbled upon an ice cream shop called Marina—right next door. They had one vegan option (coconut) and made their ice creams with dry ice so it looks pretty cool. They make it on the spot, fresh, right there in front of you!
AND right next to Marina we noticed a sign that said, "VEGAN 100%." It turns out there's a fine dining place called Pracownia. What's not clear is if they are always all-vegan or if it was a special. It didn't look open at the time we walked by; perhaps they only serve during dinner hours. But if I'm ever back in Poznań I'll definitely be curious to check that place out.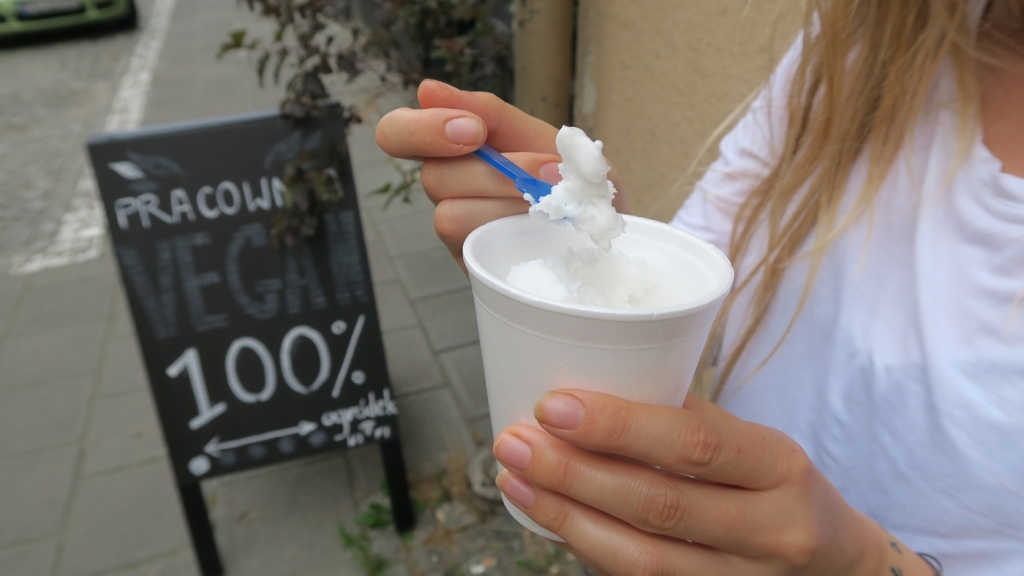 Here are some more photos from our strolls around this quaint city!
All photos by Will Travel for Vegan Food.
[/vc_column_text][/vc_column][/vc_row]
Additional Poland Vegan Travel Blogs:
Viva Poland is an animal protection organization located in Warsaw. One hour drive away from Warsaw is a village called Korabiwice. In this village is 14 hectares of land purchased by Viva Poland that is a haven for used and […]
Poland Vegan Travel Videos:
Vegan in Poznan, Poland - 6 Vegans, 1 Bus Kristin (@vegannom...
Additional Germany Vegan Travel Blogs:
Germany Vegan Travel Videos:
+

Vegan Travel to Berlin, Germany Shae and Marissa (@heyshae ...

+

Vegan Berlin - The Healthy Voyager Join Carolyn Scott-Hamilt...

Zug Der Liebe Berlin! While in Berlin, Libby and Marcel (@li...

Food Tour in Berlin - Burger Edition! Libby (@libby) and Mar...

Vegan travelers living in Berlin, Germany In this video Lib...

Vegan Weekend in Berlin, Germany! Libby (@libby) and Marcel...

Best Things To Do In Berlin! In this video, Libby (@libby) a...
VeganTravel.com is a place where vegans from around the world can share their passion for travel and adventure, help promote and grow interest in going vegan, shed light on the issues animals are facing around the globe, and help build a more sustainable and compassionate world. By sharing our collective experiences, we believe we can show the world how easy it is not only to travel as a vegan, but also spread a message of compassion with those we meet along the way.