Originally Cody and I were supposed to be in Croatia from August 18th to the 23rd, but as soon as we heard that the largest vegan fest in Europe was happening in Berlin, we immediately re-arranged our itinerary to be in the city for Sommerfest, and so did Kristin, Marissa, Shae, and the rest of the vegan travel team (Alan, Jaclyn, Shannon, and Michelle)
My mom even joined us in Berlin!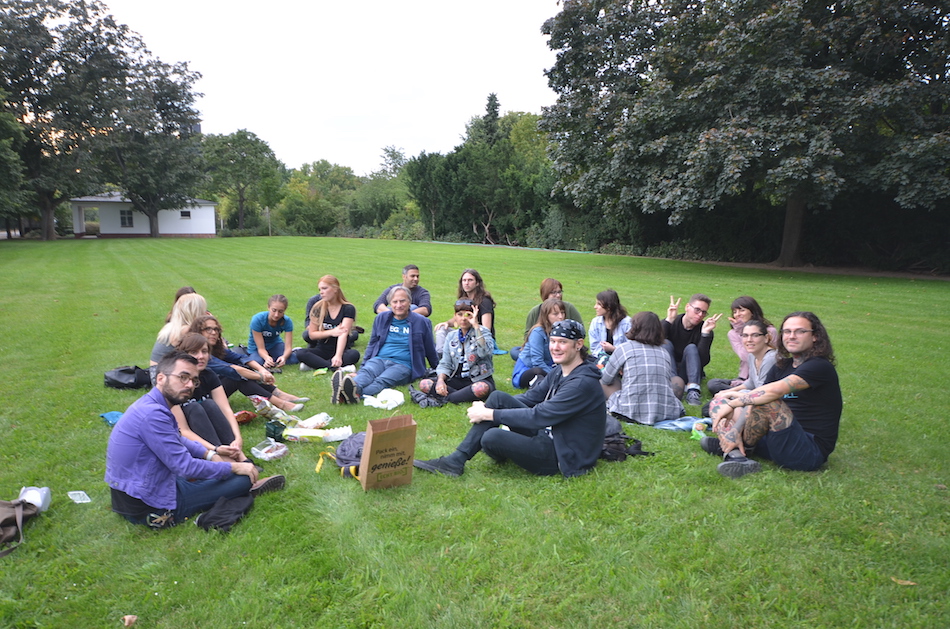 The lovely humans at VeganTravel arranged a vegan meet-up at the war memorial in Berlin, the day before veg fest, and it was a great turnout.
We met several new people from Germany, Israel, the U.S., and Canada. Delicious snacks from Veganz were provided, we made connections with new people, and exchanged travel stories.
The meet-up worked up an appetite, so quite a few of us ventured out to Friedrichshain, a lively part of Berlin with rowdy nightlife, to find some vegan food.
We arrived pretty late with about 10 people in tow, so our options were limited, as seating was sparse.
We all ended up at Papaya, a Thai restaurant, where we ordered an abundance of Thai food and shared it family style. It was all aroi mak mak (delicious) and we went home with full bellies.
Veganes Sommerfest had arrived, and we were excited to get started. We hopped on the tram and hopped off at Alexanderplatz.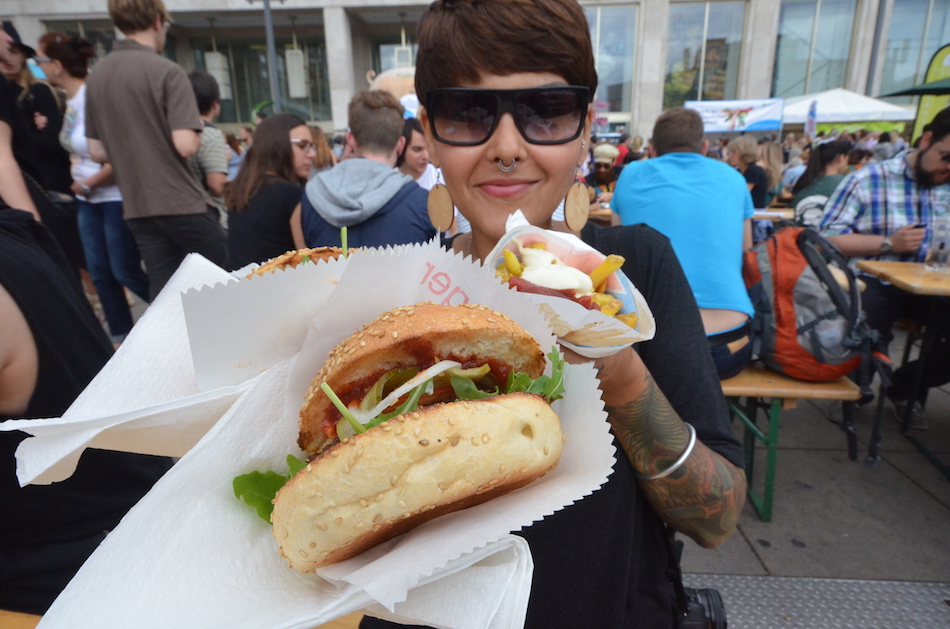 The first day of the festival was already swarming with people as excited to be there as we were. Everywhere we turned there was something to sample! Our eyes devoured everything in sight, and our stomachs soon followed.
Donuts, cheeseburgers, waffles, spanakopita, curry wurst, gelato, and more donuts!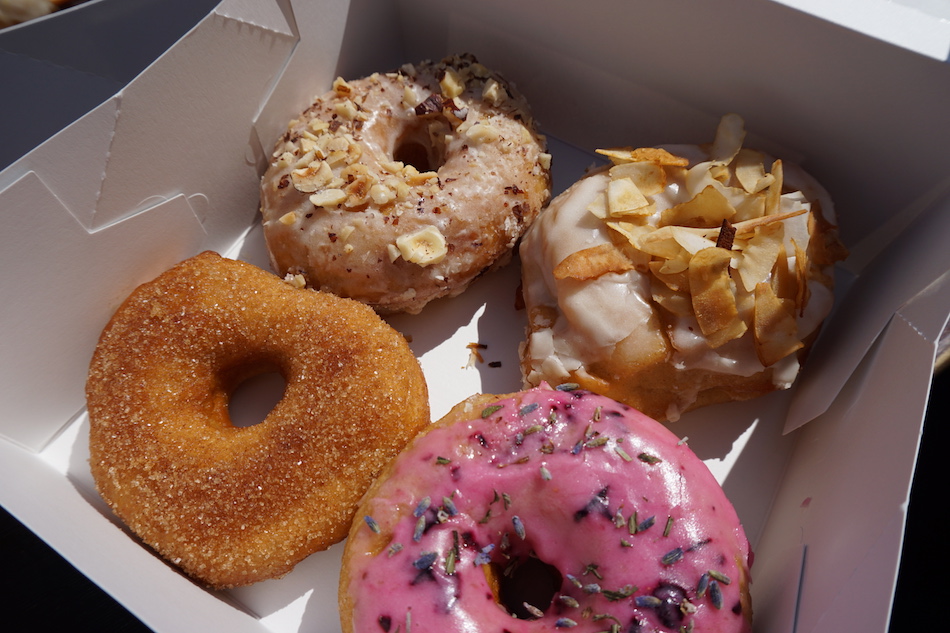 Cody had the brilliant idea of making a donut ice cream sandwich, so he picked up 2 chocolate peanut butter donuts from Brammibal's, and brought them over to the Veganz ice cream booth to make a most excellent dessert.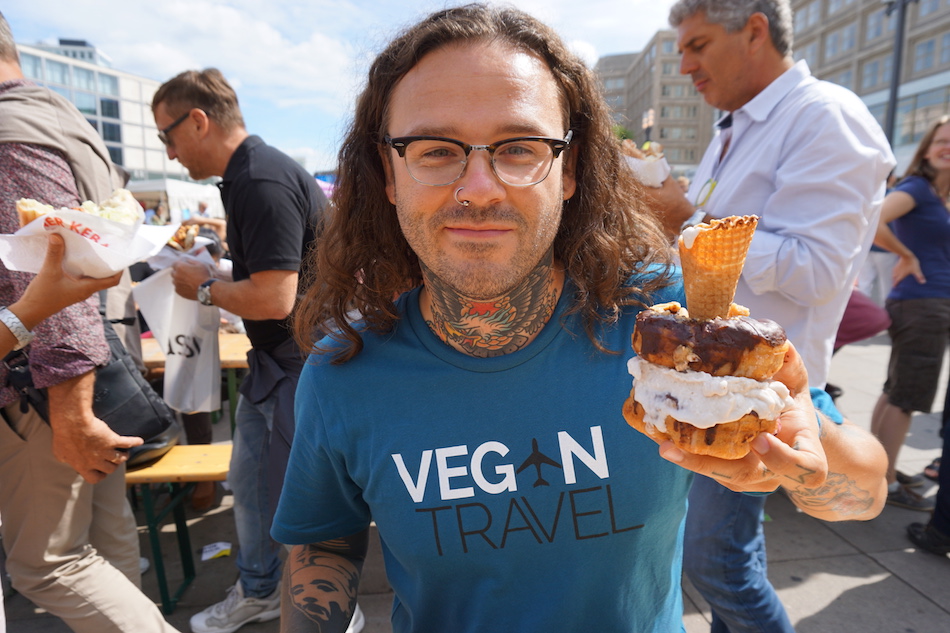 There were also several vendors selling vegan shoes, and clothing. Sea Shepherd was present, as was Animal Equality, the Great Ape Project, Ag Berliner Stadttaube, BOS (Borneo Orangutan Survival), and Deutsches Tierschutzbüro.
We were lucky to connect with Deutsches Tierschutzbüro while in Berlin-an animal protection organization that invited us to visit Sally and Lilly, 2 sweet piglets rescued from factory farming.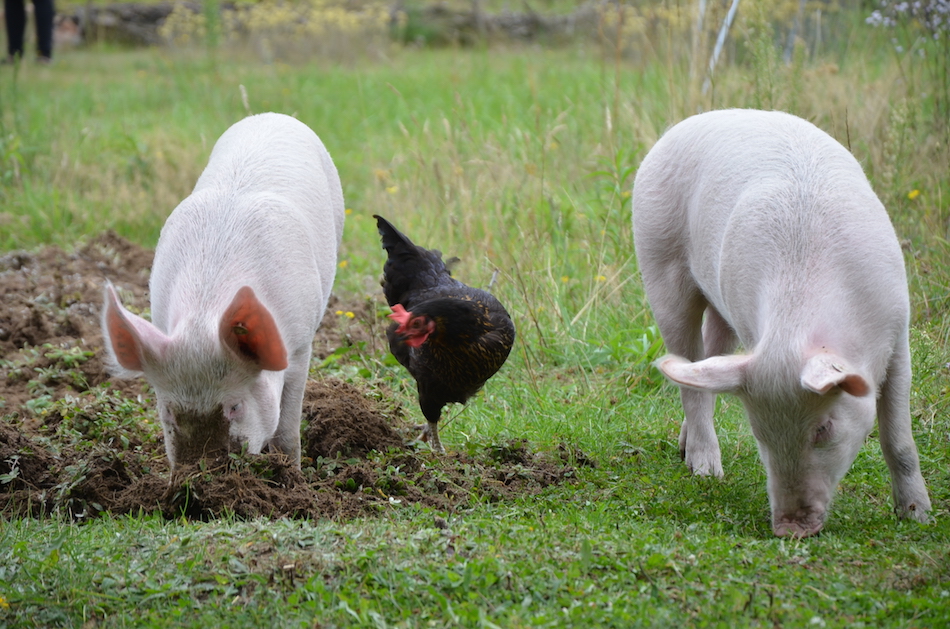 After enjoying a few days of sweet and savouries at Sommerfest, we of course had to sample the incredible array of vegan offerings in Berlin. Below are a few of our favourites.
KOPPS
We met the Vegan Travel team for a lovely dinner at Kopps.
Kopps is a newly opened fine dining plant based restaurant in Berlin. Our meals were beautifully presented, fresh, and very tasty.
Surprisingly, Cody did not have an appetite, so he just ordered a salad. I know right?!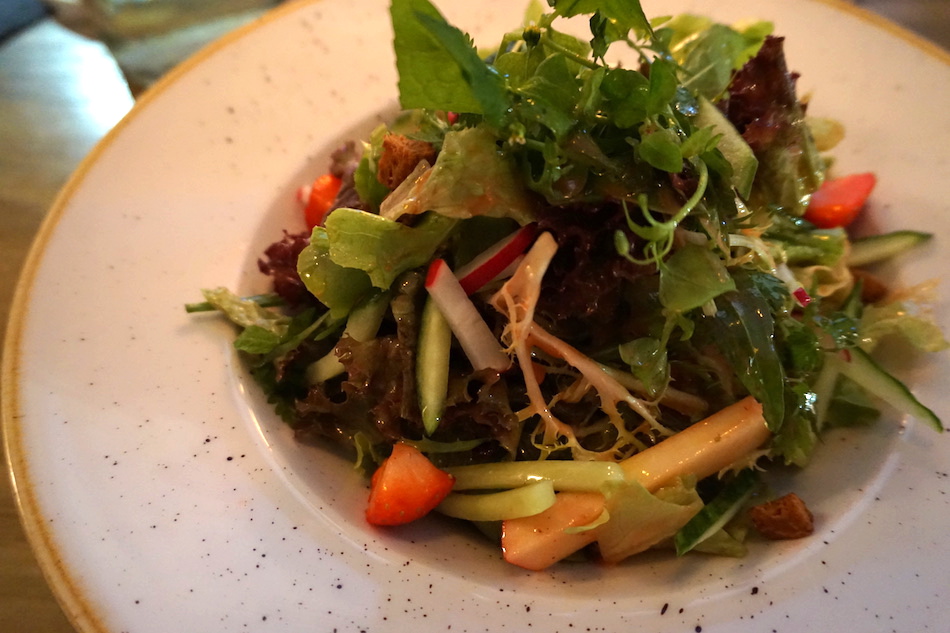 If you have the chance to visit Kopps, be sure to try the chocolate lava cake. This rich and chocolatey dessert is served with banana cream, and a chocolate mousse.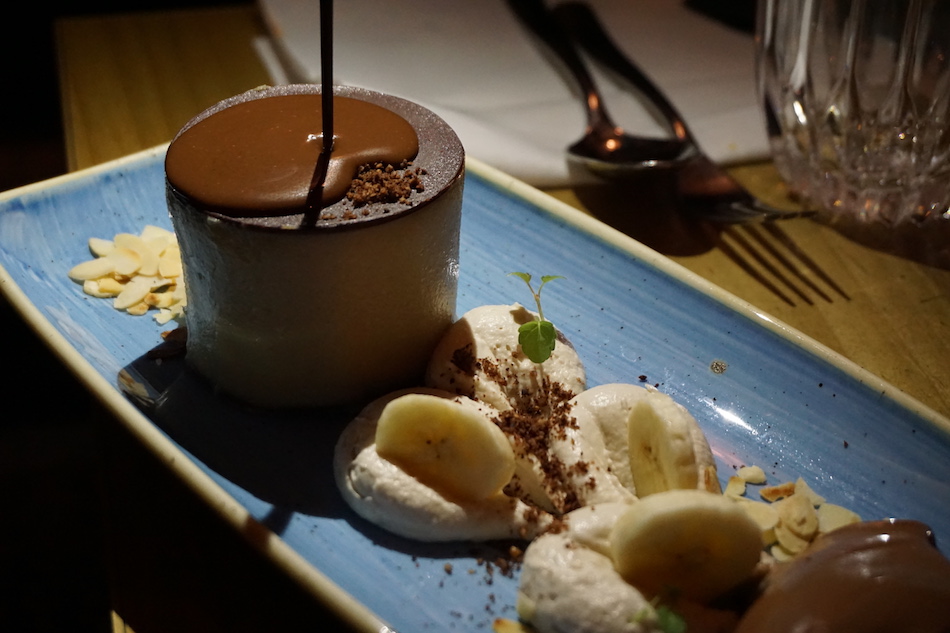 The server then pours warm liquid chocolate over the cake melting a hole right through the middle. The chocolate flows through the cake and all over the plate. It is decadent!
LA STELLA NERA
La Stella Nera is a completely vegan authentic Italian pizzeria.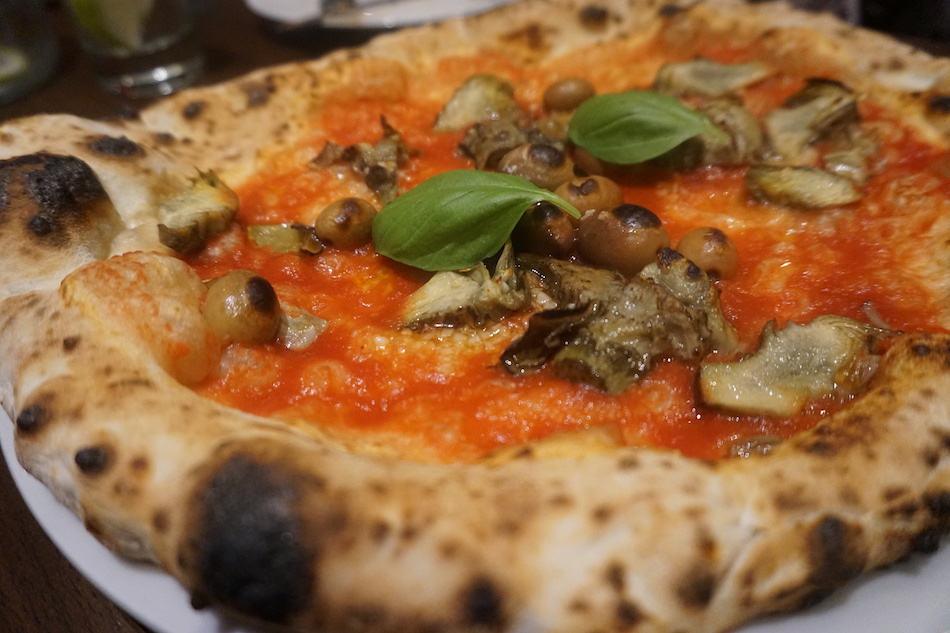 We were again joined by the Vegan Travel crew and enjoyed each others company as much as we enjoyed the 8 pizzas ordered!
YO-YO
Yo-Yo is a vegan fast food joint in Friedrichshain.They serve curry wurst, schnitzel, seitan burgers, fresh cut fries, and desserts. If you are interested in trying schnitzel while in Germany, visit Yo-Yo! My Hawaiian schnitzel burger was amazing. Cody's curry wurst was also a really great choice.
LET IT BE
Let It Be is a vegan creperie and burger bar in Berlin. All of the meal items on the menu are named after famous vegans.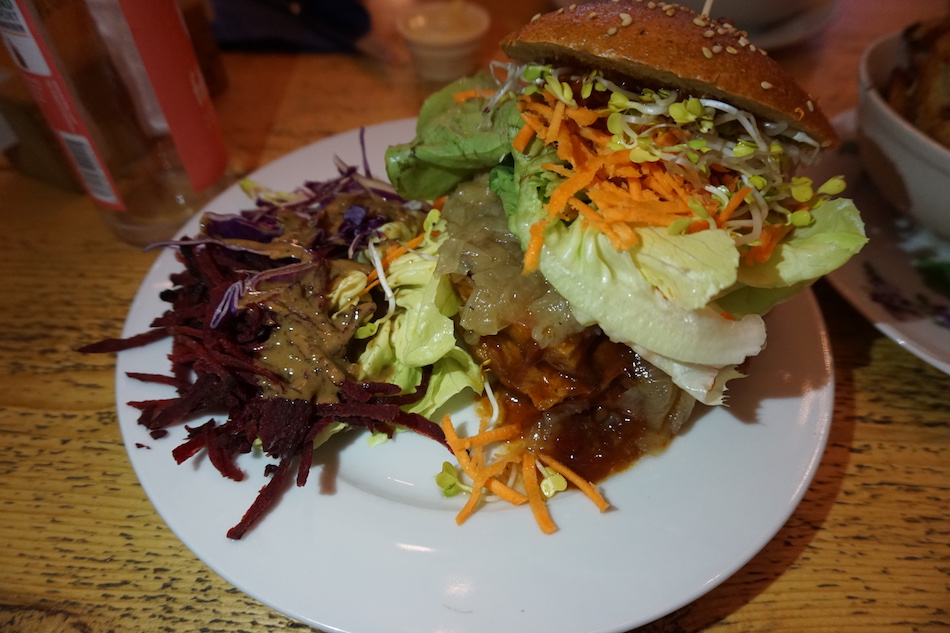 Cody ordered the Wendy O burger and I happily devoured the Woody Harrelson crepe. My crepe was filled with leeks, vegan ham, and a creamy white sauce.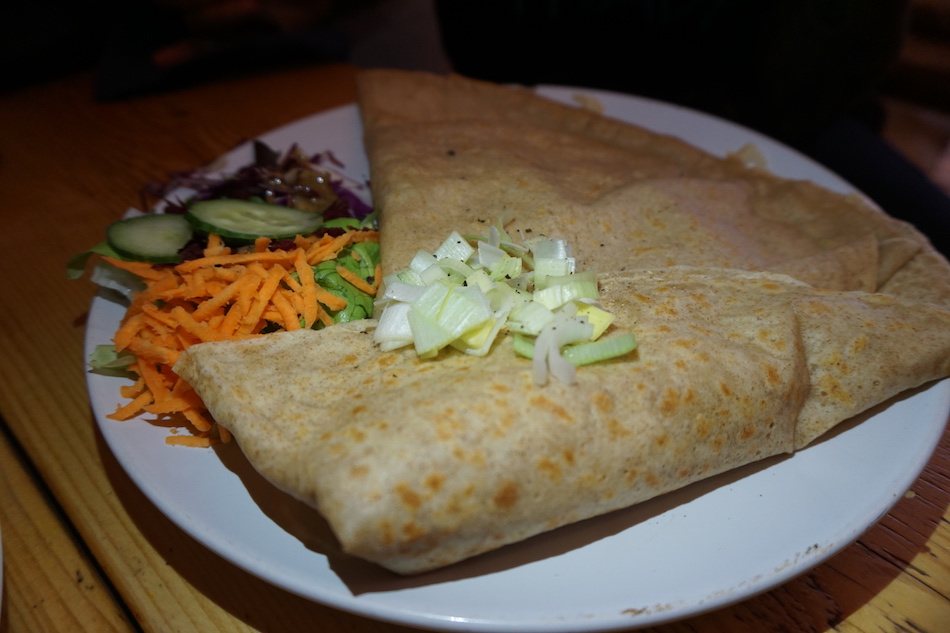 Cody's giant burger was a bbq soy steak, caramelized onions, and BBQ sauce. So good! You can also sample the Chrissie Hynde, and Thom Yorke burgers, and the Erykah Badu crepe.
VEGANZ
Veganz is a completely vegan supermarket chain in Germany. It was a joy to walk around a grocery store and not have to read any ingredients while shopping.
We were like kids in a candy store! Fruits veggies, grains, patè spread, mayo, chocolate, croissants, ice-cream, cold cuts, pudding, cheese, skin products, shampoos, conditioners, and so much more. Goodies is also located inside Veganz. It is a vegan cafe offering wraps, cakes, coffees, teas, and healthy salads in to go containers.
Eating is what took up most of our time in Berlin, but we also visited the Berlin wall's East Side Gallery. A photo exhibit named War On Wall was on display exposing the harsh, unfair, and violent living conditions of the Syrian people.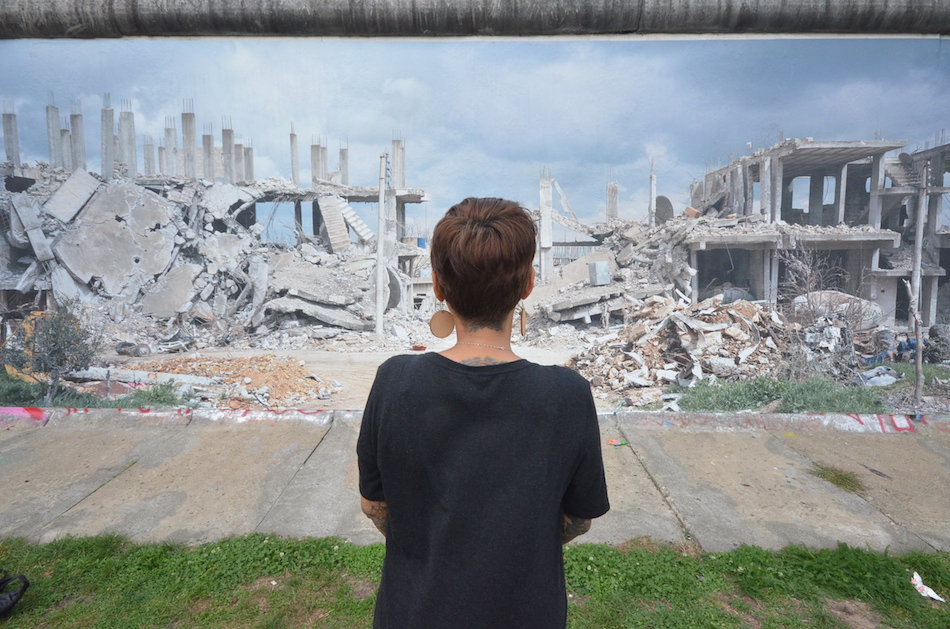 The images included several men, women, and children permanently scarred, and injured by shrapnel bombs. They also show the day to day reality of the Syrian people.
Communities completely destroyed and levelled. Many people still remain in these communities.
We count our blessings regularly and are grateful for everything in our lives, but standing in front of such devastating images really puts things into perspective.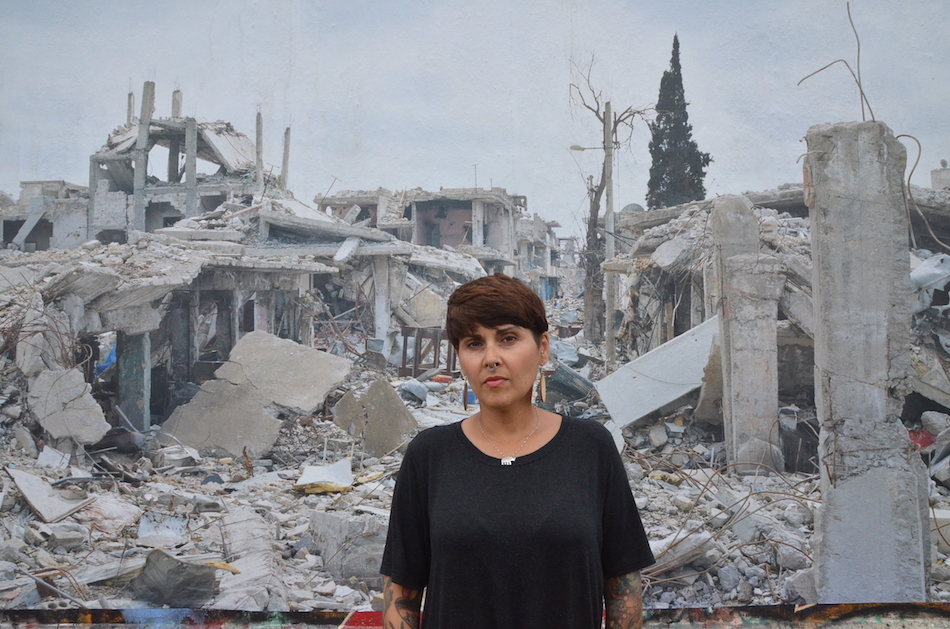 Everyone is deserving of a safe space to live, a roof over their heads, clean water, and nutritious food. If people are fleeing land for thousands of miles of nothing but water, it means their home is no longer inhabitable without being murdered. We are grateful to Germany for welcoming thousands of asylum seekers.
In the midst of the hunt for vegan food all over the city, this exhibit really opened our eyes to how lucky we really are.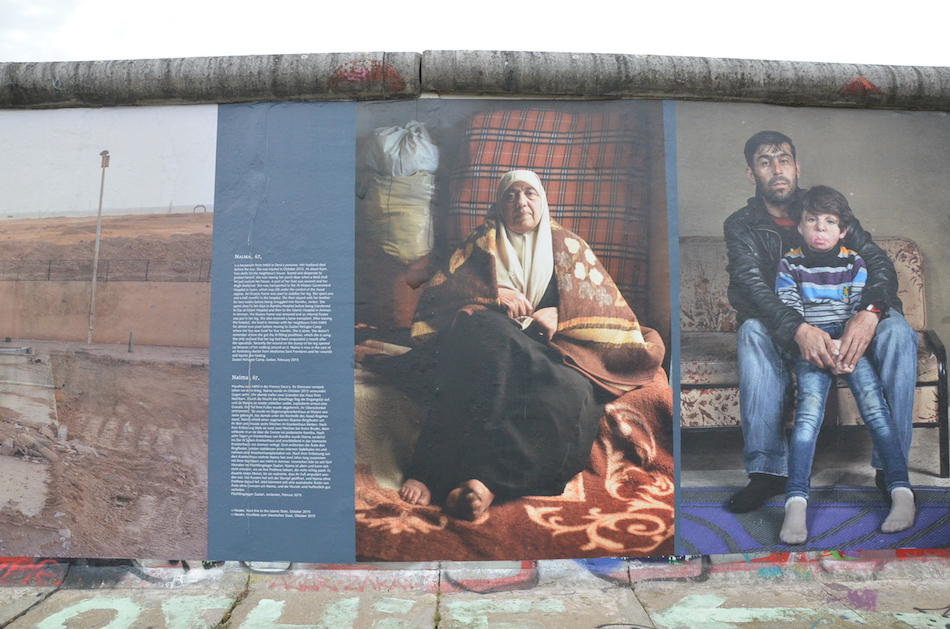 I tend to repeat myself on this subject, much like the animal rights subject, but it is imperative that we continue cultivating compassion and empathy for both people and animals. The world would be a much lovelier place if we were all more conscious of our effect on the lives of others.
Practicing gratitude is also a great exercise for discovering true happiness, and feeling that what you have is enough. Especially when you are exposed to such powerful images.