Deciding where to go out to eat in Berlin can almost be daunting as there are so many options spread out over the entire city (which is quite big, I must say).
Therefore, I decided to focus on just one neighborhood for the time being: Neukölln.
Neukölln is thought of as one of the more popular neighborhoods in Berlin, populated by creatives, students, young professionals and vibrant Turkish, Arab, and Kurdish communities.
Here are *all* of the 100% vegan establishments in Neukölln –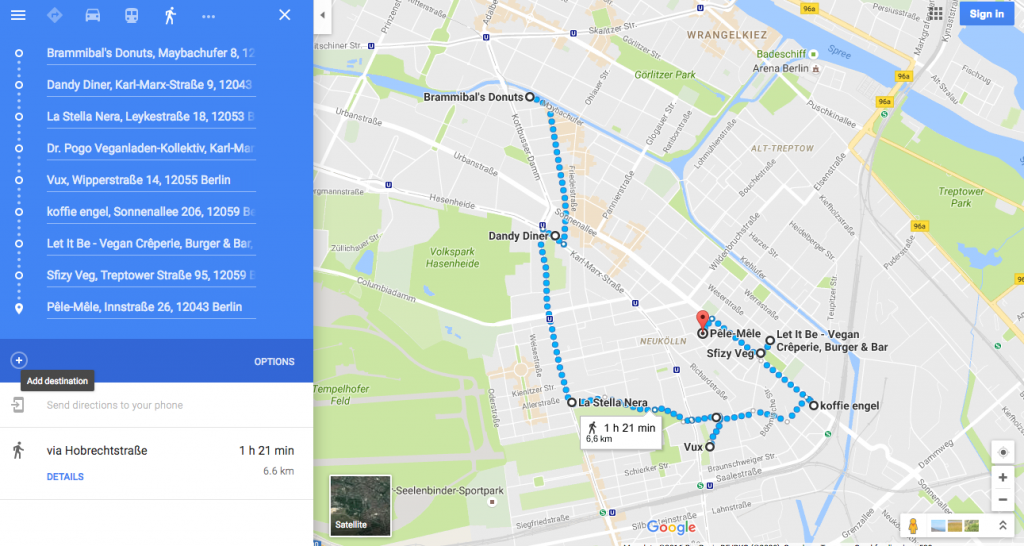 This locally-loved vegan donut shop started as a pop-up at Berlin events. Due to popularity and demand they opened their first brick and mortar location in early 2016.
In addition to cake- and yeast-donuts, Brammibal's offers bagel sandwiches, wraps, smoothies, coffee and tea; and they've got a cozy setting with free wifi. It's a great place to hang for a bit and indulge in some sweets!
If you visit Brammibal's on a Tuesday or Friday you'll run into the Turkish Market (on the same street), which is also definitely worth scoping out!
You've probably heard of this place before. Dandy Diner made international  headlines when, at its grand opening, the police had to come because the restaurant was SO overrun by customers they were literally overcrowding the street and blocking thru traffic. Amazing!
Aside from an adorable logo and cool interior design, Dandy Diner offers some pretty authentic burgers and fries. They've got a small menu (usually 3 burger options and deals for pairing burgers, drinks, and fries) including some simple desserts.
On select evenings they bring in a DJ to turn some records, in-house.
I've been around (::wink::) a few pizza shops, silly! And I gotta say, La Stella Nera (just one of the all-vegan pizzerias in Berlin) is outstanding! Perfect fluff-to-crispy edged crust, thinner in the middle, light on the cheese, and super thinly sliced faux meat toppings. You can get a variety of cheese-less or vegan cheese options; and they come with a range of flavorful olive oils for dipping.
Their menu says, "We bake our pizza following the worldwide famous Neapolitan tradition: dough fermentation for at least 24 hours and baking in a wood-fired oven for 90 seconds at 485 degrees Celsius (that's 905 degrees Fahrenheit)."
It's run by a community collective and they feature, what I've always imagined as, truly authentic pizza pies. Their menu also includes other Italian dishes, salads, and desserts (think tiramisu, chocolate covered pralines, and affogato).
I'd put this one at the top of your list!
Come to Cafe Vux for their sweets! I don't know how Berlin does it but their dessert frosting game is on point, and Cafe Vux showcases it to perfection. Think almost airy, fluffy, not-grainy sugary-ness; just ever so perfectly sweet with a texture that will leave you enjoying every bite more and more deliberately.
NOTEWORTHY: They do not have wifi but have a sprawling seating arrangement. I suggest bringing a good book or a friend or five. They also offer brunch on the weekends!
This place will always hold a great memory for me when I thin of my time in Berlin, as it was the very first vegan establishment I stepped into when I arrived.
Relatively new and seemingly off of the radar of most locals, Koffie Engel is worth stopping by. The owners are incredibly personable and wholeheartedly working toward creating more awareness about veganism in a positive and motivational way.
In addition to their weekly sandwich and coffee options, Koffie Engel hosts all-you-can-eat vegan brunches every third Saturday of the month, for ONLY 3 Euro!
Their aim is to bring together vegans and non-vegans, to answer questions about veganism, and make it more accessible to the masses.
I had some great conversations here, as well as awesome waffles (just look at those heart shaped lovelies!).
If you're in the mood for either savory or sweet crepes, or fun burgers, pop on over to Let It Be. They also have some great sides, like mac 'n' cheese and varieties of French fries.
Their menu is fun too as they've named all of their food stuffs after famous vegans, like Prince, Erykah Badu, Moby, and Daryl Hannah!
Walk out the door at Let It Be, turn right and walk about one block, and you'll run into the all-vegan pizzeria: Sfizy Veg.
I don't know if locals would agree but when I think of Sfizy I think exotic drunk food. ::haha:: No but this place is great. Especially if you want to try some super interesting pizza pies! Get a pie with an entire whole vegan burger patty on it, or one with French fries. How about one with faux shrimp and calamari? The pizza is pretty good and they've got a variety of beverages to choose from as well!
Plus, they've got a pretty darn cool dark, hipster kind of vibe going with super kitschy and old-timey art inside. You could definitely make dining here a a solo excursion as there is plenty to look at and to keep you occupied in terms of interesting and eye catching art.
I absolutely love this cafe and firmly place it in my top 5 favorite vegan eateries in Berlin, for sure!
If you're seeking authentic crepes, lattes, English breakfasts with jam and spreads, freshly pressed juices, and delicious cakes, you MUST visit this place. Plus, they've got free wifi AND a co-working space that's separate from the main cafe area; should you wish to work from there on a regular basis.
I've been a number of times and always had pleasant experiences with the staff too. Gosh, I love this place.
INSIDER'S TIP: The name is French and pronounced "pehl mehl." I was fond of saying, "pay-lay may-lay" when I first read it, but a French friend taught me how. Hehe! It means, mixed together or a kind of chaotic mess of things. I think!
Oh! You should also know that there is a 100% vegan grocery store in Neukölln as well. It's called Dr. Pogo Veganladen-Kollektiv. I believe it's run by the same group that owns La Stella Nera.
Dr. Pogo has a ton of hard to find vegan food stuffs, some great bulk items, fresh fruits and veggies, self health care products, some books and t-shirts, and more. Check 'em out if you're nearby!
NOTEWORTHY: Almost every restaurant I've been to in all of Berlin is cash-only. So be prepared and have cash on-hand! You can easily take out money in Euros at pretty much any ATM (I've found the ATMs at banks the most reliable). Also, most folks here speak at least a little bit of English, especially if they appear to be around 40 years old or younger. So don't sweat it if you don't speak German. You can definitely get by!