Sa wadee ka! Jessie here- formally known as teacher Jessie here in Thailand.

I've embarked on the journey of a lifetime, teaching English- and other subjects. With absolutely no experience back home and a short 3 week course in Hua Hin. I'm now at my own school in the remote little town of Wang Nam Yen, a province in Sa Kaeo– eastern Thailand, near the Cambodian border.
As I began my journey in Bangkok in a little street far from any sort of food place that could speak a word of English, I had the shocking realisation of WTF am I going to eat? So I stocked up on broad beans and mi goreng (which I knew are vegan from back home) from the local 7/11.
Next morning waking to a buffet breakfast- at the H Residence, I looked forward to an expected plate of watermelon and dragon fruit- which I would have been more than happy with.
My oh my on both mornings was I greeted with a surprise..
It was like dinner for breaky every morning, I mean it looks pretty basic but it was a GREAT feeling know I'd be eating more than mi gorgeng and fruit everyday! Vegetable noodles and rice, pickled veg and onion, juicy cherry tomatoes, peanuts and of course the fresh fruit.
So being in Thailand is all about the street food experience right? Well I was SO nervous about it, I was always told do not trust the street food! Always opted to spend a bit more money eating in restaurants but I was living in Thailand now. I had to face my fears and bite the bullet, soak up a bit of culture..  and I don't eat meat so what's the worst that could really happen?
Second night in Bangkok and an hour of indecisiveness trying find the most busiest looking spot (great advice for non-tourist areas), we found a little local vendor with ultimate traditional pad Thai dish- surely this couldn't disappoint
$1.50 and bloody delicious!! Food always seems to taste better when it's cheap, or free 
Couple nights stay was up in Bangkok and my food exploring didn't go quite to plan- so I have this incredible love for mangoes, don't all us vegans?– and last time I was in Thailand I discovered a specialty dish, mango sticky rice.. A sliced juicy mango on a bed of sticky coconut rice, followed by a drizzle of sweet coconut milk… mmm your mouth is watering right!? Same….
Yeah so I was definitely craving only a dew days into my trip!
The road to Hua Hin was underway to begin our tefl course and a 45 minute van ride later, we arrived.
First stop at the shops, a visit to Tesco to stock up on necessities, exchange some money and have a feed and what do I find in the food court with arms wide open staring deep into my eyes…
Oh hello again my old sticky friend, how I missed you!
Settling in at Hua Hin and what was supposed to be a one month orientation and study was all crammed into just under 3 weeks! Hardly a settle in that's for sure..
It was a week of orientation followed by 2 weeks full of study- presentations and brain overload but all worth it. Sometimes being thrown into the deep end, head first with absolutely no idea what you're doing can be somewhat effective!
During the week of orientation I was blessed with some killer vegan options supplied!
I failed to capture a stand out meal, fried basil mushroom with rice– ultimate regret there.
But here are a few that made the cut- Papaya salad we made at cooking classes (I eat this like 4 times a week, it's phenomenal), soy protein coconut chilli curry (always freaking me out with the textures) and cooked up at our BBQ beach party was thick rice drunken noodles, tomato & carrot fried rice and mixed vegetables! Yes super spoilt
In our short stay in Hua Hin it didn't take us long to find our favourite locals, one lady who made the BEST pad Thai and knew exactly what I meant when I said no meat, seafood, egg or fish sauce-  in my attempt to speak Thai.
Another fave local man, that prepared everything from thick 'drunken' rice noodle, to veg fried rice and fried noodles.
In our last couple nights we discovered another small local joint, that made the most incredible spicy mango papaya salad and deep fried mixed veggies: pumpkin, baby corn, carrot, onion and green beans!! (Just like Nan and I do back home)
Now that I've been placed in a small rural town, with no tourism in sight I look back at these meals and hope to find my new local favourite to prepare even better Thai foods for me..
Although, I have discovered a delicious chive looking veg that is battered in flour and deep fried, then smothered in a chilli soy sauce. Purchased from the small markets after school, I am yet to not be so hungry I give myself time to capture a photo.
Until that day comes and I've explored what this beautiful town has to offer I will see you then my fellow vegan travellers.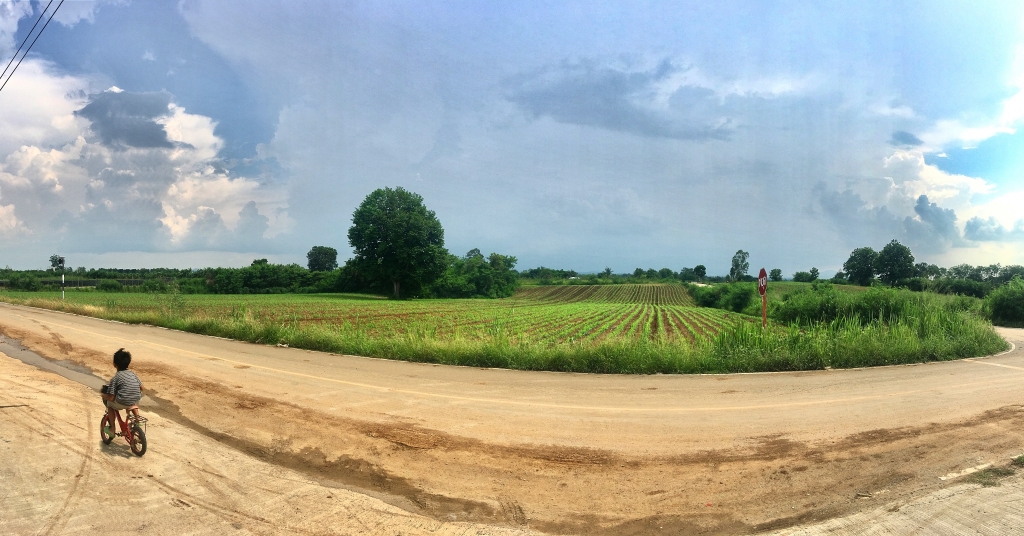 Much love xoxo
Teacher Jessie.