show less
show more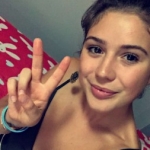 @jessierech
Visit my local guy at the market every night for this treat…. papaya salad with a whole chilli mmm mmm
View
Basic Info
My Name

Jessie
Terms & Conditions

I accept all Terms and Conditions
About Me
Introduction

24 year old gal from Melbourne in Australia. Currently living and teaching in Thailand, based in a small rural town called Wang Nam Yen, eastern Thailand.
I'm hoping to get as much traveling squeezed in on long weekends as possible before I have to jet home at the end of October.
Follow my journey of vegan foods and immersing myself in the Thai culture

Peace from the South East!
My Links
Instagram
Pinterest
Countries Visited
Countries