Hello fellow vegan travellers!!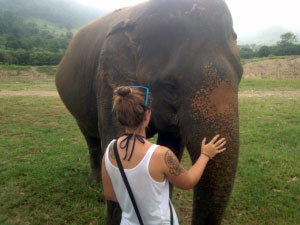 This is our first ever blog, so we thought what better way to start it off – Elephant Nature Park! This place is amazing for so many different reasons!!
Our first time volunteering here, we were unaware of the exploitation of Asian elephants, and actually, the cruelty of animals worldwide!! ENP opened up our eyes, and was our first steps to becoming vegan! 🙂 The food served to volunteers is all vegetarian, however most of it is vegan! Soy milk is available for tea, coffee, and cereal and the tofu is to die for!
There are many animals at Elephant Nature Park, not just elephants! Horses, pigs, goats, cats, water buffalo, ducks, monkeys and almost 500 dogs!! Let us tell you about these special creatures.
Volunteer with elephants.
What a lovely experience!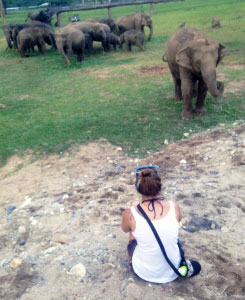 Make banana balls to feed the elderly elephants, scoop heavy shovels of poop to clean their shelters, clean up the left over banana leaves and other greens from the park, learn about the diet whilst scrubbing pumpkins and offloading fruit deliveries, chop down dead banana trees (don't machete your leg like Jack did!) – these are just some of the tasks you will be doing working with the elephants! Temperatures are high here, so be prepared to sweat!
The elephants are here to live the rest of their lives in peace and free of chains. Each elephant has its on mahout, which makes sure they don't get into any mischief and to make sure they stay safe. Your group guide will speak to you about each elephant and their herd, every elephant has a different story – prepare yourself to get very emotional as many of the elephants have been through a very traumatic time and have mental scars to show.
Volunteer with dogs.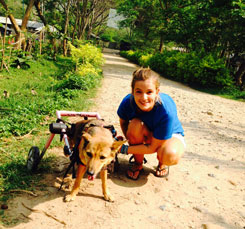 We spent our last two times at Elephant Nature Park Dogs (now Dog Sanctuary Thailand). Personally, we feel that volunteering with the dogs makes a huge impact on each ones life. Its very hands on, you will get very dirty and are grateful for a cold shower at the end of the day! You will still interact with elephants if you decide to work with the dogs as many graze on the short walk to the main platform (food!). Daily jobs are feeding, cleaning the clinic, walking the dogs in clinic, deticking, flea shampooing, socialising and hugging puppies.
Some of the dogs here haven't had the best start in life, so its best to respect this and stay away from the ones with red collars.
Taking away a part of ENP
Its hard not to fall in love whilst at Elephant Nature Park, and for us, Tay was too hard to leave behind! Yes, we adopted a dog! 🙂 We flew her home with us in April 2015 and have had her for just over a year now! Many dogs are being adopted and have a very happy family, however there are still many looking for their forever home.
Take a trip to Elephant Nature Park and see if you fall in love <3
www.dogsanctuarythailand.org
-Lucie & Jack